ISSN 1843-570X; E-ISSN 2067-7677
Agora International Journal of Juridical Sciences (AIJJS) is published yearly between 2007 and 2009. Beginning with 2010 it is published twice a year and from 2013 it is published biannual.
It includes studies that are structured on the following scientific fields: Private Law, Public Law, Criminal Law and Criminalistics.
The issues of the journal are: No.1 AIJJS (January-June), No.2 AIJJS (July-December).
Indexed by C.N.C.S.I.S. in category B+
Online submission can be open HERE.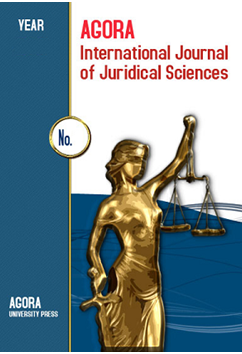 No 2 (2018)
Full Issue
| | |
| --- | --- |
| View or download the full issue | PDF |
Table of Contents
Articles
| | | |
| --- | --- | --- |
| | Ionel DIDEA, Diana Maria ILIE | 1-16 |
| | | |
| --- | --- | --- |
| | Gabriela DUMITRACHE | 17-24 |
| | | |
| --- | --- | --- |
| | Elena-Ana IANCU, Marin LĂZĂU | 25-29 |
| | | |
| --- | --- | --- |
| | Anca-Lelia LORINCZ, Cătălin MARIN | 30-39 |
| | | |
| --- | --- | --- |
| | Oluwatosin Omobolanle OGWEZZY | 57-63 |
| | | |
| --- | --- | --- |
| | Veronica STOICA, Elena (Rada) GARJAU | 85-91 |
| | | |
| --- | --- | --- |
| | Roxana-Denisa VIDICAN | 102-106 |