A B C D E F G H I J K L M N O P Q R S T U V W X Y Z All
S
Saad, Ihsen
, Ecole Centrale de Lille, Cité scientifique Laboratoire d'Automatique, Genie Informatique et Signal BP 48, 59651 Villeneuve d'Ascq Cedex, France (France)
Saad, Ihsen
, (France)
Saadi, Janah
, LISER. ENSEM. Universit Hassan II. An Chok, BP 8118, Oasis, Casablanca, Maroc. (Morocco)
Sabeen, S.
, Department of Computer Applications, Jaya Engineering College, Chennai-600054, INDIA. (India)
Sabău-Popa, Diana-Claudia
, Departament of Finance-Accounting, Faculty of Economic Sciences, University of Oradea Romania, 410087 Oradea, Universitatii St. 1 (Romania)
Sadło, Piotr
, Institute of Informatics, Warsaw University of Technology (Poland)
Safarinia, Mahyar
, Electrical Engineering Department A.B.A Institude of Higher Education, Qazvin, Iran (Iran, Islamic Republic of)
Sahab, Nazanin
, University of Essex, United Kingdom The Computational Intelligence Centre (United Kingdom)
Sahin, Mehmet
, Technical Science College Selcuk University 42031 Konya, Turkey (Turkey)
Saito, Naoki
, Akita Prefectural University Department of Machine Intelligence and Systems Engineering 84-4, Aza-Ebinokuchi, Tsuchiya, Yurihonjo, Akita, Japan (Japan)
SAKLY, Anis
, Ecole Nationale d'Ingénieurs de Tunis Unité de Recherche LARA-Automatique BP 37, Le Belvédère, 1002 Tunis, Tunisie (France)
Salgado, F.
, University of Concepción, Chile Department of Electrical Engineering (Chile)
Salhi, Lotfi
, Faculty of Sciences of Tunis, Laboratory of Signal Processing, University Campus, 2092 El Manar II, Tunis, Tunisia (Tunisia)
Salinas, Renato
, Universidad de Santiago de Chile Departamento de Ingenieria Mecánica Avda. Bernardo O'Higgins 3363. Estación Central. Santiago – Chile (Chile)
Salinas, Renato
, Universidad de Santiago de Chile Electrical Engineering Department Ave. Ecuador 3519, Santiago, Chile (Chile)
Salinas, Renato Alberto
, Department of Mechanical Engineering University of Santiago, Chile Av. Libertador Bernardo O'Higgins 3363, Santiago, Chile. (Chile)
Salomie, Ioan
, Technical University of Cluj-Napoca Computer Science Department 15 Daicoviciu street, Cluj-Napoca, Romania (Romania)
Salt, J.
, Departamento de Ingeniería de Sistemas y Automática Instituto Universitario de Automática e Informática Industrial Universitat Politécnica de Valencia Camino de Vera s/n 46022 Valencia (Spain) (Spain)
Salvo Garrido, Sonia
, University of La Frontera Avenue Francisco Salazar 01145, Temuco, Chile (Chile)
Samadi Gharajeh, Mohammad
, Department of Computer Engineering, Tabriz Branch, Islamic Azad University, Tabriz, Iran (Iran, Islamic Republic of)
Sanchez, Jose
, Spanish University for Distance Education UNED (Spain)
Sanchez Dominguez, Israel
, IIMAS-Merida Universidad Nacional Autonoma de Mexico, Parque Cientifico y Tecnologico de Yucatan, 5.5Km Carretera Sierra Papacal - Chuburna, C.P. 97302 Sierra Papacal, Yucatan, Mexico (Mexico)
Sangeorzan, Livia
, Transilvania University of Brasov Faculty of Mathematics and Informatics B-dul Eroilor 29, 500036, Brasov, Romania (Romania)
Sanjoyo, Danu Dwi
, Telkom University (Indonesia)
Sankar, Sharmi
1 - 25 of 170 Items
1
2
3
4
5
6
7
>
>>
CC-BY-NC  License for Website User
Articles published in IJCCC user license are protected by copyright.
Users can access, download, copy, translate the IJCCC articles for non-commercial purposes provided that users, but cannot redistribute, display or adapt:
Cite the article using an appropriate bibliographic citation: author(s), article title, journal, volume, issue, page numbers, year of publication, DOI, and the link to the definitive published version on IJCCC website;
Maintain the integrity of the IJCCC article;
Retain the copyright notices and links to these terms and conditions so it is clear to other users what can and what cannot be done with the  article;
Ensure that, for any content in the IJCCC article that is identified as belonging to a third party, any re-use complies with the copyright policies of that third party;
Any translations must prominently display the statement: "This is an unofficial translation of an article that appeared in IJCCC. Agora University  has not endorsed this translation."
This is a non commercial license where the use of published articles for commercial purposes is forbiden. 
Commercial purposes include: 
Copying or downloading IJCCC articles, or linking to such postings, for further redistribution, sale or licensing, for a fee;
Copying, downloading or posting by a site or service that incorporates advertising with such content;
The inclusion or incorporation of article content in other works or services (other than normal quotations with an appropriate citation) that is then available for sale or licensing, for a fee;
Use of IJCCC articles or article content (other than normal quotations with appropriate citation) by for-profit organizations for promotional purposes, whether for a fee or otherwise;
Use for the purposes of monetary reward by means of sale, resale, license, loan, transfer or other form of commercial exploitation;


The licensor cannot revoke these freedoms as long as you follow the license terms.
[End of CC-BY-NC  License for Website User]
INTERNATIONAL JOURNAL OF COMPUTERS COMMUNICATIONS & CONTROL (IJCCC), With Emphasis on the Integration of Three Technologies (C & C & C),  ISSN 1841-9836.
IJCCC was founded in 2006,  at Agora University, by  Ioan DZITAC (Editor-in-Chief),  Florin Gheorghe FILIP (Editor-in-Chief), and  Misu-Jan MANOLESCU (Managing Editor).
Ethics: This journal is a member of, and subscribes to the principles of, the Committee on Publication Ethics (COPE).
Ioan  DZITAC (Editor-in-Chief) at COPE European Seminar, Bruxelles, 2015:
IJCCC is covered/indexed/abstracted in Science Citation Index Expanded (since vol.1(S),  2006); JCR2018: IF=1.585..
IJCCC is indexed in Scopus from 2008 (CiteScore2018 = 1.56):
Nomination by Elsevier for Journal Excellence Award Romania 2015 (SNIP2014 = 1.029): Elsevier/ Scopus
IJCCC was nominated by Elsevier for Journal Excellence Award - "Scopus Awards Romania 2015" (SNIP2014 = 1.029).
IJCCC is in Top 3 of 157 Romanian journals indexed by Scopus (in all fields) and No.1 in Computer Science field by Elsevier/ Scopus.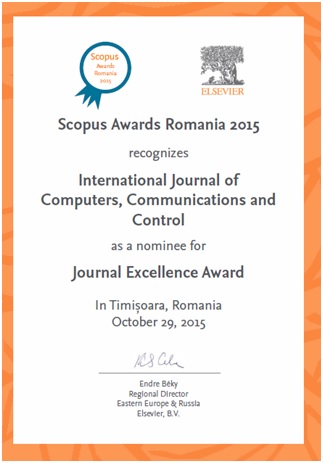 Impact Factor in JCR2018 (Clarivate Analytics/SCI Expanded/ISI Web of Science): IF=1.585 (Q3). Scopus: CiteScore2018=1.56 (Q2);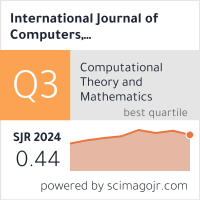 Editors-in-Chief: Ioan DZITAC & Florin Gheorghe FILIP.