Dimensionality Reduction and Generation of Human Motion
Abstract
To reuse existing motion data and generate new motion, a method of human motion nonlinear dimensionality reduction and generation, based on fast adaptive scaled Gaussian process latent variable models, is proposed. Through statistical learning on motion data, the motion data are mapped from high-dimensional observation space to low-dimensional latent space to implement nonlinear dimensionality reduction, and probability distributing of posture space which measures the nature of posture is obtained. The posture which meets constraints and has maximal probability can be computed as the solution of inverse kinematics. This method can avoid cockamamie computation and posture distortion existing in traditional inverse kinematics.
The experiments show that our method has higher convergence velocity and precision and extends editing range of motion by adapting motion editing direction.
Keywords
dimensionality reduction, Gaussian process, kernel function, motion generation
References
Sun Hongwei, Gu Ming and Sun Jiaguang,A coding algorithm using PCA-based correlation vector quantization, Journal of Ccomputer-Aided Design & Computer Graphics,17(8):1662- 1666,2005.
Gift N, Lorraine B and Isobel C G, Probabilistic principal component analysis for metabolomic data, BMC Bioinformatics,11(1):571-582,2010.
http://dx.doi.org/10.1186/1471-2105-11-571
Nisbet R, Elder J and Miner G, Statistical analysis and data mining, New York:Academic Press,2009.
Roman Rosipal et al, Kernel PCA for feature extraction and de-noising in non-linear regression, Neural Computing & Applications,10(3):231- 243,2001.
http://dx.doi.org/10.1007/s521-001-8051-z
Carl H, Philip H S and Neil D L, Gaussian process latent variable models for human pose estimation, Proc. of Machine Learning for Multimodal Interaction. Brno: Springer-Verlag Press:132-143,2007.
QU Shi et al, Pose Synthesis of Virtual Character Based on Statistical Learning, The International Symposium on Computer Network and Multimedia, Wuhan, China:36-39,2009.
Keith Grochow et al, Style-based inverse kinematics, ACM Transactions on Graphics,23(3): 522-531,2004.
http://dx.doi.org/10.1145/1015706.1015755
Neil D. Lawrence, Matthias Seeger and Ralf Herbrich, Fast sparse Gaussian process methods: the informative vector machine,Proceedings of Neural Information Processing Systems 15. MIT Press:609-616,2003.
Martin F. Muller, A scaled conjugate gradient algorithm for fast supervised learning, Neural Networks,6(4):525-533,1993.
http://dx.doi.org/10.1016/S0893-6080(05)80056-5
DOI:
https://doi.org/10.15837/ijccc.2013.6.763
Copyright (c) 2017 Shi Qu, Ling-da Wu, Rong-huan Yu, Ying-mei Wei

This work is licensed under a
Creative Commons Attribution-NonCommercial 4.0 International License
.
CC-BY-NC  License for Website User
Articles published in IJCCC user license are protected by copyright.
Users can access, download, copy, translate the IJCCC articles for non-commercial purposes provided that users, but cannot redistribute, display or adapt:
Cite the article using an appropriate bibliographic citation: author(s), article title, journal, volume, issue, page numbers, year of publication, DOI, and the link to the definitive published version on IJCCC website;
Maintain the integrity of the IJCCC article;
Retain the copyright notices and links to these terms and conditions so it is clear to other users what can and what cannot be done with the  article;
Ensure that, for any content in the IJCCC article that is identified as belonging to a third party, any re-use complies with the copyright policies of that third party;
Any translations must prominently display the statement: "This is an unofficial translation of an article that appeared in IJCCC. Agora University  has not endorsed this translation."
This is a non commercial license where the use of published articles for commercial purposes is forbiden. 
Commercial purposes include: 
Copying or downloading IJCCC articles, or linking to such postings, for further redistribution, sale or licensing, for a fee;
Copying, downloading or posting by a site or service that incorporates advertising with such content;
The inclusion or incorporation of article content in other works or services (other than normal quotations with an appropriate citation) that is then available for sale or licensing, for a fee;
Use of IJCCC articles or article content (other than normal quotations with appropriate citation) by for-profit organizations for promotional purposes, whether for a fee or otherwise;
Use for the purposes of monetary reward by means of sale, resale, license, loan, transfer or other form of commercial exploitation;


The licensor cannot revoke these freedoms as long as you follow the license terms.
[End of CC-BY-NC  License for Website User]
INTERNATIONAL JOURNAL OF COMPUTERS COMMUNICATIONS & CONTROL (IJCCC), With Emphasis on the Integration of Three Technologies (C & C & C),  ISSN 1841-9836.
IJCCC was founded in 2006,  at Agora University, by  Ioan DZITAC (Editor-in-Chief),  Florin Gheorghe FILIP (Editor-in-Chief), and  Misu-Jan MANOLESCU (Managing Editor).
Ethics: This journal is a member of, and subscribes to the principles of, the Committee on Publication Ethics (COPE).
Ioan  DZITAC (Editor-in-Chief) at COPE European Seminar, Bruxelles, 2015:
IJCCC is covered/indexed/abstracted in Science Citation Index Expanded (since vol.1(S),  2006); JCR2018: IF=1.585..
IJCCC is indexed in Scopus from 2008 (CiteScore2018 = 1.56):
Nomination by Elsevier for Journal Excellence Award Romania 2015 (SNIP2014 = 1.029): Elsevier/ Scopus
IJCCC was nominated by Elsevier for Journal Excellence Award - "Scopus Awards Romania 2015" (SNIP2014 = 1.029).
IJCCC is in Top 3 of 157 Romanian journals indexed by Scopus (in all fields) and No.1 in Computer Science field by Elsevier/ Scopus.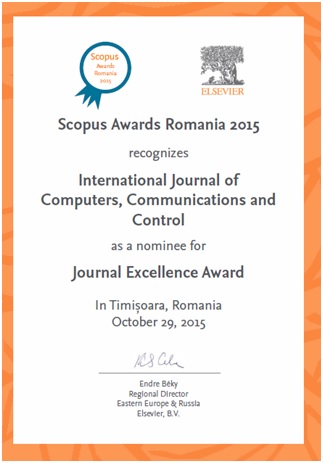 Impact Factor in JCR2018 (Clarivate Analytics/SCI Expanded/ISI Web of Science): IF=1.585 (Q3). Scopus: CiteScore2018=1.56 (Q2);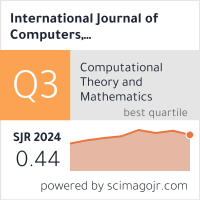 Editors-in-Chief: Ioan DZITAC & Florin Gheorghe FILIP.