A Improved EPC Class 1 Gen 2 Protocol with FCFS Feature in the Mobile RFID Systems
Abstract
In all anti-collision protocols of RFID standards, EPCGlobal Class 1 Generation 2 (C1G2) protocol has been most widely used in RFID systems since it is simply, efficient and safety. Similar to most existing anti-collision protocols, The C1G2 protocol initially aims at tag identification of static scenarios, where all tags keep still during the tag identification process. However, in many real scenarios, tags generally move along a fixed path in the reader coverage area, which implies that tags stay the coverage area only for a limited time (sojourn time). The scenarios are usually called mobile RFID systems. Because the multiple tag identification based on a shared wireless channel is random, tags entering the reader coverage area earlier may be identified later (random later identification phenomenon). The phenomenon and the limited sojourn time may let some tags lost. In this paper, we propose an improved C1G2 protocol with first come first served feature in mobile RFID systems. The protocol can overcome the RLI phenomenon effectively and retains good initial qualities of C1G2 protocol by modifying it slightly. Simulation results show that the proposed protocol can significantly reduce the numbers of lost tags in mobile RFID systems. The idea of the paper is beneficial for redesigning other existing tag anti-collision protocols so as to make these protocols adapt to mobile RFID systems.
Keywords
RFID, tag anti-collision, mobile RFID systems, EPC C1G2
References
He, M. et al (2011); A fast RFID Tag Identification Algorithm Based on Counter and Stack, Expert Systems with Applications, ISSN 0957-4174, 38: 6829-6838.
Yeh, M. et al. (2009); Adaptive Splitting and Pre-signaling for RFID Tag Anti-collision, Computer Communications, ISSN 0140-3664, 32: 1862-1870.
Finkenzeller, K. (2002); RFID Handbook: Radio-frequency Identification Fundamentals and Applications, John Wiley Press.
Chen, Y. (2013); Multiple-Bits-Slot Reservation Aloha Protocol for Tag Identification, IEEE Transactions on Consumer Electronics, ISSN 0098-3063, 59(1): 93-10.
Alcaraz, J. et al. (2013); A Stochastic Shortest Path Model to Minimize the Reading Time in DFSA-Based RFID Systems, IEEE Communications Letters, ISSN 1089-7798, 17(2): 341- 344.
Wong, C. et al. (2007); Grouping Based Bit-slot ALOHA Protocol for Tag Anti-collision in RFID Systems, IEEE Communication Letters, ISSN 1089-7798, 11(12): 946-948.
Jia, X. et al. (2010); An Efficient Anti-collision Protocol for RFID Tag Identification, IEEE Communication Letters, ISSN 1089-7798, 14(11): 1014-1016.
Zhu, L.; Yum, T. (2011); A Critical Survey and Analysis of RFID Anti-Collision Mechanisms, IEEE Communications Magazine, ISSN 0163-6804, 5: 214-221.
Klair, D. et al. (2009); A Survey and Tutorial of RFID Anti-Collision Protocols, IEEE Communications Surveys and Tutorials, ISSN 1553-877X, 12(3): 400-421.
EPCglobal Specification for RFID Air Interface; Radio-frequency identity protocols class-1 generation-2 UHF RFID protocol for communications at 860 MHz - 960 MHz, version 1.0.9, 2005.
Vogt, H. (2002); Efficient Object Identification with Passive RFID Tag, Proceedings of 2002 IEEE international conference on systems, pp. 98-113
Alcaraz, J. et al (2011); Dynamic System Model for Optimal onfiguration of Mobile RFID Systems, Computer Networks, ISSN 1389-1286, 55: 74-83.
Vales-Alonso, J. et al (2009); Markovian model for Computation of Tag Loss Ratio in Dynamic RFID Systems, Proceedings of 5th European Workshop on RFID Systems and Technologies, Bremen, Germany, pp. 16-17.
Vales-Alonso, J. et al (2011); On the Optimal Identification of Tag Sets in Time-constrained RFID Configurations, Sensors, ISSN 1424-8220, 11: 2946-2960.
Xie, L. (2010); Efficient Tag Identification in Mobile RFID Systems., Proceedings of IEEE International Conference INFOCOM, pp. 15-19.
Sarangan, V. (2008); A framework for fast RFID tag reading in static and mobile environments, Computer Networks, ISSN 1389-1286, 52(5): 1058-1073.
Li, X.; Feng, Q. (2013); Grouping Based Dynamic Framed Slotted ALOHA for Tag Anti- Collision Protocol in the Mobile RFID Systems, Appl. Math. Inf. Sci., ISSN 1935-0090, (2L): 655-659.
DOI:
https://doi.org/10.15837/ijccc.2013.6.761
Copyright (c) 2017 Xiaowu Li, Quanyuan Feng

This work is licensed under a
Creative Commons Attribution-NonCommercial 4.0 International License
.
CC-BY-NC  License for Website User
Articles published in IJCCC user license are protected by copyright.
Users can access, download, copy, translate the IJCCC articles for non-commercial purposes provided that users, but cannot redistribute, display or adapt:
Cite the article using an appropriate bibliographic citation: author(s), article title, journal, volume, issue, page numbers, year of publication, DOI, and the link to the definitive published version on IJCCC website;
Maintain the integrity of the IJCCC article;
Retain the copyright notices and links to these terms and conditions so it is clear to other users what can and what cannot be done with the  article;
Ensure that, for any content in the IJCCC article that is identified as belonging to a third party, any re-use complies with the copyright policies of that third party;
Any translations must prominently display the statement: "This is an unofficial translation of an article that appeared in IJCCC. Agora University  has not endorsed this translation."
This is a non commercial license where the use of published articles for commercial purposes is forbiden. 
Commercial purposes include: 
Copying or downloading IJCCC articles, or linking to such postings, for further redistribution, sale or licensing, for a fee;
Copying, downloading or posting by a site or service that incorporates advertising with such content;
The inclusion or incorporation of article content in other works or services (other than normal quotations with an appropriate citation) that is then available for sale or licensing, for a fee;
Use of IJCCC articles or article content (other than normal quotations with appropriate citation) by for-profit organizations for promotional purposes, whether for a fee or otherwise;
Use for the purposes of monetary reward by means of sale, resale, license, loan, transfer or other form of commercial exploitation;


The licensor cannot revoke these freedoms as long as you follow the license terms.
[End of CC-BY-NC  License for Website User]
INTERNATIONAL JOURNAL OF COMPUTERS COMMUNICATIONS & CONTROL (IJCCC), With Emphasis on the Integration of Three Technologies (C & C & C),  ISSN 1841-9836.
IJCCC was founded in 2006,  at Agora University, by  Ioan DZITAC (Editor-in-Chief),  Florin Gheorghe FILIP (Editor-in-Chief), and  Misu-Jan MANOLESCU (Managing Editor).
Ethics: This journal is a member of, and subscribes to the principles of, the Committee on Publication Ethics (COPE).
Ioan  DZITAC (Editor-in-Chief) at COPE European Seminar, Bruxelles, 2015:
IJCCC is covered/indexed/abstracted in Science Citation Index Expanded (since vol.1(S),  2006); JCR2018: IF=1.585..
IJCCC is indexed in Scopus from 2008 (CiteScore2018 = 1.56):
Nomination by Elsevier for Journal Excellence Award Romania 2015 (SNIP2014 = 1.029): Elsevier/ Scopus
IJCCC was nominated by Elsevier for Journal Excellence Award - "Scopus Awards Romania 2015" (SNIP2014 = 1.029).
IJCCC is in Top 3 of 157 Romanian journals indexed by Scopus (in all fields) and No.1 in Computer Science field by Elsevier/ Scopus.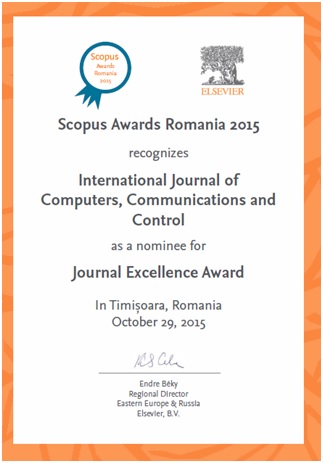 Impact Factor in JCR2018 (Clarivate Analytics/SCI Expanded/ISI Web of Science): IF=1.585 (Q3). Scopus: CiteScore2018=1.56 (Q2);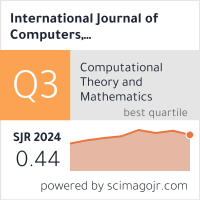 Editors-in-Chief: Ioan DZITAC & Florin Gheorghe FILIP.