A Knowledge-based Telemonitoring Platform for Application in Remote Healthcare
Abstract
Telemonitoring systems have been shown to greatly reduce medical costs while improving the quality of medical care. Today, the main factors restricting the development and popularization of Telemonitoring systems include scalability and compatibility. The challenge for the remote healthcare lies in the variety of heterogeneous medical sensors which need to be dynamically removed or added to the environment according to the health care needs. This paper presents the design for an ontology-based context model and related middleware that provides a reusable and extensible application platform for Remote Healthcare. We designed the ontology context model to describe physiological parameters, medical tasks and the patient's personal profile. Developers may extend the ontology model by considering new requirements as needed.
Keywords
telemonitoring, ontology, knowledge-based System, Context-Aware application
References
Theoria C. Fünf Jahre Leibniz-Institut für interdisziplinäre Studien e.V. (LIFIS) Berlin, Trafo Verlag, 2007: 217-228.
Cheng J, Rao R. A Context-Aware middleware for pervasive healthcare. Computer Applications and Softw are. 2009:50-53
Baldauf M,Dustdar S,Rosenberg F. A survey on Context-Aware systems. International Journal of AdHoc and Ubiquitous Computing.2007;2 (4) : 263-277.
http://dx.doi.org/10.1504/IJAHUC.2007.014070
Kuna M, Kolaric H, Bojic I, Kusek M, Jezic G. Android/OSGi-based Machine-to-Machine Context-Aware system. Proceedings of the 11th International Conference on Telecommunications, ConTEL. 2011: 95-102
Papapanagiotou I, Falkner M, Devetsikiotis M. Optimal functionality placement for multiplay task provider architectures. IEEE Transactions on Network and Task Management Volume 9, Issue 3, 2012: 359-372
Studer R, Benjamins V.R, Fensel D. Knowledge Engineering:principles and methods. Data and Knowledge Engineering 1998;25:161-197
http://dx.doi.org/10.1016/S0169-023X(97)00056-6
Paganelli F, Giuli D. An ontology-based context model for home health monitoring and alerting in chronic patient care networks. Proceedings - 21st International Conference on Advanced Information Networking and Applications Workshops/Symposia. 2007: 838-845
Wang N, Yang Z, Yang Y. Based on event-driven and task-oriented architecture business activity monitoring design and implementation. International Conference on System Science, Engineering Design and Manufacturing Informatization, ICSEM. 2011: 241-245
Xiong L, Niu J, Zhang J, Chen F, Shen P. Context Sensing Middleware Based on Mobile Devices. Journal of Chinese Computer Systems. 2011: 1170-1174
Armas R, Cuenca G, Horrocks I. MORe: Modular combination of OWL reasoners for ontology classification. Lecture Notes in Computer Science. 2012:1-16
http://dx.doi.org/10.1007/978-3-642-35176-1_1
Benlamri R, Docksteader L. MORF: A mobile health-monitoring platform. May 2010:18-25
Lasierra N, Alesanco A, García J. An ontology approach to manage individual patient profiles in home-based telemonitoring scenarios. Proceedings of the IEEE/EMBS Region 8 International Conference on Information Technology Applications in Biomedicine, ITAB. 2010
Kumar M, Weippert M, Vilbrandt R, Kreuzfeld S, Stoll R. Fuzzy evaluation of heart rate signals for mental stress assessment. IEEE Trans Fuzzy Syst 2007;15:791–808.
http://dx.doi.org/10.1109/TFUZZ.2006.889825
Horrocks I, et al., "SWRL: A Semantic Web Rule Language Combining OWL and RuleML," World Wide Web Consortium (W3C), May 2004; www.w3.org/Submission/SWRL.
Neubert S, Arndt D, Thurow K, and Stoll R, Mobile real-time data acquisition system for application in preventive medicine, Telemedicine and e-Health, 2012;16:504-509
Engels D, Saarinen M.J.O, Schweitzer P, Smith E.M. The hummingbird-2 lightweight authenticated encryption algorithm. Lecture Notes in Computer Science,2012:19-31.
http://dx.doi.org/10.1007/978-3-642-25286-0_2
Le X.H, Khalid M, Sankar R, Lee S. An Efficient Mutual Authentication and Access Control Scheme for Wireless Sensor Networks in Healthcare. Journal of Networks, 2011:355-364
Tekli J.M, Damiani E, Chbeir R, Gianini G. SOAP processing performance and enhancement. IEEE Transactions on Services Computing, 2012;3: 387-403
http://dx.doi.org/10.1109/TSC.2011.11
DOI:
https://doi.org/10.15837/ijccc.2014.5.661
Copyright (c) 2017 Weiping Zhang, Kerstin Thurow, Regina Stoll

This work is licensed under a
Creative Commons Attribution-NonCommercial 4.0 International License
.
CC-BY-NC  License for Website User
Articles published in IJCCC user license are protected by copyright.
Users can access, download, copy, translate the IJCCC articles for non-commercial purposes provided that users, but cannot redistribute, display or adapt:
Cite the article using an appropriate bibliographic citation: author(s), article title, journal, volume, issue, page numbers, year of publication, DOI, and the link to the definitive published version on IJCCC website;
Maintain the integrity of the IJCCC article;
Retain the copyright notices and links to these terms and conditions so it is clear to other users what can and what cannot be done with the  article;
Ensure that, for any content in the IJCCC article that is identified as belonging to a third party, any re-use complies with the copyright policies of that third party;
Any translations must prominently display the statement: "This is an unofficial translation of an article that appeared in IJCCC. Agora University  has not endorsed this translation."
This is a non commercial license where the use of published articles for commercial purposes is forbiden. 
Commercial purposes include: 
Copying or downloading IJCCC articles, or linking to such postings, for further redistribution, sale or licensing, for a fee;
Copying, downloading or posting by a site or service that incorporates advertising with such content;
The inclusion or incorporation of article content in other works or services (other than normal quotations with an appropriate citation) that is then available for sale or licensing, for a fee;
Use of IJCCC articles or article content (other than normal quotations with appropriate citation) by for-profit organizations for promotional purposes, whether for a fee or otherwise;
Use for the purposes of monetary reward by means of sale, resale, license, loan, transfer or other form of commercial exploitation;


The licensor cannot revoke these freedoms as long as you follow the license terms.
[End of CC-BY-NC  License for Website User]
INTERNATIONAL JOURNAL OF COMPUTERS COMMUNICATIONS & CONTROL (IJCCC), With Emphasis on the Integration of Three Technologies (C & C & C),  ISSN 1841-9836.
IJCCC was founded in 2006,  at Agora University, by  Ioan DZITAC (Editor-in-Chief),  Florin Gheorghe FILIP (Editor-in-Chief), and  Misu-Jan MANOLESCU (Managing Editor).
Ethics: This journal is a member of, and subscribes to the principles of, the Committee on Publication Ethics (COPE).
Ioan  DZITAC (Editor-in-Chief) at COPE European Seminar, Bruxelles, 2015:
IJCCC is covered/indexed/abstracted in Science Citation Index Expanded (since vol.1(S),  2006); JCR2018: IF=1.585..
IJCCC is indexed in Scopus from 2008 (CiteScore2018 = 1.56):
Nomination by Elsevier for Journal Excellence Award Romania 2015 (SNIP2014 = 1.029): Elsevier/ Scopus
IJCCC was nominated by Elsevier for Journal Excellence Award - "Scopus Awards Romania 2015" (SNIP2014 = 1.029).
IJCCC is in Top 3 of 157 Romanian journals indexed by Scopus (in all fields) and No.1 in Computer Science field by Elsevier/ Scopus.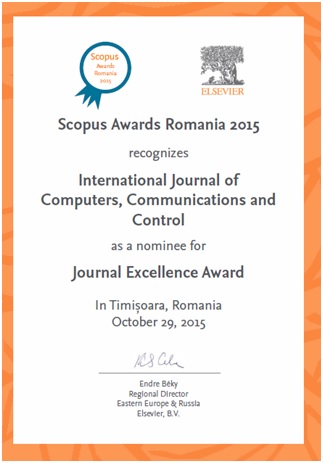 Impact Factor in JCR2018 (Clarivate Analytics/SCI Expanded/ISI Web of Science): IF=1.585 (Q3). Scopus: CiteScore2018=1.56 (Q2); Editors-in-Chief: Ioan DZITAC & Florin Gheorghe FILIP.