A Quick Location Method for High Dynamic GNSS Receiver Based on Time Assistance
Abstract
Traditional A-GPS positioning method when quickly calculate a position, need a condition that the approximate position must not exceed 150km, otherwise the calculation will be very complex. This paper proposes a time-assisted fast positioning method for high dynamic GNSS receiver, effectively solving the problem of large search calculation in traditional method, even if exact position is unknown after the signal is recaptured. According to the known auxiliary time information and implied  elevation information, this paper put forwards a custom coordinate system for building twodimensional search space, which could reduce the number of search-dimensions. It proposes a search method based on receiver clock calculated by analyzing the influence of time auxiliary accuracy. By using GPS ephemeris data provided by the IGS, it builds a simulation environment and analyzes the influence of different preferred satellites based on the custom coordinate system on the calculation, and thus puts forward a principle for choosing the preferred satellites. Simulation examples show that through the rational combination of satellites to create a custom coordinate system, and when time auxiliary accuracy is less than 60us, the calculation can 100% guarantee to restore a complete satellite signal emission time and obtain an accurate position.
Keywords
Global Navigation Satellite System(GNSS), signal transmission time recovery, high dynamic, Time to First Fix(TTFF)
References
Kaplan, E. D., Hegarty, C. J.; Understanding GPS: principles and applications, 2nd ed. Norwood, MA, Artech House, 2006.
Agarwal, N., Basch, J., Beckmann, P.; Algorithms for GPS operation indoors and downtown, GPS Solutions, 6:149-160, 2002.
http://dx.doi.org/10.1007/s10291-002-0028-0
Diggelen, F. V.; Indoor GPS theory & implementation, IEEE Position, Location & Navigation Symposium, 40-247, 2002.
HUANG Yiping; GPS receiver with extended hot start capability: US, 7466265, 2008.
Akopian, D., Syrjärinne, J.; A fast positioning method without navigation data decoding for assisted GPS receivers, Vehicular Technology, 58:4640-4645, 2009.
http://dx.doi.org/10.1109/TVT.2009.2019073
LI, Jizhong, WU, Muqing; A Positioning Algorithm of AGPS, International conference on signal processing systems, 385-388, 2009.
Sirola N.Syrjärinne, J.; GPS position can be computed without the navigation data, ION GPS, 2741-2744, 2002.
CAO, Hui, YUAN, Hong; Method for Time-of-transmission Recovery Based on Assisted- GPS Positioning, Chinese J.Space Sci, 32(3):585-591, 2012.
Yang Chuan, Wang Yongsheng, SHI Lijian; Study of atom clock aiding GPS positioning, GNSS World of China, 4:5-8, 2005.
John Kitching,Svenja Knappe, Li-Anne Liew,et al. Chip-Scale Atomic Frequency References. ION GNSS 18th International Technical Meeting of the Satellite Division, September 2005, Long Beach, CA,1662-1669.
SA.45s Chip Scale Atomic Clock Data Sheet. Symmetricom 2013. http://www.symmetricom.com/products/.
WU Peng, XU Bo, LIUWenxiang, WANG Feixue. GNSS emergency positioning method and research on the accuracy estimation[C].//The forth sector of the Chinese Satellite Navigation Conference, (CSNC). Wuhan, 2013.
WU Peng, WANG Feixue. The method and analysis of DOP calculation in three-satellite positioning in BD system, The second sector of the Chinese Satellite Navigation Conference, (CSNC). Shanghai, 2011.
DOI:
https://doi.org/10.15837/ijccc.2013.5.645
Copyright (c) 2017 Peng Wu, Shourang Jing, Wenxiang Liu, Feixue Wang

This work is licensed under a
Creative Commons Attribution-NonCommercial 4.0 International License
.
CC-BY-NC  License for Website User
Articles published in IJCCC user license are protected by copyright.
Users can access, download, copy, translate the IJCCC articles for non-commercial purposes provided that users, but cannot redistribute, display or adapt:
Cite the article using an appropriate bibliographic citation: author(s), article title, journal, volume, issue, page numbers, year of publication, DOI, and the link to the definitive published version on IJCCC website;
Maintain the integrity of the IJCCC article;
Retain the copyright notices and links to these terms and conditions so it is clear to other users what can and what cannot be done with the  article;
Ensure that, for any content in the IJCCC article that is identified as belonging to a third party, any re-use complies with the copyright policies of that third party;
Any translations must prominently display the statement: "This is an unofficial translation of an article that appeared in IJCCC. Agora University  has not endorsed this translation."
This is a non commercial license where the use of published articles for commercial purposes is forbiden. 
Commercial purposes include: 
Copying or downloading IJCCC articles, or linking to such postings, for further redistribution, sale or licensing, for a fee;
Copying, downloading or posting by a site or service that incorporates advertising with such content;
The inclusion or incorporation of article content in other works or services (other than normal quotations with an appropriate citation) that is then available for sale or licensing, for a fee;
Use of IJCCC articles or article content (other than normal quotations with appropriate citation) by for-profit organizations for promotional purposes, whether for a fee or otherwise;
Use for the purposes of monetary reward by means of sale, resale, license, loan, transfer or other form of commercial exploitation;


The licensor cannot revoke these freedoms as long as you follow the license terms.
[End of CC-BY-NC  License for Website User]
INTERNATIONAL JOURNAL OF COMPUTERS COMMUNICATIONS & CONTROL (IJCCC), With Emphasis on the Integration of Three Technologies (C & C & C),  ISSN 1841-9836.
IJCCC was founded in 2006,  at Agora University, by  Ioan DZITAC (Editor-in-Chief),  Florin Gheorghe FILIP (Editor-in-Chief), and  Misu-Jan MANOLESCU (Managing Editor).
Ethics: This journal is a member of, and subscribes to the principles of, the Committee on Publication Ethics (COPE).
Ioan  DZITAC (Editor-in-Chief) at COPE European Seminar, Bruxelles, 2015:
IJCCC is covered/indexed/abstracted in Science Citation Index Expanded (since vol.1(S),  2006); JCR2018: IF=1.585..
IJCCC is indexed in Scopus from 2008 (CiteScore2018 = 1.56):
Nomination by Elsevier for Journal Excellence Award Romania 2015 (SNIP2014 = 1.029): Elsevier/ Scopus
IJCCC was nominated by Elsevier for Journal Excellence Award - "Scopus Awards Romania 2015" (SNIP2014 = 1.029).
IJCCC is in Top 3 of 157 Romanian journals indexed by Scopus (in all fields) and No.1 in Computer Science field by Elsevier/ Scopus.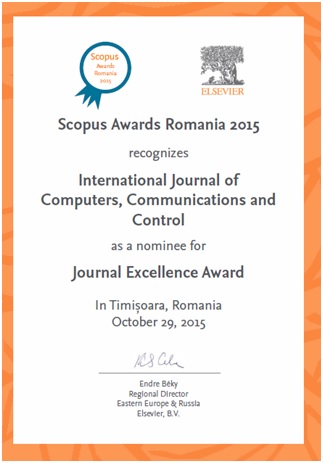 Impact Factor in JCR2018 (Clarivate Analytics/SCI Expanded/ISI Web of Science): IF=1.585 (Q3). Scopus: CiteScore2018=1.56 (Q2);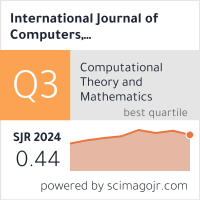 Editors-in-Chief: Ioan DZITAC & Florin Gheorghe FILIP.