Analysis of Reconfigurability, Control and Resource Management in Heterogeneous Wireless Networks
Abstract
Modern communications networks integrate different access technologies that require interoperability for seamless and user-transparent transfer of multimedia-reach content. Latest standardization activities in this area pinpoint the IEEE 802.21 standard as an enabler of media independent handovers in various scenarios. Additionally, the implementation of the heterogeneous network paradigm yields optimized and efficient resource management techniques emphasizing the need for reconfiguration and interoperability capabilities within future wireless networks. This paper analyzes a combination of reconfigurability, interoperability and resource management aspects in heterogeneous wireless networks based on the IEEE 802.21 standard. It introduces a novel platform for wireless heterogeneous communication systems and a prototype of a reconfigurable mobile terminal that rely on the IEEE 802.21 standard. The introduced platforms are extensively validated through simulations and laboratory experiments showcasing that the IEEE 802.21-backed interoperability is able to support uninterrupted content delivery across multiple communication technologies with high performance.
Keywords
Heterogeneous Networks; Resource Management; IEEE 802.21; Simulation; Prototyping.
References
Ericsson (2012); Ericsson Mobility Report, http://www.ericsson.com/res/docs/2012/ericssonmobility-report-november-2012.pdf
ABI Research (2012); Worldwide Mobile Data Traffic Will Exceed 107 Exabytes in 2017, But That Doesnt Imply a Data Tsunami, http://www.abiresearch.com/press/worldwide-mobiledata- traffic-will-exceed-107-exab.
3GPP TS 23.402 (2008); Architecture enhancements for non-3GPP accesses - Release 8.
Holma H. (2010); LTE for UMTS: Evolution to LTE-Advanced, Wiley & Sons.
Holma H. (2007); WCDMA for UMTS: HSPA evolution and LTE, Wiley & Sons.
http://dx.doi.org/10.1002/9780470512531
HP (2013); HP Offers Mobile Network Operators Clear Path to Heterogeneous Networking, http://www8.hp.com/uk/en/hp-news/press-release.html?id=1375527.
Nokia Siemens Networks (2013); Nokia Siemens Networks Smart Wi-Fi makes mobile integration seamless, http://www.nokiasiemensnetworks.com/portfolio/products/small-cells/smartwi- fi.
IEEE Standard for Local and Metropolitan Area Networks, Media Independent Handover Services, IEEE 802.21, (2008).
Zhang J.; de la Roche G. (2010); Femtocells Technologies and Deployments, Wiley & Sons.
Sounders S.R.; Carlaw S.; Giustina A.; Bhat R. R.; Rao V.S.; Siegberg R. (2009); Femtocells Opportunities and Challenges for Business and Technology, Wiley & Sons.
Nokia Siemens (2012); Deployment strategies for heterogeneous networks, White paper.
3GPP TR 36.913 V10.0.0 (2011); Requirements for Further Advancements for Evolved Universal Terrestrial Radio Access, LTE-Advanced - Release 10, 3GPP.
Nakamura T. et al (2013); Trends in small cells enhancements in LTE-Advanced, IEEE Communications Magazine, 51(2), 98-105.
Trends in small cells enhancements in LTE-Advanced, IEEE Communications Magazine, 51(2), 98-105.
http://dx.doi.org/10.1109/MCOM.2013.6461192
Georganopoulos N. et al. (2004); Terminal-Centric View of Software Reconfigurable System Architecture and Enabling Components and Technologies, IEEE Communications Magazine, 42(5), 100-110.
http://dx.doi.org/10.1109/MCOM.2004.1299350
Hossain E. (2008); Heterogeneous Wireless Access Networks: Architectures and Protocols, Springer.
Atanasovski V.; Rakovic, V.; Gavrilovska, L. (2010); Efficient Resource Management in Future Heterogeneous Wireless Networks: the RIWCoS Approach, IEEE Military Communications Conference (MILCOM), San Jose, CA, USA.
Zhu Y.; Ni L.; Li L. (2013); Exploiting mobility patterns for inter-technology handover in mobile environments, Computer Communications, ISSN 0140-3664, 36(2), 203-210.
3GPP TS 23.203 Tech. Spec. (2008); Policy and Charging Control Architecture.
3GPP TS 23.216 V8.6.0 (2009-12); Single Radio Voice Call Continuity, SRVCC -Release 8.
3GPP TR 36.938 (2009); Improved Network Controlled Mobility between E-UTRAN and 3GPP2/Mobile WiMAX Radio Technologies.
Ali I. et al. (2009); Network-based mobility management in the evolved 3GPP core network, IEEE Communications Magazine, 47(2), 58-66.
http://dx.doi.org/10.1109/MCOM.2009.4785381
Knaesel F.J.; Neves P.; Sargento S. (2011); IEEE 802.21 MIH-enabled Evolved Packet System Architecture, Third Int. ICST Conference, MONAMI 2011, Aveiro, Portugal.
Latkoski P.; Ognenoski O.; Rakovic V.; Gavrilovska L. (2010); Prototyping and Optimization of IEEE 802.21-based Reconfigurable Mobile Terminal, Military Communication Conference - MILCOM, California, USA.
NATO SfP-982469; Reconfigurable Interoperability of Wireless Communications Systems (RIWCoS), http://riwcos.comm.pub.ro
DOI:
https://doi.org/10.15837/ijccc.2015.3.602
Copyright (c) 2017 Liljana Gavrilovska, Vladimir Atanasovski, Pero Latkoski, Valentin Rakovik

This work is licensed under a
Creative Commons Attribution-NonCommercial 4.0 International License
.
CC-BY-NC  License for Website User
Articles published in IJCCC user license are protected by copyright.
Users can access, download, copy, translate the IJCCC articles for non-commercial purposes provided that users, but cannot redistribute, display or adapt:
Cite the article using an appropriate bibliographic citation: author(s), article title, journal, volume, issue, page numbers, year of publication, DOI, and the link to the definitive published version on IJCCC website;
Maintain the integrity of the IJCCC article;
Retain the copyright notices and links to these terms and conditions so it is clear to other users what can and what cannot be done with the  article;
Ensure that, for any content in the IJCCC article that is identified as belonging to a third party, any re-use complies with the copyright policies of that third party;
Any translations must prominently display the statement: "This is an unofficial translation of an article that appeared in IJCCC. Agora University  has not endorsed this translation."
This is a non commercial license where the use of published articles for commercial purposes is forbiden. 
Commercial purposes include: 
Copying or downloading IJCCC articles, or linking to such postings, for further redistribution, sale or licensing, for a fee;
Copying, downloading or posting by a site or service that incorporates advertising with such content;
The inclusion or incorporation of article content in other works or services (other than normal quotations with an appropriate citation) that is then available for sale or licensing, for a fee;
Use of IJCCC articles or article content (other than normal quotations with appropriate citation) by for-profit organizations for promotional purposes, whether for a fee or otherwise;
Use for the purposes of monetary reward by means of sale, resale, license, loan, transfer or other form of commercial exploitation;


The licensor cannot revoke these freedoms as long as you follow the license terms.
[End of CC-BY-NC  License for Website User]
INTERNATIONAL JOURNAL OF COMPUTERS COMMUNICATIONS & CONTROL (IJCCC), With Emphasis on the Integration of Three Technologies (C & C & C),  ISSN 1841-9836.
IJCCC was founded in 2006,  at Agora University, by  Ioan DZITAC (Editor-in-Chief),  Florin Gheorghe FILIP (Editor-in-Chief), and  Misu-Jan MANOLESCU (Managing Editor).
Ethics: This journal is a member of, and subscribes to the principles of, the Committee on Publication Ethics (COPE).
Ioan  DZITAC (Editor-in-Chief) at COPE European Seminar, Bruxelles, 2015:
IJCCC is covered/indexed/abstracted in Science Citation Index Expanded (since vol.1(S),  2006); JCR2018: IF=1.585..
IJCCC is indexed in Scopus from 2008 (CiteScore2018 = 1.56):
Nomination by Elsevier for Journal Excellence Award Romania 2015 (SNIP2014 = 1.029): Elsevier/ Scopus
IJCCC was nominated by Elsevier for Journal Excellence Award - "Scopus Awards Romania 2015" (SNIP2014 = 1.029).
IJCCC is in Top 3 of 157 Romanian journals indexed by Scopus (in all fields) and No.1 in Computer Science field by Elsevier/ Scopus.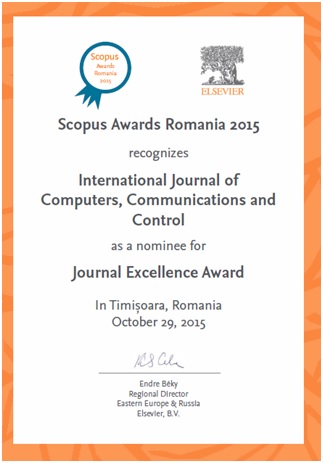 Impact Factor in JCR2018 (Clarivate Analytics/SCI Expanded/ISI Web of Science): IF=1.585 (Q3). Scopus: CiteScore2018=1.56 (Q2);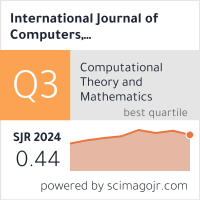 Editors-in-Chief: Ioan DZITAC & Florin Gheorghe FILIP.