An Agent-Based Solution for the Berth Allocation Problem
Abstract
This work presents the development of MABAP, a decision support system based on the agent technology that helps in solving the problem of berth allocation for ships within a port. The Berth Allocation Problem (BAP) regards the logistics involved in planning and controlling the berthing of vessels. A software architecture in terms of agents is presented; Berths and Ships representing the actors in the system, BerthRequest and BerthPlanner as representatives of ships and berths in the planning process, and finally the Dock and Central agents representing the dock or pier. The architecture modeling was done using PASSI methodology for the design of agent-oriented systems, and the implementation was done in JADE, a Javabased development environment for multiagent systems. To validate the resulting support system, tests were carried out in which the user can choose different portpolicy scenarios, ranging from maximizing vessels throughput to maximize berths use.
Keywords
Artificial Intelligence, Decision support system, Multiagent architecture, Ports planning
References
United Nations Conference on Trade And Development (UNCTAD), Review Maritime Transport, Cap V, pp. 73-74, Cap VII. 2005.
Wooldridge, M., An Introduction to Multiagent Systems, Dept. of Electronic Engineering, Queen Mary & Westfield College, 2002.
Burrafato, P., Cossentino, M. Designing a Multi-Agent Solution for a Bookstore With the PASSI Methodology, In Fourth International Bi-Conference Workshop on Agent-Oriented Information Systems (AOIS-2002), 2002, pp. 27-28.
FIPA, Contract Net Interaction Protocol Specification. Available at: www.fipa.org/specs/fipa00029/SC00029H.pdf
Daganzo, C., The Crane Scheduling Problem, Transportation Research B 23B, 1989, 159-175.
http://dx.doi.org/10.1016/0191-2615(89)90001-5
Cubillos, C., Crawford, D., Rodríguez, N., MADARP: A Distributed Agent-based System for On-Line DARP. In: I. Stojmenovic et al. (Eds.): ISPA 2007, Springer Heidelberg LNCS, Vol. 4742, 160-169, 2007.
Botti, V.J. Multi-Agent System Technology in a Port Container Terminal Automation, European Research Consortium for Informatics and Mathematics News, Vol. January, No 56, 37-39, 2004.
Nwana, H.S., Ndumu, D.T., An Introduction to Agent Technology, Re-Drawn by Mobile Computing, Dept. of IECS, Feng Chua University, R.O.C., 2003.
Cubillos, C., Urra, E., Rodríguez, N., Application of Genetic Algorithms for the DARPTW Problem, INT J COMPUT COMMUN, ISSN 1841-9836, 4(2):127-136, 2009.
Pinedo, M. Scheduling: Theory, Algorithms and Systems, Prentice-Hall, Englewood Cliffs, NJ. 1995.
Garey, M. R., Johnson, D. S., Computers and Intractability: A guide to the Theory of NP-Completeness, Freeman, San Francisco. 1979.
Imai, A., Nishimura, F., Papadimitriou, S., The dynamic berth allocation problem for a container port, Transportation Research 35B, 401-417. 2001.
http://dx.doi.org/10.1016/S0191-2615(99)00057-0
Imai, A., Nagaiwa, K. Chan, W. T., Efficient planning of berth allocation for contenedor terminals in Asia, Journal of Advanced Transportation, 31, 75-94. 1997.
http://dx.doi.org/10.1002/atr.5670310107
Papadimitriou, C. H., Steiglitz, K., Combinatorial Optimization; Algorithms and Complexity, Prentice-Hall, Englewood Cliff, NJ. 1982.
Jaw, J. Odoni, A. R. Psaraftis, H. N. Wilson, N.M.H. A heuristic algorithm for the Multi- Vehicle Advance-Request Dial-a-Ride Problem with Time Windows, Transportation Research B, 20B(2): 243 - 257, 1986.
http://dx.doi.org/10.1016/0191-2615(86)90020-2
Cabrera-Paniagua, D., Herrera, G., Cubillos, C., Donoso, M. Towards a Model for Dynamic Formation and Operation of Virtual Organizations for Transportation, Studies in Informatics and Control, ISSN 1220-1766, 20 (3): 255-264, 2011.
Cubillos, C., Donoso M., Rodríguez N., Guidi-Polanco F., Cabrera-Paniagua D., Towards Open Agent Systems Through Dynamic Incorporation, INT J COMPUT COMMUN, ISSN 1841-9836, 5(5):675-683, 2010.
DOI:
https://doi.org/10.15837/ijccc.2013.3.465
Copyright (c) 2017 Claudio Cubillos, René Díaz, Enrique Urra, Daniel Cabrera-Paniagua, Guillermo Cabrera, Gastón Lefranc

This work is licensed under a
Creative Commons Attribution-NonCommercial 4.0 International License
.
CC-BY-NC  License for Website User
Articles published in IJCCC user license are protected by copyright.
Users can access, download, copy, translate the IJCCC articles for non-commercial purposes provided that users, but cannot redistribute, display or adapt:
Cite the article using an appropriate bibliographic citation: author(s), article title, journal, volume, issue, page numbers, year of publication, DOI, and the link to the definitive published version on IJCCC website;
Maintain the integrity of the IJCCC article;
Retain the copyright notices and links to these terms and conditions so it is clear to other users what can and what cannot be done with the  article;
Ensure that, for any content in the IJCCC article that is identified as belonging to a third party, any re-use complies with the copyright policies of that third party;
Any translations must prominently display the statement: "This is an unofficial translation of an article that appeared in IJCCC. Agora University  has not endorsed this translation."
This is a non commercial license where the use of published articles for commercial purposes is forbiden. 
Commercial purposes include: 
Copying or downloading IJCCC articles, or linking to such postings, for further redistribution, sale or licensing, for a fee;
Copying, downloading or posting by a site or service that incorporates advertising with such content;
The inclusion or incorporation of article content in other works or services (other than normal quotations with an appropriate citation) that is then available for sale or licensing, for a fee;
Use of IJCCC articles or article content (other than normal quotations with appropriate citation) by for-profit organizations for promotional purposes, whether for a fee or otherwise;
Use for the purposes of monetary reward by means of sale, resale, license, loan, transfer or other form of commercial exploitation;


The licensor cannot revoke these freedoms as long as you follow the license terms.
[End of CC-BY-NC  License for Website User]
INTERNATIONAL JOURNAL OF COMPUTERS COMMUNICATIONS & CONTROL (IJCCC), With Emphasis on the Integration of Three Technologies (C & C & C),  ISSN 1841-9836.
IJCCC was founded in 2006,  at Agora University, by  Ioan DZITAC (Editor-in-Chief),  Florin Gheorghe FILIP (Editor-in-Chief), and  Misu-Jan MANOLESCU (Managing Editor).
Ethics: This journal is a member of, and subscribes to the principles of, the Committee on Publication Ethics (COPE).
Ioan  DZITAC (Editor-in-Chief) at COPE European Seminar, Bruxelles, 2015:
IJCCC is covered/indexed/abstracted in Science Citation Index Expanded (since vol.1(S),  2006); JCR2018: IF=1.585..
IJCCC is indexed in Scopus from 2008 (CiteScore2018 = 1.56):
Nomination by Elsevier for Journal Excellence Award Romania 2015 (SNIP2014 = 1.029): Elsevier/ Scopus
IJCCC was nominated by Elsevier for Journal Excellence Award - "Scopus Awards Romania 2015" (SNIP2014 = 1.029).
IJCCC is in Top 3 of 157 Romanian journals indexed by Scopus (in all fields) and No.1 in Computer Science field by Elsevier/ Scopus.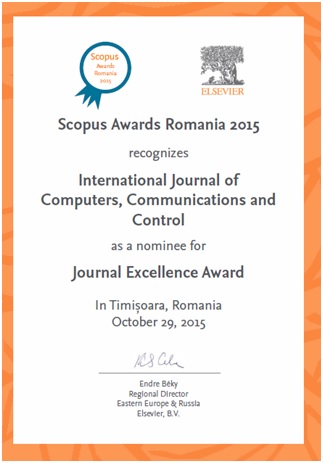 Impact Factor in JCR2018 (Clarivate Analytics/SCI Expanded/ISI Web of Science): IF=1.585 (Q3). Scopus: CiteScore2018=1.56 (Q2);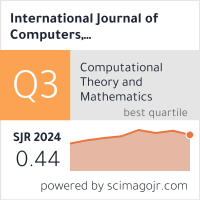 Editors-in-Chief: Ioan DZITAC & Florin Gheorghe FILIP.