Navigation Decision Support: Discover of Vessel Traffic Anomaly According to the Historic Marine Data
Abstract
During the last years, marine traffic dramatically increases. Marine traffic safety highly depends on the mariner's decisions and particular situations. The watch officer must continuously observe the marine traffic for anomalies because the anomaly detection is crucial to predict dangerous situations and to make a decision in time for safe marine navigation. In this paper, we present marine traffic anomaly detection by the combination of the DBSCAN clustering algorithm (Density- Based Spatial Clustering of Applications with Noise) with k-nearest neighbors analysis among the clusters and particular vessels. The clustering algorithm is applied to the historic marine traffic data – a set of vessel turn points. In our experiments, the total number of turn points was about 3 million, and about 160 megabytes of computer store was used. A formal numerical criterion to com-pare anomaly with normal traffic flow case has been proposed. It gives us a possibility to detect the vessels outside the typical traffic pattern. The proposed meth-od ensures the right decisions in different oceanic scale or hydro meteorology conditions in the detection of anomaly situation of the vessel.
Keywords
marine anomaly detection, marine traffic, spatial data, DBSCAN, clustering, k-nearest neighbors, regression
References
Brusch, S.; Lehner, S.; Fritz, T.; Soccorsi, M.; Soloviev, A.; Van Schie, B. (2011). Ship surveillance with TerraSAR-X, IEEE Transactions on Geoscience and Remote Sensing, 49, 1092-1103, 2011.
https://doi.org/10.1109/TGRS.2010.2071879
Celik, M.; Cebi, S. (2009). Analytical HFACS for investigating human errors in shipping accidents, Accident Analysis and Prevention, 41, 66-75, 2009.
https://doi.org/10.1016/j.aap.2008.09.004
Chen, S.T.; Wall, A.; Davies, P.; Yang, Z.; Wang, J., Chou, Y.H. (2013). A Human and Organisational Factors (HOFs) analysis method for marine casualties using HFACS-Maritime Accidents (HFACS-MA), Safety Science, 60, 105-114 (2013).
https://doi.org/10.1016/j.ssci.2013.06.009
Daranda, A.; Andziulis, J.S. (2015). Fake vessels identification in the AIS, In: Transport Means 2015 Proceedings, 248-252, 2015.
Eriksen, T.; Høye, G.; Narheim, B.; Meland, B.J. (2016). Maritime traffic monitoring using a space-based AIS receiver, In: International Astronautical Federation - 55th International Astronautical Congress, 5276-5289, 2004.
Ester, M.; Kriegel, H.-P.; Sander, J.; Xu, X. (1996). A density-based algorithm for discovering clusters in large spatial databases with noise, In: Proceedings of the 2nd International Conference on Knowledge Discovery and Data Mining, 226-231, 1996.
Fournier, M.; Casey Hilliard, R.; Rezaee, S.; Pelot, R. (2018). Past, present, and future of the satellite-based automatic identification system: areas of applications (2004-2016), WMU Journal of Maritime Affairs, 17, 311-345, 2018.
https://doi.org/10.1007/s13437-018-0151-6
Fujii, Y.; Shiobara, R. (1971). The analysis of traffic accidents, Journal of Navigation, 24, 534-543, 1971.
https://doi.org/10.1017/S0373463300022372
Gaugel, T.; Mittag, J.; Hartenstein, H. et al. (2019). In-depth analysis and evaluation of Selforganizing TDMA, In: 2013 IEEE Vehicular Networking Conference, VNC, Boston, 79-86, 2013.
https://doi.org/10.1109/VNC.2013.6737593
Goerlandt, F.; Goite, H.; Valdez Banda, O.A.; Höglund, A.; Ahonen-Rainio, P.; Lensu, M. (2017). An analysis of wintertime navigational accidents in the Northern Baltic Sea, Safety Science, 92, 66-84, 2017.
https://doi.org/10.1016/j.ssci.2016.09.011
Hodge, V.J.; Austin, J. (2018). A survey of outlier detection methodologies, Artificial Intelligence Review, 22, 85-126, 2004.
https://doi.org/10.1023/B:AIRE.0000045502.10941.a9
International Telecommunication Union (ITU) (2014). Technical characteristics for an automatic identification system using time division multiple access in the VHF maritime mobile frequency band M Series Mobile, radiodetermination, amateur and related satellite, 2014.
Jin, M.; Shi, W.; Lin, K.C.; Li, K.X. (2019). Marine piracy prediction and prevention: Policy implications, Marine Policy, 108, 2019.
https://doi.org/10.1016/j.marpol.2019.103528
Longépé, N.; Hajduch, G.; Ardianto, R. et al. (2018). Completing fishing monitoring with spaceborne Vessel Detection System (VDS) and Automatic Identification System (AIS) to assess illegal fishing in Indonesia, Marine Pollution Bulletin, 131, 33-39, 2018.
https://doi.org/10.1016/j.marpolbul.2017.10.016
Mazaheri, A.; Montewka, J.; Kujala, P. (2013). Correlation between the ship grounding accident and the ship traffic - A case study based on the statistics of the Gulf of Finland, TransNav, the International Journal on Marine Navigation and Safety of Sea Transportation, 7, 119-124, 2013.
https://doi.org/10.12716/1001.07.01.16
Prabowo, A.R.; Bae, D.M. (2019). Environmental risk of maritime territory subjected to accidental phenomena: Correlation of oil spill and ship grounding in the Exxon Valdez's case, Results in Engineering, 4, 100035, 2019.
https://doi.org/10.1016/j.rineng.2019.100035
Tsou, M.C. (2016). Online analysis process on Automatic Identification System data warehouse for application in vessel traffic service, Proceedings of the Institution of Mechanical Engineers Part M: Journal of Engineering for the Maritime Environment, 230, 199-215, 2016.
https://doi.org/10.1177/1475090214541426
Venskus, J.; Treigys, P.; Bernatavicien˙e, J.; Tamulevicius, G.; Medvedev, V. (2019). Realtime maritime traffic anomaly detection based on sensors and history data embedding, Sensors (Switzerland), 19, 3782, 2019.
https://doi.org/10.3390/s19173782
Wang, Y.; Han, L.; Liu, W.; Yang, S.; Gao, Y. (2019). Study on wavelet neural network based anomaly detection in ocean observing data series, Ocean Engineering, 186, 2019.
https://doi.org/10.1016/j.oceaneng.2019.106129
[Online] IMO Resolution MSC 74 (69), Annex 3, Recommendation on Performance Standards for an Universal Shipborne Automatic Identification System (AIS), http://www.imo.org/en/KnowledgeCentre/IndexofIMOResolutions/Maritime-Safety- Committee-(MSC)/Documents/MSC.74(69).pdf, Accesed on 10 December 2019.
DOI:
https://doi.org/10.15837/ijccc.2020.3.3864
Copyright (c) 2020 Andrius Daranda

This work is licensed under a
Creative Commons Attribution-NonCommercial 4.0 International License
.
IJCCC is an Open Access Journal : CC-BY-NC.
Articles published in IJCCC user license are protected by copyright.
Users can access, download, copy, translate the IJCCC articles for non-commercial purposes provided that users, but cannot redistribute, display or adapt:
Cite the article using an appropriate bibliographic citation: author(s), article title, journal, volume, issue, page numbers, year of publication, DOI, and the link to the definitive published version on IJCCC website;
Maintain the integrity of the IJCCC article;
Retain the copyright notices and links to these terms and conditions so it is clear to other users what can and what cannot be done with the  article;
Ensure that, for any content in the IJCCC article that is identified as belonging to a third party, any re-use complies with the copyright policies of that third party;
Any translations must prominently display the statement: "This is an unofficial translation of an article that appeared in IJCCC. Agora University  has not endorsed this translation."
This is a non commercial license where the use of published articles for commercial purposes is forbiden. 
Commercial purposes include: 
Copying or downloading IJCCC articles, or linking to such postings, for further redistribution, sale or licensing, for a fee;
Copying, downloading or posting by a site or service that incorporates advertising with such content;
The inclusion or incorporation of article content in other works or services (other than normal quotations with an appropriate citation) that is then available for sale or licensing, for a fee;
Use of IJCCC articles or article content (other than normal quotations with appropriate citation) by for-profit organizations for promotional purposes, whether for a fee or otherwise;
Use for the purposes of monetary reward by means of sale, resale, license, loan, transfer or other form of commercial exploitation;


The licensor cannot revoke these freedoms as long as you follow the license terms.
[End of CC-BY-NC  License for Website User]
INTERNATIONAL JOURNAL OF COMPUTERS COMMUNICATIONS & CONTROL (IJCCC), With Emphasis on the Integration of Three Technologies (C & C & C),  ISSN 1841-9836.
IJCCC was founded in 2006,  at Agora University, by  Ioan DZITAC (Editor-in-Chief),  Florin Gheorghe FILIP (Editor-in-Chief), and  Misu-Jan MANOLESCU (Managing Editor).
Ethics: This journal is a member of, and subscribes to the principles of, the Committee on Publication Ethics (COPE).
Ioan  DZITAC (Editor-in-Chief) at COPE European Seminar, Bruxelles, 2015:
IJCCC is covered/indexed/abstracted in Science Citation Index Expanded (since vol.1(S),  2006); JCR2018: IF=1.585..
IJCCC is indexed in Scopus from 2008 (CiteScore2018 = 1.56):
Nomination by Elsevier for Journal Excellence Award Romania 2015 (SNIP2014 = 1.029): Elsevier/ Scopus
IJCCC was nominated by Elsevier for Journal Excellence Award - "Scopus Awards Romania 2015" (SNIP2014 = 1.029).
IJCCC is in Top 3 of 157 Romanian journals indexed by Scopus (in all fields) and No.1 in Computer Science field by Elsevier/ Scopus.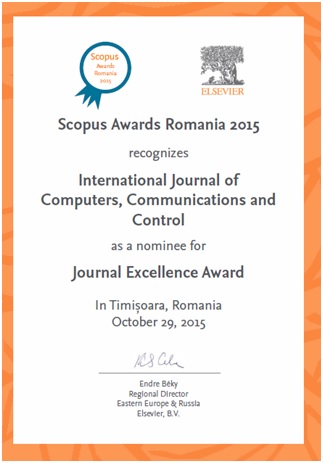 Impact Factor in JCR2018 (Clarivate Analytics/SCI Expanded/ISI Web of Science): IF=1.585 (Q3). Scopus: CiteScore2018=1.56 (Q2);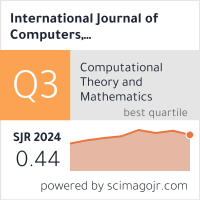 Editors-in-Chief: Ioan DZITAC & Florin Gheorghe FILIP.