Trust Based Fuzzy Linguistic Recommender Systems as Reinforcement for Personalized Education in the Field of Oral Surgery and Implantology
Abstract
The rapid advances in Web technologies are promoting the development of new pedagogic models based on virtual teaching. In this framework, personalized services are necessary. Recommender systems can be used in an academic environment to assist users in their teaching-learning processes. In this paper, we present a trust based recommender system, adopting a fuzzy linguistic modeling, that provides personalized activities to students in order to reinforce their education, and applied it in the field of oral surgery and implantology. We don't take into account users with similar ratings history but users in which each user can trust and we provide a method to aggregate the trust information. This system can be used in order to aid professors to provide students with a personalized monitoring of their studies with less effort. The results obtained in the experiments proved to be satisfactory.
Keywords
recommender system, e-learning, fuzzy linguistic modeling, oral surgery
References
Burke, R. (2007). Hybrid Web Recommender Systems, P. Brusilovsky, A. Kobsa, and W. Nejdl (Eds.): The Adaptive Web, LNCS, 4321, 377-408, 2007.
https://doi.org/10.1007/978-3-540-72079-9_12
Burke, R.; Felfernig, A.; Göker, M.H. (2011). Recommender systems: An overview, Artificial Intelligence Magazine, 32(3), 13-18, 2011.
https://doi.org/10.1609/aimag.v32i3.2361
Dascalu, M.I.; Bodea, C.N.; Moldoveanu, A.; Mohora, A.; Lytras, M.; Ordoñez de Pablos, P. (2015). A recommender agent based on learning styles for better virtual collaborative learning experiences, Computers in Human Behavior, 45, 243-253, 2015.
https://doi.org/10.1016/j.chb.2014.12.027
Goga, M.; Kuyoro, S.; Goga, N. (2015). A recommender for improving the student academic performance, Procedia - Social and Behavioral Sciences, 180, 1481-1488, 2015.
https://doi.org/10.1016/j.sbspro.2015.02.296
Golbeck, J.A. (2005). Computing and applying trust in web-based social networks, University of Maryland at College Park, 2005.
Herrera, F.; Martínez, L. (2000). A 2-tuple fuzzy linguistic representation model for computing with words, IEEE Transactions on Fuzzy Systems, 8(6), 746-752, 2000.
https://doi.org/10.1109/91.890332
Herrera, F.; Martínez, L. (2001). A model based on linguistic 2-tuples for dealing with multigranularity hierarchical linguistic contexts in multiexpert decision- making, IEEE Transactions on Systems, Man and Cybernetics. Part B: Cybernetics, 31(2), 227-234, 2001.
https://doi.org/10.1109/3477.915345
Herrera-Viedma, E.; Pasi, G.; López-Herrera, A.G.; Porcel, C. (2006). Evaluating the Information Quality of Web Sites: A Qualitative Methodology Based on Fuzzy Computing With Words, Journal of the American Society for Information Science and Technology, 57(4), 538-549, 2006.
https://doi.org/10.1002/asi.20308
Mata, F.; Martínez, L.; Herrera-Viedma, E. (2009). An Adaptive Consensus Support Model for Group Decision Making Problems in a Multi-Granular Fuzzy Linguistic Context, IEEE Transactions on Fuzzy Systems, 17(2), 279-290, 2009.
https://doi.org/10.1109/TFUZZ.2009.2013457
Massa, P.; Avesani, P. (2009) Trust metrics in recommender systems, Computing with Social Trust, Springer, 259-285, 2009.
https://doi.org/10.1007/978-1-84800-356-9_10
Money, W.H.; Dean, B.P. (2019). Incorporating student population differences for effective online education: A content-based review and integrative model, Computers & Education, 138, 57-82, 2019.
https://doi.org/10.1016/j.compedu.2019.03.013
Morente-Molinera, J.A.; Pérez, I.J.; Ureña, R.; Herrera-Viedma, E. (2015). On multi-granular fuzzy linguistic modelling in group decision making problems: a systematic review and future trends, Knowledge Based Systems, 74, 49-60, 2015.
https://doi.org/10.1016/j.knosys.2014.11.001
Page, L.; Brin, S.; Motwani, R.; Winograd, T. (1998). The pagerank citation ranking: Bringing order to the web, Technical report, Stanford, USA, 1998.
Porcel, C.; Ching-López, A.; Lefranc, G.; Loia, V.; Herrera-Viedma, E. (2018). Sharing notes: An academic social network based on a personalized fuzzy linguistic recommender system, Engineering Applications of Artificial Intelligence, 75, 1-10, 2018.
https://doi.org/10.1016/j.engappai.2018.07.007
Refaeilzadeh, P.; Tang, L.; Liu, H. (2008). Cross-Validation, http://www.public.asu.edu/ ltang9/papers/ency-cross-validation.pdf, 2008.
Segal, D.; Gal, K.; Shani, G.; Shapira, B. (2019). A difficulty ranking approach to personalization in E-learning, International Journal of Human-Computer Studies, 130, 261-272, 2019.
https://doi.org/10.1016/j.ijhcs.2019.07.002
Shani, G.; Gunawardana, A. (2011). Evaluating Recommendation Systems, In: Ricci, F.; Rokach, L.; Shapira, B.; Kantor, P.B. (Eds.), Recommender Systems Handbook, Springer, 257-298, 2011.
https://doi.org/10.1007/978-0-387-85820-3_8
Sinha, R.R.; Swearingen, K. (2001). Comparing Recommendations Made by Online Systems and Friends, DELOS Workshop: Personalisation and Recommender Systems in Digital Libraries, 2001.
Tan, H.C. (2019). Using a structured collaborative learning approach in a case-based management accounting course, Journal of Accounting Education, 49, 100638, 2019.
https://doi.org/10.1016/j.jaccedu.2019.100638
Tejeda-Lorente, A.; Porcel, C.; Peis, E.; Sanz, R.; Herrera-Viedma, E. (2014). A quality based recommender system to disseminate information in a University Digital Library, Information Science, 261, 52-69, 2014.
https://doi.org/10.1016/j.ins.2013.10.036
Victor, P.; Cornelis, C.; DeCock, M.; Pinheiro da Silva, P. (2009). Gradual trust and distrust in recommender systems, Fuzzy Sets and Systems, 160(10), 1367-1382, 2009.
https://doi.org/10.1016/j.fss.2008.11.014
Zadeh, L.A. (1975). The Concept of a Linguistic Variable and Its Applications to Approximate Reasoning. Information Sciences, Part I, Information Sciences, 8, 199-249, Part II, Information Sciences, 8, 301-357, Part III, Information Sciences, 9, 43-80, 1975.
https://doi.org/10.1016/0020-0255(75)90036-5
DOI:
https://doi.org/10.15837/ijccc.2020.3.3858
Copyright (c) 2020 Carlos Porcel, Julio Herce-Zelaya, Juan Bernabé-Moreno, Álvaro Tejeda-Lorente, Enrique Herrera-Viedma

This work is licensed under a
Creative Commons Attribution-NonCommercial 4.0 International License
.
IJCCC is an Open Access Journal : CC-BY-NC.
Articles published in IJCCC user license are protected by copyright.
Users can access, download, copy, translate the IJCCC articles for non-commercial purposes provided that users, but cannot redistribute, display or adapt:
Cite the article using an appropriate bibliographic citation: author(s), article title, journal, volume, issue, page numbers, year of publication, DOI, and the link to the definitive published version on IJCCC website;
Maintain the integrity of the IJCCC article;
Retain the copyright notices and links to these terms and conditions so it is clear to other users what can and what cannot be done with the  article;
Ensure that, for any content in the IJCCC article that is identified as belonging to a third party, any re-use complies with the copyright policies of that third party;
Any translations must prominently display the statement: "This is an unofficial translation of an article that appeared in IJCCC. Agora University  has not endorsed this translation."
This is a non commercial license where the use of published articles for commercial purposes is forbiden. 
Commercial purposes include: 
Copying or downloading IJCCC articles, or linking to such postings, for further redistribution, sale or licensing, for a fee;
Copying, downloading or posting by a site or service that incorporates advertising with such content;
The inclusion or incorporation of article content in other works or services (other than normal quotations with an appropriate citation) that is then available for sale or licensing, for a fee;
Use of IJCCC articles or article content (other than normal quotations with appropriate citation) by for-profit organizations for promotional purposes, whether for a fee or otherwise;
Use for the purposes of monetary reward by means of sale, resale, license, loan, transfer or other form of commercial exploitation;


The licensor cannot revoke these freedoms as long as you follow the license terms.
[End of CC-BY-NC  License for Website User]
INTERNATIONAL JOURNAL OF COMPUTERS COMMUNICATIONS & CONTROL (IJCCC), With Emphasis on the Integration of Three Technologies (C & C & C),  ISSN 1841-9836.
IJCCC was founded in 2006,  at Agora University, by  Ioan DZITAC (Editor-in-Chief),  Florin Gheorghe FILIP (Editor-in-Chief), and  Misu-Jan MANOLESCU (Managing Editor).
Ethics: This journal is a member of, and subscribes to the principles of, the Committee on Publication Ethics (COPE).
Ioan  DZITAC (Editor-in-Chief) at COPE European Seminar, Bruxelles, 2015:
IJCCC is covered/indexed/abstracted in Science Citation Index Expanded (since vol.1(S),  2006); JCR2018: IF=1.585..
IJCCC is indexed in Scopus from 2008 (CiteScore2018 = 1.56):
Nomination by Elsevier for Journal Excellence Award Romania 2015 (SNIP2014 = 1.029): Elsevier/ Scopus
IJCCC was nominated by Elsevier for Journal Excellence Award - "Scopus Awards Romania 2015" (SNIP2014 = 1.029).
IJCCC is in Top 3 of 157 Romanian journals indexed by Scopus (in all fields) and No.1 in Computer Science field by Elsevier/ Scopus.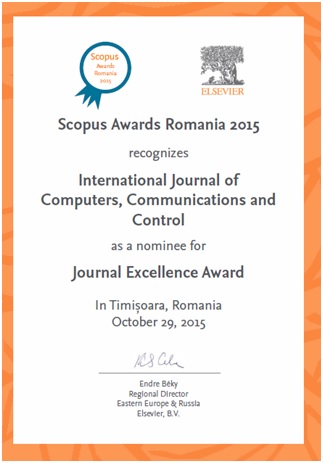 Impact Factor in JCR2018 (Clarivate Analytics/SCI Expanded/ISI Web of Science): IF=1.585 (Q3). Scopus: CiteScore2018=1.56 (Q2);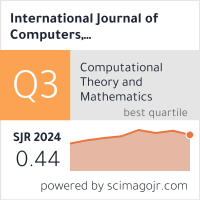 Editors-in-Chief: Ioan DZITAC & Florin Gheorghe FILIP.