A Deep Belief Network and Case Reasoning Based Decision Model for Emergency Rescue
Abstract
The frequent occurrence of major public emergencies in China has caused significant human and economic losses. To carry out successful rescue operations in such emergencies, decisions need to be made as efficiently as possible. Using earthquakes as an example of a public emergency, this paper combines the Deep Belief Network (DBN) and Case-Based Reasoning (CBR) models to improve the case representation and case retrieval steps in the decision-making process, then designs and constructs a decision-making model. The validity of the model is then verified by an example. The results of this study can be applied to maximize the efficiency of emergency rescue decisions.
Keywords
deep belief network, case-based reasoning, decision support, emergency rescue, earthquake
References
Adeniyi, D.A.; Wei, Z.; Yang, Y. (2018). Risk Factors Analysis and Death Prediction in Some Life- Threatening Ailments Using Chi-Square Case-Based Reasoning Model, Interdisciplinary Sciences Computational Life Sciences, 10(3), 1-21, 2018.
https://doi.org/10.1007/s12539-018-0283-6
Berka, P. (2020). Sentiment analysis using rule-based and case-based reasoning, Journal of Intelligent Information Systems, 2020.
https://doi.org/10.1007/s10844-019-00591-8
Chanvarasuth, P.; Boongasame, L.; Boonjing, V. (2019). An ELECTRE III Based CBR Approach to Combinatorial Portfolio Selection, Asia-Pacific Journal of Financial Studies, 48(3), 386-409, 2019.
https://doi.org/10.1111/ajfs.12260
Chen, Y.S.; Zhao, X.; Jia, X.P. (2015). Spectral-Spatial Classification of Hyperspectral Data Based on Deep Belief Network, Selected Topics in Applied Earth Observations and Remote Sensing, IEEE Journal of, 8(6), 2381-2392, 2015.
https://doi.org/10.1109/JSTARS.2015.2388577
Deoras, A.; Sarikaya, R. (2013). Deep belief network based semantic taggers for spoken language understanding, Proceedings of the Annual Conference of the International Speech Communication Association,INTERSPEECH, 2713-2717, 2013.
Ding, J.Y.; Jia, J.Y.; Jin, C. et al. (2018). An Innovative Method for Project Transaction Mode Design Based on Case-Based Reasoning: A Chinese Case Study, Sustainability, 2018.
https://doi.org/10.3390/su10114127
Du, J.; Li, F.; Qiao, F.; Yu, L. (2018). Estimation of vehicle emission on mainline freeway under isolated and integrated ramp matering strategies, Environmental Engineering & Management Journal (EEMJ), 17(5), 1237-1248, 2018.
https://doi.org/10.30638/eemj.2018.123
Gao, Y.; Zhang, B.; Wang, S. et al. (2019). DBN Based Cloud Service Response Time Prediction Method, 2019 21st International Conference on Advanced Communication Technology (ICACT), IEEE, 2019.
https://doi.org/10.23919/ICACT.2019.8701922
Hu, H.; Wu, Q.; Zhang, Z.; Han, S. (2019). Effect of the manufacturer Quality Inspection Policy on the Supply Chain Decision-making and Profits, Advances in Production Engineering & Management, 14(4), 472-482, 2019.
https://doi.org/10.14743/apem2019.4.342
Huh, J.; Chae, M.J.; Park, J. et al. (2019). A case-based reasoning approach to fast optimization of travel routes for large-scale AS/RSs, Journal of Intelligent Manufacturing, 2019.
Kim, J. W. (2020). Blockchain Technology and Its Applications:Case Studies, Journal of System and Management Sciences, 10(1), 83-93, 2020.
Kuremoto, T.; Kimura, S.; Kobayashi, K. et al. (2014). Time series forecasting using a deep belief network with restricted Boltzmann machines, Neurocomputing, 137(15), 47-56, 2014.
https://doi.org/10.1016/j.neucom.2013.03.047
Ma, Y.F.; Chang, D. (2016). Study on Safety Production Management Improvement of Small and Medium Sized Chemical Enterprises, 6th IEEE International Conference on Logistics, Informatics and Service Sciences, 2016.
https://doi.org/10.1109/LISS.2016.7854360
Mohammadi, S.; A. Namadchian, A. (2017). A New Deep Learning Approach for Anomaly Base IDS using Memetic Classifier, International Journal of Computers Communications & Control, 12(5), 677-688, 2017.
https://doi.org/10.15837/ijccc.2017.5.2972
Nazifa, T.H.; Ramachandran, K.K. (2016). Information Sharing in Supply Chain Management: A Case Study Between the Cooperative Partners in Manufacturing Industry, Journal of System and Management Sciences, 9(1), 19-47, 2019.
Pinaya, W.H.L.; Gadelha, A.; Doyle, O.M.; et al. (2016). Using deep belief network modelling to characterize differences in brain morphometry in schizophrenia, Scientific Reports, 6, 38897, 2016.
https://doi.org/10.1038/srep38897
Popovici, R.; Andonie, R.; Szeliga, W.M.; Melbourne, T.I.; Scrivner, C.W. (2015). Real-time Monitoring of Tectonic Displacements in the Pacific Northwest through an Array of GPS Receivers, International Journal of Computers Communications & Control, 10(1), 78-88, 2015.
https://doi.org/10.15837/ijccc.2015.1.1565
Schnell, M.; Couffignal, S.; Lieber, J. et al. (2018). Interpretation of Best Medical Coding Practices by Case-Based Reasoning - A User Assistance Prototype for Data Collection for Cancer Registries, International Workshop on Artificial Intelligence in Health, Springer, Cham, 2018.
https://doi.org/10.1007/978-3-030-12738-1_14
Tao, W.J.; Chang, D. (2019). News Text Classification Based on an Improved Convolutional Neural Network, Tehnicki vjesnik, 26(5), 1400-1409, 2019.
https://doi.org/10.17559/TV-20190623122323
Vinyals, O.; Ravuri, S.V. (2011). Comparing multilayer perceptron to Deep Belief Network Tandem features for robust ASR, IEEE International Conference on Acoustics, IEEE, 2011.
https://doi.org/10.1109/ICASSP.2011.5947378
Xu, W.; Yin, Y. (2018). Functional Objectives Decision-making of Discrete Manufacturing System Based on Integrated ant Colony Optimization and Particle Swarm Optimization Approach , Advances in Production Engineering & Management, 13(4), 389-404, 2018.
https://doi.org/10.14743/apem2018.4.298
Yang J.S.; Liu, B. (2018). WLAN fingerprint positioning database construction algorithm based on improved DBN, Guangdianzi Jiguang/Journal of Optoelectronics Laser, 29(9), 996-1002, 2018.
Zhang J.; Chang, D. (2019). Semi-Supervised Patient Similarity Clustering Algorithm Based on Electronic Medical Records, IEEE Access, 7(1), 90705-90714, 2019.
https://doi.org/10.1109/ACCESS.2019.2923333
DOI:
https://doi.org/10.15837/ijccc.2020.3.3836
Copyright (c) 2020 Dan Chang, Rui Fan, Zitong Sun

This work is licensed under a
Creative Commons Attribution-NonCommercial 4.0 International License
.
IJCCC is an Open Access Journal : CC-BY-NC.
Articles published in IJCCC user license are protected by copyright.
Users can access, download, copy, translate the IJCCC articles for non-commercial purposes provided that users, but cannot redistribute, display or adapt:
Cite the article using an appropriate bibliographic citation: author(s), article title, journal, volume, issue, page numbers, year of publication, DOI, and the link to the definitive published version on IJCCC website;
Maintain the integrity of the IJCCC article;
Retain the copyright notices and links to these terms and conditions so it is clear to other users what can and what cannot be done with the  article;
Ensure that, for any content in the IJCCC article that is identified as belonging to a third party, any re-use complies with the copyright policies of that third party;
Any translations must prominently display the statement: "This is an unofficial translation of an article that appeared in IJCCC. Agora University  has not endorsed this translation."
This is a non commercial license where the use of published articles for commercial purposes is forbiden. 
Commercial purposes include: 
Copying or downloading IJCCC articles, or linking to such postings, for further redistribution, sale or licensing, for a fee;
Copying, downloading or posting by a site or service that incorporates advertising with such content;
The inclusion or incorporation of article content in other works or services (other than normal quotations with an appropriate citation) that is then available for sale or licensing, for a fee;
Use of IJCCC articles or article content (other than normal quotations with appropriate citation) by for-profit organizations for promotional purposes, whether for a fee or otherwise;
Use for the purposes of monetary reward by means of sale, resale, license, loan, transfer or other form of commercial exploitation;


The licensor cannot revoke these freedoms as long as you follow the license terms.
[End of CC-BY-NC  License for Website User]
INTERNATIONAL JOURNAL OF COMPUTERS COMMUNICATIONS & CONTROL (IJCCC), With Emphasis on the Integration of Three Technologies (C & C & C),  ISSN 1841-9836.
IJCCC was founded in 2006,  at Agora University, by  Ioan DZITAC (Editor-in-Chief),  Florin Gheorghe FILIP (Editor-in-Chief), and  Misu-Jan MANOLESCU (Managing Editor).
Ethics: This journal is a member of, and subscribes to the principles of, the Committee on Publication Ethics (COPE).
Ioan  DZITAC (Editor-in-Chief) at COPE European Seminar, Bruxelles, 2015:
IJCCC is covered/indexed/abstracted in Science Citation Index Expanded (since vol.1(S),  2006); JCR2018: IF=1.585..
IJCCC is indexed in Scopus from 2008 (CiteScore2018 = 1.56):
Nomination by Elsevier for Journal Excellence Award Romania 2015 (SNIP2014 = 1.029): Elsevier/ Scopus
IJCCC was nominated by Elsevier for Journal Excellence Award - "Scopus Awards Romania 2015" (SNIP2014 = 1.029).
IJCCC is in Top 3 of 157 Romanian journals indexed by Scopus (in all fields) and No.1 in Computer Science field by Elsevier/ Scopus.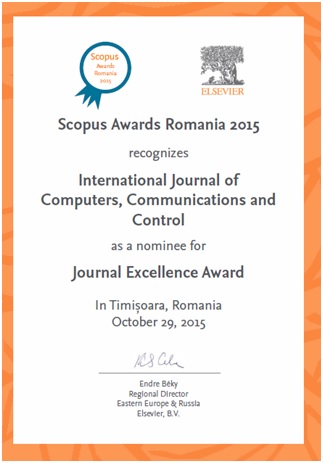 Impact Factor in JCR2018 (Clarivate Analytics/SCI Expanded/ISI Web of Science): IF=1.585 (Q3). Scopus: CiteScore2018=1.56 (Q2);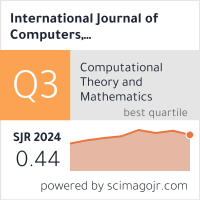 Editors-in-Chief: Ioan DZITAC & Florin Gheorghe FILIP.