Intrusion Detection for Mobile Ad Hoc Networks Based on Node Reputation
Abstract
The mobile ad hoc network (MANET) is more vulnerable to attacks than traditional networks, due to the high mobility of nodes, the weakness of transmission media and the absence of central node. To overcome the vulnerability, this paper mainly studies the way to detect selfish nodes in the MANET, and thus prevent network intrusion. Specifically, a data-driven reputation evaluation model was proposed to detect selfish nodes using a new reputation mechanism. The mechanism consists of a monitoring module, a reputation evaluation module, penalty module and a response module. The MANET integrated with our reputation mechanism was compared with the traditional MANET through simulation. The results show that the addition of reputation mechanism can suppress the selfish behavior of network nodes and enhance network security.
Keywords
Mobile ad hoc network (MANET), intrusion detection, reputation mechanism, node reputation
References
Almousa, Z.; Nasir Q. (2015). cl-CIDPS: A cloud computing based cooperative intrusion detection and prevention system framework, Communications in Computer & Information Science, 523, 181-194, 2015.
https://doi.org/10.1007/978-3-319-19210-9_13
Al-Sultan, S.; Al-Doori, M. M.; Al-Bayatti, A. H.; Zedan, H. (2014). A comprehensive survey on vehicular Ad Hoc network, Journal of Network & Computer Applications, 37(1), 380-392, 2014.
https://doi.org/10.1016/j.jnca.2013.02.036
Azees, M.; Jegatha, D. L.; Vijayakumar, P. (2016). A comprehensive survey on security services in vehicular ad-hoc networks (VANETs), IET Intelligent Transport Systems, 10(6), 379-388, 2016.
https://doi.org/10.1049/iet-its.2015.0072
Camp, T.; Boleng, J.; Davies, V. (2002). A survey of mobility models for ad hoc network research, Wireless Communications and Mobile Computing, 2(5), 483-502, 2002.
https://doi.org/10.1002/wcm.72
He, S.; Chen, J.; Li, X.; Shen, X. M.; Sun, Y. X. (2012). Leveraging prediction to improve the coverage of wireless sensor networks, IEEE Transactions on Parallel & Distributed Systems, 23(4), 701-712, 2012.
https://doi.org/10.1109/TPDS.2011.180
Jaramillo, J. J.; Srikant, R. (2010). A game theory based reputation mechanism to incentivize cooperation in wireless ad hoc networks, Ad Hoc Networks, 8(4), 416-429, 2010.
https://doi.org/10.1016/j.adhoc.2009.10.002
Moati, N.; Otrok, H.; Mourad, A.; Robert, J. M. (2014). Reputation-based cooperative detection model of selfish nodes in cluster-based QoS-OLSR protocol, Wireless Personal Communications, 75(3), 1747-1768, 2014.
https://doi.org/10.1007/s11277-013-1419-y
Moussaoui, A.; Semchedine, F.; Boukerram, A. (2014). A link-state QoS routing protocol based on link stability for mobile Ad Hoc networks, Journal of Network & Computer Applications, 39(1), 117-125, 2014.
https://doi.org/10.1016/j.jnca.2013.05.014
Pan, D.; Zhang, H.; Chen, W. J.; Lu, K. (2015). Transmission of multimedia contents in opportunistic networks with social selfish nodes, Multimedia Systems, 21(3), 277-288, 2015.
https://doi.org/10.1007/s00530-013-0343-z
Patel, N.; Srivastava, S. (2012). Packet forwarding strategies for cooperation enforcement in mobile Ad Hoc wireless networks, Lecture Notes in Computer Science, 7154, 200-211, 2012.
https://doi.org/10.1007/978-3-642-28073-3_18
Rodriguez-Mayol, A.; Gozalvez, J. (2014). Reputation based selfishness prevention techniques for mobile ad-hoc networks, Telecommunication Systems, 57(2), 181-195, 2014.
https://doi.org/10.1007/s11235-013-9786-y
Subramaniyan, S.; Johnson, W.; Subramaniyan, K. (2014). A distributed framework for detecting selfish nodes in MANET using record- and trust-based detection (RTBD) technique, EURASIP Journal on Wireless Communications and Networking, (1), 205-221, 2014.
https://doi.org/10.1186/1687-1499-2014-205
Sun, G.; Bin, S. (2017). Router-level internet topology evolution model based on multisubnet composited complex network model, Journal of Internet Technology, 18(6), 1275- 1283, 2017.
Sun, J.; Zhang, C.; Zhang, Y.; Fang, Y. G. (2011). SAT: A security architecture achieving anonymity and traceability in wireless mesh networks, IEEE Transactions on Dependable and Secure Computing, 8(2), 295-307, 2011.
https://doi.org/10.1109/TDSC.2009.50
Tang, C.B.; Li, X.; Wang, Z. (2017). Cooperation and distributed optimization for the unreliable wireless game with indirect reciprocity, Science China (Information Sciences), (11), 129-145, 2017.
https://doi.org/10.1007/s11432-017-9165-7
Umar, R.; Mesbah, W. (2018). Throughput-efficient coalition formation of selfish/altruistic nodes in ad hoc networks: A hedonic game approach, Telecommunication Systems, 67(1), 1-17, 2018.
https://doi.org/10.1007/s11235-017-0323-2
DOI:
https://doi.org/10.15837/ijccc.2019.5.3629
Copyright (c) 2019 Tao Lin, Peng Wu, Fengmei Gao, Tianshu Wu

This work is licensed under a
Creative Commons Attribution-NonCommercial 4.0 International License
.
IJCCC is an Open Access Journal : CC-BY-NC.
Articles published in IJCCC user license are protected by copyright.
Users can access, download, copy, translate the IJCCC articles for non-commercial purposes provided that users, but cannot redistribute, display or adapt:
Cite the article using an appropriate bibliographic citation: author(s), article title, journal, volume, issue, page numbers, year of publication, DOI, and the link to the definitive published version on IJCCC website;
Maintain the integrity of the IJCCC article;
Retain the copyright notices and links to these terms and conditions so it is clear to other users what can and what cannot be done with the  article;
Ensure that, for any content in the IJCCC article that is identified as belonging to a third party, any re-use complies with the copyright policies of that third party;
Any translations must prominently display the statement: "This is an unofficial translation of an article that appeared in IJCCC. Agora University  has not endorsed this translation."
This is a non commercial license where the use of published articles for commercial purposes is forbiden. 
Commercial purposes include: 
Copying or downloading IJCCC articles, or linking to such postings, for further redistribution, sale or licensing, for a fee;
Copying, downloading or posting by a site or service that incorporates advertising with such content;
The inclusion or incorporation of article content in other works or services (other than normal quotations with an appropriate citation) that is then available for sale or licensing, for a fee;
Use of IJCCC articles or article content (other than normal quotations with appropriate citation) by for-profit organizations for promotional purposes, whether for a fee or otherwise;
Use for the purposes of monetary reward by means of sale, resale, license, loan, transfer or other form of commercial exploitation;


The licensor cannot revoke these freedoms as long as you follow the license terms.
[End of CC-BY-NC  License for Website User]
INTERNATIONAL JOURNAL OF COMPUTERS COMMUNICATIONS & CONTROL (IJCCC), With Emphasis on the Integration of Three Technologies (C & C & C),  ISSN 1841-9836.
IJCCC was founded in 2006,  at Agora University, by  Ioan DZITAC (Editor-in-Chief),  Florin Gheorghe FILIP (Editor-in-Chief), and  Misu-Jan MANOLESCU (Managing Editor).
Ethics: This journal is a member of, and subscribes to the principles of, the Committee on Publication Ethics (COPE).
Ioan  DZITAC (Editor-in-Chief) at COPE European Seminar, Bruxelles, 2015:
IJCCC is covered/indexed/abstracted in Science Citation Index Expanded (since vol.1(S),  2006); JCR2018: IF=1.585..
IJCCC is indexed in Scopus from 2008 (CiteScore2018 = 1.56):
Nomination by Elsevier for Journal Excellence Award Romania 2015 (SNIP2014 = 1.029): Elsevier/ Scopus
IJCCC was nominated by Elsevier for Journal Excellence Award - "Scopus Awards Romania 2015" (SNIP2014 = 1.029).
IJCCC is in Top 3 of 157 Romanian journals indexed by Scopus (in all fields) and No.1 in Computer Science field by Elsevier/ Scopus.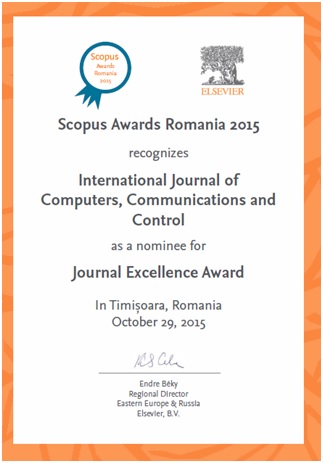 Impact Factor in JCR2018 (Clarivate Analytics/SCI Expanded/ISI Web of Science): IF=1.585 (Q3). Scopus: CiteScore2018=1.56 (Q2);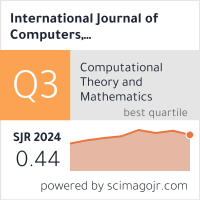 Editors-in-Chief: Ioan DZITAC & Florin Gheorghe FILIP.