Tracing Public Opinion Propagation and Emotional Evolution Based on Public Emergencies in Social Networks
Abstract
Social network has become the main communication platform for public emergencies, and it has also made the public opinion influence spread more widely. How to effectively obtain public opinions from it to guide the healthy development of the society is an important issue that the government and other functional departments are concerned about. However, the interaction and evolution mechanism between the subject and the environment in the public opinion propagation is complicated, and the public and media attention and reaction to the incident are closely linked with the progress of the incident disposal. And public mining corpus has some shortcomings in the distribution of emotional classification. Only the timely update of artificial rules and emotional dictionary resources, it can handle new text data well. In fact, from the perspective of public opinion propagation, this paper built the network matrix between Internet users through the forwarding relationship, and used the social network analysis method and the emotion mining analysis technology to study the interaction and evolution mechanism between the subject and the environment in the public opinion propagation, and it studied the role of users in the emotional propagation of social networks. This paper proposed a sentiment analysis method on the micro-blog platform, which expanded the emotional dictionary and took sentence and emoticon and sentence patterns into account, which improved the accuracy of positive and negative classifications and emotional polarity analysis of the micro-blog.
Keywords
opinion mining, the public opinion propagation, semantic classes, machine learning
References
Chen Y.J. (2010); An Effective Way to Explore the Internet, Computer and Information Science (ICIS), 529-534, 2010.
Cho, Y.; Hwang, J.; Lee, D. (2012); Identification of effective opinion leaders in the diffusion of technological innovation: a social network approach, Technological Forecasting and SocialChange, 79(1), 97-106, 2012.
https://doi.org/10.1016/j.techfore.2011.06.003
Han, S.C.; Liu, Y.; Chen, H.L.; Zhang, Z.J. (2016); Influence Model of User Behavior Characteristics on Information Dissemination, International Journal of Computers Communications & Control, 11(2), 209–223, 2016.
https://doi.org/10.15837/ijccc.2016.2.2441
Hong, X.J.; Jiang, N.; Xia, J.J. (2014); Study on Micro-blog Rumor Based on Social Network Analysis - A Case Study on the Micro-blog about Food Security, Intelligence Journal, 8, 161-167, 2014.
Lee, C. H. (2012); Mining Spatio-temporal Information on Micro-blogging Streams Using a Density-based Online Clustering Method, Expert Systems with Applications, 39(10), 9623- 9641, 2012.
https://doi.org/10.1016/j.eswa.2012.02.136
Nair, H.S.; Manchanda, P.; Bhatia, T. (2010); Asymmetric Social Interactions in Physician Prescription Behavior: The Role of Opinion Leader, Journal of Marketing Research, 47, 883-895, 2010.
https://doi.org/10.1509/jmkr.47.5.883
Paltoglou, G. (2016), Sentiment-based Event Detection in Twitter, Journal of the Association for Information, Science and Technology, 67(7), 1576-1587, 2016.
https://doi.org/10.1002/asi.23465
Riloff, E.; Patwardhan, S.; Wiebe, J. (2006); Feature Subsumption for Opinion Analysis. Conference on Empirical Methods in Natural Language Processing, 440-448, 2006.
https://doi.org/10.3115/1610075.1610137
Su, X.-P.; Song, Y.-R. (2015); Leveraging neighborhood "structural holes" toidentifying key spreaders in social networks, Acta Phys. Sin, 2, 5-15, 2015.
Sznajd, W.K. (2006); Opinion Evolution in Closed Community, Physics C, 11, 1157-1165, 2000.
Wang, L.; Zhao, Y.; Liang, S.H. (2013), Micro-blog Social NetworkAnalysis Based on Network Group Behavior, Advanced Materials Research, 79(12), 435-438, 2013.
Wen, F.; He, Z.; Dai, Z.; Yang, X. (2014); Characteristics of Investors' Risk Preference for Stock Markets, Economic Computation and Economic Cybernetics Studies and Research, 48(3), 235-254, 2014.
Wen, F.; Gong, X.; Cai, S. (2016); Forecasting the volatility of crude oil futures using HAR-type models with structural breaks, Energy Economics, 59, 400-413, 2016.
https://doi.org/10.1016/j.eneco.2016.07.014
Wen, F.; Xiao, J.; Huang, C.; Xia, X. (2018); Interaction between oil and US dollar exchange rate: nonlinear causality, time-varying influence and structural breaks in volatility. Applied Economics, 50(3), 319-334, 2018.
https://doi.org/10.1080/00036846.2017.1321838
Wiebe, J.; Riloff, E. (2012); Finding Mutual Benefit between Subjectivity Analysis and Information Extraction, IEEE Transactions on Affective Computing, 2(4), 175-191, 2012.
Xiong, F.,; Liu, Y.; Zhang, Z.J. (2012); An information diffusion model based on retweeting mechanism for online social media, Physics Letters A, 6, 2103-2108, 2012.
Xu, L.; Lin, H.; Zhao, J. (2008); Construction and Analysis of Emotional Corpus, Journal of Chinese Information Processing, 1, 116-122, 2008.
Zhang, D. (2017): High-speed Train Control System Big Data Analysis Based on Fuzzy RDF Model and Uncertain Reasoning, International Journal of Computers Communications & Control, 12(4), 577-591, 2017.
https://doi.org/10.15837/ijccc.2017.4.2914
Zhang, H.; Small, M.; Fu, X. (2011); Staged Progression Model for Epidemic Spread on Homogeneous and Heterogeneous Networks, Journal of Systems Science and Complexity, 24, 619-630, 2011.
https://doi.org/10.1007/s11424-011-8252-8
Zhang, D.; Sui, J.; Gong, Y. (2017); Large scale software test data generation based on collective constraint and weighted combination method, Tehniki vjesnik, 24(4), 1041-1049, 2017.
Zhao, J.L.; Cheng, J.H. (2015); Analysis of Micro-blog Public Opinion Diffusion Based on SNA: AN Empirical Study on April 20 Ya'an Earthquake in Sichuan, Management Review, 1, 148-157, 2015.
Zhao, H.Q. (2015); Analysis of Complex Network Public Opinion Communication, Journal of Qinghai University (Natural Science), 4, 29-37, 2015.
Zhou, M.; Liu, X.; Pan, B. (2017); Effect of Tourism Building Investments on Tourist Revenues in China: A Spatial Panel Econometric Analysis, Emerging Markets Finance and Trade, 53(9), 1973-1987, 2017.
https://doi.org/10.1080/1540496X.2016.1237353
DOI:
https://doi.org/10.15837/ijccc.2018.1.3176
Copyright (c) 2018 Huang Wei-dong, Wang Qian, Cao Jie

This work is licensed under a
Creative Commons Attribution-NonCommercial 4.0 International License
.
CC-BY-NC  License for Website User
Articles published in IJCCC user license are protected by copyright.
Users can access, download, copy, translate the IJCCC articles for non-commercial purposes provided that users, but cannot redistribute, display or adapt:
Cite the article using an appropriate bibliographic citation: author(s), article title, journal, volume, issue, page numbers, year of publication, DOI, and the link to the definitive published version on IJCCC website;
Maintain the integrity of the IJCCC article;
Retain the copyright notices and links to these terms and conditions so it is clear to other users what can and what cannot be done with the  article;
Ensure that, for any content in the IJCCC article that is identified as belonging to a third party, any re-use complies with the copyright policies of that third party;
Any translations must prominently display the statement: "This is an unofficial translation of an article that appeared in IJCCC. Agora University  has not endorsed this translation."
This is a non commercial license where the use of published articles for commercial purposes is forbiden. 
Commercial purposes include: 
Copying or downloading IJCCC articles, or linking to such postings, for further redistribution, sale or licensing, for a fee;
Copying, downloading or posting by a site or service that incorporates advertising with such content;
The inclusion or incorporation of article content in other works or services (other than normal quotations with an appropriate citation) that is then available for sale or licensing, for a fee;
Use of IJCCC articles or article content (other than normal quotations with appropriate citation) by for-profit organizations for promotional purposes, whether for a fee or otherwise;
Use for the purposes of monetary reward by means of sale, resale, license, loan, transfer or other form of commercial exploitation;


The licensor cannot revoke these freedoms as long as you follow the license terms.
[End of CC-BY-NC  License for Website User]
INTERNATIONAL JOURNAL OF COMPUTERS COMMUNICATIONS & CONTROL (IJCCC), With Emphasis on the Integration of Three Technologies (C & C & C),  ISSN 1841-9836.
IJCCC was founded in 2006,  at Agora University, by  Ioan DZITAC (Editor-in-Chief),  Florin Gheorghe FILIP (Editor-in-Chief), and  Misu-Jan MANOLESCU (Managing Editor).
Ethics: This journal is a member of, and subscribes to the principles of, the Committee on Publication Ethics (COPE).
Ioan  DZITAC (Editor-in-Chief) at COPE European Seminar, Bruxelles, 2015:
IJCCC is covered/indexed/abstracted in Science Citation Index Expanded (since vol.1(S),  2006); JCR2016: IF=1.374. .
IJCCC is indexed in Scopus from 2008 (CiteScore 2017 = 1.04; SNIP2017 = 0.616, SJR2017 =0.326):
Nomination by Elsevier for Journal Excellence Award Romania 2015 (SNIP2014 = 1.029): Elsevier/ Scopus
IJCCC was nominated by Elsevier for Journal Excellence Award - "Scopus Awards Romania 2015" (SNIP2014 = 1.029).
IJCCC is in Top 3 of 157 Romanian journals indexed by Scopus (in all fields) and No.1 in Computer Science field by Elsevier/ Scopus.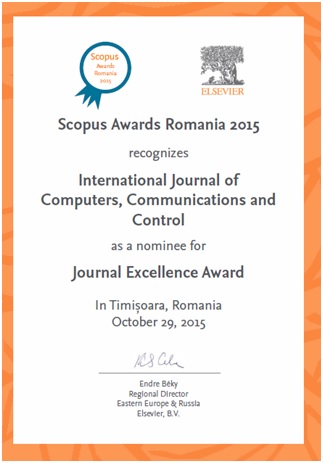 Impact Factor in JCR2017 (Clarivate Analytics/SCI Expanded/ISI Web of Science): IF=1.29 (Q3). Scopus: CiteScore2017=1.04 (Q2); Editors-in-Chief: Ioan DZITAC & Florin Gheorghe FILIP.