An Improved ABC Algorithm for Energy Management of Microgrid
Abstract
Microgrids are an ideal way of electricity generation, distribution, and regulation for customers by means of distributed energy resources on the community level. However, due to the randomness of photovoltaic and wind power generation, it is a crucial and difficult problem to achieve optimal economic dispatch in microgrids. In this paper, we present an optimal economic dispatch solution for a microgrid by the improved artificial bee colony (ABC) optimization, with the aim of satisfying load and balance demand while minimizing the cost of power generation and gas emission. Firstly, we construct a mathematical model according to different characteristics of distributed generation units and loads, and improve the performance of global convergence for ABC in order to fit such model. Secondly, we explore how to solve the optimal economic dispatch problem by the improved ABC and give the essential steps. Thirdly, we carry out several simulations and the results illustrate the benefits and effectiveness of the proposed approach for optimal economic dispatch in microgrid.
Keywords
Artificial Bee Colony (ABC), optimization, economic dispatch, microgrid, swarm intelligence
References
Abid, S.; Zafar, A. (2017); Managing Energy in Smart Homes Using Binary Particle Swarm Optimization, Conference on Complex, Intelligent, and Software Intensive Systems, pp.189- 196, 2017.
Ahmad, M.; Khan, A. et al. (2017); A Hybrid Genetic Based on Harmony Search Method to Schedule Electric Tasks in Smart Home, International Conference on P2P, Parallel, Grid, Cloud and Internet Computing, pp.154-166, 2017.
Al-Saadi, M.; Luk, P.; Economou, J. (2017); Integration of the Demand Side Management with Active and Reactive Power Economic Dispatch of Microgrids, International Conference on Intelligent Computing for Sustainable Energy and Environment, pp.653-664, 2017.
Ali, W.; Rehman, A. et al. (2017); Home Energy Management Using Social Spider and Bacterial Foraging Algorithm, International Conference on Network-Based Information Systems, pp.245-256, 2017.
Azeem, M.; Amin, S. (2017); Scheduling of Appliances in Home Energy Management System Using Elephant Herding Optimization and Enhanced Differential Evolution, International Conference on Intelligent Networking and Collaborative Systems, 132-142, 2017.
Banerjee, B.; Jayaweera, D.; Islam, S. (2016); Micro Grid Planning and Operation, Smart Power Systems and Renewable Energy System Integration, 29-47, 2016.
Batool, S.; Khalid, A. et al. (2017); Pigeon Inspired Optimization and Bacterial Foraging Optimization for Home Energy Management, Advances on Broad-Band Wireless Computing, Communication and Applications, 14-24, 2017.
Chen, B.; Yang, Z.; Huang S. et al. (2017); Cyber-Physical System Enabled Nearby Traffic Flow Modelling for Autonomous Vehicles, 36th IEEE International Performance Computing and Communications Conference, Special Session on Cyber Physical Systems: Security, Computing, and Performance (IPCCC-CPS 2017), 2017.
Das, V.; Karuppanan, P. et al. (2017); Energy Grid Management, Optimization and Economic Analysis of Microgrid, Smart Energy Grid Design for Island Countries, 289-325, 2017.
Hongze, L.; Sen, G.; Bao, W. (2011); Analysis of sensitivity of the environmental value of wind power, Energy Procedia 5, 2576-2580, 2011.
https://doi.org/10.1016/j.egypro.2011.03.442
Hu, B.; Wang, H.; Yao, S. (2017); Optimal economic operation of isolated community microgrid incorporating temperature controlling devices, Protection and Control of Modern Power Systems, 2-6, 2017.
Jadav, K. A.; Karkar, H. M.; Trivedi, I. N. (2017); A Review of Microgrid Architectures and Control Strategy, Journal of The Institution of Engineers (India): Series B, 98(6), 591-598, 2017.
Jansen, R.; Karki, R. (2017); Sustainable Energy Optimization in a Smart Microgrid, Sustainable Power Systems, 111-132, 2017.
Khan, S.; Khan, A. et al. (2017); Genetic Algorithm and Earthworm Optimization Algorithm for Energy Management in Smart Grid, International Conference on P2P, Parallel, Grid, Cloud and Internet Computing, 447-459, 2017.
Kremljak, Z.; Palcic, I.; Kafol, C. (2014); Project Evaluation Using Cost-Time Investment Simulation, International Journal of Simulation Modelling, 13(4), 447-457, 2014
https://doi.org/10.2507/IJSIMM13(4)5.279
Reddy, S. S.; Park, J. Y.; Jung, C. M. (2016); Optimal operation of microgrid using hybrid differential evolution and harmony search algorithm, Frontiers in Energy, 10(3), 355-362, 2016.
https://doi.org/10.1007/s11708-016-0414-x
Sharma, T. K.; Pant, M.; Singh, V. P. (2011); Artificial Bee Colony Algorithm with Self Adaptive Colony Size, International Conference on Swarm, Evolutionary, and Memetic Computing, 593-600, 2011.
Trivedi, I. N.; Jangir, P.; Bhoye, M.; Jangir, N. (2016); An economic load dispatch and multiple environmental dispatch problem solution with microgrids using interior search algorithm, Neural Computing and Applications, 1-17, 2016.
Xu, L. Z.; Yang, G. Y. et al. (2017); A Coordinated Heat and Electricity Dispatching Model for Microgrid Operation via PSO, Life System Modeling and Intelligent Computing, 213-219, 2017.
Zhang, D.; Liu, S.; Papageorgiou, L. G. (2016); Energy Management of Smart Homes with Microgrid, Advances in Energy Systems Engineering, 507-533, 2016.
Zupancic, D.; Buchmeister, B.; Aljaz, T. (2017); Reducing the Time of Task Execution with Existing Resources ¨C Comparison of Approaches, International Journal of Simulation Modelling, 16(3), 484-496, 2017
https://doi.org/10.2507/IJSIMM16(3)10.394
DOI:
https://doi.org/10.15837/ijccc.2018.4.3143
Copyright (c) 2018 Ren Gao

This work is licensed under a
Creative Commons Attribution-NonCommercial 4.0 International License
.
CC-BY-NC  License for Website User
Articles published in IJCCC user license are protected by copyright.
Users can access, download, copy, translate the IJCCC articles for non-commercial purposes provided that users, but cannot redistribute, display or adapt:
Cite the article using an appropriate bibliographic citation: author(s), article title, journal, volume, issue, page numbers, year of publication, DOI, and the link to the definitive published version on IJCCC website;
Maintain the integrity of the IJCCC article;
Retain the copyright notices and links to these terms and conditions so it is clear to other users what can and what cannot be done with the  article;
Ensure that, for any content in the IJCCC article that is identified as belonging to a third party, any re-use complies with the copyright policies of that third party;
Any translations must prominently display the statement: "This is an unofficial translation of an article that appeared in IJCCC. Agora University  has not endorsed this translation."
This is a non commercial license where the use of published articles for commercial purposes is forbiden. 
Commercial purposes include: 
Copying or downloading IJCCC articles, or linking to such postings, for further redistribution, sale or licensing, for a fee;
Copying, downloading or posting by a site or service that incorporates advertising with such content;
The inclusion or incorporation of article content in other works or services (other than normal quotations with an appropriate citation) that is then available for sale or licensing, for a fee;
Use of IJCCC articles or article content (other than normal quotations with appropriate citation) by for-profit organizations for promotional purposes, whether for a fee or otherwise;
Use for the purposes of monetary reward by means of sale, resale, license, loan, transfer or other form of commercial exploitation;


The licensor cannot revoke these freedoms as long as you follow the license terms.
[End of CC-BY-NC  License for Website User]
INTERNATIONAL JOURNAL OF COMPUTERS COMMUNICATIONS & CONTROL (IJCCC), With Emphasis on the Integration of Three Technologies (C & C & C),  ISSN 1841-9836.
IJCCC was founded in 2006,  at Agora University, by  Ioan DZITAC (Editor-in-Chief),  Florin Gheorghe FILIP (Editor-in-Chief), and  Misu-Jan MANOLESCU (Managing Editor).
Ethics: This journal is a member of, and subscribes to the principles of, the Committee on Publication Ethics (COPE).
Ioan  DZITAC (Editor-in-Chief) at COPE European Seminar, Bruxelles, 2015:
IJCCC is covered/indexed/abstracted in Science Citation Index Expanded (since vol.1(S),  2006); JCR2016: IF=1.374. .
IJCCC is indexed in Scopus from 2008 (CiteScore 2017 = 1.04; SNIP2017 = 0.616, SJR2017 =0.326):
Nomination by Elsevier for Journal Excellence Award Romania 2015 (SNIP2014 = 1.029): Elsevier/ Scopus
IJCCC was nominated by Elsevier for Journal Excellence Award - "Scopus Awards Romania 2015" (SNIP2014 = 1.029).
IJCCC is in Top 3 of 157 Romanian journals indexed by Scopus (in all fields) and No.1 in Computer Science field by Elsevier/ Scopus.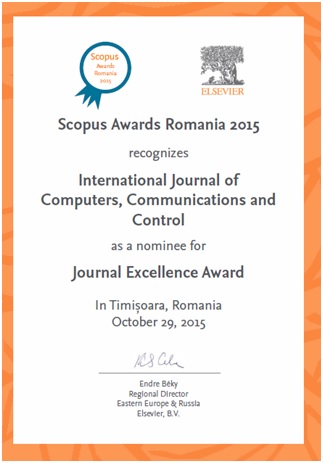 Impact Factor in JCR2017 (Clarivate Analytics/SCI Expanded/ISI Web of Science): IF=1.29 (Q3). Scopus: CiteScore2017=1.04 (Q2); Editors-in-Chief: Ioan DZITAC & Florin Gheorghe FILIP.