Disaster Response Project Scheduling Problem: A Resolution Method based on a Game-Theoretical Model
Abstract
We present a particular disaster response project scheduling problem (DRPSP) motivated by Fukushima's nuclear accident of Japan in 2011. We describe the problem as MPS;R,N|prec, dn|Pckf(rk(S)) by using Hartmann and Briskornscheme and formulate a mixed integer linear programming (MILP) model. Due to the NP-hardness of the problem, we propose a resolution method based on game theory.This method associates the DRPSP to a non-cooperative game model, such thatgame solution is a feasible solution of the problem. In order to explore the potentialof the proposed model and the performance of the resolution method, computationalexperiments are carried out. The results of resolution method show on average, thatthe method finds a feasible solution with a difference of 15.44% with respect to optimalsolution within one percent of the time required by the MILP over GAMS22.7.2/CPLEX 11.0.
Keywords
Disaster response, project scheduling problem, resolution method, gametheoretical model.
References
Jackson B.A., K.S Faith., Evaluating the reliability of emergency response systems for largescale incident operations, RAND Corporation monograph series, 2009
Altay N., Green III W.G., OR/MS research in disaster operations management, Eur J Oper Res, 175(1):475-493, 2006.
http://dx.doi.org/10.1016/j.ejor.2005.05.016
Simpson N.C., Hancock P.G., Fifty years of operational research and emergency response, J Oper Res Soc, 60(S1):126-139, 2009.
http://dx.doi.org/10.1057/jors.2009.3
Green III W.G., Four phases of emergency management, Electronic of Civil Defense and Emergency Management, 2002. Available from: https://facultystaff.richmond.edu/wgreen/Ecd4phases.htm
De Angelis V., Mecoli M., Nikroi C., Storchi G., Multiperiod integrated routing and scheduling of World Food Programme cargo planes in Angola, Comput Oper Res, 34(6):1601-1615, 2007.
http://dx.doi.org/10.1016/j.cor.2005.07.012
Fukura H., Ishibashi K., Nakatsu K., Hotta S., Optimal restoration scheduling of damaged networks under uncertain environment by using improved genetic algorithm, Tsinghua Sci Techn, 13(S1):400–405, 2008.
http://dx.doi.org/10.1016/S1007-0214(08)70181-0
Yan S., Shih Y.L., Optimal scheduling of emergency roadway repair and subsequent relief distribution, Comput Oper Res, 36(6):2049-2065, 2009.
http://dx.doi.org/10.1016/j.cor.2008.07.002
Yan L., Jinsong B., Xiaofeng H., Ye J., A heuristic project scheduling approach for quick response to maritime disaster rescue, Int J Project Manage, 27(6):620-628, 2009.
http://dx.doi.org/10.1016/j.ijproman.2008.10.001
Zhang L., Lin Y., Yang G., Chang H., Emergency resources scheduling based on adaptively mutate genetic algorithm, Comput Hum Behav, 27(5):1493-1498, 2011.
http://dx.doi.org/10.1016/j.chb.2010.10.013
Córdova F.M., Yanine F.F., Homeostatic control of sustainable energy grid applied to natural disasters, Int J Comput Commun, 8(1): 50-60, 2013.
http://dx.doi.org/10.15837/ijccc.2013.1.168
Rolland E., Patterson R.A., Ward K., Dodin B.; Decision support for disaster management, Comput Oper Res, 3(1-2):68-79, 2011.
Hartmann S., Briskorn D., A survey of variants and extensions of the resource-constrained project scheduling problem, Eur J Oper Res, 207(1):1-14, 2010.
http://dx.doi.org/10.1016/j.ejor.2009.11.005
W¸eglarz J., Project scheduling with continously-divisible, doubly constrained resources, Manage Sci, 27(9): 1040-1057, 1981.
http://dx.doi.org/10.1287/mnsc.27.9.1040
Zhang J., Shan H., Multi-mode double resource-constrained time/cost trade-offs project scheduling problems, In: Proceeding of International Conference on Management and Service Science-MASS, Wuhan/Beijing, China, 2009.
Bianco L., Dell'Olmo P., Grazia Speranza M., Heuristics for multimode scheduling problems with dedicated resources, Eur J Oper Res, 107 (2):260-271, 1998.
http://dx.doi.org/10.1016/S0377-2217(97)00347-0
De P., Dunne J., Ghosh J.B., Wells C.E., Complexity of discrete time-cost tradeoff problem for project networks, Oper Res, 45(2):302-305, 1997.
http://dx.doi.org/10.1287/opre.45.2.302
DOI:
https://doi.org/10.15837/ijccc.2013.2.313
Copyright (c) 2017 Óscar C. Vásquez, Juan M. Sepulveda, Miguel D. Alfaro, Luis Osorio-Valenzuela

This work is licensed under a
Creative Commons Attribution-NonCommercial 4.0 International License
.
CC-BY-NC  License for Website User
Articles published in IJCCC user license are protected by copyright.
Users can access, download, copy, translate the IJCCC articles for non-commercial purposes provided that users, but cannot redistribute, display or adapt:
Cite the article using an appropriate bibliographic citation: author(s), article title, journal, volume, issue, page numbers, year of publication, DOI, and the link to the definitive published version on IJCCC website;
Maintain the integrity of the IJCCC article;
Retain the copyright notices and links to these terms and conditions so it is clear to other users what can and what cannot be done with the  article;
Ensure that, for any content in the IJCCC article that is identified as belonging to a third party, any re-use complies with the copyright policies of that third party;
Any translations must prominently display the statement: "This is an unofficial translation of an article that appeared in IJCCC. Agora University  has not endorsed this translation."
This is a non commercial license where the use of published articles for commercial purposes is forbiden. 
Commercial purposes include: 
Copying or downloading IJCCC articles, or linking to such postings, for further redistribution, sale or licensing, for a fee;
Copying, downloading or posting by a site or service that incorporates advertising with such content;
The inclusion or incorporation of article content in other works or services (other than normal quotations with an appropriate citation) that is then available for sale or licensing, for a fee;
Use of IJCCC articles or article content (other than normal quotations with appropriate citation) by for-profit organizations for promotional purposes, whether for a fee or otherwise;
Use for the purposes of monetary reward by means of sale, resale, license, loan, transfer or other form of commercial exploitation;


The licensor cannot revoke these freedoms as long as you follow the license terms.
[End of CC-BY-NC  License for Website User]
INTERNATIONAL JOURNAL OF COMPUTERS COMMUNICATIONS & CONTROL (IJCCC), With Emphasis on the Integration of Three Technologies (C & C & C),  ISSN 1841-9836.
IJCCC was founded in 2006,  at Agora University, by  Ioan DZITAC (Editor-in-Chief),  Florin Gheorghe FILIP (Editor-in-Chief), and  Misu-Jan MANOLESCU (Managing Editor).
Ethics: This journal is a member of, and subscribes to the principles of, the Committee on Publication Ethics (COPE).
Ioan  DZITAC (Editor-in-Chief) at COPE European Seminar, Bruxelles, 2015:
IJCCC is covered/indexed/abstracted in Science Citation Index Expanded (since vol.1(S),  2006); JCR2018: IF=1.585..
IJCCC is indexed in Scopus from 2008 (CiteScore2018 = 1.56):
Nomination by Elsevier for Journal Excellence Award Romania 2015 (SNIP2014 = 1.029): Elsevier/ Scopus
IJCCC was nominated by Elsevier for Journal Excellence Award - "Scopus Awards Romania 2015" (SNIP2014 = 1.029).
IJCCC is in Top 3 of 157 Romanian journals indexed by Scopus (in all fields) and No.1 in Computer Science field by Elsevier/ Scopus.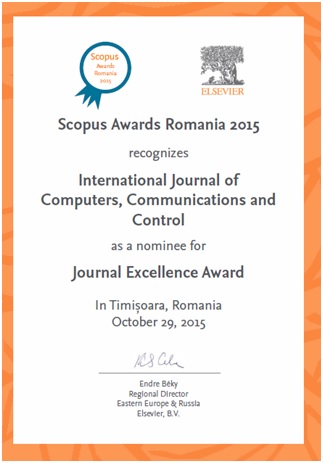 Impact Factor in JCR2018 (Clarivate Analytics/SCI Expanded/ISI Web of Science): IF=1.585 (Q3). Scopus: CiteScore2018=1.56 (Q2);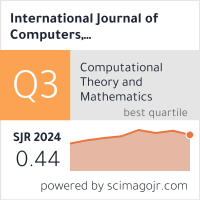 Editors-in-Chief: Ioan DZITAC & Florin Gheorghe FILIP.