Minimizing Uplink Cellular Outage Probability in Interference Limited Rayleigh and Nakagami Wireless Fading Channels
Abstract
We propose a game theoretic non-cooperative algorithm to optimize the induced outage probability in an uplink cellular interference limited wireless Rayleigh and Nakagami fading channels. We achieve this target by maximizing the certainty equivalent margin (CEM). We derive a closed-form formula of the outage probability in Nakagami flat-fading channels, then we show that minimizing the induced outage fading probability for both Rayleigh and Nakagami channels is equivalent to maxi- mizing CEM. We present a non-cooperative power control algorithm using the game theory framework. Through this non-cooperative game, we argue that the best de- cision in such an environment is for all users to transmit at the minimum power in their corresponding strategy profiles. This finding considerably simplifies the imple- mentation of the proposed game.
Keywords
cellular network, code-division-multiple-access (CDMA), outage proba- bility, power control, non-cooperative game (NPG).
References
Farrokhi H., Rezayi M.(2012); An Improved Distributed Power-Control Scheme for Cellular Mobile Systems, Turkish Journal of Electrical Engineering & Computer Sciences, 20(1), 1-8, 2012.
Fudenberg D., Tirole J. (1991); Game Theory, The MIT Press, 1991.
Hayajneh M., Abdallah C. (2003); Performance of game theoretic power control algorithms in interference limited wireless fading channels, Proc. of Sixth Baiona Workshop on Signal Processing in Communications, 1-8, 2003.
Hayajneh M., Abdallah C. (2015); Game Theoretic Distributed Power Control Algorithms for Uplink Wireless Data in Flat Fading Channels, International Journal of Computers Communications & Control, 10(4), 520-538, 2015.
https://doi.org/10.15837/ijccc.2015.4.380
Kandukuri S., Boyd S. (2002); Optimal power control in interference limited fading wireless channels with outage probability specifications, IEEE Trans. Wireless Comm., 1(1), 46-55, 2002.
https://doi.org/10.1109/7693.975444
Mitra D. (1993); An asynchronous distributed algorithm for power control in cellular radio systems, Proc. 4th WINLAB Workshop on 3rd Generation Wireless Information Networks, 177-186, 1993.
von Neumann J., Morgenstern O. (1944); Theory of Games and Economic Behavior, Princeton University Press, Princeton, 1944.
Peterson R., Ziemer R., Borth D. (1995); Introduction to Spread Spectrum Communications, Prentice Hall, Upper Saddle River, NJ, 1995.
Proakis J.G. (2000); Digital Communications, The McGraw Hill Press 1221 Avenue of the Americas, New York, NY, 2000.
Ross D. (1999); What People Want: The concept of utility from Bentham to game theory, University of Cape Town Press, South Africa, 1999.
Saraydar C.U., Mandayam N.B., Goodman D.J. (2001); Pricing and power control in multicell wireless data network, IEEE JSAC, 19(9), 1883-1892, 2001.
Saraydar C.U., Mandayam N.B., Goodman D.J. (2002); Efficient power control via pricing in wireless data networks, IEEE Tras. Comm., 50(2), 291- 303, 2002.
https://doi.org/10.1109/26.983324
Shah V., Mandayam N.B., Goodman D.J. (1998); Power control for wireless data based on utility and pricing, Proceedings of PIMRC, 1427-1432, 1998.
Zander J. (1992); Distributed cochannel interference control in cellular radio systems, IEEE Tran. Veh. Tchnol., 41, 305- 311, 1992.
https://doi.org/10.1109/25.155977
DOI:
https://doi.org/10.15837/ijccc.2017.6.3112
Copyright (c) 2017 Mohammad Hayajneh

This work is licensed under a
Creative Commons Attribution-NonCommercial 4.0 International License
.
CC-BY-NC  License for Website User
Articles published in IJCCC user license are protected by copyright.
Users can access, download, copy, translate the IJCCC articles for non-commercial purposes provided that users, but cannot redistribute, display or adapt:
Cite the article using an appropriate bibliographic citation: author(s), article title, journal, volume, issue, page numbers, year of publication, DOI, and the link to the definitive published version on IJCCC website;
Maintain the integrity of the IJCCC article;
Retain the copyright notices and links to these terms and conditions so it is clear to other users what can and what cannot be done with the  article;
Ensure that, for any content in the IJCCC article that is identified as belonging to a third party, any re-use complies with the copyright policies of that third party;
Any translations must prominently display the statement: "This is an unofficial translation of an article that appeared in IJCCC. Agora University  has not endorsed this translation."
This is a non commercial license where the use of published articles for commercial purposes is forbiden. 
Commercial purposes include: 
Copying or downloading IJCCC articles, or linking to such postings, for further redistribution, sale or licensing, for a fee;
Copying, downloading or posting by a site or service that incorporates advertising with such content;
The inclusion or incorporation of article content in other works or services (other than normal quotations with an appropriate citation) that is then available for sale or licensing, for a fee;
Use of IJCCC articles or article content (other than normal quotations with appropriate citation) by for-profit organizations for promotional purposes, whether for a fee or otherwise;
Use for the purposes of monetary reward by means of sale, resale, license, loan, transfer or other form of commercial exploitation;


The licensor cannot revoke these freedoms as long as you follow the license terms.
[End of CC-BY-NC  License for Website User]
INTERNATIONAL JOURNAL OF COMPUTERS COMMUNICATIONS & CONTROL (IJCCC), With Emphasis on the Integration of Three Technologies (C & C & C),  ISSN 1841-9836.
IJCCC was founded in 2006,  at Agora University, by  Ioan DZITAC (Editor-in-Chief),  Florin Gheorghe FILIP (Editor-in-Chief), and  Misu-Jan MANOLESCU (Managing Editor).
Ethics: This journal is a member of, and subscribes to the principles of, the Committee on Publication Ethics (COPE).
Ioan  DZITAC (Editor-in-Chief) at COPE European Seminar, Bruxelles, 2015:
IJCCC is covered/indexed/abstracted in Science Citation Index Expanded (since vol.1(S),  2006); JCR2018: IF=1.585..
IJCCC is indexed in Scopus from 2008 (CiteScore2018 = 1.56):
Nomination by Elsevier for Journal Excellence Award Romania 2015 (SNIP2014 = 1.029): Elsevier/ Scopus
IJCCC was nominated by Elsevier for Journal Excellence Award - "Scopus Awards Romania 2015" (SNIP2014 = 1.029).
IJCCC is in Top 3 of 157 Romanian journals indexed by Scopus (in all fields) and No.1 in Computer Science field by Elsevier/ Scopus.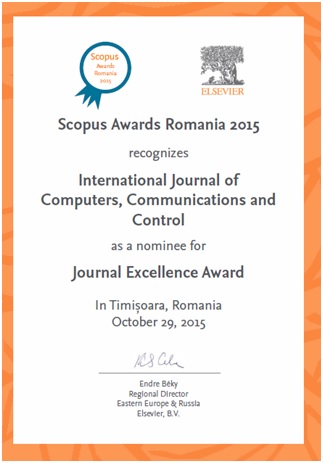 Impact Factor in JCR2018 (Clarivate Analytics/SCI Expanded/ISI Web of Science): IF=1.585 (Q3). Scopus: CiteScore2018=1.56 (Q2);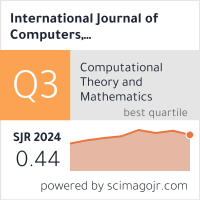 Editors-in-Chief: Ioan DZITAC & Florin Gheorghe FILIP.