The Integrated Environment for Learning Objects Design and Storing in Semantic Web
Abstract
There is a variety of tools and environments for Learning Objects (LOs) design and delivery as well as learning object repositories (LOR) but the researchers could not find a repository that includes both functions: creation and storing of LOs. A number of different integrated learning systems are suggested for users that demonstrate the variety of e-learning methods and semantic capabilities. LO repository oer.ndma.lt/lor, that we are going to present, is very friendly and interoperable to use and assure LO design, search in semantic web, adaptation of the re-used objects and storing. There are no more existing LO repositories with the functionality presented by researchers. Transformation of closed education into open one without existence of well-structured, multifunctional and integrated environment becomes problematic. Authors will present an integrated environment for the LO design, search in semantic web, adaptation and storing of newly designed or re-designed LO. Measures will support the transformation of closed education into open and will assure effective design, re-usability and adaptation of LO in the integrated environment.
Keywords
learning objects (LO), models, semantic web, semantic technologies
References
Allen, C.; Mugisa, E. (2010); Improving Learning Object Reuse through OOD: A Theory of Learning Objects, Journal of Object Technology, 9(6), 51-75, 2010.
https://doi.org/10.5381/jot.2010.9.6.a3
Aroyo, L.; Dicheva, D. (2013); The New Challenges for E-learning, The Educational Semantic Web Educational Technology & Society, 7 (4), 59-69, 2013.
Arreola, R. 1998; Writing Learning Objectives, The University of Tennessee, Memphis, 1998.
Berners-Lee, T.; Hall, W.; Hendler, J.A. et al (2006); A Framework for Web Science, Foundations and TrendsRO in Web Science, 1(1), 1-130, 2006.
https://doi.org/10.1561/1800000001
Brasoveanu, A.M.P.; Dzitac I. (2012); The Role of Visual Rhetoric in Semantic Multimedia: Strategies for Decision Making in Times of Crisis, International Journal of Computers Communications & Control, 7(4), 605-615, 2012.
Bridges, D.; Davison, R.; Odegard, P.S.; Maki, I.; Tomkowiak, J. (2011); Inter-professional collaboration: three best practice models of inter-professional education, Medical Education Online, DOI: 10.3402/meo.v16i0.6035, 16(10), 2011.
https://doi.org/10.3402/meo.v16i0.6035
Burbaite, R. (2014); Advanced Generative Learning Objects in Informatics Education: The concept, models and Implementation, Kaunas University of Technology, 2014.
Cheng, H.M.; Yen, Y.N.; Chen, M.B.; Yang, W.B. (2010); A Process for Digitizing Historical Architecture, Euro-Mediterranean Conference (EuroMed'10), 1-12, 2010.
Cisco (2006); Product Bulletin No. 1545, Cisco, 1-12, 2006.
Dhuria, S.; Chawla, S. (2014); Ontologies for Personalized E-Learning in the Semantic Web, International Journal of Advanced Engineering and Nano Technology (IJAENT), 1(4), 13- 18, 2014.
Ermalai, I.; Mocofan, M.; Onita, M.; Vasiu, R. (2009); Adding semantics to online learning environments. Computational Intelligence and Informatics, 5th International Symposium on Applied Computional Intelligence and Informatics (SACI'09), 569-573, 2009.
https://doi.org/10.1109/SACI.2009.5136212
Gladun, A. (2009); An application of intelligent techniques and semantic web technologies in e-learning environments Expert Systems with Applications, Expert Systems with Applications, 36(2-1), 1922-1931, 2009.
Goncalves, M.J.A.; Perez Cota, M.; Pimenta, P. (2013); A Study to determine what Kind of Learning Objects are Used in Higher Education Institutions, Education, 3(1), 30-36, 2013.
Gutierrez, I.; Alvarez, V.; Paule, P.; Perez-Perez, J.R.; Freitas, S. (2016); Adaptation in E-Learning Content Specifications with Dynamic Sharable Objects, Systems, 4(2), 24, 2016.
Jovanovic, J.; Gasevic, D.; Knight, C.; Richards, G. (2007); Ontologies for Effective Use of Context in e-Learning Settings, Journal of Educational Technology & Society, 10(3), 47-59, 2007.
Klasnja-Milicevic, A.; Vesin, B.; Ivanovic, M.; Budimac, Z. (2010); E-Learning personalization based on hybrid recommendation strategy and learning style identification, Computers & Education, 56(3), 885-899, 2010.
Kontopoulos, E. (2008); An ontology-based planning system for e-course generation, Expert Systems with Applications, 35, 398-406, 2008.
https://doi.org/10.1016/j.eswa.2007.07.034
Lupeikiene, A. (2007); Theoretical and technological aspects of information systems: a textbook for doctoral and postgraduate students in computer science, Institute for Mathematics and Informatics, Vilnius University, 200, 2007.
Magnisalis, I.; Demetriadis, S.; Karakostas, A. (2011); Adaptive and Intelligent Systems for Collaborative Learning Support: A Review of the Field, IEEE Transactions on Learning Technologies, 4(1), 5-20, 2011.
https://doi.org/10.1109/TLT.2011.2
McGreal, R. (2004); Learning Objects: A Practical Definition, International Journal of Instructional Technology and Distance Learning, 1(9), 2004.
McIlraith, S.; Son, T.; Zeng, H. (2001); Semantic Web Services, Intelligent Systems, 16(2), 46-53, 2001.
https://doi.org/10.1109/5254.920599
Menolli, A., Reinehr, S., Malucelli, A. (2013); Improving Organizational Learning: Defining Units of Learning from Social Tools, Informatics in Education, 12(2), 273-290, 2013.
Mohan, P.; Brooks, C. (2003); Learning Objects on the Semantic Web, Proceedings of 3rd IEEE International Conference on Advanced Learning Technologies (ICALT03), 2003.
Psyllidis, A. (2015); Ontology-Based Data Integration from Heterogenous Urban Systems: A Knowledge Representation Framework for Smart Cities, Proceedings of the 14th International Conference on Computers in Urban Planning and Urban Management (CUPUM'14), 2015.
Raju, P.; Ahmed, V. (2012); Enabling technologies for developing next-generation learning object repository for construction, Automation in Construction, 22, 247-257, 2012.
https://doi.org/10.1016/j.autcon.2011.07.008
Sakarkar, G.; Deshpande, S.; Thakare, V. (2012); Intelligent Online e-Learning Systems: A Comparative Study, International Journal of Computer Applications, 56(4), 21-25, 2012.
Salas, K.; Ellis, L. (2006); The Development and Implementation of Learning Objects in a Higher Education Setting, Interdisciplinary Journal of Knowledge and Learning Objects,
https://doi.org/10.28945/398, 2, 1-22, 2006.
https://doi.org/10.28945/398
Shen, R.; Ullrich, C.; Borau, K. (2013); Learning from Learning Objects and their Repositories to Create Sustainable Educational App Environments, IEEE 13th International Conference on Advanced Learning Technologies, 285-287, 2013.
Verberts, K.; Duval, E. (2008); ALOCOM: a generic content model for learning objects, International Journal on Digital Libraries, 9(1), 41-63, 2008.
https://doi.org/10.1007/s00799-008-0039-8
The Semantic Web (2012); The Semantic Web, 2012. [Online] www.semanticweb.org
DOI:
https://doi.org/10.15837/ijccc.2018.1.3074
Copyright (c) 2018 Valentina Dagiene, Daina Gudoniene, Reda Bartkute

This work is licensed under a
Creative Commons Attribution-NonCommercial 4.0 International License
.
IJCCC is an Open Access Journal : CC-BY-NC.
Articles published in IJCCC user license are protected by copyright.
Users can access, download, copy, translate the IJCCC articles for non-commercial purposes provided that users, but cannot redistribute, display or adapt:
Cite the article using an appropriate bibliographic citation: author(s), article title, journal, volume, issue, page numbers, year of publication, DOI, and the link to the definitive published version on IJCCC website;
Maintain the integrity of the IJCCC article;
Retain the copyright notices and links to these terms and conditions so it is clear to other users what can and what cannot be done with the  article;
Ensure that, for any content in the IJCCC article that is identified as belonging to a third party, any re-use complies with the copyright policies of that third party;
Any translations must prominently display the statement: "This is an unofficial translation of an article that appeared in IJCCC. Agora University  has not endorsed this translation."
This is a non commercial license where the use of published articles for commercial purposes is forbiden. 
Commercial purposes include: 
Copying or downloading IJCCC articles, or linking to such postings, for further redistribution, sale or licensing, for a fee;
Copying, downloading or posting by a site or service that incorporates advertising with such content;
The inclusion or incorporation of article content in other works or services (other than normal quotations with an appropriate citation) that is then available for sale or licensing, for a fee;
Use of IJCCC articles or article content (other than normal quotations with appropriate citation) by for-profit organizations for promotional purposes, whether for a fee or otherwise;
Use for the purposes of monetary reward by means of sale, resale, license, loan, transfer or other form of commercial exploitation;


The licensor cannot revoke these freedoms as long as you follow the license terms.
[End of CC-BY-NC  License for Website User]
INTERNATIONAL JOURNAL OF COMPUTERS COMMUNICATIONS & CONTROL (IJCCC), With Emphasis on the Integration of Three Technologies (C & C & C),  ISSN 1841-9836.
IJCCC was founded in 2006,  at Agora University, by  Ioan DZITAC (Editor-in-Chief),  Florin Gheorghe FILIP (Editor-in-Chief), and  Misu-Jan MANOLESCU (Managing Editor).
Ethics: This journal is a member of, and subscribes to the principles of, the Committee on Publication Ethics (COPE).
Ioan  DZITAC (Editor-in-Chief) at COPE European Seminar, Bruxelles, 2015:
IJCCC is covered/indexed/abstracted in Science Citation Index Expanded (since vol.1(S),  2006); JCR2018: IF=1.585..
IJCCC is indexed in Scopus from 2008 (CiteScore2018 = 1.56):
Nomination by Elsevier for Journal Excellence Award Romania 2015 (SNIP2014 = 1.029): Elsevier/ Scopus
IJCCC was nominated by Elsevier for Journal Excellence Award - "Scopus Awards Romania 2015" (SNIP2014 = 1.029).
IJCCC is in Top 3 of 157 Romanian journals indexed by Scopus (in all fields) and No.1 in Computer Science field by Elsevier/ Scopus.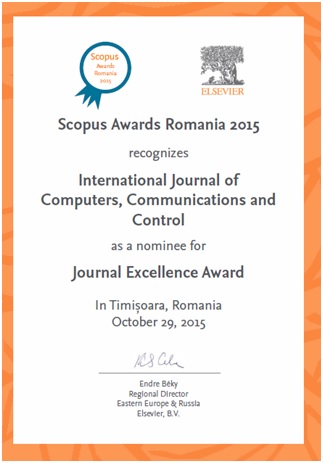 Impact Factor in JCR2018 (Clarivate Analytics/SCI Expanded/ISI Web of Science): IF=1.585 (Q3). Scopus: CiteScore2018=1.56 (Q2);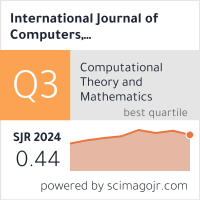 Editors-in-Chief: Ioan DZITAC & Florin Gheorghe FILIP.