Moving Object Detection and Tracking using Genetic Algorithm Enabled Extreme Learning Machine
Abstract
In this proposed work, the moving object is localized using curvelet transform, soft thresholding and frame differencing. The feature extraction techniques are applied on to the localized object and the texture, color and shape information of objects are considered. To extract the shape information, Speeded Up Robust Features (SURF) is used. To extract the texture features, the Enhanced Local Vector Pattern (ELVP) and to extract color features, Histogram of Gradient (HOG) are used and then reduced feature set obtained using genetic algorithm are fused to form a single feature vector and given into the Extreme Learning Machine (ELM) to classify the objects. The performance of the proposed work is compared with Naive Bayes, Support Vector Machine, Feed Forward Neural Network and Probabilistic Neural Network and inferred that the proposed method performs better.
Keywords
curvelet transform, speeded up robust features, enhanced local vector pattern, histogram of gradient, extreme learning machine, genetic algorithm
References
Biswas, M.; Om H. (2012); A new soft thresholding Image Denoising method, Science Direct, 6:10-15,2012.
https://doi.org/10.1016/j.protcy.2012.10.002
Cheng, H.-Y.; Weng, C.-C.; Chen Y.-Y.(2012); Vehicle Detection in Aerial Surveillance Using Dynamic Bayesian Networks, IEEE Transactions on Image Processing, 21(4): 2152- 2159, 2012.
https://doi.org/10.1109/TIP.2011.2172798
Fadel, E.; Faheem, M.; Gungor, V.; Nassef, L.; Akkari, N.; Malik, M. (2017); Spectrum- Aware Bio-Inspired Routing in Cognitive Radio Sensor Networks for Smart Grid Applications Computer Communications, 106-120, 2017.
Faheem, M.; Tuna, G.; Gungor, V.C. (2016); LRP: Link quality- aware queue- based spectral clustering routing protocol for underwater acoustic sensor networks, International Journal of Communication Systems, 2016.
Faheem, M.; Gungor V.C. (2017); Energy Efficient and QoS-aware Routing Protocol for Wireless Sensor Network-based Smart Grid Applications in the Context of Industry 4.0, Applied Soft Computing, 1-13, 2017.
https://doi.org/10.1016/j.asoc.2017.07.045
Faheem, M.; Tuna, G.; Gungor V.C. (2017); QERP: Quality-of-Service (QoS) Aware Evolutionary Routing Protocol for Underwater Wireless Sensor Networks, IEEE Systems Journal, 2017.
Fan, K.-K.; Hung, T.-Y. (2014); A Novel Local Pattern Descriptor-Local Vector Pattern in High-Order Derivative Space for Face Recognition, IEEE Transactions on Image Processing, 23(7), 2877 - 2891, 2014.
https://doi.org/10.1109/TIP.2014.2321495
Kimori, Y. (2013); Morphological image processing for quantitative shape analysis of biomedical structures: effective contrast enhancement, Journal of Synchrotron Radiation, 1(20), 848-853, 2013.
https://doi.org/10.1107/S0909049513020761
Kourav, A.; Singh P. (2013); Review on curvelet transform and its applications, Asian Journal of Electrical Sciences, 2(1): 9-13, 2013.
Li, Y.; Su G. (2015); Simplified histograms of oriented gradient features extraction algorithm for the hardware implementation, International Conference on Computers, Communications and Systems (ICCCS), 192 -195, 2015.
https://doi.org/10.1109/CCOMS.2015.7562899
Philip, F.M.; Mukesh R.(2016); Hybrid tracking model for multiple object videos using second derivative based visibility model and tangential weighted spatial tracking model, International Journal of Computational Intelligence Systems, 9(5): 888-899, 2016.
https://doi.org/10.1080/18756891.2016.1237188
Roy, A.; Shinde,S.; Kang, K.-D. (2012); An Approach for Efficient Real Time Moving Object Detection, International Journal of Signal Processing, Image Processing and Pattern Recognition, 5(3), 2012.
Shingade, A.; Ghotkar A.(2014); Survey of Object Tracking and Feature Extraction Using Genetic Algorithm, International Journal of Computer Science and Technology, 5(1), 2014.
Wang, Y.; Cao, F.; Yuan, Y. (2014); A Study on Effectiveness of Extreme Learning Machine, arXiv:1409.3924v1 [cs.NE], 13, 2014.
Zohrevand, A.; Ahmadyfard, A.; Pouyan, A.; Imani, Z. (2014); A SIFT based object recognition using contextual information, Iranian Conference on Intelligent Systems (ICIS), 1-4, 2014.
DOI:
https://doi.org/10.15837/ijccc.2018.2.3064
Copyright (c) 2018 Jemilda G, Baulkani S

This work is licensed under a
Creative Commons Attribution-NonCommercial 4.0 International License
.
CC-BY-NC  License for Website User
Articles published in IJCCC user license are protected by copyright.
Users can access, download, copy, translate the IJCCC articles for non-commercial purposes provided that users, but cannot redistribute, display or adapt:
Cite the article using an appropriate bibliographic citation: author(s), article title, journal, volume, issue, page numbers, year of publication, DOI, and the link to the definitive published version on IJCCC website;
Maintain the integrity of the IJCCC article;
Retain the copyright notices and links to these terms and conditions so it is clear to other users what can and what cannot be done with the  article;
Ensure that, for any content in the IJCCC article that is identified as belonging to a third party, any re-use complies with the copyright policies of that third party;
Any translations must prominently display the statement: "This is an unofficial translation of an article that appeared in IJCCC. Agora University  has not endorsed this translation."
This is a non commercial license where the use of published articles for commercial purposes is forbiden. 
Commercial purposes include: 
Copying or downloading IJCCC articles, or linking to such postings, for further redistribution, sale or licensing, for a fee;
Copying, downloading or posting by a site or service that incorporates advertising with such content;
The inclusion or incorporation of article content in other works or services (other than normal quotations with an appropriate citation) that is then available for sale or licensing, for a fee;
Use of IJCCC articles or article content (other than normal quotations with appropriate citation) by for-profit organizations for promotional purposes, whether for a fee or otherwise;
Use for the purposes of monetary reward by means of sale, resale, license, loan, transfer or other form of commercial exploitation;


The licensor cannot revoke these freedoms as long as you follow the license terms.
[End of CC-BY-NC  License for Website User]
INTERNATIONAL JOURNAL OF COMPUTERS COMMUNICATIONS & CONTROL (IJCCC), With Emphasis on the Integration of Three Technologies (C & C & C),  ISSN 1841-9836.
IJCCC was founded in 2006,  at Agora University, by  Ioan DZITAC (Editor-in-Chief),  Florin Gheorghe FILIP (Editor-in-Chief), and  Misu-Jan MANOLESCU (Managing Editor).
Ethics: This journal is a member of, and subscribes to the principles of, the Committee on Publication Ethics (COPE).
Ioan  DZITAC (Editor-in-Chief) at COPE European Seminar, Bruxelles, 2015:
IJCCC is covered/indexed/abstracted in Science Citation Index Expanded (since vol.1(S),  2006); JCR2018: IF=1.585..
IJCCC is indexed in Scopus from 2008 (CiteScore2018 = 1.56):
Nomination by Elsevier for Journal Excellence Award Romania 2015 (SNIP2014 = 1.029): Elsevier/ Scopus
IJCCC was nominated by Elsevier for Journal Excellence Award - "Scopus Awards Romania 2015" (SNIP2014 = 1.029).
IJCCC is in Top 3 of 157 Romanian journals indexed by Scopus (in all fields) and No.1 in Computer Science field by Elsevier/ Scopus.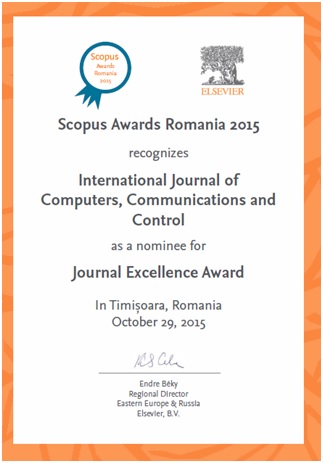 Impact Factor in JCR2018 (Clarivate Analytics/SCI Expanded/ISI Web of Science): IF=1.585 (Q3). Scopus: CiteScore2018=1.56 (Q2);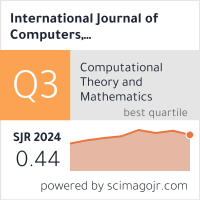 Editors-in-Chief: Ioan DZITAC & Florin Gheorghe FILIP.