Energy Optimization in Mobile Wireless Sensor Networks with Mobile Targets Achieving Efficient Coverage for Critical Applications
Abstract
The Mobile Wireless Sensor Networks (MWSN), classified within MANETS, have multiple applications for critical situations management such as target monitoring and tracking in conflict zones, supporting urban security, critical infrastructure monitoring, remote locations exploration (i.e. aerospace exploration), and patients monitoring and care in health facilities, among others. All of these applications have requirements of certain intelligence in the network that can be used for network's self-configuration in order to find targets, guarantee connectivity and information availability until its reception. This paper proposes a MWSN architecture with an initial random distribution in a specific work area, and a centralized management to perform autonomous decision making about the movement and connectivity of the sensors. The work area presents mobile targets with interesting events which must be covered by the mobile sensors, and thus, send the collected information through the network to any base station available. Our work shows a dynamic mathematical model used to maximize targets' coverage and send its sensed information to the base stations available, while minimizing system's power consumption and maximizing operation time. The heuristic algorithm we used to construct and find a feasible solution is also shown.
Keywords
MWSN, multiobjective optimization, shortest path, coverage, location, energy efficiency.
References
Ahuja R. K., Magnanti T. L. and OrlinJ. B., Network Flows, Prentice-Hall, ISBN 978- 0136175490, 1993.
Church R. and ReVelle C., The maximal covering location problem, Papers in Regional Science, 32(1):101-118, 1974.
http://dx.doi.org/10.1007/BF01942293
V. Chvátal. A greedy heuristic for the set-covering problem, Mathematics of Operations Research, INFORMS. 4(3):233-235, 1979.
http://dx.doi.org/10.1287/moor.4.3.233
Baldacci R., Dell'Amico M., Salazar González J., The Capacitated m-Ring-Star Problem, Operations Research, 55(6):1147-1162, 2007.
http://dx.doi.org/10.1287/opre.1070.0432
Powell W. B., Approximate Dynamic Programming, John Wiley & Sons, 2nd Edition, ISBN 978-0-470-60445-8, 2012.
Chabini I., Discrete dynamic shortest path problems in transportation applications: Complexity and algorithms with optimal run time, Transportation Research Record, 1645(-1):170-175, 1998.
Chakraborty N., Sycara K., Reconfiguration algorithms for mobile robotic networks, Robotics and Automation (ICRA), 2010 IEEE International Conference on, pp.5484-5489, 3-7 May 2010.
Zavlanos M. M., Ribeiro A. and Pappas G. J., Distributed control of mobility & routing in networks of robots, Signal Processing Advances in Wireless Communications (SPAWC), 2011 IEEE 12th International Workshop on, pp.236-240, 26-29 June 2011.
Miao L., Qi H. and Wang F., Biologically-inspired self-deployable heterogeneous mobile sensor networks, Intelligent Robots and Systems 2005, (IROS 2005). 2005 IEEE/RSJ International Conference on, pp. 2363- 2368, 2-6 Aug 2005.
Wang Y.-C., Wu F.-J. and Tseng Y.-C., Mobility management algorithms and applications for mobile sensor networks, Wireless Communications and Mobile Computing, 12(1):7-21, 2012.
http://dx.doi.org/10.1002/wcm.886
Cortes J., Martinez S., Karatas T., and Bullo F., Coverage control for mobile sensing networks, Robotics and Automation, IEEE Transactions on, 20(2):243-255, April 2004.
DOI:
https://doi.org/10.15837/ijccc.2013.2.305
Copyright (c) 2017 Germán A. Montoya, Carlos Velásquez-Villada, Yezid Donoso

This work is licensed under a
Creative Commons Attribution-NonCommercial 4.0 International License
.
CC-BY-NC  License for Website User
Articles published in IJCCC user license are protected by copyright.
Users can access, download, copy, translate the IJCCC articles for non-commercial purposes provided that users, but cannot redistribute, display or adapt:
Cite the article using an appropriate bibliographic citation: author(s), article title, journal, volume, issue, page numbers, year of publication, DOI, and the link to the definitive published version on IJCCC website;
Maintain the integrity of the IJCCC article;
Retain the copyright notices and links to these terms and conditions so it is clear to other users what can and what cannot be done with the  article;
Ensure that, for any content in the IJCCC article that is identified as belonging to a third party, any re-use complies with the copyright policies of that third party;
Any translations must prominently display the statement: "This is an unofficial translation of an article that appeared in IJCCC. Agora University  has not endorsed this translation."
This is a non commercial license where the use of published articles for commercial purposes is forbiden. 
Commercial purposes include: 
Copying or downloading IJCCC articles, or linking to such postings, for further redistribution, sale or licensing, for a fee;
Copying, downloading or posting by a site or service that incorporates advertising with such content;
The inclusion or incorporation of article content in other works or services (other than normal quotations with an appropriate citation) that is then available for sale or licensing, for a fee;
Use of IJCCC articles or article content (other than normal quotations with appropriate citation) by for-profit organizations for promotional purposes, whether for a fee or otherwise;
Use for the purposes of monetary reward by means of sale, resale, license, loan, transfer or other form of commercial exploitation;


The licensor cannot revoke these freedoms as long as you follow the license terms.
[End of CC-BY-NC  License for Website User]
INTERNATIONAL JOURNAL OF COMPUTERS COMMUNICATIONS & CONTROL (IJCCC), With Emphasis on the Integration of Three Technologies (C & C & C),  ISSN 1841-9836.
IJCCC was founded in 2006,  at Agora University, by  Ioan DZITAC (Editor-in-Chief),  Florin Gheorghe FILIP (Editor-in-Chief), and  Misu-Jan MANOLESCU (Managing Editor).
Ethics: This journal is a member of, and subscribes to the principles of, the Committee on Publication Ethics (COPE).
Ioan  DZITAC (Editor-in-Chief) at COPE European Seminar, Bruxelles, 2015:
IJCCC is covered/indexed/abstracted in Science Citation Index Expanded (since vol.1(S),  2006); JCR2018: IF=1.585..
IJCCC is indexed in Scopus from 2008 (CiteScore2018 = 1.56):
Nomination by Elsevier for Journal Excellence Award Romania 2015 (SNIP2014 = 1.029): Elsevier/ Scopus
IJCCC was nominated by Elsevier for Journal Excellence Award - "Scopus Awards Romania 2015" (SNIP2014 = 1.029).
IJCCC is in Top 3 of 157 Romanian journals indexed by Scopus (in all fields) and No.1 in Computer Science field by Elsevier/ Scopus.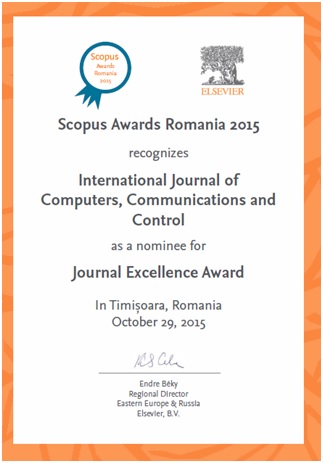 Impact Factor in JCR2018 (Clarivate Analytics/SCI Expanded/ISI Web of Science): IF=1.585 (Q3). Scopus: CiteScore2018=1.56 (Q2);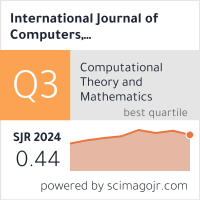 Editors-in-Chief: Ioan DZITAC & Florin Gheorghe FILIP.