Fast Motion Estimation Algorithm using Hybrid Search Patterns for Video Streaming Application
Abstract
The objective of the paper is to develop new block matching Motion Estimation (ME) algorithm using hybrid search patterns along the direction of best match. The search efficiency for sequences with fast motions and high resolutions is improved by proposing New Cross Diagonal-Hexagon Search (NCDHS) algorithm which involves a novel multi half-hexagon grid global search pattern and a cross diagonal-hexagon local search pattern. The new search pattern enables the proposed algorithm to perform better search using 9.068 search points on an average, to obtain optimal motion vector with slight improvement in quality. This inturn reduces ME Time upto 50.11%, 47.12%, 32.99% and 43.28% on average when compared to the existing Diamond Search (DS), Hexagon Search (HS), New Cross Hexagon Search (NHEXS) and Enhanced Diamond Search (EDS) algorithms respectively. The novelty of the algorithm is further achieved by applying the algorithm proposed for live streaming application. The NCDHS algorithm is run on two MATLAB sessions on the same computer by establishing the connection using Transmission Control Protocol (TCP) /Internet Protocol (IP) network. The ME Time obtained is 14.5986 seconds for a block size 16x16, is less when compared to existing algorithms and that makes the NCDHS algorithm suitable for real time streaming application.
Keywords
hybrid search patterns, motion estimation time, search points, peak signal-to-noise ratio (PSNR).
References
Belloulata K., Zhu S., Tian J., Shen X. (2011); A novel cross hexagon search algorithm for fast block motion estimation, International Workshop on Systems, Signal Processing and their Applications, 1-4, 2011.
Chen T.C., Lian C., Chen L.G. (2006); Hardware architecture design of an H.264/AVC video codec, IEEE Asia and South Pacific Conference on Design Automation, 8, 2006.
Cheung C.H., Po L.M. (2005); Novel cross-diamond-hexagonal search algorithms for fast block motion estimation, IEEE Transactions on Multimedia, 7(1), 16-22, 2005.
https://doi.org/10.1109/TMM.2004.840609
Devi S.R., Rangarajan P., Perinbam J.R.P., Paul R. (2013); VLSI Implementation of High Performance Optimized Architecture for Video Coding Standards, Acta Polytechnica Hungarica, 10(6), 237-249, 2013.
Huayi L., Lini M., Hai L. (2010); Analysis and optimization of the UMHexagons algorithm in H. 264 based on SIMD, Second International Conference on Communication Systems, Networks and Applications, 1, 239-244, 2010.
ITU-T Rec.H.264, ISO/IEC 14496-10 AVC. (2003); Joint Video Team Draft ITU-T recommendation and final draft international standard of joint video specification, 2003.
Li Z., Yang Q. (2012); A fast adaptive motion estimation algorithm, International Conference on Computer Science and Electronics Engineering, 3, 656-660, 2012.
https://doi.org/10.1109/ICCSEE.2012.95
Richardson I.E. (2011); The H. 264 advanced video compression standard, John Wiley & Sons, 2011.
Wen X., Au O.C., Xu J., Fang L., Cha R., Li J. (2011); Novel RD optimized VBSME with Matching Highly Data Re-usable Hardware Architecture, IEEE Transactions on Circuits and Systems for Video Technology, 21(2), 206-219, 2011.
https://doi.org/10.1109/TCSVT.2011.2106274
Zhao W., Xu S. (2012); Research and optimization of UMHexagons algorithm based on H.264, IEEE 4th International Conference on Multimedia Information Networking and Security, 600-603, 2012.
https://doi.org/10.1109/MINES.2012.251
Zhu C., Lin X., Chau L.P., Lim K.P., Ang H.A., Ong C.Y. (2001); A novel hexagonbased search algorithm for fast block motion estimation, IEEE International Conference on Acoustics, Speech, and Signal Processing, 3, 1593-1596, 2001.
Zhu S., Ma K.K. (2000); A new diamond search algorithm for fast block-matching motion estimation, IEEE Transactions on Image Processing, 9(2), 287-290, 2000.
https://doi.org/10.1109/83.821744
DOI:
https://doi.org/10.15837/ijccc.2017.5.2975
Copyright (c) 2017 Ushabhanu Nageswaran, Sangeetha Marikkannan

This work is licensed under a
Creative Commons Attribution-NonCommercial 4.0 International License
.
CC-BY-NC  License for Website User
Articles published in IJCCC user license are protected by copyright.
Users can access, download, copy, translate the IJCCC articles for non-commercial purposes provided that users, but cannot redistribute, display or adapt:
Cite the article using an appropriate bibliographic citation: author(s), article title, journal, volume, issue, page numbers, year of publication, DOI, and the link to the definitive published version on IJCCC website;
Maintain the integrity of the IJCCC article;
Retain the copyright notices and links to these terms and conditions so it is clear to other users what can and what cannot be done with the  article;
Ensure that, for any content in the IJCCC article that is identified as belonging to a third party, any re-use complies with the copyright policies of that third party;
Any translations must prominently display the statement: "This is an unofficial translation of an article that appeared in IJCCC. Agora University  has not endorsed this translation."
This is a non commercial license where the use of published articles for commercial purposes is forbiden. 
Commercial purposes include: 
Copying or downloading IJCCC articles, or linking to such postings, for further redistribution, sale or licensing, for a fee;
Copying, downloading or posting by a site or service that incorporates advertising with such content;
The inclusion or incorporation of article content in other works or services (other than normal quotations with an appropriate citation) that is then available for sale or licensing, for a fee;
Use of IJCCC articles or article content (other than normal quotations with appropriate citation) by for-profit organizations for promotional purposes, whether for a fee or otherwise;
Use for the purposes of monetary reward by means of sale, resale, license, loan, transfer or other form of commercial exploitation;


The licensor cannot revoke these freedoms as long as you follow the license terms.
[End of CC-BY-NC  License for Website User]
INTERNATIONAL JOURNAL OF COMPUTERS COMMUNICATIONS & CONTROL (IJCCC), With Emphasis on the Integration of Three Technologies (C & C & C),  ISSN 1841-9836.
IJCCC was founded in 2006,  at Agora University, by  Ioan DZITAC (Editor-in-Chief),  Florin Gheorghe FILIP (Editor-in-Chief), and  Misu-Jan MANOLESCU (Managing Editor).
Ethics: This journal is a member of, and subscribes to the principles of, the Committee on Publication Ethics (COPE).
Ioan  DZITAC (Editor-in-Chief) at COPE European Seminar, Bruxelles, 2015:
IJCCC is covered/indexed/abstracted in Science Citation Index Expanded (since vol.1(S),  2006); JCR2018: IF=1.585..
IJCCC is indexed in Scopus from 2008 (CiteScore2018 = 1.56):
Nomination by Elsevier for Journal Excellence Award Romania 2015 (SNIP2014 = 1.029): Elsevier/ Scopus
IJCCC was nominated by Elsevier for Journal Excellence Award - "Scopus Awards Romania 2015" (SNIP2014 = 1.029).
IJCCC is in Top 3 of 157 Romanian journals indexed by Scopus (in all fields) and No.1 in Computer Science field by Elsevier/ Scopus.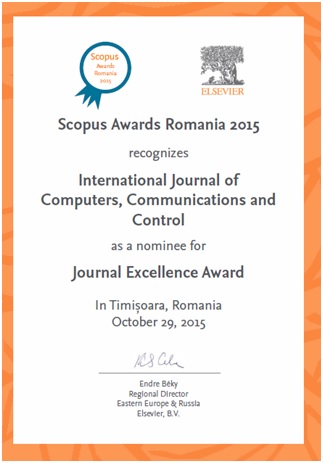 Impact Factor in JCR2018 (Clarivate Analytics/SCI Expanded/ISI Web of Science): IF=1.585 (Q3). Scopus: CiteScore2018=1.56 (Q2);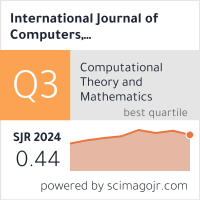 Editors-in-Chief: Ioan DZITAC & Florin Gheorghe FILIP.