A metamodel for an Adaptive Control System
Abstract
In this paper a metamodel for an Adaptive Control System (ACS) is described. This metamodel was built employing USE, which is a UML-based specification environment. The main goal of the metamodel is to complement other models describing different views of an ACS. As the reader will notice, the metamodel is composed of a graphical and a mathematical model. Weak constraints are specified in the graphical model using a Unified Modeling Language (UML) class diagram, while strong constraints are defined in the mathematical model using the Object Constraint Language (OCL).
Keywords
Adaptive Control, metamodels, OCL, UML
References
R. Arthan, P. Caseley, C. O'Halloran and A. Smith (2000). ClawZ: Control laws in Z, Third IEEE International Conference on Formal Engineering Methods (ICFEM 2000), 2000.
http://dx.doi.org/10.1109/ICFEM.2000.873817
R. Arthan, U. Martin, E. A. Mathiesen and P. Oliva (2007). Reasoning about linear systems, Proceedings of 5th IEEE International Conference on Software Engineering and Formal Methods SEFM, 2007.
K. J. Åström and R. M. Murray (2012). Feedback Systems: An Introduction for Scientists and Engineers, Version v2.11b, Princeton University Press.
S. Bensalem, P.Caspi, C.Parent-Vigouroux and C.Dumas (1999). A methodology for proving control systems with Lustre and PVS, 7th Working Conference on Dependable Computing for Critical Applications (DCCA7), San Jose, January 1999.
M. Fowler (2003). UML Distilled, Addison-Wesley, 3rd edition, 2003.
A. de Groot, J. Hooman (20000), Analyzing the Light Control System with PV, Journal of Universal Computer Science, vol. 6, no. 7.
W. S. Humphrey (2005). PSP : A Self-Improvement Process for Software Engineers, Addison-Wesley.
J. Jacky, J. Unger, M. Patrick, D. Reid and R. Risler (1997). Experience with Z developing a control program for a radiation therapy machine, Lecture Notes in Computer Science, 1212:317-328.
http://dx.doi.org/10.1007/BFb0027295
P. Kruchten (2003). The Rational Unified Process: An Introduction, Addison-Wesley Professional, 3rd edition.
I. D. Landau and G. Zito (2006). Digital Control Systems: Design, Identification and Implementation, Springer.
A. Leva, C. Cox, and A. Ruano (2002). Hands-on PID autotuning: a guide to better utilization, IFAC Professional Briefs, 2002.
I. Navarro, K. Lundqvist, and N. Leveson (2001) An intent-specifications model for a robotic software control system, 20th Conference Digital Avionics Systems, 2001. DASC.
S. Panjaitan, G. Frey (2005), Functional Design for IEC 61499 Distributed Control Systems using UML Activity Diagrams. Proceedings ICICI 2005, Bandung, Indonesia, 64-70.
J. Rumbaugh, I. Jacobson, and G. Booch (2004). The Unified Modeling Language Reference Manual, Addison-Wesley Professional, 2nd edition.
I. Sommerville (2010). Software Engineering, Addison-Wesley, 9th edition.
K. C. Thramboulidis 92004), Using UML in Control and Automation: A Model Driven Approach, 2nd IEEE International Conference on Industrial Informatics INDIN'04, 24th-26th June, 2004, Berlin, Germany.
F. Valles-Barajas (2007), A requirements engineering process for control engineering software, Innovations in Systems and Software Engineering: A NASA Journal, 3(4):217-227.
F. Valles-Barajas and W. Schaufelberger (20080, Use of object-oriented languages in control engineering, Journal of Research in Computing Science, vol.36. 2008.
F. Valles-Barajas (2009), A SysML requirements model for the 1992 ACC robust control benchmark, Information Technology and Control, 38(3):245-251. 2009.
F. Valles-Barajas and W. Schaufelberger (2010), A proposal for the software design of control systems based on the personal software process, International Journal of Innovative Computing, Information and Control, 6(8):3451-3466. 2010.
F. Valles-Barajas (2010), A Novel Model for Adaptive Control Systems; A State Machine Approach, Int J Comput Commun,ISSN 1841-9836, 5(3):292-300. 2010.
F. Valles-Barajas (2011), A survey of high-level programming languages in control systems, The International Arab Journal of Information Technology, 8(2):178-187.
F. Valles-Barajas (2011), A survey of UML applications in mechatronic systems, Innovations in Systems and Software Engineering: A NASA Journal, 7(1):43-51.
B. Vogel-Heuser, D. Friedrich, U. Katzke and D. Witsch (2005), Usability and benefits of UML for plant automation some research results Engineering, vol. 3, no. 1.
B. Wittenmark, K. J. Åström, and K. E. Årzén. Computer control: An overview, IFAC Professional Briefs, 2002.
DOI:
https://doi.org/10.15837/ijccc.2014.2.290
Copyright (c) 2017 Fernando Valles-Barajas

This work is licensed under a
Creative Commons Attribution-NonCommercial 4.0 International License
.
IJCCC is an Open Access Journal : CC-BY-NC.
Articles published in IJCCC user license are protected by copyright.
Users can access, download, copy, translate the IJCCC articles for non-commercial purposes provided that users, but cannot redistribute, display or adapt:
Cite the article using an appropriate bibliographic citation: author(s), article title, journal, volume, issue, page numbers, year of publication, DOI, and the link to the definitive published version on IJCCC website;
Maintain the integrity of the IJCCC article;
Retain the copyright notices and links to these terms and conditions so it is clear to other users what can and what cannot be done with the  article;
Ensure that, for any content in the IJCCC article that is identified as belonging to a third party, any re-use complies with the copyright policies of that third party;
Any translations must prominently display the statement: "This is an unofficial translation of an article that appeared in IJCCC. Agora University  has not endorsed this translation."
This is a non commercial license where the use of published articles for commercial purposes is forbiden. 
Commercial purposes include: 
Copying or downloading IJCCC articles, or linking to such postings, for further redistribution, sale or licensing, for a fee;
Copying, downloading or posting by a site or service that incorporates advertising with such content;
The inclusion or incorporation of article content in other works or services (other than normal quotations with an appropriate citation) that is then available for sale or licensing, for a fee;
Use of IJCCC articles or article content (other than normal quotations with appropriate citation) by for-profit organizations for promotional purposes, whether for a fee or otherwise;
Use for the purposes of monetary reward by means of sale, resale, license, loan, transfer or other form of commercial exploitation;


The licensor cannot revoke these freedoms as long as you follow the license terms.
[End of CC-BY-NC  License for Website User]
INTERNATIONAL JOURNAL OF COMPUTERS COMMUNICATIONS & CONTROL (IJCCC), With Emphasis on the Integration of Three Technologies (C & C & C),  ISSN 1841-9836.
IJCCC was founded in 2006,  at Agora University, by  Ioan DZITAC (Editor-in-Chief),  Florin Gheorghe FILIP (Editor-in-Chief), and  Misu-Jan MANOLESCU (Managing Editor).
Ethics: This journal is a member of, and subscribes to the principles of, the Committee on Publication Ethics (COPE).
Ioan  DZITAC (Editor-in-Chief) at COPE European Seminar, Bruxelles, 2015:
IJCCC is covered/indexed/abstracted in Science Citation Index Expanded (since vol.1(S),  2006); JCR2018: IF=1.585..
IJCCC is indexed in Scopus from 2008 (CiteScore2018 = 1.56):
Nomination by Elsevier for Journal Excellence Award Romania 2015 (SNIP2014 = 1.029): Elsevier/ Scopus
IJCCC was nominated by Elsevier for Journal Excellence Award - "Scopus Awards Romania 2015" (SNIP2014 = 1.029).
IJCCC is in Top 3 of 157 Romanian journals indexed by Scopus (in all fields) and No.1 in Computer Science field by Elsevier/ Scopus.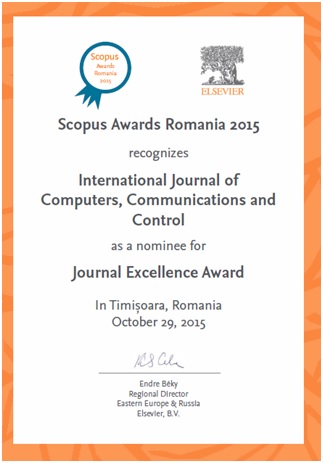 Impact Factor in JCR2018 (Clarivate Analytics/SCI Expanded/ISI Web of Science): IF=1.585 (Q3). Scopus: CiteScore2018=1.56 (Q2);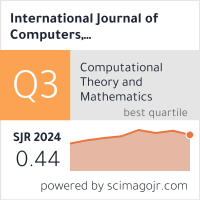 Editors-in-Chief: Ioan DZITAC & Florin Gheorghe FILIP.