Intelligent Decision Support Algorithm Based on Self-Adaption Reasoning
Abstract
This paper analyzes the logic deduction and reasoning techniques used in several intelligent decision support algorithms, and proposes a flexible planning method GARIv using fuzzy descriptive logic in media enterprise management. Combined with experiments, the above methods are illustrated in terms of effectiveness and feasibility. In the end, the challenges and possible solutions of intelligent decision support algorithms with self-adaption reasoning are discussed.
Keywords
intelligent decision support, propositional logic, non-monotonic logic, descriptive logic, fuzzy logic, automatic reasoning.
References
Aleksander I., Farreny H., Ghallab M. (1987); Robot technology: decision and intelligence, Hardcover, 1987.
Carmen R., Defraeye M., Nieuwenhuyse I.V. (2015); A decision support system for capacity planning in emergency departments, International Journal of Simulation Modelling, 14(2), 299-312, 2015.
https://doi.org/10.2507/IJSIMM14(2)10.308
Cresswell S.N., Mccluskey T.L., West M.M. (2013); Acquiring planning domain models using locm, Knowledge Engineering Review, 28(2), 195-213, 2013.
https://doi.org/10.1017/S0269888912000422
Fox M., Long D. (2003); Pddl2.1: an extension to pddl for expressing temporal planning domains, Journal of Artificial Intelligence Research, 20(20), 61-124, 2003.
Galichon A., Henry-Labordere P., Touzi N. (2014); A stochastic control approach to noarbitrage bounds given marginals, with an application to lookback options, Annals of Applied Probability An Official Journal of the Institute of Mathematical Statistics, 24(1), 312-336, 2014.
Ghallab M., Nau D., Traverso P. (2014); The actor's view of automated planning and acting: a position paper, Artificial Intelligence, 208(1), 1-17, 2014.
Laborie P. (2003); Algorithms for propagating resource constraints in ai planning and scheduling: existing approaches and new results, Artificial Intelligence, 143(2), 151-188, 2003.
https://doi.org/10.1016/S0004-3702(02)00362-4
Mahmood N. (2015); Connectionism strategy for industrial accident-oriented emergency decision-making: a simulation study based on pcs model, International Journal of Simulation Modelling, 14(4), 633-646, 2015.
https://doi.org/10.2507/IJSIMM14(4)6.315
Mali A.D., Tang M. (2016); Path-cost bounds for parameterized centralized variants of a* for static and certain environments. International Journal on Artificial Intelligence Tools, 25(04), 1650028, 2016.
https://doi.org/10.1142/S0218213016500287
Neumann B. (ed.) (1992); Proceedings of the 10th European conference on Artificial intelligence. European Conference on Artificial Intelligence, John Wiley & Sons, Inc, 1992.
Sharon G., Stern R., Goldenberg M., Felner A. (2013); The increasing cost tree search for optimal multi-agent pathfinding, Artificial Intelligence, 195, 470-495, 2013.
https://doi.org/10.1016/j.artint.2012.11.006
Shivaie M., Ameli M.T. (2014); An implementation of improved harmony search algorithm for scenario-based transmission expansion planning, Springer-Verlag, 2014.
Wah B. W., Chen Y. (2006); Constraint partitioning in penalty formulations for solving temporal planning problems, Artificial Intelligence, 170(3), 187-231, 2006.
https://doi.org/10.1016/j.artint.2005.07.001
Zhang Z.H., Hu C. (2015); Multi-model stability control method of underactuated biped robots based on imbalance degrees, International Journal of Simulation Modelling, 14(4), 647-657, 2015.
https://doi.org/10.2507/IJSIMM14(4)7.318
DOI:
https://doi.org/10.15837/ijccc.2017.6.2898
Copyright (c) 2017 Guomin Chen, Yingwei Jin, Huili Wang, Shuo Cao

This work is licensed under a
Creative Commons Attribution-NonCommercial 4.0 International License
.
CC-BY-NC  License for Website User
Articles published in IJCCC user license are protected by copyright.
Users can access, download, copy, translate the IJCCC articles for non-commercial purposes provided that users, but cannot redistribute, display or adapt:
Cite the article using an appropriate bibliographic citation: author(s), article title, journal, volume, issue, page numbers, year of publication, DOI, and the link to the definitive published version on IJCCC website;
Maintain the integrity of the IJCCC article;
Retain the copyright notices and links to these terms and conditions so it is clear to other users what can and what cannot be done with the  article;
Ensure that, for any content in the IJCCC article that is identified as belonging to a third party, any re-use complies with the copyright policies of that third party;
Any translations must prominently display the statement: "This is an unofficial translation of an article that appeared in IJCCC. Agora University  has not endorsed this translation."
This is a non commercial license where the use of published articles for commercial purposes is forbiden. 
Commercial purposes include: 
Copying or downloading IJCCC articles, or linking to such postings, for further redistribution, sale or licensing, for a fee;
Copying, downloading or posting by a site or service that incorporates advertising with such content;
The inclusion or incorporation of article content in other works or services (other than normal quotations with an appropriate citation) that is then available for sale or licensing, for a fee;
Use of IJCCC articles or article content (other than normal quotations with appropriate citation) by for-profit organizations for promotional purposes, whether for a fee or otherwise;
Use for the purposes of monetary reward by means of sale, resale, license, loan, transfer or other form of commercial exploitation;


The licensor cannot revoke these freedoms as long as you follow the license terms.
[End of CC-BY-NC  License for Website User]
INTERNATIONAL JOURNAL OF COMPUTERS COMMUNICATIONS & CONTROL (IJCCC), With Emphasis on the Integration of Three Technologies (C & C & C),  ISSN 1841-9836.
IJCCC was founded in 2006,  at Agora University, by  Ioan DZITAC (Editor-in-Chief),  Florin Gheorghe FILIP (Editor-in-Chief), and  Misu-Jan MANOLESCU (Managing Editor).
Ethics: This journal is a member of, and subscribes to the principles of, the Committee on Publication Ethics (COPE).
Ioan  DZITAC (Editor-in-Chief) at COPE European Seminar, Bruxelles, 2015:
IJCCC is covered/indexed/abstracted in Science Citation Index Expanded (since vol.1(S),  2006); JCR2018: IF=1.585..
IJCCC is indexed in Scopus from 2008 (CiteScore2018 = 1.56):
Nomination by Elsevier for Journal Excellence Award Romania 2015 (SNIP2014 = 1.029): Elsevier/ Scopus
IJCCC was nominated by Elsevier for Journal Excellence Award - "Scopus Awards Romania 2015" (SNIP2014 = 1.029).
IJCCC is in Top 3 of 157 Romanian journals indexed by Scopus (in all fields) and No.1 in Computer Science field by Elsevier/ Scopus.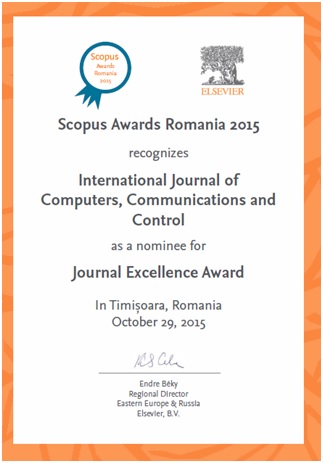 Impact Factor in JCR2018 (Clarivate Analytics/SCI Expanded/ISI Web of Science): IF=1.585 (Q3). Scopus: CiteScore2018=1.56 (Q2);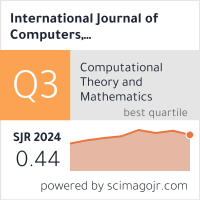 Editors-in-Chief: Ioan DZITAC & Florin Gheorghe FILIP.