Performance Evaluation of ENUM Name Servers
Abstract
ENUM is a protocol for mapping E.164 telephone numbers into Internet URIs. In this paper, we present a performance evaluation of ENUM name servers considering the new requirements and challenges imposed on traditional DNS  servers with the incorporation of ENUM protocol. We defined three performance metrics for this performance evaluation: query throughput, response time, and CPU usage. Using a benchmarking testbed, we eval-uated four name servers implementations (BIND, MyDNS-NG, NSD and PowerDNS) in different scenarios considering distinct size of database and types of records being queried. Moreover, we improved the existing methodology for this kind of evaluation, since we identified the limitations of DNSPerf and proposed a new procedure for the evaluation. Results show that BIND and NSD servers achieved a high query throughput with great scalability features. On the other hand, PowerDNS server had a lower throughput and high sensibil-ity to database size. MyDNS-NG server presented a quite low query throughput and poor scalability and, therefore, it is not suitable for ENUM purposes. These results bring to light a new reality for studies of ENUM servers, since they have not been evaluated in such a extended scenarios and size of the database.
Keywords
ENUM; Benchmarking; BIND; NSD; MyDNS-NG; PowerDNS
References
ITU-T (2005). The International Public Telecommunication Numbering Plan. ITU Recommendation E.164.
Berners-Lee, T.; Fielding, R.; Masinter, L. (1998); Uniform Resource Identifiers (URI): Generic Syntax. RFC 2396.
Bradner, S.; Conroy, L.; Fugiwara, K. (2011); The E.164 to Uniform Resource Identifiers (URI) Dynamic Delegation Discovery System (DDDS) Application (ENUM). RFC 6116.
Shen, C.; Schulzrinne, H. (2007); Measurement and Evaluation of ENUM Server Performance. IEEE International Conf. on Communications, ICC 07, 1967-1972.
Shen, C.; Schulzrinne, H. (2006); Evaluation and Comparison of BIND, PDNS and Navitas as ENUM Server. Technical Report cucs-029-06, Columbia University.
Tetenyi, I.; Szabo, G.; Kiss, A.; Toth, A. (2008); ENUM in everyday practice. Is it a dream or an opportunity?. Infocommunication Journal, LXIII:48-54.
Rudinsky, J. (2009); Private ENUM based Number Portability Administrative System Evaluation. International Conference on Ultra Modern Telecommunications Workshops, ICUMT 09, 1-7.
Lee, H.; Mun, Y. (2004); Performance Evaluation of ENUM Directory Service Design. Lectures Notes in Computer Science; 3038:1124-1130.
http://dx.doi.org/10.1007/978-3-540-24688-6_145
Balakrichenan, S.; Bugnazet, T.; Becker, M. (2007); Studying ENUM Performance with Modeling and Simulation. First Asia Int. Conf. on Modelling Simulation, AMS 07 ; 82-87.
da Mata, S.H.; Guardieiro, P.R.; Cardoso, A.; Lamounier, E.; Theodoro, L. (2011); Performance Study of ENUM Service Based in Modeling and Simulation. 8th Int. Conf. on Information, Communications and Signal Processing, ICICS 11 ; 1-5.
http://dx.doi.org/10.1109/ICICS.2011.6173557
da Mata, S. H.; Magalhaes, J. M. H.; Cardoso, A.; Carvalho, H. A.; Guardieiro, P. R. (2013); Performance Comparison of ENUM Name Servers. 22nd International Conference on Computer Communication and Networks (ICCCN2013), 1-5.
Nominum (2007). DNSPerf: DNS Performance Tool Manual.
Lin, H. et al (2009); VoIP Signalling Performance Requirements and Expectations. Internet Draft.
Vixie, P. et al (1997); Dynamic Updates in the Domain Name System (DNS UPDATE). RFC 2136.
DOI:
https://doi.org/10.15837/ijccc.2014.4.289
Copyright (c) 2017 Saulo Henrique da Mata, Johann M. H. Magalhaes, Alexandre Cardoso, Paulo R. Guardieiro, Helio A. Carvalho

This work is licensed under a
Creative Commons Attribution-NonCommercial 4.0 International License
.
CC-BY-NC  License for Website User
Articles published in IJCCC user license are protected by copyright.
Users can access, download, copy, translate the IJCCC articles for non-commercial purposes provided that users, but cannot redistribute, display or adapt:
Cite the article using an appropriate bibliographic citation: author(s), article title, journal, volume, issue, page numbers, year of publication, DOI, and the link to the definitive published version on IJCCC website;
Maintain the integrity of the IJCCC article;
Retain the copyright notices and links to these terms and conditions so it is clear to other users what can and what cannot be done with the  article;
Ensure that, for any content in the IJCCC article that is identified as belonging to a third party, any re-use complies with the copyright policies of that third party;
Any translations must prominently display the statement: "This is an unofficial translation of an article that appeared in IJCCC. Agora University  has not endorsed this translation."
This is a non commercial license where the use of published articles for commercial purposes is forbiden. 
Commercial purposes include: 
Copying or downloading IJCCC articles, or linking to such postings, for further redistribution, sale or licensing, for a fee;
Copying, downloading or posting by a site or service that incorporates advertising with such content;
The inclusion or incorporation of article content in other works or services (other than normal quotations with an appropriate citation) that is then available for sale or licensing, for a fee;
Use of IJCCC articles or article content (other than normal quotations with appropriate citation) by for-profit organizations for promotional purposes, whether for a fee or otherwise;
Use for the purposes of monetary reward by means of sale, resale, license, loan, transfer or other form of commercial exploitation;


The licensor cannot revoke these freedoms as long as you follow the license terms.
[End of CC-BY-NC  License for Website User]
INTERNATIONAL JOURNAL OF COMPUTERS COMMUNICATIONS & CONTROL (IJCCC), With Emphasis on the Integration of Three Technologies (C & C & C),  ISSN 1841-9836.
IJCCC was founded in 2006,  at Agora University, by  Ioan DZITAC (Editor-in-Chief),  Florin Gheorghe FILIP (Editor-in-Chief), and  Misu-Jan MANOLESCU (Managing Editor).
Ethics: This journal is a member of, and subscribes to the principles of, the Committee on Publication Ethics (COPE).
Ioan  DZITAC (Editor-in-Chief) at COPE European Seminar, Bruxelles, 2015:
IJCCC is covered/indexed/abstracted in Science Citation Index Expanded (since vol.1(S),  2006); JCR2018: IF=1.585..
IJCCC is indexed in Scopus from 2008 (CiteScore2018 = 1.56):
Nomination by Elsevier for Journal Excellence Award Romania 2015 (SNIP2014 = 1.029): Elsevier/ Scopus
IJCCC was nominated by Elsevier for Journal Excellence Award - "Scopus Awards Romania 2015" (SNIP2014 = 1.029).
IJCCC is in Top 3 of 157 Romanian journals indexed by Scopus (in all fields) and No.1 in Computer Science field by Elsevier/ Scopus.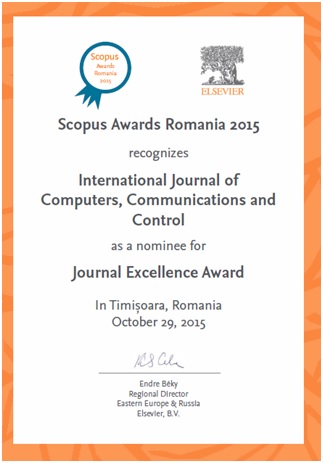 Impact Factor in JCR2018 (Clarivate Analytics/SCI Expanded/ISI Web of Science): IF=1.585 (Q3). Scopus: CiteScore2018=1.56 (Q2);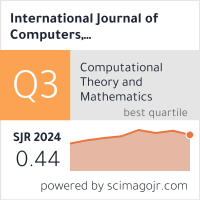 Editors-in-Chief: Ioan DZITAC & Florin Gheorghe FILIP.