Using Blockchain to Protect Personal Privacy in the Scenario of Online Taxi-hailing
Abstract
Personal privacy protection issues has gradually caused widespread concern in society which will lead to economic and reputation losses, hinder network and E-commerce innovation or some other consequences if not handled properly. In this paper, we make use of the de-centralization, permanent and audibility of the blockchain to propose a blockchain-based personal privacy protection mechanism, which uses Online taxi-hailing as the application scenario. We not only provide the details of the blockchain custom transaction domain used by the scene, but also expound the information exchanging and blockchain auditing between passengers, Online taxi-hailing platform and drivers in Online taxi-hailing scene, providing a case model for the blockchain solution to personal privacy protection and a technical mechanism solution for further study of personal privacy protection issues.
Keywords
Online taxi-hailing, blockchain, personal privacy protection
References
Barlas P., Heavey C., Dagkakis G. (2015); An Open Source Tool for Automated Input Data in Simulation, International Journal of Simulation Modelling, 14(4), 596-608, 2015.
https://doi.org/10.2507/IJSIMM14(4)3.306
Chang M.K., Cheung W., Tang M. (2013); Building trust online: Interactions among trust building mechanisms, Information & Management, 50, 439-445, 2013.
https://doi.org/10.1016/j.im.2013.06.003
Claassen R. A. (2016); An introduction to bitcoin and blockchain technology, Kaye Scholer LLP, 2016.
Cotet C.E., Popa C.L., Enciu G., Popescu A., Dobrescu T. (2016); Using CAD and Flow Simulation for Educational Platform Design and Optimation, International Journal of Simulation Modelling, 15(1), 5-15, 2016.
https://doi.org/10.2507/IJSIMM15(1)1.310
Forte P., Romano D., Schmid G. (2015); Beyond bitcoin part 1: acritical look at blockchain-based systems, IACR Cryptology ePrint Archive:1164, 2015.
Herbert J., Litchfield A. (2015); A Novel Method for Decentralised Peer-to-Peer Software License Validation Using Cryptocurrency Blockchain Technology, Australasian Computer Science Conference, 27-35, 2015.
Kosba A. E., Miller A. J., Shi E., Wen Z., Papamanthou C. (2016); Hawk: The Blockchain Model of Cryptography and Privacy-Preserving Smart Contracts, IEEE symposium on security and privacy, 839-858, 2016.
Lazarovich A. (2015); Invisible Ink : blockchain for data privacy, Thesis: S.M., Massachusetts Institute of Technology, School of Architecture and Planning, Program in Media Arts and Sciences, 2015.
Li M., Tang M. (2013); Information Security Engineering: a Framework for Research and Practices, International Journal of Computers Communications & Control, 8(4), 578-587, 2013.
https://doi.org/10.15837/ijccc.2013.4.579
Pilkington M.(2015); Blockchain technology: principles and applications, Social Science Electronic Publishing, 2015.
Shultz B.L. (2015); Certification of witness: mitigating blockchain fork attacks, Undergraduate Thesis in Mathematics, Columbia University in the City of New York, 2015.
Swan M. (2015); Blockchain: Blueprint for a New Economy, O'Reilly Media, Inc. 2015.
Swan M. (2015); Blockchain thinking : the brain as a decentralized autonomous corporation, IEEE Technology & Society Magazine, 34(4), 41-52, 2015.
https://doi.org/10.1109/MTS.2015.2494358
Wright A., De Filippi P.(2015); Decentralized Blockchain Technology and the Rise of Lex Cryptographia, Social Science Electronic Publishing, 2015.
Zyskind G., Nathan O., Pentland A.(2015); Decentralizing Privacy: Using Blockchain to Protect Personal Data, Security and Privacy Workshops IEEE, 180-184, 2015
DOI:
https://doi.org/10.15837/ijccc.2017.6.2886
Copyright (c) 2017 Ning Zhang, Shan Zhong, Li Tian

This work is licensed under a
Creative Commons Attribution-NonCommercial 4.0 International License
.
IJCCC is an Open Access Journal : CC-BY-NC.
Articles published in IJCCC user license are protected by copyright.
Users can access, download, copy, translate the IJCCC articles for non-commercial purposes provided that users, but cannot redistribute, display or adapt:
Cite the article using an appropriate bibliographic citation: author(s), article title, journal, volume, issue, page numbers, year of publication, DOI, and the link to the definitive published version on IJCCC website;
Maintain the integrity of the IJCCC article;
Retain the copyright notices and links to these terms and conditions so it is clear to other users what can and what cannot be done with the  article;
Ensure that, for any content in the IJCCC article that is identified as belonging to a third party, any re-use complies with the copyright policies of that third party;
Any translations must prominently display the statement: "This is an unofficial translation of an article that appeared in IJCCC. Agora University  has not endorsed this translation."
This is a non commercial license where the use of published articles for commercial purposes is forbiden. 
Commercial purposes include: 
Copying or downloading IJCCC articles, or linking to such postings, for further redistribution, sale or licensing, for a fee;
Copying, downloading or posting by a site or service that incorporates advertising with such content;
The inclusion or incorporation of article content in other works or services (other than normal quotations with an appropriate citation) that is then available for sale or licensing, for a fee;
Use of IJCCC articles or article content (other than normal quotations with appropriate citation) by for-profit organizations for promotional purposes, whether for a fee or otherwise;
Use for the purposes of monetary reward by means of sale, resale, license, loan, transfer or other form of commercial exploitation;


The licensor cannot revoke these freedoms as long as you follow the license terms.
[End of CC-BY-NC  License for Website User]
INTERNATIONAL JOURNAL OF COMPUTERS COMMUNICATIONS & CONTROL (IJCCC), With Emphasis on the Integration of Three Technologies (C & C & C),  ISSN 1841-9836.
IJCCC was founded in 2006,  at Agora University, by  Ioan DZITAC (Editor-in-Chief),  Florin Gheorghe FILIP (Editor-in-Chief), and  Misu-Jan MANOLESCU (Managing Editor).
Ethics: This journal is a member of, and subscribes to the principles of, the Committee on Publication Ethics (COPE).
Ioan  DZITAC (Editor-in-Chief) at COPE European Seminar, Bruxelles, 2015:
IJCCC is covered/indexed/abstracted in Science Citation Index Expanded (since vol.1(S),  2006); JCR2018: IF=1.585..
IJCCC is indexed in Scopus from 2008 (CiteScore2018 = 1.56):
Nomination by Elsevier for Journal Excellence Award Romania 2015 (SNIP2014 = 1.029): Elsevier/ Scopus
IJCCC was nominated by Elsevier for Journal Excellence Award - "Scopus Awards Romania 2015" (SNIP2014 = 1.029).
IJCCC is in Top 3 of 157 Romanian journals indexed by Scopus (in all fields) and No.1 in Computer Science field by Elsevier/ Scopus.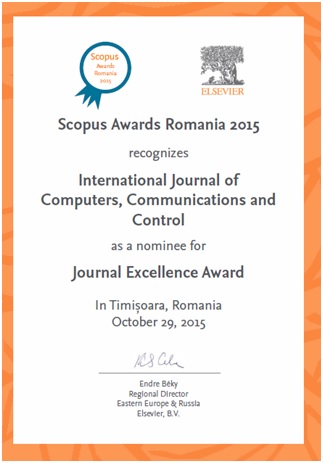 Impact Factor in JCR2018 (Clarivate Analytics/SCI Expanded/ISI Web of Science): IF=1.585 (Q3). Scopus: CiteScore2018=1.56 (Q2);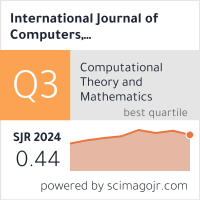 Editors-in-Chief: Ioan DZITAC & Florin Gheorghe FILIP.