Balancing Between Exploration and Exploitation in ACO
Abstract
In order to balance the preference of the artificial entities towards exploration or exploitation (in their transition rule), a novel technique is proposed for replacing the random function used by the classical Ant Colony Optimization (ACO) algorithms for solving the Traveling Salesman Problem (TSP). The proposed Beta Distribution function (B), or random:betavariate(a; b) has the proven capability (depicted through test-runs) of influencing the algorithm's solution quality and convergence speed. Consequently, this paper will introduce in the related work section the classical ACO algorithm, with a focus on the transition rule used for choosing the next node in the problem's associated graph, followed by the related work on this topic, and it will continue with the introduction of the B function which will be presented both from a theoretical and practical perspective in relation with the scope: balancing between exploration and exploitation in order to improve the performance of the ACO algorithm for the TSP. The paper concludes that the B-EAS has the ability to find better solution than EAS for a set of benchmarks from the TSPLib library.
Keywords
ACO, TSP, B, Elitist Ant System (EAS), Beta-Elitist Ant System (BEAS), transition rule
References
Afshar, M.H. (2005); A new transition rule for ant colony optimization algorithms: application to pipe network optimization problems, Engineering Optimization, 37 (5): 525-540.
https://doi.org/10.1080/03052150500100312
Blum, C.; Roli, A.; Dorigo, M. (2001); HC-ACO: The Hyper-Cube Framework for Ant Colony Optimization, IEEE Transactions on Systems, Man, and Cybernetics-Part B, 399- 403.
Bullnheimer, B.; Hartl, R.F.; Strauss, C. (1999); A New Rank Based Version of the Ant System: A Computational Study, Central European Journal for Operations Research and Economics, 25-38.
Cordón, O.; de Viana, I.F.; Herrera, F.; Moreno, L. (2000); A new ACO model integrating evolutionary computation concepts: The best-worst Ant System. In M. Dorigo, M. Middendorf, & T. Stuützle (Eds.), Abstract Proceedings of ANTS 2000-From Ant Colonies to Artificial Ants: Second International Workshop on Ant Algorithms, Brussels, IRIDIA, Université Libre de Bruxelles, 22-29.
Dorigo, M.; Maniezo, V.; Colorni, A. (1996); Ant system: optimization by a colony of cooperating agents, IEEE Transactions on Systems, Man, and Cybernetics - Part B, 26 (1): 29-41.
https://doi.org/10.1109/3477.484436
Dorigo, M.; Gambardella, L. (1997); Ant Colony System: A Cooperative Learning. IEEE Transactions of Evolutionary Computation, 1 (1): 53-66.
https://doi.org/10.1109/4235.585892
Google (2016). Google Trends, Retrieved from https://www.google.com/trends/explore? q=AntColonyOptimization.
Goss, S.; Aron, S.; Deneubourg, J.L.; Pasteels, J.M. (1989); Self-organized shortcuts in the Argentine ant, Naturwissenschaften, 76, 579-581, Springer-Verlag.
https://doi.org/10.1007/BF00462870
Gutjahr, W.J. (2000). A Graph-based Ant System and its convergence, Future Generation Computer Systems, 873-888.
https://doi.org/10.1016/S0167-739X(00)00044-3
Kerns, G. (2011); Introduction to Probability and Statistics Using R, IPSUR, ISBN: 978-0- 557-24979-4.
Negulescu, S.; Dzitac, I.; Lascu, A. (2010); Synthetic Genes for Artificial Ants. Diversity in Ant Colony Optimization Algorithms, International Journal of Computers Communication & Control, 5 (2): 216-223.
https://doi.org/10.15837/ijccc.2010.2.2476
Reinelt, G. (1991); TSPLIB - A Traveling Salesman Problem Library. ORSA Journal on Computing, 376-384.
https://doi.org/10.1287/ijoc.3.4.376
Susnea, I.; Axenie, C. (2015); Cognitive maps for indirect coordination of intelligent agents, Studies in Informatics and Control, 24(1): 111-118.
Tuba, M.; Jovanovic, R.(2013); Improved ACO Algorithm with Pheromone Correction Strategy for the Traveling Salesman Problem, International Journal of Computers Communications & Control, 8(3): 477-485.
https://doi.org/10.15837/ijccc.2013.3.7
Wei, X.; Han, L.; Hong, L. (2014); A modified ant colony algorithm for traveling salesman problem, International Journal of Computers Communications & Control, 9(5): 633-643.
https://doi.org/10.15837/ijccc.2014.5.1280
DOI:
https://doi.org/10.15837/ijccc.2017.2.2879
Copyright (c) 2017 Alina Eugenia Negulescu, Sorin Constantin Negulescu, Ioan Dzitac

This work is licensed under a
Creative Commons Attribution-NonCommercial 4.0 International License
.
CC-BY-NC  License for Website User
Articles published in IJCCC user license are protected by copyright.
Users can access, download, copy, translate the IJCCC articles for non-commercial purposes provided that users, but cannot redistribute, display or adapt:
Cite the article using an appropriate bibliographic citation: author(s), article title, journal, volume, issue, page numbers, year of publication, DOI, and the link to the definitive published version on IJCCC website;
Maintain the integrity of the IJCCC article;
Retain the copyright notices and links to these terms and conditions so it is clear to other users what can and what cannot be done with the  article;
Ensure that, for any content in the IJCCC article that is identified as belonging to a third party, any re-use complies with the copyright policies of that third party;
Any translations must prominently display the statement: "This is an unofficial translation of an article that appeared in IJCCC. Agora University  has not endorsed this translation."
This is a non commercial license where the use of published articles for commercial purposes is forbiden. 
Commercial purposes include: 
Copying or downloading IJCCC articles, or linking to such postings, for further redistribution, sale or licensing, for a fee;
Copying, downloading or posting by a site or service that incorporates advertising with such content;
The inclusion or incorporation of article content in other works or services (other than normal quotations with an appropriate citation) that is then available for sale or licensing, for a fee;
Use of IJCCC articles or article content (other than normal quotations with appropriate citation) by for-profit organizations for promotional purposes, whether for a fee or otherwise;
Use for the purposes of monetary reward by means of sale, resale, license, loan, transfer or other form of commercial exploitation;


The licensor cannot revoke these freedoms as long as you follow the license terms.
[End of CC-BY-NC  License for Website User]
INTERNATIONAL JOURNAL OF COMPUTERS COMMUNICATIONS & CONTROL (IJCCC), With Emphasis on the Integration of Three Technologies (C & C & C),  ISSN 1841-9836.
IJCCC was founded in 2006,  at Agora University, by  Ioan DZITAC (Editor-in-Chief),  Florin Gheorghe FILIP (Editor-in-Chief), and  Misu-Jan MANOLESCU (Managing Editor).
Ethics: This journal is a member of, and subscribes to the principles of, the Committee on Publication Ethics (COPE).
Ioan  DZITAC (Editor-in-Chief) at COPE European Seminar, Bruxelles, 2015:
IJCCC is covered/indexed/abstracted in Science Citation Index Expanded (since vol.1(S),  2006); JCR2018: IF=1.585..
IJCCC is indexed in Scopus from 2008 (CiteScore2018 = 1.56):
Nomination by Elsevier for Journal Excellence Award Romania 2015 (SNIP2014 = 1.029): Elsevier/ Scopus
IJCCC was nominated by Elsevier for Journal Excellence Award - "Scopus Awards Romania 2015" (SNIP2014 = 1.029).
IJCCC is in Top 3 of 157 Romanian journals indexed by Scopus (in all fields) and No.1 in Computer Science field by Elsevier/ Scopus.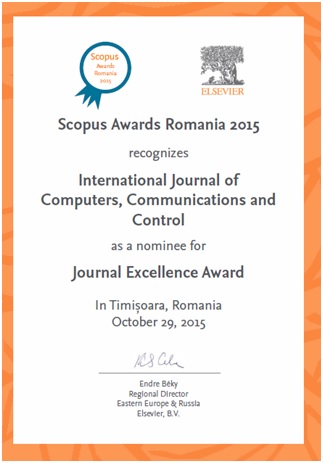 Impact Factor in JCR2018 (Clarivate Analytics/SCI Expanded/ISI Web of Science): IF=1.585 (Q3). Scopus: CiteScore2018=1.56 (Q2); Editors-in-Chief: Ioan DZITAC & Florin Gheorghe FILIP.