A Singleton Type-1 Fuzzy Logic Controller for On-Line Error Compensation During Robotic Welding
Abstract
During robot welding operations in the manufacturing industry there is a need to modify on-line the welding path due to a mismatch in the position of the components to be welded. These positioning errors are due to multiple factors such as ageing of the components in the conveyor system, clamp fixtures, disturbances, etc. Therefore, robot reprogramming is needed which requires a stop in the production line and consequently an increment in production costs. This article is an extension of [1]a and presents an alternative solution to this problem that involves the use of structured lighting using a low-cost laser beam, a CMOS camera and a Gaussian singleton fuzzy logic controller. To validate the proposed control system, a robotic cell was designed using an industrial KUKA KR16 robot for welding metallic plates. The method was evaluated experimentally under lateral and vertical positioning errors.
Keywords
Gas Metal Arc Welding (GMAW), industrial robotics, artificial vision, robot path control, fuzzy logic
References
Ignacio Davila-Rios, Ismael Lopez-Juarez, Gerardo M. Mendez, Roman Osorio-Comparan, Gaston Lefranc and Claudio Cubillos (2016); A Fuzzy Approach for on-line Error Compensation During Robotic Welding, Computers Communications and Control (ICCCC), 2016 6th International Conference on, ISBN 978-1-5090-1735-5, IEEE Xplore, DOI:10.1109/ICCCC.2016.7496766, 264- 270.
https://doi.org/10.1109/ICCCC.2016.7496766
Menno de Graaf, Ronald Aarts, Ben Jonker, Johan Meijer (2010); Real-time seam tracking for robotic laser welding using trajectory-based control, Control Engineering Practice, 18(8):944-953.
https://doi.org/10.1016/j.conengprac.2010.04.001
Tero Santti, Jonne K. Poikonen, Olli Lahdenoja, Mika Laiho, Ari Paasio (2015); Online seam tracking for laser welding with a vision chip and FPGA enabled camera system, IEEE International Symposium on Circuits and Systems (ISCAS), May 2015, 1985 - 1988.
Jinchao Liu, Zhun Fan, Srren Ingvor Olsen, Kim Hardam Christensen, Jens Klcstrup Kristensen (2015); A Real-time Passive Vision System for Robotic Arc Welding, IEEE International Conference on Automation Science and Engineering (CASE), Aug. 2015, 389-394.
T. Ngo, Y. Wang, T.L. Mai, M.H. Nguyen, J. Chen (2012); Robust Adaptive Neural-Fuzzy Network Tracking Control for Robot Manipulator, International Journal of Computer Communications & Control, ISSN 1841-9836, 7(2):341-352.
I. Hartley and A. Zisserman (2004); Multiple View Geometry in Computer Vision, Cambridge University Press, ISBN: 0521540518, second edition, 2004.
J. M. Mendel (2001); Uncertain rule-based fuzzy logic systems: introduction and new directions, Prentice-Hall, Upper Saddle River, NJ, 2001.
John Yen, Reza Langari (1998); Fuzzy Logic: Intelligence, Control and Information, Prentice- Hall), ISBN 0135258170, 1998.
Martín del Br io B, Sanz Molina A. (2006); Redes Neuronales y Sistemas Borrosos, 3rd edition, ISBN 978-84-7897-743-7, RA-MA, 2006.
Montgomery D C. (2007); Design and Analysis of Experiments, John Wiley Sons, 6th edition, ISBN-10: 047148735X, 2007.
DOI:
https://doi.org/10.15837/ijccc.2017.2.2877
Copyright (c) 2017 Ignacio Davila, Ismael Lopez-Juarez, Gerardo Maximiliano Mendez, Roman Osorio-Comparan, Gaston Lefranc, Claudio Cubillos

This work is licensed under a
Creative Commons Attribution-NonCommercial 4.0 International License
.
CC-BY-NC  License for Website User
Articles published in IJCCC user license are protected by copyright.
Users can access, download, copy, translate the IJCCC articles for non-commercial purposes provided that users, but cannot redistribute, display or adapt:
Cite the article using an appropriate bibliographic citation: author(s), article title, journal, volume, issue, page numbers, year of publication, DOI, and the link to the definitive published version on IJCCC website;
Maintain the integrity of the IJCCC article;
Retain the copyright notices and links to these terms and conditions so it is clear to other users what can and what cannot be done with the  article;
Ensure that, for any content in the IJCCC article that is identified as belonging to a third party, any re-use complies with the copyright policies of that third party;
Any translations must prominently display the statement: "This is an unofficial translation of an article that appeared in IJCCC. Agora University  has not endorsed this translation."
This is a non commercial license where the use of published articles for commercial purposes is forbiden. 
Commercial purposes include: 
Copying or downloading IJCCC articles, or linking to such postings, for further redistribution, sale or licensing, for a fee;
Copying, downloading or posting by a site or service that incorporates advertising with such content;
The inclusion or incorporation of article content in other works or services (other than normal quotations with an appropriate citation) that is then available for sale or licensing, for a fee;
Use of IJCCC articles or article content (other than normal quotations with appropriate citation) by for-profit organizations for promotional purposes, whether for a fee or otherwise;
Use for the purposes of monetary reward by means of sale, resale, license, loan, transfer or other form of commercial exploitation;


The licensor cannot revoke these freedoms as long as you follow the license terms.
[End of CC-BY-NC  License for Website User]
INTERNATIONAL JOURNAL OF COMPUTERS COMMUNICATIONS & CONTROL (IJCCC), With Emphasis on the Integration of Three Technologies (C & C & C),  ISSN 1841-9836.
IJCCC was founded in 2006,  at Agora University, by  Ioan DZITAC (Editor-in-Chief),  Florin Gheorghe FILIP (Editor-in-Chief), and  Misu-Jan MANOLESCU (Managing Editor).
Ethics: This journal is a member of, and subscribes to the principles of, the Committee on Publication Ethics (COPE).
Ioan  DZITAC (Editor-in-Chief) at COPE European Seminar, Bruxelles, 2015:
IJCCC is covered/indexed/abstracted in Science Citation Index Expanded (since vol.1(S),  2006); JCR2018: IF=1.585..
IJCCC is indexed in Scopus from 2008 (CiteScore2018 = 1.56):
Nomination by Elsevier for Journal Excellence Award Romania 2015 (SNIP2014 = 1.029): Elsevier/ Scopus
IJCCC was nominated by Elsevier for Journal Excellence Award - "Scopus Awards Romania 2015" (SNIP2014 = 1.029).
IJCCC is in Top 3 of 157 Romanian journals indexed by Scopus (in all fields) and No.1 in Computer Science field by Elsevier/ Scopus.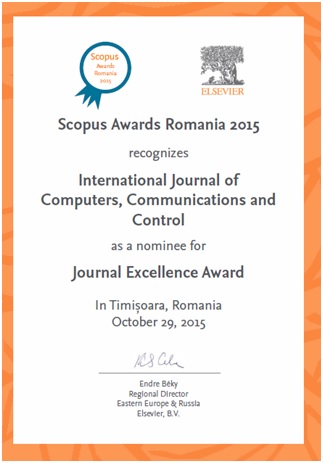 Impact Factor in JCR2018 (Clarivate Analytics/SCI Expanded/ISI Web of Science): IF=1.585 (Q3). Scopus: CiteScore2018=1.56 (Q2);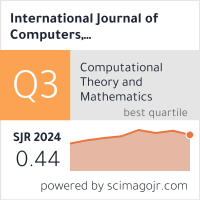 Editors-in-Chief: Ioan DZITAC & Florin Gheorghe FILIP.