A New Method for Colour Image Segmentation
Abstract
This paper presents an unsupervised algorithm of colour image segmentation. This method combines the advantages of the approaches based on split and merge and region growing, and the use of the RGB and HSV colour representation models. The effectiveness of the proposed method has been verified by the implementation of the algorithm using three different testing images with homogeneous regions, spatially compact and continuous. It was observed that the proposed algorithm outperforms the other analysed techniques requiring shorter processing time when compared with the other methods.
Keywords
Computer vision, Image processing, Image segmentation
References
Scheleyer, G.; Cubillos, G.; Millán G., Osorio-Comparán, R.; Lefranc G. (2016); A New olour Image Segmentation, Computers Communications and Control (ICCCC), 2016 6th nternational Conference on, IEEE Xplore, DOI: 10.1109/ICCCC.2016.7496766, ISBN 978- -5090-1735-5, 232-239.
http://dx.doi.org/10.1109/ICCCC.2016.7496766
Sanmati S. Kamath; Jackson, J.(2006); Color Image Segmentation in RGB Using Vector ngle and Absolute Difference Measures, Proc. 14th European Signal Processing Conference
Navkirat Kaur, V. K.; Banga, Avneet Kaur (2013); Image Segmentation Based On Color, roc. IJRET: International Journal of Research in Engineering and Technology, 495-497.
Shamik Sural; Gang Qian; Sakti Pramanik (2002); Segmentation and Histogram Generation sing the HSV Color Space for Image Retrieval, Proc. 2002 International Conf. on year 2002 (2):589-592.
Zhi-Kai Huang; De-Hui Liu (2007); Segmentation of Color Image Using EM algorithm in SV Color Space, Information Acquisition Intl Conf., 8(11): 316-319.
Kanchan Deshmukh; IAENG, B.; Ganesh Shinde (2006); Adaptive Color Image Segmentation sing Fuzzy Min-Max Clustering, Engineering Letters, 13(2): 1-8.
Krishna Kant Singh; Akansha Singh (2010); A Study of Image Segmentation Algorithms For ifferent Types Of Image, IJCSI International Journal of Computer Science, 7: 414-417.
Dibya Jyoti Bora; Anil Kumar Gupta (2014); Clustering Approach towards Image Segmentation: n Analytical Stud, IJRCAR, 12(7): 115-124.
A. Jurio, M. Pagola, M. Galar, C. Lopez-Molina (2010). A Comparison Study of Different olor Spaces in Clustering Based Image Segmentation, Information Processing and Management f Uncertainty in Knowledge-Based Systems. Applications, 81: 532-541.
Chung, R., Yung N., Cheung P. (2005);
An Efficient Parameterless Quadrilateral-Based mage Segmentation Method, IEEE Trans. Pattern Analysis and Machine Intelligence, 27(9): 446-1458.
Carron, T; Lambert, P. (1996); Symbolic Fusion of Hue-Chroma-Intensity Features for Region egmentation, Proc.1996 IEEE Intl Conf. on Image Processing, 1: 971-974.
Jie Wei (2001); Image Segmentation Using Situational DCT Descriptors, Proc.2001 IEEE ntl Conf. on Image Processing, 1: 738-741.
Using Background and Segmentation Algorithms Applied in Mobile Robots, 6th IFAC nt. Conf. on Management and Control of Production and Logistics, 6(1): 135-140.
Rajeshwar Dass; Priyanka, Swapna Devi (2012); Image Segmentation Techniques, Intl Journal f Electronics & Communication Technology, 3(1): 66-70.
MD Hedayetul Islam Shovon (2012); Clustering and Image Segmentation, LAP Lambert cademic Publishing, 2012.
Nida M. Zaitoun; Musbah J. Aqel (2015); Survey on Image Segmentation Techniques. Procedia omputer Science, 65: 797-806.
http://dx.doi.org/10.1016/j.procs.2015.09.027
Szeliski, R. (2010); Computer Vision: Algorithms and Applications, Springer.
Liu, J., Yang, Y. (1994); Multiresolution Color Image Segmentation. IEEE Transactions on attern Analysis and Machine Intelligence, 16(7): 689-700.
DOI:
https://doi.org/10.15837/ijccc.2016.6.2747
Copyright (c) 2017 Gustavo Schleyer, Gastón Lefranc, Claudio Cubillos, Ginno Millán, Román Osorio-Comparán

This work is licensed under a
Creative Commons Attribution-NonCommercial 4.0 International License
.
CC-BY-NC  License for Website User
Articles published in IJCCC user license are protected by copyright.
Users can access, download, copy, translate the IJCCC articles for non-commercial purposes provided that users, but cannot redistribute, display or adapt:
Cite the article using an appropriate bibliographic citation: author(s), article title, journal, volume, issue, page numbers, year of publication, DOI, and the link to the definitive published version on IJCCC website;
Maintain the integrity of the IJCCC article;
Retain the copyright notices and links to these terms and conditions so it is clear to other users what can and what cannot be done with the  article;
Ensure that, for any content in the IJCCC article that is identified as belonging to a third party, any re-use complies with the copyright policies of that third party;
Any translations must prominently display the statement: "This is an unofficial translation of an article that appeared in IJCCC. Agora University  has not endorsed this translation."
This is a non commercial license where the use of published articles for commercial purposes is forbiden. 
Commercial purposes include: 
Copying or downloading IJCCC articles, or linking to such postings, for further redistribution, sale or licensing, for a fee;
Copying, downloading or posting by a site or service that incorporates advertising with such content;
The inclusion or incorporation of article content in other works or services (other than normal quotations with an appropriate citation) that is then available for sale or licensing, for a fee;
Use of IJCCC articles or article content (other than normal quotations with appropriate citation) by for-profit organizations for promotional purposes, whether for a fee or otherwise;
Use for the purposes of monetary reward by means of sale, resale, license, loan, transfer or other form of commercial exploitation;


The licensor cannot revoke these freedoms as long as you follow the license terms.
[End of CC-BY-NC  License for Website User]
INTERNATIONAL JOURNAL OF COMPUTERS COMMUNICATIONS & CONTROL (IJCCC), With Emphasis on the Integration of Three Technologies (C & C & C),  ISSN 1841-9836.
IJCCC was founded in 2006,  at Agora University, by  Ioan DZITAC (Editor-in-Chief),  Florin Gheorghe FILIP (Editor-in-Chief), and  Misu-Jan MANOLESCU (Managing Editor).
Ethics: This journal is a member of, and subscribes to the principles of, the Committee on Publication Ethics (COPE).
Ioan  DZITAC (Editor-in-Chief) at COPE European Seminar, Bruxelles, 2015:
IJCCC is covered/indexed/abstracted in Science Citation Index Expanded (since vol.1(S),  2006); JCR2018: IF=1.585..
IJCCC is indexed in Scopus from 2008 (CiteScore2018 = 1.56):
Nomination by Elsevier for Journal Excellence Award Romania 2015 (SNIP2014 = 1.029): Elsevier/ Scopus
IJCCC was nominated by Elsevier for Journal Excellence Award - "Scopus Awards Romania 2015" (SNIP2014 = 1.029).
IJCCC is in Top 3 of 157 Romanian journals indexed by Scopus (in all fields) and No.1 in Computer Science field by Elsevier/ Scopus.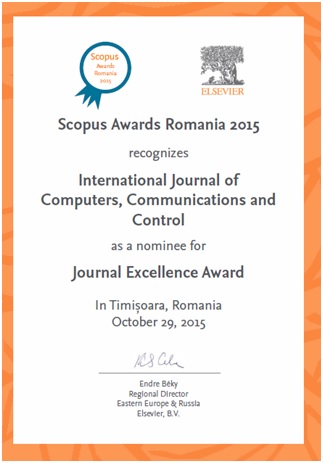 Impact Factor in JCR2018 (Clarivate Analytics/SCI Expanded/ISI Web of Science): IF=1.585 (Q3). Scopus: CiteScore2018=1.56 (Q2);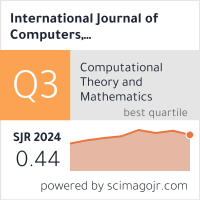 Editors-in-Chief: Ioan DZITAC & Florin Gheorghe FILIP.