General Model for Adequate Cloud Service Selection using Decision Making Methods
Abstract
Cloud Computing (CC) is a technology that surely brings innovations in today's business world, more and more companies around the world are widely incorporating this technology into their businesses. From a technical, as well as organizational point of view transferring enterprise IT to the Cloud is a complex task. Various factors have to be taken into consideration in order to make a right choice when moving IT services to the Cloud. The goal of this paper is to identify and to discuss in detail all factors that influence organization's decision to adopt Cloud. General model for Cloud adoption, introduced in Pantelic et al. [13]a, consists of the key factors driving the organizational benefits when moving to the Cloud. The purpose of the model is to support decision makers in evaluating the benefits, risks and costs of using Cloud Computing. In this paper the general model is extended with two new aggregation methods for harmonization of alternatives rankings in a group decision process. We present the results of two new methods using the method results from previous research [13], as rank inputs, into an aggregate (group) preference. The idea is to find consensus ranking that minimizes disagreement among previous methods results. There were no strong differences between the results of performed methods. The results have shown that Software as a service model and Storage as a service model dominated according to not just arithmetic-mean method, but also to geometric-mean method.
Keywords
cloud adoption, general model, IT investments, cloud services, multicriteria methods
References
Alexander, M. (2012); Decision-Making Using the Analytic Hierarchy Process (AHP) and MP RO Scripting Language, 2012 The SouthEast SAS Users Group Conference (SESUG), ESUG Inc.
Alfares, H. K.; Duffuaa, S. O.(2008); Determining Aggregate Criteria Weights From Criteria ankings By a Group of Decision Makers, International Journal of Information Technology & Decision Making, 7(4): 769-781.
http://dx.doi.org/10.1142/S0219622008003174
Buyya, R. et al (2008), Cloud computing: Principles and paradigms, 8: 3-121.
Carbon Disclosure Project 2011, Carbon Disclosure Project Study 2011 Cloud Computing- he IT Solution for the 21st Century, Verdantix, White Paper.
Costa, P.; Migliavacca, M.; Wolf, A. L. (2012); NaaS: Network-as-a-Service in the Cloud,2nd SENIX Workshop on Hot Topics in Management of Internet, Cloud, and Enterprise Networks nd Service, San Jose, CA, USA.
Cruz, Z.; Fernández-Alemán, J.; Toval A. (2015); Security in cloud computing: A mapping tudy, Computer Science and Information Systems, 12(1): 161-184.
Figueira, J.; Greco, S.; Ehrogott, M. (2005),Multiple Criteria Decision Analysis: State of the rt Surveys, Springer Science+Business Media, Inc., 27-406.
Hashizume, K. et al (2013); An analysis of security issues for cloud computing, Journal of nternet Services and Application, 4(5): 1-13.
Kornevs, M.; Minkevica, V.; Holm, M. (2012); Cloud Computing Evaluation Based on Financial etrics, Information Technology and Management Science, 15(1): 87-92.
Mell, P.; Grance, T. 2011, The NIST Definition of Cloud Computing, NIST Special Publication 00-145, National Institute of Standards and Technology Gaithersburg.
Messmer, E. (2013), Gartner: Cloud-based security as a service set to take off, ttp://www.networkworld.com/article/2171424/data-breach/gartner–cloud-based-securityas- -service-set-to-take-off.html, Information Technology and Management Science
Pajic, A.; Pantelic, O.; Stanojevic B. (2014); Representing IT Performance Management as etamodel, International Journal of Computers Communications & Control, 9(6): 758-767.
http://dx.doi.org/10.15837/ijccc.2014.6.1480
Pantelic, O.; Pajic, A.; Nikolic, A.; (2016); Analysis of available cloud computing models to upport cloud adoption decision process in an enterprise, Computers Communications and ontrol (ICCCC), 2016 6th International Conference on, IEEE Xplore, e-ISBN:978-1-5090- 735-5, doi: 10.1109/ICCCC.2016.7496751, 135-139.
http://dx.doi.org/10.1109/ICCCC.2016.7496751
Patel, K. H. et al (2012); Tradeoffs between performance and security of cryptographic rimitives used in Storage-as-a-Service for cloud computing, Proceedings of the CUBE International nformation Technology Conference, New York, NY, USA.
http://dx.doi.org/10.1145/2381716.2381822
Patrascu, A.; Patriciu, V. V. (2015); Logging for Cloud Computing Forensic Systems Related ork, International Journal of Computers Communications & Control, 10(2): 222-229.
http://dx.doi.org/10.15837/ijccc.2015.2.802
Sharma, S. (2015), Evolution of as-a-Service Era in Cloud, ttp://web.cs.iastate.edu/˜sugamsha/articles/Evolution%20of%20as-a- ervice%20Era%20in%20Cloud.pdf
Simmonds, M. (2009), Information as a service: A smarter way to SOA success, IBM oftware Group, 1-19.
Waschke, M. (2004), IT Management-As-A-Service, CA Technologies, Whitepaper, no. 451.
DOI:
https://doi.org/10.15837/ijccc.2016.6.2746
Copyright (c) 2017 Ognjen Pantelic, Ana Pajic, Ana Nikolic

This work is licensed under a
Creative Commons Attribution-NonCommercial 4.0 International License
.
IJCCC is an Open Access Journal : CC-BY-NC.
Articles published in IJCCC user license are protected by copyright.
Users can access, download, copy, translate the IJCCC articles for non-commercial purposes provided that users, but cannot redistribute, display or adapt:
Cite the article using an appropriate bibliographic citation: author(s), article title, journal, volume, issue, page numbers, year of publication, DOI, and the link to the definitive published version on IJCCC website;
Maintain the integrity of the IJCCC article;
Retain the copyright notices and links to these terms and conditions so it is clear to other users what can and what cannot be done with the  article;
Ensure that, for any content in the IJCCC article that is identified as belonging to a third party, any re-use complies with the copyright policies of that third party;
Any translations must prominently display the statement: "This is an unofficial translation of an article that appeared in IJCCC. Agora University  has not endorsed this translation."
This is a non commercial license where the use of published articles for commercial purposes is forbiden. 
Commercial purposes include: 
Copying or downloading IJCCC articles, or linking to such postings, for further redistribution, sale or licensing, for a fee;
Copying, downloading or posting by a site or service that incorporates advertising with such content;
The inclusion or incorporation of article content in other works or services (other than normal quotations with an appropriate citation) that is then available for sale or licensing, for a fee;
Use of IJCCC articles or article content (other than normal quotations with appropriate citation) by for-profit organizations for promotional purposes, whether for a fee or otherwise;
Use for the purposes of monetary reward by means of sale, resale, license, loan, transfer or other form of commercial exploitation;


The licensor cannot revoke these freedoms as long as you follow the license terms.
[End of CC-BY-NC  License for Website User]
INTERNATIONAL JOURNAL OF COMPUTERS COMMUNICATIONS & CONTROL (IJCCC), With Emphasis on the Integration of Three Technologies (C & C & C),  ISSN 1841-9836.
IJCCC was founded in 2006,  at Agora University, by  Ioan DZITAC (Editor-in-Chief),  Florin Gheorghe FILIP (Editor-in-Chief), and  Misu-Jan MANOLESCU (Managing Editor).
Ethics: This journal is a member of, and subscribes to the principles of, the Committee on Publication Ethics (COPE).
Ioan  DZITAC (Editor-in-Chief) at COPE European Seminar, Bruxelles, 2015:
IJCCC is covered/indexed/abstracted in Science Citation Index Expanded (since vol.1(S),  2006); JCR2018: IF=1.585..
IJCCC is indexed in Scopus from 2008 (CiteScore2018 = 1.56):
Nomination by Elsevier for Journal Excellence Award Romania 2015 (SNIP2014 = 1.029): Elsevier/ Scopus
IJCCC was nominated by Elsevier for Journal Excellence Award - "Scopus Awards Romania 2015" (SNIP2014 = 1.029).
IJCCC is in Top 3 of 157 Romanian journals indexed by Scopus (in all fields) and No.1 in Computer Science field by Elsevier/ Scopus.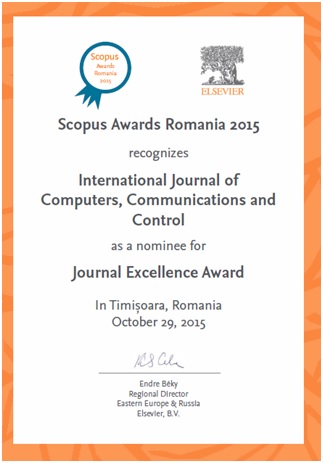 Impact Factor in JCR2018 (Clarivate Analytics/SCI Expanded/ISI Web of Science): IF=1.585 (Q3). Scopus: CiteScore2018=1.56 (Q2);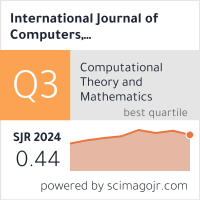 Editors-in-Chief: Ioan DZITAC & Florin Gheorghe FILIP.