Influence Model of User Behavior Characteristics on Information Dissemination
Abstract
Quantitative analysis on human behavior, especially mining and modeling temporal and spatial regularities, is a common focus of statistical physics and complexity sciences. The in-depth understanding of human behavior helps in explaining many complex socioeconomic phenomena, and in finding applications in public opinion monitoring, disease control, transportation system design, calling center services, information recommendation. In this paper,we study the impact of human activity patterns on information diffusion. Using SIR propagation model and empirical data, conduct quantitative research on the impact of user behavior on information dissemination. It is found that when the exponent is small, user behavioral characteristics have features of many new dissemination nodes, fast information dissemination, but information continued propagation time is short, with limited influence; when the exponent is big, there are fewer new dissemination nodes, but will expand the scope of information dissemination and extend information dissemination duration; it is also found that for group behaviors, the power-law characteristic a greater impact on the speed of information dissemination than individual behaviors. This study provides a reference to better understand influence of social networking user behavior characteristics on information dissemination and kinetic effect.
Keywords
SIR, behavior dynamics, scaling laws, information dissemination
References
Zhou, T.; Han, X.P.et al(2013); Statistical Mechanics on Temporal and Spatial Activities of Human, Journal of University of Electronic Science and Technology of China, ISSN 1674- 862X, 4(4):481-540.
Zhang, H.P.(2015); An agent-based simulation model for supply chain collaborative technological innovation diffusion, International Journal of Simulation Modelling, ISSN 1726-4529, 14(2):313-324.
Liu, S.; Gong,D.(2014); Modelling and simulation on recycling of electric vehicle batteriesusing agent approach, International Journal of Simulation Modelling, ISSN 1726-4529, 13(1):79-92.
Pasztor, A.(2014); Gathering simulation of real robot swarm, Technical Gazette, ISSN 1848- 6339, 21(5):1073-1080.
Shang, Y.l.(2013); Measuring degree-dependent failure in scale-free networks of bipartite structure, International Journal of Simulation & Process Modelling, ISSN 1740-2131, 8(1):74- 78.
Lerher, T.; Ekren, Y.B.; Sari,Z.;Rosi,B.(2015); Simulation Analysis of Shuttle Based Storage and Retrieval Systems, International Journal of Simulation Modelling, ISSN 1726-4529, 14(1):48-59.
Cho, Y.C.(2015); A novel approach of adaptive socially aware routing algorithm in delay tolerant networks, Technical Gazette, ISSN 1848-6339, 22(1):61-70.
Xue, Y.G.et al(2014); Determination of statistical homogeneity by comprehensively considering the discontinuity information, Technical Gazette, ISSN 1848-6339, 21(5),971-977.
Java, A.; Song, X.; Finin, T.; Tseng,B.(2007);
WebKDD/SNAKDD 2007:web mining and social network analysis post-workshop report, Acm Sigkdd Explorations Newsletter, 9(2):87- 92.
Kwak, H.; Lee, C.; Park, H.(2010); What is Twitter,a Social Network or a News Media, International conference on World wide web,591-600.
Cha, M.; Haddadi, H.et al(2010); Measuring user influence in Twitter: the million follower fallacy, Proceedings of the Fourth International AAAI Conference on Weblogs and Social Media, 23-26.
Suh, B.; Hong, L.; Pirolli, P.; Chi, E.H.(2010); Want to be Retweeted? Large Scale Analytics on Factors Impacting Retweet in Twitter Network, 2010 IEEE Second International Conference on Social Computing, 177-184.
Han, D.D.et al(2008); Fluctuation of the Download Network, Chinese Physics Letters, ISSN 0256-307X, 25(2):765-768.
Fu, F.; Liu, L.H.; Wang, L.(2008); Empirical analysis of online social networks in the age of Web 2.0, Physica A, ISSN 0378-4371, 387(2):675-684.
http://dx.doi.org/10.1016/j.physa.2007.10.006
Wang, Z. et al(2015); Coupled disease-behavior dynamics on complex networks: A review, Physics of Life Reviews, ISSN 1571-0645, 15(1):30-31.
Alessandro, A.; Laura, B.; George, L.(2015);
Privacy and human behavior in the age of information, Science, 347(6221):509-14.
http://dx.doi.org/10.1126/science.aaa1465
Freitas, C.R.D.(2015); Weather and place-based human behavior: recreational preferences and sensitivity, International Journal of Biometeorology, ISSN 0020-7128, 59(1):55-63.
Medina, J.R.; Lorenz,T.; Hirche, S.(2015); Synthesizing Anticipatory Haptic Assistance Considering Human Behavior Uncertainty, Robotics IEEE Transactions on, 31(1):180-190.
DOI:
https://doi.org/10.15837/ijccc.2016.2.2441
Copyright (c) 2017 Shao Chun Han, Yun Liu, Hui Ling Chen, Zhen Jiang Zhang

This work is licensed under a
Creative Commons Attribution-NonCommercial 4.0 International License
.
CC-BY-NC  License for Website User
Articles published in IJCCC user license are protected by copyright.
Users can access, download, copy, translate the IJCCC articles for non-commercial purposes provided that users, but cannot redistribute, display or adapt:
Cite the article using an appropriate bibliographic citation: author(s), article title, journal, volume, issue, page numbers, year of publication, DOI, and the link to the definitive published version on IJCCC website;
Maintain the integrity of the IJCCC article;
Retain the copyright notices and links to these terms and conditions so it is clear to other users what can and what cannot be done with the  article;
Ensure that, for any content in the IJCCC article that is identified as belonging to a third party, any re-use complies with the copyright policies of that third party;
Any translations must prominently display the statement: "This is an unofficial translation of an article that appeared in IJCCC. Agora University  has not endorsed this translation."
This is a non commercial license where the use of published articles for commercial purposes is forbiden. 
Commercial purposes include: 
Copying or downloading IJCCC articles, or linking to such postings, for further redistribution, sale or licensing, for a fee;
Copying, downloading or posting by a site or service that incorporates advertising with such content;
The inclusion or incorporation of article content in other works or services (other than normal quotations with an appropriate citation) that is then available for sale or licensing, for a fee;
Use of IJCCC articles or article content (other than normal quotations with appropriate citation) by for-profit organizations for promotional purposes, whether for a fee or otherwise;
Use for the purposes of monetary reward by means of sale, resale, license, loan, transfer or other form of commercial exploitation;


The licensor cannot revoke these freedoms as long as you follow the license terms.
[End of CC-BY-NC  License for Website User]
INTERNATIONAL JOURNAL OF COMPUTERS COMMUNICATIONS & CONTROL (IJCCC), With Emphasis on the Integration of Three Technologies (C & C & C),  ISSN 1841-9836.
IJCCC was founded in 2006,  at Agora University, by  Ioan DZITAC (Editor-in-Chief),  Florin Gheorghe FILIP (Editor-in-Chief), and  Misu-Jan MANOLESCU (Managing Editor).
Ethics: This journal is a member of, and subscribes to the principles of, the Committee on Publication Ethics (COPE).
Ioan  DZITAC (Editor-in-Chief) at COPE European Seminar, Bruxelles, 2015:
IJCCC is covered/indexed/abstracted in Science Citation Index Expanded (since vol.1(S),  2006); JCR2018: IF=1.585..
IJCCC is indexed in Scopus from 2008 (CiteScore2018 = 1.56):
Nomination by Elsevier for Journal Excellence Award Romania 2015 (SNIP2014 = 1.029): Elsevier/ Scopus
IJCCC was nominated by Elsevier for Journal Excellence Award - "Scopus Awards Romania 2015" (SNIP2014 = 1.029).
IJCCC is in Top 3 of 157 Romanian journals indexed by Scopus (in all fields) and No.1 in Computer Science field by Elsevier/ Scopus.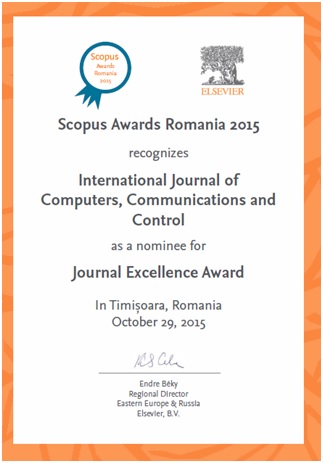 Impact Factor in JCR2018 (Clarivate Analytics/SCI Expanded/ISI Web of Science): IF=1.585 (Q3). Scopus: CiteScore2018=1.56 (Q2);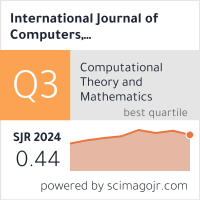 Editors-in-Chief: Ioan DZITAC & Florin Gheorghe FILIP.