P Systems with Endosomes
Abstract
P Systems are computing devices inspired by the structure and the func- tioning of a living cell. A P System consists of a hierarchy of membranes, each of them containing a multiset of objects, a set of evolution rules, and possibly other membranes. Evolution rules are applied to the objects of the same membrane with maximal parallelism. In this paper we present an extension of P Systems, called P Systems with Endosomes (PE Systems), in which endosomes can be explicitly modeled. We show that PE Systems are universal even if only the simplest form of evolution rules is considered, and we give one application example.
Keywords
P systems, PE Systems, Endosomes
References
Aman, B., Ciobanu, G.: Membrane SystemsWith Surface Objects. Proceedings of the Int.Workshop on Computing with Biomolecules (CBM 2008), Vienna, 17–29, 2008.
Aman, B., Ciobanu, G.: Mutual Mobile Membrane Systems With Objects on Surface. Proceedings of the Seventh Brainstorming Week on Membrane Computing (BWMC09), Seville, 2009.
Barbuti, R., Maggiolo–Schettini, A., Milazzo, P. Tini, S.: P Systems with Transport and Diffusion Membrane Channels. Int. Workshop on Concurrency, Specification and Programming (CS&P'08), Gross Vaeter, Germany, September, 2008.
Cardelli, L.: Brane calculi. Interactions of biological membranes. In: Danos, V., Schachter, V. (Eds.), LNCS 3082 (2005), pp. 257-280.
Cardelli, L., Păun, G.: An universality result for a (mem)brane calculus based on mate/drip opera- tions. Internat. J. Found. Comput. Sci. 17(1), pp. 49–68.
http://dx.doi.org/10.1142/S0129054106003693
Cavaliere, M., Seawards, S.: Membrane systems with peripheral proteins: transport and evolution. Proc. of the First Workshop on Membrane Computing and Biologically Inspired Process Calculi (MeCBIC 2006), ENTCS 171 (2007), pp. 37–53.
http://dx.doi.org/10.1016/j.entcs.2007.05.006
Danos, V. Pradalier, S.: Projective Brane Calculus. Proc. of the Fourth Conference on Computational Methods in Systems Biology (CMSB04), LNCS 3082 (2005), pp. 134–148.
Freund, R., Oswald, M.: P systems with activated/prohibited membrane channels. Proc. of WMC 2002, LNCS 2597 (2003), pp. 261–269.
Krishna, S.N.: Membrane computing with transport and embedded proteins. Theoretical Computer Science 410 (2009), pp. 355–375.
http://dx.doi.org/10.1016/j.tcs.2008.09.046
Păun, G.: Computing with membranes. Journal of Computer and System Sciences 61 (2000), pp. 108–143
http://dx.doi.org/10.1006/jcss.1999.1693
Păun, G.: Membrane Computing. An Introduction. Springer (2002).
http://dx.doi.org/10.1007/978-3-642-56196-2
Păun, G.: Membrane computing and brane calculi. Old, new, and future bridges. Theoretical Com- puter Science 404(1-2), pp. 19–25.
http://dx.doi.org/10.1016/j.tcs.2008.04.001
Păun, A., Popa, B.: P Systems with Proteins on Membranes. Fundamenta Informaticae 72(4) (2006), pp. 467 – 483.
P Systems, web page. http://ppage.psystems.eu/.
DOI:
https://doi.org/10.15837/ijccc.2009.3.2429
Copyright (c) 2017 Roberto Barbuti, Giulio Caravagna, Andrea Maggiolo-Schettini, Paolo Milazzo

This work is licensed under a
Creative Commons Attribution-NonCommercial 4.0 International License
.
CC-BY-NC  License for Website User
Articles published in IJCCC user license are protected by copyright.
Users can access, download, copy, translate the IJCCC articles for non-commercial purposes provided that users, but cannot redistribute, display or adapt:
Cite the article using an appropriate bibliographic citation: author(s), article title, journal, volume, issue, page numbers, year of publication, DOI, and the link to the definitive published version on IJCCC website;
Maintain the integrity of the IJCCC article;
Retain the copyright notices and links to these terms and conditions so it is clear to other users what can and what cannot be done with the  article;
Ensure that, for any content in the IJCCC article that is identified as belonging to a third party, any re-use complies with the copyright policies of that third party;
Any translations must prominently display the statement: "This is an unofficial translation of an article that appeared in IJCCC. Agora University  has not endorsed this translation."
This is a non commercial license where the use of published articles for commercial purposes is forbiden. 
Commercial purposes include: 
Copying or downloading IJCCC articles, or linking to such postings, for further redistribution, sale or licensing, for a fee;
Copying, downloading or posting by a site or service that incorporates advertising with such content;
The inclusion or incorporation of article content in other works or services (other than normal quotations with an appropriate citation) that is then available for sale or licensing, for a fee;
Use of IJCCC articles or article content (other than normal quotations with appropriate citation) by for-profit organizations for promotional purposes, whether for a fee or otherwise;
Use for the purposes of monetary reward by means of sale, resale, license, loan, transfer or other form of commercial exploitation;


The licensor cannot revoke these freedoms as long as you follow the license terms.
[End of CC-BY-NC  License for Website User]
INTERNATIONAL JOURNAL OF COMPUTERS COMMUNICATIONS & CONTROL (IJCCC), With Emphasis on the Integration of Three Technologies (C & C & C),  ISSN 1841-9836.
IJCCC was founded in 2006,  at Agora University, by  Ioan DZITAC (Editor-in-Chief),  Florin Gheorghe FILIP (Editor-in-Chief), and  Misu-Jan MANOLESCU (Managing Editor).
Ethics: This journal is a member of, and subscribes to the principles of, the Committee on Publication Ethics (COPE).
Ioan  DZITAC (Editor-in-Chief) at COPE European Seminar, Bruxelles, 2015:
IJCCC is covered/indexed/abstracted in Science Citation Index Expanded (since vol.1(S),  2006); JCR2018: IF=1.585..
IJCCC is indexed in Scopus from 2008 (CiteScore2018 = 1.56):
Nomination by Elsevier for Journal Excellence Award Romania 2015 (SNIP2014 = 1.029): Elsevier/ Scopus
IJCCC was nominated by Elsevier for Journal Excellence Award - "Scopus Awards Romania 2015" (SNIP2014 = 1.029).
IJCCC is in Top 3 of 157 Romanian journals indexed by Scopus (in all fields) and No.1 in Computer Science field by Elsevier/ Scopus.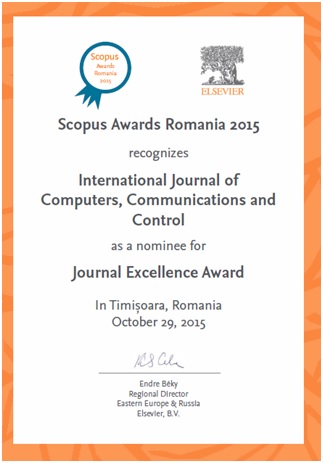 Impact Factor in JCR2018 (Clarivate Analytics/SCI Expanded/ISI Web of Science): IF=1.585 (Q3). Scopus: CiteScore2018=1.56 (Q2);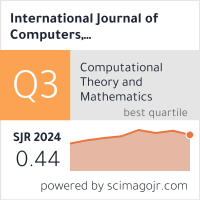 Editors-in-Chief: Ioan DZITAC & Florin Gheorghe FILIP.