Distributed Compressed Sensing Algorithm for Cluster Architectures of WSNs
Abstract
According to the traditional CS theory, each sensor node in the wireless sensor networks always is assumed to directly deliver relative information to sink node, which only considers the intra-signal correlation structure. In addition, these may lead to the loss of the node information and the overenergy consumption. To adjust the processing power and the energy limitation of the node, combined with the inter-signal correlation structure and the joint sparsity models - JSM1, this paper presents a new distributed compressed sensing algorithm for cluster architectures of wireless sensor networks; the proposed algorithm reconstructs the nodes based on side information. Simulation analysis shows that the improved distributed compressed sensing algorithm not only can access to the accurate reconstruction of the nodes, but also can reduce energy consumption during the process of algorithm greatly.
Keywords
Wireless sensor networks, distributed compressed sensing, joint sparsity models, LEACH protocol, side information
References
Donoho D L.(2006); Compressed sensing, IEEE Transactions on Information Theory, 2006, ISSN 0018-9448, 52(4): 1289-1306.
Candés E.(2006); Compressive sampling, In: Proceedings of International Congress of Mathematicians, ISBN 978-3-03719-022-7, 1433-1452.
D.Baron et al (2005); Distributed compressive sensing, Technical Report, pre-print.
D.Baron et al (2005); An Information Theoretic Approach to Distributed Compressed Sensing, In: Conference on Communication, Control, and Computing, ISBN: 9781604234916.
M.F.Duarte et al (2005); Distributed Compressed Sensing of Jointly Sparse Signals, In: Proceeding of the 39th Asilomar Conference on Signals, Systems and Computation , ISSN 1058- 6393, 1537-1541.
J Tropp; A. Gilbert; M Strauss(2006); Algorithms for simultaneous sparse approximation, Part I: Greedy pursuit, Journal of Signal Processing, ISSN 0165-1684, 86: 572-588.
W Dai; O Milenkovic(2009); Subspace pursuit for compressive sensing signal reconstruction. IEEE Transactions on Information Theory, ISSN 0018-9448, 55(5): 2230-2249.
L.Zhao; L.Q.Lian(2005); Distributed and Energy Efficient Self-organization for On-off Wireless Sensor Networks, International Journal of Wireless Information Networks, ISSN 1068- 9605, 12(1) : 211-215.
L.Qing; Q.Zhu; M.Wang(2006); Design of a distributed energy-efficient clustering algorithm for heterogeneous wireless sensor networks, ELSEVIER, Computer Communications,ISSN 0140-3664, 29(12): 2230-2237.
Y.X.Liu et al(2010); Regularized Adaptive Matching Pursuit Algorithm for Signal Reconstruction Based on Compressive Sensing, Journal of electronics and information, ISSN 1009- 5896, 32(11): 2713-2717.
D. Slepain; J. K. Wolf(1973); Noiseless coding of correlated information sources. IEEE Transaction on Information Theory, ISSN 0018-9448, 19(9): 471-480.
Nan Jiang(2014). WDEM: Weighted Dynamics and Evolution Models for Energy-Constrained Wireless Sensor Networks, Physica A: Statistical Mechanics and its Applications, ISSN 0378-4371, 404: 323-331.
Nan Jiang; Sixin Jin; Yan Guo; Yueshun He(2013);
Nan Jiang; Sixin Jin; Yan Guo; Yueshun He(2013); Localization of Wireless Sensor Network Based on Genetic Algorithm, International Journal of Computers Communications & Control, ISSN 1841-9844, 8(6): 825-837.
Nan Jiang; Rigui Zhou; Qiulin Ding(2009);
Nan Jiang; Rigui Zhou; Qiulin Ding(2009); Dynamics of Wireless Sensor Networks, International Journal of Distributed Sensor Networks, ISSN 1550-1329, 5(6): 693-707.
DOI:
https://doi.org/10.15837/ijccc.2014.4.242
Copyright (c) 2017 Nan Jiang, Hui You, Lingfeng Liu, Feng Jiang, Yueshun He

This work is licensed under a
Creative Commons Attribution-NonCommercial 4.0 International License
.
CC-BY-NC  License for Website User
Articles published in IJCCC user license are protected by copyright.
Users can access, download, copy, translate the IJCCC articles for non-commercial purposes provided that users, but cannot redistribute, display or adapt:
Cite the article using an appropriate bibliographic citation: author(s), article title, journal, volume, issue, page numbers, year of publication, DOI, and the link to the definitive published version on IJCCC website;
Maintain the integrity of the IJCCC article;
Retain the copyright notices and links to these terms and conditions so it is clear to other users what can and what cannot be done with the  article;
Ensure that, for any content in the IJCCC article that is identified as belonging to a third party, any re-use complies with the copyright policies of that third party;
Any translations must prominently display the statement: "This is an unofficial translation of an article that appeared in IJCCC. Agora University  has not endorsed this translation."
This is a non commercial license where the use of published articles for commercial purposes is forbiden. 
Commercial purposes include: 
Copying or downloading IJCCC articles, or linking to such postings, for further redistribution, sale or licensing, for a fee;
Copying, downloading or posting by a site or service that incorporates advertising with such content;
The inclusion or incorporation of article content in other works or services (other than normal quotations with an appropriate citation) that is then available for sale or licensing, for a fee;
Use of IJCCC articles or article content (other than normal quotations with appropriate citation) by for-profit organizations for promotional purposes, whether for a fee or otherwise;
Use for the purposes of monetary reward by means of sale, resale, license, loan, transfer or other form of commercial exploitation;


The licensor cannot revoke these freedoms as long as you follow the license terms.
[End of CC-BY-NC  License for Website User]
INTERNATIONAL JOURNAL OF COMPUTERS COMMUNICATIONS & CONTROL (IJCCC), With Emphasis on the Integration of Three Technologies (C & C & C),  ISSN 1841-9836.
IJCCC was founded in 2006,  at Agora University, by  Ioan DZITAC (Editor-in-Chief),  Florin Gheorghe FILIP (Editor-in-Chief), and  Misu-Jan MANOLESCU (Managing Editor).
Ethics: This journal is a member of, and subscribes to the principles of, the Committee on Publication Ethics (COPE).
Ioan  DZITAC (Editor-in-Chief) at COPE European Seminar, Bruxelles, 2015:
IJCCC is covered/indexed/abstracted in Science Citation Index Expanded (since vol.1(S),  2006); JCR2018: IF=1.585..
IJCCC is indexed in Scopus from 2008 (CiteScore2018 = 1.56):
Nomination by Elsevier for Journal Excellence Award Romania 2015 (SNIP2014 = 1.029): Elsevier/ Scopus
IJCCC was nominated by Elsevier for Journal Excellence Award - "Scopus Awards Romania 2015" (SNIP2014 = 1.029).
IJCCC is in Top 3 of 157 Romanian journals indexed by Scopus (in all fields) and No.1 in Computer Science field by Elsevier/ Scopus.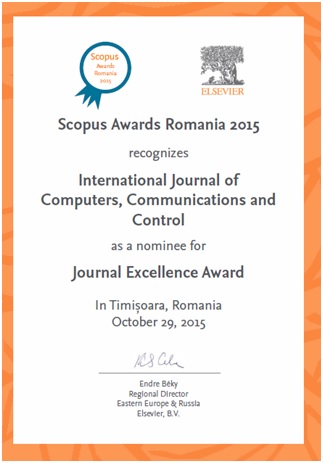 Impact Factor in JCR2018 (Clarivate Analytics/SCI Expanded/ISI Web of Science): IF=1.585 (Q3). Scopus: CiteScore2018=1.56 (Q2);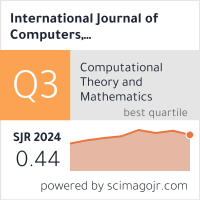 Editors-in-Chief: Ioan DZITAC & Florin Gheorghe FILIP.