Development Journey of QADPZ - A Desktop Grid Computing Platform
Abstract
In this paper we present QADPZ, an open source system for desktop grid computing, which enables users of a local network or Internet to share resources. QADPZ allows a centralized management and use of the computational resources of idle computers from a network of desktop computers. QADPZ users can submit compute-intensive applications to the system, which are then automatically scheduled for execution. The scheduling is performed according to the hardware and software requirements of the application. Users can later monitor and control the execution of the applications. Each application consists of one or more tasks. Applications can be independent, when the composing tasks do not require any interaction, or parallel, when the tasks communicate with each other during the computation. The paper describes both QADPZ functionality and the process of design and implementation, with focus on requirements, architecture, user interface and security. Some future work ideas are also presented.
Keywords
desktop grid computing, distributed and parallel computing
References
I. Foster, and A. Iamnitchi, On death, taxes, and the convergence of peer-to-peer and grid computing, in 2nd Int. Workshop on P2P Systems IPTPS 2003, pp. 118-128, 2003.
I. Foster, C. Kesselman, The grid: blueprint for a new computing infrastructure, Boston: Morgan Kaufmann, 2004.
J. I. Khan and A. Wierzbicki, Eds., Foundation of Peer-to-Peer Computing, Special Issue, Elsevier Journal of Computer Communication, Volume 31, Issue 2, Feb. 2008.
Z. Constantinescu, A Desktop Grid Computing Approach for Scientific Computing and Visualization, PhD thesis, Norwegian University of Science and Technology, Trondheim, Norway, 2008.
QADPZ, [online] Available: http://qadpz.sourceforge.net. [Accessed August 1, 2008].
M. Vladoiu, Z. Constantinescu, An Extended Master-Worker Model for a Desktop Grid Computing Platform (QADPZ), in 3rd Int. Conference on Software and Data Technologies -ICSOFT 2008, pp. 169-174, 2008.
Z. Constantinescu, J. Holmen, P. Petrovic, Using Distributed Computing in Computational Fluid Dynamics, in 15th Int. Conf. Parallel Computational Fluid Dynamics ParCFD-2003, pp. 123-129, 2003.
Z. Constantinescu, Towards an autonomic distributed computing environment, in 14th Int.Workshop on Autonomic Computing Systems, 14th Int. Conf. on Database and Expert Systems Applications DEXA 2003, pp. 694-698, 2003.
D. P. Anderson, J. Cobb, E. Korpela, M. Lebofsky, D. Werthimer, SETIhome: an experiment in public-resource computing, Communications of the ACM, vol. 45, no. 11, pp. 56-61, 2002.
http://dx.doi.org/10.1145/581571.581573
SETI@home [online] Available: setiathome.ssl.berkeley.edu [Accessed May 5, 2003].
Distributed.net [online] Available: http://distributed.net. [Accessed May 5, 2008]
M. Vladoiu, Z. Constantinescu, A Taxonomy for Desktop Grids from Users Perspective, in Int. Conference on Parallel and Distributed Computing - ICPDC 2008, World Congress on Engineering (WCE 2008), pp. 599-605, 2008.
C. Germain, V. Neri, G. Fedak and F. Cappello, XtremWeb: Building an Experimental Platform for Global Computing, in 1st IEEE/ACM Workshop on Grid Computing Grid2000, pp. 91-101, 2000.
D. P. Anderson, BOINC: A System for Public-Resource Computing and Storage, in 5th IEEE/ACM International Workshop on Grid Computing, pp. 365-372, 2004.
http://dx.doi.org/10.1109/GRID.2004.14
BOINC - Open Source Software for Volunteer Computing and Grid Computing [online] Available: http://boinc.berkeley.edu. [Accessed November 25, 2007].
J. Basney, M. Livny, Managing network resources in Condor, in Proc. of the 9th IEEE Symposium on High Performance Distributed Computing (HPDC9), pp. 298-299, 2000.
Globus [online] Available: http://www.globus.org [Accessed May 15, 2008].
I. Foster, and C. Kesselman., Globus: A Metacomputing Infrastructure Toolkit, Intl J. Supercomputer Applications, vol. 11, no. 2, pp. 115-128, 1997.
http://dx.doi.org/10.1177/109434209701100205
J. Cassens, Z. Constantinescu, Free Software: An Adequate Form of Software for Research and Education in Informatics?, in LinuxTag 2003 Conference, pp. 5-10, 2003.
Sourceforge, [online] Available: http://sourceforge.net [Accessed April 1, 2008].
F. Berman, G. Fox, A.J.G. Hey, Grid computing: making the global infrastructure a reality, New York: J. Wiley, 2003.
http://dx.doi.org/10.1002/0470867167
DOI:
https://doi.org/10.15837/ijccc.2009.1.2416
Copyright (c) 2017 Monica Vlădoiu, Zoran Constantinescu

This work is licensed under a
Creative Commons Attribution-NonCommercial 4.0 International License
.
IJCCC is an Open Access Journal : CC-BY-NC.
Articles published in IJCCC user license are protected by copyright.
Users can access, download, copy, translate the IJCCC articles for non-commercial purposes provided that users, but cannot redistribute, display or adapt:
Cite the article using an appropriate bibliographic citation: author(s), article title, journal, volume, issue, page numbers, year of publication, DOI, and the link to the definitive published version on IJCCC website;
Maintain the integrity of the IJCCC article;
Retain the copyright notices and links to these terms and conditions so it is clear to other users what can and what cannot be done with the  article;
Ensure that, for any content in the IJCCC article that is identified as belonging to a third party, any re-use complies with the copyright policies of that third party;
Any translations must prominently display the statement: "This is an unofficial translation of an article that appeared in IJCCC. Agora University  has not endorsed this translation."
This is a non commercial license where the use of published articles for commercial purposes is forbiden. 
Commercial purposes include: 
Copying or downloading IJCCC articles, or linking to such postings, for further redistribution, sale or licensing, for a fee;
Copying, downloading or posting by a site or service that incorporates advertising with such content;
The inclusion or incorporation of article content in other works or services (other than normal quotations with an appropriate citation) that is then available for sale or licensing, for a fee;
Use of IJCCC articles or article content (other than normal quotations with appropriate citation) by for-profit organizations for promotional purposes, whether for a fee or otherwise;
Use for the purposes of monetary reward by means of sale, resale, license, loan, transfer or other form of commercial exploitation;


The licensor cannot revoke these freedoms as long as you follow the license terms.
[End of CC-BY-NC  License for Website User]
INTERNATIONAL JOURNAL OF COMPUTERS COMMUNICATIONS & CONTROL (IJCCC), With Emphasis on the Integration of Three Technologies (C & C & C),  ISSN 1841-9836.
IJCCC was founded in 2006,  at Agora University, by  Ioan DZITAC (Editor-in-Chief),  Florin Gheorghe FILIP (Editor-in-Chief), and  Misu-Jan MANOLESCU (Managing Editor).
Ethics: This journal is a member of, and subscribes to the principles of, the Committee on Publication Ethics (COPE).
Ioan  DZITAC (Editor-in-Chief) at COPE European Seminar, Bruxelles, 2015:
IJCCC is covered/indexed/abstracted in Science Citation Index Expanded (since vol.1(S),  2006); JCR2018: IF=1.585..
IJCCC is indexed in Scopus from 2008 (CiteScore2018 = 1.56):
Nomination by Elsevier for Journal Excellence Award Romania 2015 (SNIP2014 = 1.029): Elsevier/ Scopus
IJCCC was nominated by Elsevier for Journal Excellence Award - "Scopus Awards Romania 2015" (SNIP2014 = 1.029).
IJCCC is in Top 3 of 157 Romanian journals indexed by Scopus (in all fields) and No.1 in Computer Science field by Elsevier/ Scopus.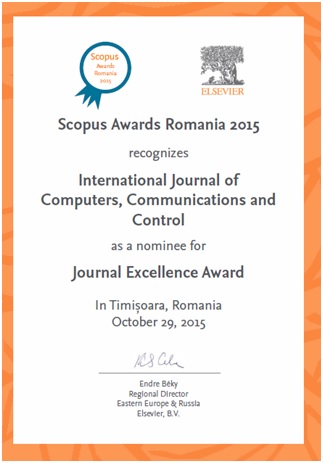 Impact Factor in JCR2018 (Clarivate Analytics/SCI Expanded/ISI Web of Science): IF=1.585 (Q3). Scopus: CiteScore2018=1.56 (Q2);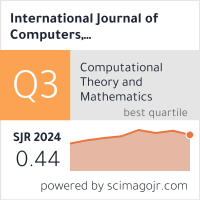 Editors-in-Chief: Ioan DZITAC & Florin Gheorghe FILIP.