Flatness-based Control and Conventional RST Polynomial Control of a Thermal Process
Abstract
In this paper, a comparison between conventional RST polynomial control by poles placement and RST flatness-based control is proposed. These approaches were developed, in discrete-time formalism by carrying out a generation of a reference starting from a flat output and by then analyzing the tracking error in closedloop. The case of the thermal system, that we applied an output disturbance, was considered by simulation to study the effectiveness of given flatness-based robust controller with the integration of an anti-windup device, in terms of tracking trajectory and disturbance rejection.
Keywords
Flatness, RST control, tracking trajectory, robustness, anti-windup
References
M. Fliess, J. Lévine, Ph. Martin and P. Rouchon, Sur les systeme non linéaires différentiellement plats, Compte Rendu de l'Académie des Sciences de Paris, Série I, 315, pp. 619-624, 1992.
M. Ayadi, Contribution ´r la commande des systemes linéaires plats de dimension finie, PhD Thesis, Institut National Polytechnique de Toulouse, 2002.
T. Kailath, Linear systems, Prentice Hall, 1980.
I. Landau, R. Lozano and M. M'Saad, Adaptative control, Springer-Verlag, London, 1998.
http://dx.doi.org/10.1007/978-0-85729-343-5
F. Rotella, F J. Carrillo and M. Ayadi, Polynomial controller design based on flatness, Kybernetica Special Issue on System Structure and Control, Vol. 38, n°5, pp. 571-584.
A. Oustaloup, La robustesse. Analyse et synthˇcse de commandes robustes, Hermˇcs, 1994.
M. Fliess and R. Marquez, Towards a module theoretic approach to discrete time linear predictive control, 14th International Symposium on Mathematical Theory of Networks and Systems, MTNS'2004, Perpignan, 2001.
M. M'Saad M. and J. Chebassier, Commande adaptative des systeme, Techniques de l'Ingénieur, Vol. S2, n°S7426, pp. 1-25, Paris, 1999.
P. Borne, G. Dauphin-Tanguy, J. P. Richard, F. Rotella and I. Zambettakis, Commande et optimisation des processus, Edition Technip, Paris, 1990.
S. Médar, Supervision et reconfiguration de la commande des systeme dynamiques en présence de variations dans les conditions de fonctionnement, PhD Thesis, Institut National Polytechnique de Toulouse, 2002.
F. Rotella, F. J. Carrilo and M. Ayadi, Digital flatness-based robust controller applied to a thermal process, IEEE International Conference on Control Application, pp. 936-941, Mexico, 2001.
http://dx.doi.org/10.1109/cca.2001.973990
K. J. Aström and B. Wittenlmark, Adaptative Control, Addison Wesley, United States, 1989.
M. Ayadi, N. Langlois, M. Benrejeb and H. Chafouk, Flatness-based robust adaptative polynomial controller for a diesel engine model, Transaction on Systems, Signals & Devices, Vol. 2, n°1, pp. 71-90, 2006.
M. Fliess, J. Lévine, Ph. Martin and P. Rouchon, On Differentially Flat non Linear Systems, IFACSymposium NOLCOS'92, pp. 408-412, Bordeaux ,1992.
R. Marquez, and M. Fliess, Linear Predictive Control Revisited. A Flatness Based Approach, European Control Conference, ECC'99, Karlshrule, 1999.
Ph. Charbonnaud, J. F. Carrilo and S. Médar, Robust control reconfiguration of a thermal process with multiple operating modes,IEEE transaction of control systems technology, Vol. 11, n°4, 2003.
J.Y. Dieulot, I. Thimoumi, F. Colas and R. Béarée, Numerical Aspects and Performances of Trajectory Planning Methods of Flexible Axes, International Journal of Computers, Communications and Control, Vol.I, n°4, pp. 35-44, 2006.
http://dx.doi.org/10.15837/ijccc.2006.4.2304
J. Lévine, On the necessary and sufficent conditions for differential flatness, 6th IFAC Symposium on Nonlinear Control Systems, NOLCOS'04, pp. 463-468, Stuttgart, 2004.
H. Sira-Ramirez and S.K. Agrawal, Differentially flat systems, Marcel Dekker, 2004.
DOI:
https://doi.org/10.15837/ijccc.2009.1.2412
Copyright (c) 2017 Hajer Gharsallaoui, Mounir Ayadi, Mohamed Benrejeb, Pierre Borne

This work is licensed under a
Creative Commons Attribution-NonCommercial 4.0 International License
.
CC-BY-NC  License for Website User
Articles published in IJCCC user license are protected by copyright.
Users can access, download, copy, translate the IJCCC articles for non-commercial purposes provided that users, but cannot redistribute, display or adapt:
Cite the article using an appropriate bibliographic citation: author(s), article title, journal, volume, issue, page numbers, year of publication, DOI, and the link to the definitive published version on IJCCC website;
Maintain the integrity of the IJCCC article;
Retain the copyright notices and links to these terms and conditions so it is clear to other users what can and what cannot be done with the  article;
Ensure that, for any content in the IJCCC article that is identified as belonging to a third party, any re-use complies with the copyright policies of that third party;
Any translations must prominently display the statement: "This is an unofficial translation of an article that appeared in IJCCC. Agora University  has not endorsed this translation."
This is a non commercial license where the use of published articles for commercial purposes is forbiden. 
Commercial purposes include: 
Copying or downloading IJCCC articles, or linking to such postings, for further redistribution, sale or licensing, for a fee;
Copying, downloading or posting by a site or service that incorporates advertising with such content;
The inclusion or incorporation of article content in other works or services (other than normal quotations with an appropriate citation) that is then available for sale or licensing, for a fee;
Use of IJCCC articles or article content (other than normal quotations with appropriate citation) by for-profit organizations for promotional purposes, whether for a fee or otherwise;
Use for the purposes of monetary reward by means of sale, resale, license, loan, transfer or other form of commercial exploitation;


The licensor cannot revoke these freedoms as long as you follow the license terms.
[End of CC-BY-NC  License for Website User]
INTERNATIONAL JOURNAL OF COMPUTERS COMMUNICATIONS & CONTROL (IJCCC), With Emphasis on the Integration of Three Technologies (C & C & C),  ISSN 1841-9836.
IJCCC was founded in 2006,  at Agora University, by  Ioan DZITAC (Editor-in-Chief),  Florin Gheorghe FILIP (Editor-in-Chief), and  Misu-Jan MANOLESCU (Managing Editor).
Ethics: This journal is a member of, and subscribes to the principles of, the Committee on Publication Ethics (COPE).
Ioan  DZITAC (Editor-in-Chief) at COPE European Seminar, Bruxelles, 2015:
IJCCC is covered/indexed/abstracted in Science Citation Index Expanded (since vol.1(S),  2006); JCR2018: IF=1.585..
IJCCC is indexed in Scopus from 2008 (CiteScore2018 = 1.56):
Nomination by Elsevier for Journal Excellence Award Romania 2015 (SNIP2014 = 1.029): Elsevier/ Scopus
IJCCC was nominated by Elsevier for Journal Excellence Award - "Scopus Awards Romania 2015" (SNIP2014 = 1.029).
IJCCC is in Top 3 of 157 Romanian journals indexed by Scopus (in all fields) and No.1 in Computer Science field by Elsevier/ Scopus.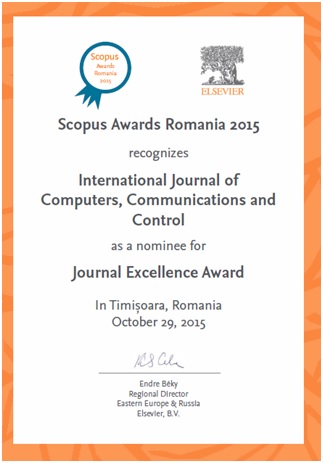 Impact Factor in JCR2018 (Clarivate Analytics/SCI Expanded/ISI Web of Science): IF=1.585 (Q3). Scopus: CiteScore2018=1.56 (Q2);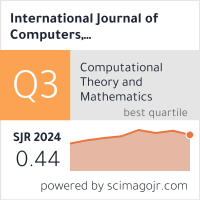 Editors-in-Chief: Ioan DZITAC & Florin Gheorghe FILIP.