Quality of Service Scheduling in Real-Time Systems
Abstract
In this paper, we deal with dynamic scheduling components integrating new Quality of Service (QoS) functionalities into a Linux-based real-time operating system. In our approach, periodic tasks allow occasional deadline violations within given bounds specified according to the Skip-Over task model. Hence, every task has a minimal QoS guarantee which is expressed by the ratio of periodic task instances which must complete before their deadline. The work stated here provides two on-line scheduling algorithms, namely RLP and RLP/T, which enhance the existing Skip-Over algorithms. More specifically, the proposed algorithms aim at improving the actual QoS observed for periodic tasks (which is always greater or equal to the QoS guarantee). These novel scheduling techniques rely on the EDL (Earliest Deadline as Late as possible) scheduling strategy. Simulation results show the performance of RLP and RLP/T with respect to basic Skip-Over algorithms. Finally, we present the integration of these QoS scheduling services into CLEOPATRE open-source component library, a patch to Linux/RTAI.
Keywords
real-time, dynamic scheduling, quality of service, periodic tasks, component-based systems, Linux-based systems
References
G. Bernat, A. Burns, Combining (n/m)-hard feadlines and dual priority schaduling, 18th IEEE Real- Time Systems Symposium, pp 46-57, 1997.
G. Bernat, A. Burns, A. Llamosi, Weakly-hard real-time systems, In IEEE Transactions on Comput- ers, Vol. 50, No. 4, pp 308-321, 2001.
http://dx.doi.org/10.1109/12.919277
G.-C. Buttazzo, M. Caccamo, Minimizing Aperiodic Response Times in a Firm Real-Time Environment, IEEE Trans. Software Eng., Vol. 25, No. 1, pp 22-32, 1999.
http://dx.doi.org/10.1109/32.748916
M. Caccamo, G.-C. Buttazzo, Exploiting skips in periodic tasks for enhancing aperiodic responsivess, 18th IEEE Real-Time Systems Symposium, 1997.
H. Chetto, M. Chetto, Some Results of the Earliest Deadline Scheduling Algorithm. In Proceedings of the IEEE Transactions on Software Engineering, Vol. 15, No. 10, pp 1261-1269, 1989.
http://dx.doi.org/10.1109/tse.1989.559777
T. Garcia, A. Marchand, M. Silly-Chetto, Cleopatre: a R&D project for providing new real-time functionalities to Linux/RTAI. 5th Real-Time Linux Workshop, 2003.
M. Hamdaoui, P. Ramanathan, A Dynamic Priority Assignment Technique for Streams with (m,k)- firm deadlines. IEEE Transactions on Computers, Vol. 44, No. 4, pp 1443-1451, 1995.
http://dx.doi.org/10.1109/12.477249
G. Koren, D. Shasha, Skip-Over Algorithms and Complexity for Overloaded Systems that Allow Skips. 16th IEEE Real-Time Systems Symposium (RTSS'95), Pisa, Italy, 1995.
http://dx.doi.org/10.1109/REAL.1995.495201
P. Mantegazza, E. Bianchi, L. Dozio, M. Angelo, D. Beal, DIAPM. RTAI Programming Guide 1.0, Lineo Inc., 2000.
A. Marchand, M. Silly-Chetto, QoS Scheduling Components based on Firm Real-Time Requirements, ACS/IEEE International Conference on Computer Systems and Applications (AICCSA'05), Le Caire (Egypt), 2005.
A. Marchand and M. Silly-Chetto, RLP: Enhanced QoS Support for Real-Time Applications, 11th IEEE International Conference on Embedded and Real-Time Computing Systems and Applications (RTCSA'05), Hong-Kong, 2005.
A. Marchand, M. Silly-Chetto, Dynamic Real-Time Scheduling of Firm Periodic Tasks with Hard and Soft Aperiodic Tasks. Journal of Real-Time Systems, Vol. 32, No. 1-2, pp 21-47, 2006.
http://dx.doi.org/10.1007/s11241-006-4962-8
M. Silly-Chetto, The EDL Server for Scheduling Periodic and Soft Aperiodic Tasks with Resource Constraints, Journal of Real-Time Systems, Vol. 17, pp 1-25, 1999.
M. Silly-Chetto, H. Chetto, N. Elyounsi, An Optimal Algorithm for Guranteeing Sporadic Tasks in Hard Real-Time Systems. IEEE Symposium on Parallel and Distributed Processing, pp 578-585, 1990.
T. Tia, J. Liu, J. Sun, R. Ha, A Linear-Time Optimal Acceptance Test for Scheduling of Hard Real- Time Tasks, Technical report, Department of Computer Science, University of Illinois at Urbana- Champaign, IL, 1994.
R. West, C. Poellabauer, Analysis of a Window-constrained scheduler for real-time and best-effort packet streams, 21st IEEE Real-Time Systems Symposium, Orlando, USA, 2000.
http://dx.doi.org/10.1109/REAL.2000.896013
R. West, Y. Zhang, K. Schwan, C. Poellabauer, Dynamic window-constrained scheduling of realtime streams in media servers, IEEE Trans. on Computers, Vol. 53, pp. 744-759, 2004.
http://dx.doi.org/10.1109/TC.2004.10
V. Yodaiken, The RTLinux Approach to Real-Time, FSMLabs Inc., 2004.
Y. Zhang, R. West, X. Qi, Avirtual deadline scheduler for window-constrained service guarantees, Tech. Rep. 2004-013, Boston University, 2004.
DOI:
https://doi.org/10.15837/ijccc.2008.4.2403
Copyright (c) 2017 Audrey Marchand, Maryline Chetto

This work is licensed under a
Creative Commons Attribution-NonCommercial 4.0 International License
.
CC-BY-NC  License for Website User
Articles published in IJCCC user license are protected by copyright.
Users can access, download, copy, translate the IJCCC articles for non-commercial purposes provided that users, but cannot redistribute, display or adapt:
Cite the article using an appropriate bibliographic citation: author(s), article title, journal, volume, issue, page numbers, year of publication, DOI, and the link to the definitive published version on IJCCC website;
Maintain the integrity of the IJCCC article;
Retain the copyright notices and links to these terms and conditions so it is clear to other users what can and what cannot be done with the  article;
Ensure that, for any content in the IJCCC article that is identified as belonging to a third party, any re-use complies with the copyright policies of that third party;
Any translations must prominently display the statement: "This is an unofficial translation of an article that appeared in IJCCC. Agora University  has not endorsed this translation."
This is a non commercial license where the use of published articles for commercial purposes is forbiden. 
Commercial purposes include: 
Copying or downloading IJCCC articles, or linking to such postings, for further redistribution, sale or licensing, for a fee;
Copying, downloading or posting by a site or service that incorporates advertising with such content;
The inclusion or incorporation of article content in other works or services (other than normal quotations with an appropriate citation) that is then available for sale or licensing, for a fee;
Use of IJCCC articles or article content (other than normal quotations with appropriate citation) by for-profit organizations for promotional purposes, whether for a fee or otherwise;
Use for the purposes of monetary reward by means of sale, resale, license, loan, transfer or other form of commercial exploitation;


The licensor cannot revoke these freedoms as long as you follow the license terms.
[End of CC-BY-NC  License for Website User]
INTERNATIONAL JOURNAL OF COMPUTERS COMMUNICATIONS & CONTROL (IJCCC), With Emphasis on the Integration of Three Technologies (C & C & C),  ISSN 1841-9836.
IJCCC was founded in 2006,  at Agora University, by  Ioan DZITAC (Editor-in-Chief),  Florin Gheorghe FILIP (Editor-in-Chief), and  Misu-Jan MANOLESCU (Managing Editor).
Ethics: This journal is a member of, and subscribes to the principles of, the Committee on Publication Ethics (COPE).
Ioan  DZITAC (Editor-in-Chief) at COPE European Seminar, Bruxelles, 2015:
IJCCC is covered/indexed/abstracted in Science Citation Index Expanded (since vol.1(S),  2006); JCR2018: IF=1.585..
IJCCC is indexed in Scopus from 2008 (CiteScore2018 = 1.56):
Nomination by Elsevier for Journal Excellence Award Romania 2015 (SNIP2014 = 1.029): Elsevier/ Scopus
IJCCC was nominated by Elsevier for Journal Excellence Award - "Scopus Awards Romania 2015" (SNIP2014 = 1.029).
IJCCC is in Top 3 of 157 Romanian journals indexed by Scopus (in all fields) and No.1 in Computer Science field by Elsevier/ Scopus.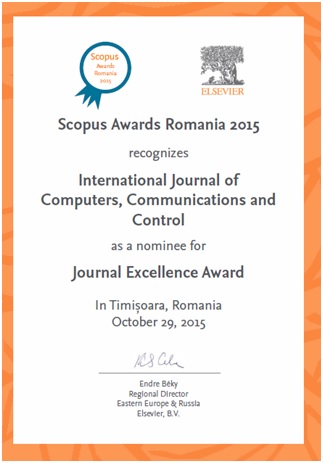 Impact Factor in JCR2018 (Clarivate Analytics/SCI Expanded/ISI Web of Science): IF=1.585 (Q3). Scopus: CiteScore2018=1.56 (Q2);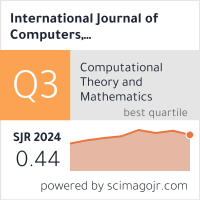 Editors-in-Chief: Ioan DZITAC & Florin Gheorghe FILIP.