Analysis and Design on Key Updating Policies for Satellite Networks
Abstract
Satellite networks are becoming increasingly important because of the exciting global communication services they provide. Key management policies have been successfully deployed in terrestrial networks to guarantee the information security. However, long propagation, storage and computation constraints bring new challenges in designing efficient and cost-effective key updating policies for satellite networks. Based on the structure and communication features of satellite networks, a dynamic key management model for satellite networks (DKM-SN) is presented, which includes certificates owned by each satellite, primary keys and session keys both of which are shared between two satellites. Furthermore, a protocol is designed for updating certificates for satellites; different policies for updating primary and session keys are studied and their efficiency and security are analyzed and compared. In addition, simulation environment for satellite networks is built and the key updating processes are implemented in Walker constellation. From the simulation results, further contrasts on key updating time and storage costs between the applications of IBM hybrid key management model (HKMM) and DKM-SN in satellite networks are presented. Finally, important suggestions in designing key updating policies are given.
Keywords
key updating, satellite networks, model, protocol, simulation
References
J. Kohl, C. Neuman, The Kerberos Network Authentication Service (V5), http://www.ietf.org/rfc/rfc1510.txt, RFC 1510, 1993.
V. Le, S. M. Matyas, D. B. Johnson and J. D. Wilkins, A Public Key Extension to the Common Cryptographic Architecture, IBM System Journal, Vol. 32, pp. 461-485, 1993.
http://dx.doi.org/10.1147/sj.323.0461
B. C. Neuman and S. G. Stubblebine, A Note on the Use of Timestamps as Nonces, ACM Operating Systems Reviews, Vol. 27, pp. 10-14, 1993.
http://dx.doi.org/10.1145/155848.155852
Philippe Janson and Gene Tsudik, Secure and Minimal Protocols for Authenticated Key Distribution, Computer Communications, Vol. 18, pp. 645-653, 1995.
http://dx.doi.org/10.1016/0140-3664(95)99807-O
CCSDS, Security Threats Against Space Missions, Washington: Informational Report, CCSDS 350.1-G-1, Green Book, Issue 1, 2006.
A. Roy-Chowdhury et al., Security Issues in Hybrid Networks with a Satellite Component, IEEE Wireless Communications, Vol. 12, pp. 50-61, 2005.
http://dx.doi.org/10.1109/MWC.2005.1561945
H S Cruickshank, A Security System for Satellite Networks, Fifth International Conference on Satel- lite Systems for Mobile Communications and Navigation, London: IEE, pp. 187-190, 1996.
Tanya Vladimirova, Roohi Banu and Martin N. Sweeting, On-Board Security Services in Small Satellites, MAPLD International Conference, Washington: NASA Office of Logic Design, 2005.
C. Boyd and A. Mathuria, Key Establishment Protocols for Secure Mobile Communication: a Selective Survey, Lecture Notes in Computer Science, Vol. 1438, pp. 344-355, 1998.
http://dx.doi.org/10.1007/BFb0053746
J. Schaad, M. Myers, Public-Key Infrastructure (X.509), www.ietf.org/html.charters/pkix- charter.html, IETF, PKIX 2797.
X. Ying, Z. Gang, Modeling and Distributed Simulation for Satellite Networks, Computer Simula- tion, Vol. 25, pp. 65-69, 2008.
ANSI X9.62, Public Key Cryptography for the Financial Services Industry: The Elliptic Curve Digital Signature Algorithm (ECDSA), American National Standards Institute, 1999.
ANSI. X9.63, Public Key Cryptography for the Financial Services Industry: Key Agreement and Key Transport Using Elliptic Curve Cryptography, American National Standards Institute, 2001.
DOI:
https://doi.org/10.15837/ijccc.2008.4.2402
Copyright (c) 2017 Yuxuan Ji, Hengtai Ma, Gang Zheng

This work is licensed under a
Creative Commons Attribution-NonCommercial 4.0 International License
.
CC-BY-NC  License for Website User
Articles published in IJCCC user license are protected by copyright.
Users can access, download, copy, translate the IJCCC articles for non-commercial purposes provided that users, but cannot redistribute, display or adapt:
Cite the article using an appropriate bibliographic citation: author(s), article title, journal, volume, issue, page numbers, year of publication, DOI, and the link to the definitive published version on IJCCC website;
Maintain the integrity of the IJCCC article;
Retain the copyright notices and links to these terms and conditions so it is clear to other users what can and what cannot be done with the  article;
Ensure that, for any content in the IJCCC article that is identified as belonging to a third party, any re-use complies with the copyright policies of that third party;
Any translations must prominently display the statement: "This is an unofficial translation of an article that appeared in IJCCC. Agora University  has not endorsed this translation."
This is a non commercial license where the use of published articles for commercial purposes is forbiden. 
Commercial purposes include: 
Copying or downloading IJCCC articles, or linking to such postings, for further redistribution, sale or licensing, for a fee;
Copying, downloading or posting by a site or service that incorporates advertising with such content;
The inclusion or incorporation of article content in other works or services (other than normal quotations with an appropriate citation) that is then available for sale or licensing, for a fee;
Use of IJCCC articles or article content (other than normal quotations with appropriate citation) by for-profit organizations for promotional purposes, whether for a fee or otherwise;
Use for the purposes of monetary reward by means of sale, resale, license, loan, transfer or other form of commercial exploitation;


The licensor cannot revoke these freedoms as long as you follow the license terms.
[End of CC-BY-NC  License for Website User]
INTERNATIONAL JOURNAL OF COMPUTERS COMMUNICATIONS & CONTROL (IJCCC), With Emphasis on the Integration of Three Technologies (C & C & C),  ISSN 1841-9836.
IJCCC was founded in 2006,  at Agora University, by  Ioan DZITAC (Editor-in-Chief),  Florin Gheorghe FILIP (Editor-in-Chief), and  Misu-Jan MANOLESCU (Managing Editor).
Ethics: This journal is a member of, and subscribes to the principles of, the Committee on Publication Ethics (COPE).
Ioan  DZITAC (Editor-in-Chief) at COPE European Seminar, Bruxelles, 2015:
IJCCC is covered/indexed/abstracted in Science Citation Index Expanded (since vol.1(S),  2006); JCR2018: IF=1.585..
IJCCC is indexed in Scopus from 2008 (CiteScore2018 = 1.56):
Nomination by Elsevier for Journal Excellence Award Romania 2015 (SNIP2014 = 1.029): Elsevier/ Scopus
IJCCC was nominated by Elsevier for Journal Excellence Award - "Scopus Awards Romania 2015" (SNIP2014 = 1.029).
IJCCC is in Top 3 of 157 Romanian journals indexed by Scopus (in all fields) and No.1 in Computer Science field by Elsevier/ Scopus.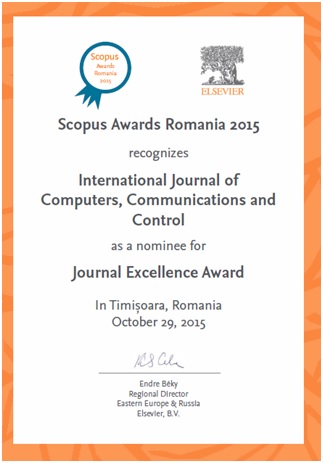 Impact Factor in JCR2018 (Clarivate Analytics/SCI Expanded/ISI Web of Science): IF=1.585 (Q3). Scopus: CiteScore2018=1.56 (Q2);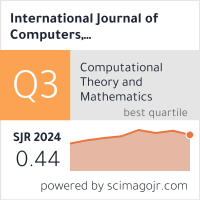 Editors-in-Chief: Ioan DZITAC & Florin Gheorghe FILIP.