Ant systems & Local Search Optimization for flexible Job Shop Scheduling Production
Abstract
The problem of efficiently scheduling production jobs on several machines is an important consideration when attempting to make effective use of a multimachines system such as a flexible job shop scheduling production system (FJSP). In most of its practical formulations, the FJSP is known to be NP-hard [8][9], so exact solution methods are unfeasible for most problem instances and heuristic approaches must therefore be employed to find good solutions with reasonable search time. In this paper, two closely related approaches to the resolution of the flexible job shop scheduling production system are described. These approaches combine the Ant system optimisation meta-heuristic (AS) with local search methods, including tabu search. The efficiency of the developed method is compared with others.
Keywords
Flexible production, Ant colony, Tabu search, job shop scheduling, makespan, optimisation
References
A. C. F. Alvim, F. Glover, C. C. Ribiero and D. J. Aloise. A hybrid improvement heuristic for the bin packing problem, 2002. Available from: http://citeseer.nj.nec.com/557429.html.
T. D. Braun, H. J. Siegel, N. Beck, L. L. Bölöni, M. Maheswaran, A. I. Reuther, J. P. Robertson, M. D. Theys, B. Yao, D. Hensgen and R. F. Freund. A comparison of eleven static heuristics formapping a class of independent tasks onto heterogeneous distributed computing systems. Journal of Parallel and Distributed Computing, 61(6):810-837, 2001.
http://dx.doi.org/10.1006/jpdc.2000.1714
Brandimarte P., Routing and Scheduling in a Flexible Job-Shop by Tabu Search, Annals of Operations Research, vol. 2, pp. 158-183, 1993.
http://dx.doi.org/10.1007/bf02023073
Bilchev, G., Parmee, I.C. : The Ant Colony Metaphor for Searching Continuous Design Spaces. Lecture Notes in Computer Science, 993,pp. 25-39, 1995.
http://dx.doi.org/10.1007/3-540-60469-3_22
A. L. Corcoran and R. L. Wainwright. A parallel island model genetic algorithm for the multiprocessor scheduling problem. In Selected Areas in Cryptography, pp. 483-487, 1994.
http://dx.doi.org/10.1145/326619.326817
M. Dorigo. Optimization, Learning and Natural Algorithms. PhD thesis, DEI, Polytecnico di Milano, Milan, 1992.
M. Dorigo and T. Stützle. The ant colony optimization metaheuristic: Algorithms, applications, and advances. In Glover, F. and Kochenberger, G., editors, Handbook of Metaheuristics, vol. 57 of International Series in Operations Research and Management Science, pp. 251-285. Kluwer Academic Publishers, 2002.
M. Garey, D. Johnson, R. Sethi. The Complexity of Flow Shop and Job-shop Schedules. Mathematics of Operations Research, vol. 1(2), pp. 117-129, 1976.
http://dx.doi.org/10.1287/moor.1.2.117
M. Garey and D. Johnson. Computers and Intractability: A Guide to the theory of NP-Completeness. Freeman and Company, San Francisco, 1979.
I. Kacem, S. Hammadi and P. Borne. Approach by Localization and Multiobjective Evolutionary Optimization for Flexible Job-shop Scheduling Problems. IEEE Transactions on Systems, Man and Cybernetics, vol. 32(1), pp. 1-13, 2002.
http://dx.doi.org/10.1109/TSMCC.2002.1009117
I. Kacem, S. Hammadi and P. Borne. Pareto-optimality Approach for Flexible Job-Shop Scheduling Problems: Hybridization of Evolutionary Algorithms and Fuzzy Logic. Mathematics and Computer in Simulation, vol. 60, pp. 245-276, 2002.
http://dx.doi.org/10.1016/S0378-4754(02)00019-8
N. Liouane, S. Hammadi and P. Borne. Robust methodology for scheduling production in uncertain environment. IMACS Multi-Conference on Computational Engineering in Systems Applications, CESA'98, Hammamet, 1998.
K. Mesghouni. Application des algorithmes évolutionnistes dans les problèmes d'optimisation en ordonnancement de production. Thèse de Doctorat, Université de Lille1, Lille, 1998.
J. C. Tay and N. B. Ho. GENACE: An Efficient Cultural Algorithm for Solving the Flexible Job- Shop Problem. Proceedings of the IEEE Congress of Evolutionary Computation, pp. 1759-1766, 2004.
A. Thiesen, Design and evaluation of tabu search algorithms for multiprocessor scheduling. Journal of Heuristics, Vol. 4, pp.141-160, 1998.
http://dx.doi.org/10.1023/A:1009625629722
S. van der Zwaan and C. Marques. Ant colony optimisation for job shop scheduling. In Proceedings of the Third Workshop on Genetic Algorithms and Artificial Life, GAAL 99,1999.
DOI:
https://doi.org/10.15837/ijccc.2007.2.2350
Copyright (c) 2017 Noureddine Liouane, Ihsen Saad, Slim Hammadi, Pierre Borne

This work is licensed under a
Creative Commons Attribution-NonCommercial 4.0 International License
.
CC-BY-NC  License for Website User
Articles published in IJCCC user license are protected by copyright.
Users can access, download, copy, translate the IJCCC articles for non-commercial purposes provided that users, but cannot redistribute, display or adapt:
Cite the article using an appropriate bibliographic citation: author(s), article title, journal, volume, issue, page numbers, year of publication, DOI, and the link to the definitive published version on IJCCC website;
Maintain the integrity of the IJCCC article;
Retain the copyright notices and links to these terms and conditions so it is clear to other users what can and what cannot be done with the  article;
Ensure that, for any content in the IJCCC article that is identified as belonging to a third party, any re-use complies with the copyright policies of that third party;
Any translations must prominently display the statement: "This is an unofficial translation of an article that appeared in IJCCC. Agora University  has not endorsed this translation."
This is a non commercial license where the use of published articles for commercial purposes is forbiden. 
Commercial purposes include: 
Copying or downloading IJCCC articles, or linking to such postings, for further redistribution, sale or licensing, for a fee;
Copying, downloading or posting by a site or service that incorporates advertising with such content;
The inclusion or incorporation of article content in other works or services (other than normal quotations with an appropriate citation) that is then available for sale or licensing, for a fee;
Use of IJCCC articles or article content (other than normal quotations with appropriate citation) by for-profit organizations for promotional purposes, whether for a fee or otherwise;
Use for the purposes of monetary reward by means of sale, resale, license, loan, transfer or other form of commercial exploitation;


The licensor cannot revoke these freedoms as long as you follow the license terms.
[End of CC-BY-NC  License for Website User]
INTERNATIONAL JOURNAL OF COMPUTERS COMMUNICATIONS & CONTROL (IJCCC), With Emphasis on the Integration of Three Technologies (C & C & C),  ISSN 1841-9836.
IJCCC was founded in 2006,  at Agora University, by  Ioan DZITAC (Editor-in-Chief),  Florin Gheorghe FILIP (Editor-in-Chief), and  Misu-Jan MANOLESCU (Managing Editor).
Ethics: This journal is a member of, and subscribes to the principles of, the Committee on Publication Ethics (COPE).
Ioan  DZITAC (Editor-in-Chief) at COPE European Seminar, Bruxelles, 2015:
IJCCC is covered/indexed/abstracted in Science Citation Index Expanded (since vol.1(S),  2006); JCR2018: IF=1.585..
IJCCC is indexed in Scopus from 2008 (CiteScore2018 = 1.56):
Nomination by Elsevier for Journal Excellence Award Romania 2015 (SNIP2014 = 1.029): Elsevier/ Scopus
IJCCC was nominated by Elsevier for Journal Excellence Award - "Scopus Awards Romania 2015" (SNIP2014 = 1.029).
IJCCC is in Top 3 of 157 Romanian journals indexed by Scopus (in all fields) and No.1 in Computer Science field by Elsevier/ Scopus.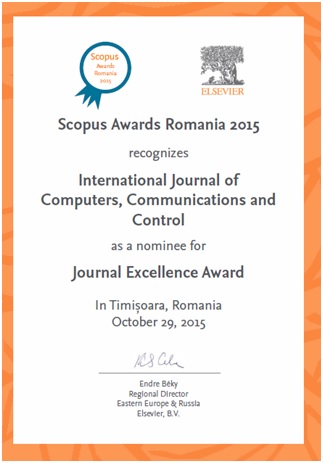 Impact Factor in JCR2018 (Clarivate Analytics/SCI Expanded/ISI Web of Science): IF=1.585 (Q3). Scopus: CiteScore2018=1.56 (Q2);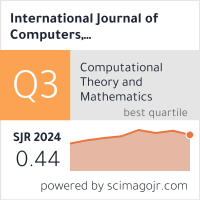 Editors-in-Chief: Ioan DZITAC & Florin Gheorghe FILIP.