Predictive Control of aWastewater Treatment Process
Abstract
The paper deals with the design of a predictive controller for a wastewater treatment process. In the considered process, the wastewater is treated in order to obtain an effluent having the substrate concentration within the standard limits established by law (below 20 mg/l). This goal is achieved by controlling the concentration of dissolved oxygen to a certain value. The predictive controller uses a neural network as internal model of the process and alters the dilution rate in order to fulfill the control objective. This control strategy offers various possibilities for the control law adjustment by means of the following parameters: the prediction horizon, the control horizon, the weights of the error and the command. The predictive control structure has been tested in three functioning regimes, considered essential due to the frequency of their occurrence in current practice.
Keywords
predictive control, wastewater treatment, neural network, bioreactor
References
Z. Boger, Application of Neural Networks to Water and Wastewater Treatment Plant Operation, ISA Trans., Vol. 31, pp. 25-33, 1992.
M. A. Brdys and Y. Zhang, Robust Hierarchical Optimising Control of MunicipalWastewater Treatment Plants,Preprints of the 9th IFAC/IFORS/IMACS/IFIP Symposium Large Scale Systems: Theory & Applications ˝U LSSŠ2001, Bucharest, Romania, pp. 540-547, July 18-20, 2001.
A. M. Buswell and H. L. Long, Microbiology and Theory of Activated Sludge, Journal of American Pollution Wks. Assn., Vol. 10, 1923.
E. F. Camacho and C. Bordons, Model predictive control, Springer-Verlag, London, 1999.
http://dx.doi.org/10.1007/978-1-4471-3398-8
E. Choi et al., High strength nitrogen removal from nightsoil and piggery wastes, Proc. of the 6th IWA Speciality Symposium on Strong Nitrogenous and Agro-Wastewater, Seoul, Korea, 11-13 June, 2003.
R. De Keyser, Model Based Predictive Control, Invited Chapter in "UNESCO Encyclopedia of Life Support Systems (EoLSS)", EoLSS Publishers Co. Ltd., Oxford (www.eolss.net), 2003.
B. L. Goodman and A. J. Englande, A Unified Model of the Activated Sludge Process, Journal of Water Pollution Control Fed., Vol. 46, pp. 312-332, 1974.
M. Henze et. al., Activated Sludge Model No. 1, IAWQ Scientific and Technical Report No. 1, IAWQ, London, Great Britain, 1987.
M. Henze et al., Activated Sludge Model No. 2, IAWQ Scientific and Technical Report No. 3, IAWQ, London, Great Britain., 1995.
M. Henze et al., Activated Sludge Models ASM1, ASM2, ASM2d and ASM3, IWA Publishing, London, Great Britain, 2000.
K. Hornik, M. Stinchcobe and H. White, Multilayer feedforward networks are universal approximators, Neural Networks, Vol. 2, pp. 359-366, 1989.
http://dx.doi.org/10.1016/0893-6080(89)90020-8
P. Ingildsen, Realising Full-Scale Control in Wastewater Treatment Systems Using In Situ Nutrient Sensors, Ph.D. thesis, Dept. of Industrial Electrical Engineering and Automation, Lund University, Sweden, 2002.
U. Jeppsson, Modelling Aspects of wastewater treatment processes, Ph.D. thesis, Dept. of Industrial Electrical Eng. and Automation, Lund University, Sweden, 1996.
M. R. Katebi, M.A. Johnson and J. Wilke, Control and Instrumentation for Wastewater Treatment Plant, Springer-Verlag, London, 1999.
http://dx.doi.org/10.1007/978-1-4471-0423-0
R. E. King and A. Stathaki, A multi-layer perceptron for the control of a wastewater treatment plant, 12th Mediterranean Conference on Control and Automation - MED2004, Kusadasi, Turkey, Proc. CD-ROM, June 6-9, 2004.
H. Kroiss, What is the potential for utilizing the resources in sludge, Water Science and Technology, Vol. 49, pp. 1-10, 2003.
G. Langergraber et al., Monitoring of a paper mill wastewater treatment plant using UV/VIS spectroscopy, Water Science and Technology, Vol. 49, pp. 9-14, 2003.
S. A. Manesis, D. J. Sapidis and R. E. King, Intelligent Control of Wastewater Treatment Plants, Artificial Intelligence in Engineering, Vol. 12, pp. 275-281, 1998.
http://dx.doi.org/10.1016/S0954-1810(97)10002-4
F. Nejjari, A. Benhammou, B. Dahhou and G. Roux, Non-linear multivariable adaptive control of an activated sludge wastewater treatment process, Int. J. Adapt. Control Signal Process., Vol. 13, pp. 347-365, 1999.
http://dx.doi.org/10.1002/(SICI)1099-1115(199908)13:5<347::AID-ACS543>3.0.CO;2-8
J. T. Novak and C. Park, Chemical Conditioning of Sludge, Proc. of Int. Conf. onWastewater Sludge as a Resource - Biosolids 2003, Trondheim, Norway, 23-25 June, 2003.
S. Yagi, H. Kohara, Y. Nakamura and S. Shiba, Fuzzy Control of a Wastewater Treatment Plant for Nutrients Removal, Proc. of the Int. Conf. on Artif. Intell. in Engineering & Technology, Sabah, Malaysia, June 17-18, 2002.
DOI:
https://doi.org/10.15837/ijccc.2007.2.2346
Copyright (c) 2017 Sergiu Caraman, Mihaela Sbarciog, Marian Barbu

This work is licensed under a
Creative Commons Attribution-NonCommercial 4.0 International License
.
IJCCC is an Open Access Journal : CC-BY-NC.
Articles published in IJCCC user license are protected by copyright.
Users can access, download, copy, translate the IJCCC articles for non-commercial purposes provided that users, but cannot redistribute, display or adapt:
Cite the article using an appropriate bibliographic citation: author(s), article title, journal, volume, issue, page numbers, year of publication, DOI, and the link to the definitive published version on IJCCC website;
Maintain the integrity of the IJCCC article;
Retain the copyright notices and links to these terms and conditions so it is clear to other users what can and what cannot be done with the  article;
Ensure that, for any content in the IJCCC article that is identified as belonging to a third party, any re-use complies with the copyright policies of that third party;
Any translations must prominently display the statement: "This is an unofficial translation of an article that appeared in IJCCC. Agora University  has not endorsed this translation."
This is a non commercial license where the use of published articles for commercial purposes is forbiden. 
Commercial purposes include: 
Copying or downloading IJCCC articles, or linking to such postings, for further redistribution, sale or licensing, for a fee;
Copying, downloading or posting by a site or service that incorporates advertising with such content;
The inclusion or incorporation of article content in other works or services (other than normal quotations with an appropriate citation) that is then available for sale or licensing, for a fee;
Use of IJCCC articles or article content (other than normal quotations with appropriate citation) by for-profit organizations for promotional purposes, whether for a fee or otherwise;
Use for the purposes of monetary reward by means of sale, resale, license, loan, transfer or other form of commercial exploitation;


The licensor cannot revoke these freedoms as long as you follow the license terms.
[End of CC-BY-NC  License for Website User]
INTERNATIONAL JOURNAL OF COMPUTERS COMMUNICATIONS & CONTROL (IJCCC), With Emphasis on the Integration of Three Technologies (C & C & C),  ISSN 1841-9836.
IJCCC was founded in 2006,  at Agora University, by  Ioan DZITAC (Editor-in-Chief),  Florin Gheorghe FILIP (Editor-in-Chief), and  Misu-Jan MANOLESCU (Managing Editor).
Ethics: This journal is a member of, and subscribes to the principles of, the Committee on Publication Ethics (COPE).
Ioan  DZITAC (Editor-in-Chief) at COPE European Seminar, Bruxelles, 2015:
IJCCC is covered/indexed/abstracted in Science Citation Index Expanded (since vol.1(S),  2006); JCR2018: IF=1.585..
IJCCC is indexed in Scopus from 2008 (CiteScore2018 = 1.56):
Nomination by Elsevier for Journal Excellence Award Romania 2015 (SNIP2014 = 1.029): Elsevier/ Scopus
IJCCC was nominated by Elsevier for Journal Excellence Award - "Scopus Awards Romania 2015" (SNIP2014 = 1.029).
IJCCC is in Top 3 of 157 Romanian journals indexed by Scopus (in all fields) and No.1 in Computer Science field by Elsevier/ Scopus.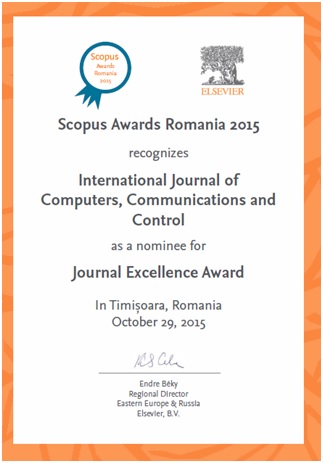 Impact Factor in JCR2018 (Clarivate Analytics/SCI Expanded/ISI Web of Science): IF=1.585 (Q3). Scopus: CiteScore2018=1.56 (Q2);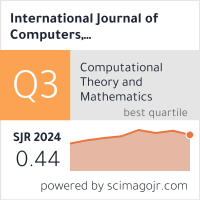 Editors-in-Chief: Ioan DZITAC & Florin Gheorghe FILIP.