Modelling of Wastewater Treatment Plant for Monitoring and Control Purposes by State – Space Wavelet Networks
Abstract
Most of industrial processes are nonlinear, not stationary, and dynamical with at least few different time scales in their internal dynamics and hardly measured states. A biological wastewater treatment plant falls into this category. The paper considers modelling such processes for monitorning and control purposes by using State - SpaceWavelet Neural Networks (SSWN). The modelling method is illustrated based on bioreactors of the wastewater treatment plant. The learning algorithms and basis function (multidimensional wavelets) are also proposed. The simulation results based on real data record are presented.
Keywords
neural network models, model approximation, learning algorithms, waste treatment
References
M. A. Brdys, M. Grochowski, K. Duzinkiewicz, W. Chotkowski, Y. Liu "Design of control structure for integrated wastewater treatment plant U˝ - sewer systems", International Conference on Technolog, Automation and Control of Wastewater and Drinking Water Systems TiASWiK'02 Gdansk – Sobieszewo, Poland, June 19-21 2002.
W. Chotkowski, J. M'zkinia, M.A. Brdys, K. Duzinkiewicz, K. Konarczak "Mathematical modelling of the processes in integrated municipal wastewater systems", Proc. of the 9th IFAC/IFORS/IMACS/ IFIP Symposium on Large Scale Systems: Theory and Applications, Bucharest, July 18-20 2001.
I. Daubechies Ten Lectures on Wavelets CBMS-NSF Regional Series in Applied Mathematics, SIAM, Philadelphia, 1992.
M. Grochowski, M.A. Brdys, T. Gmi-ski "Intelligent control structure for control of integrated wastewater systems" IFAC 10th Symposium Large Scale Systems: Theory and Applications Osaka ˝U Japan July 26-28 2004.
A. Juditsky, Q. Zhang, B. Delyon, P-Y. Glorennec, A. Beneveniste "Wavelets in identification" Rapport de recherche Nˇr2315 1994.
S. Kirkpatrick, C.D. Gelatt, M.P. Vecchi "Optimization by Simulated Annealing" Science vol. 220 pp. 671-680, 1983.
http://dx.doi.org/10.1126/science.220.4598.671
Y. Oussar, I. Rivals, L. Personnaz, G. Dreyfus "Training Wavelet Networks for Nonlinear Dynamic Input-Output Modeling" Neurocomputing, vol. 20, pp. 173-188, 1998.
http://dx.doi.org/10.1016/S0925-2312(98)00010-1
G. Olsson, R Newell Wastewater Treatment Systems. Modelling, Diagnosis and Control. IWA Publishing, London, 1999.
E.N. Sanchez, J.P. Perez "Input-to-State Stability (ISS) Analysis for Dynamic Neural Networks" IEEE Transactions On Circuits And Systems ˝U I: Fundamental Theory And Applications, vol. 46, No. 11, pp 1395 ˝U 1398, November 1999.
J.M. Zamarreno, V. Pastora "State space neural network. Properties and applications." Neural Networks, vol. 11, pp 1099-1112, 1998.
http://dx.doi.org/10.1016/S0893-6080(98)00074-4
Q. Zhang, A. Beneveniste "Wavelet Networks" IEEE Trans. on Neural Networks, vol. 3, num. 6, pp 889-898, Nov. 1992.
http://dx.doi.org/10.1109/72.165591
Q. Zhang "Wavelet Network: the Radial Structure and an Efficient Initialization Procedure" Technical Report of Linköping University, LiTH-ISY-I-1423, October 1992.
J. Zhao, B. Chen, J. Shen "Multidimensional non-orthogonal wavelet basis function neural network for dynamic process fault diagnosis" Computer and Chemical Engineering vol. 23 pp. 83-92, 1998.
http://dx.doi.org/10.1016/S0098-1354(98)00258-0
DOI:
https://doi.org/10.15837/ijccc.2007.2.2345
Copyright (c) 2017 Adam Borowa, Mietek A. Brdys, Krzysztof Mazur

This work is licensed under a
Creative Commons Attribution-NonCommercial 4.0 International License
.
CC-BY-NC  License for Website User
Articles published in IJCCC user license are protected by copyright.
Users can access, download, copy, translate the IJCCC articles for non-commercial purposes provided that users, but cannot redistribute, display or adapt:
Cite the article using an appropriate bibliographic citation: author(s), article title, journal, volume, issue, page numbers, year of publication, DOI, and the link to the definitive published version on IJCCC website;
Maintain the integrity of the IJCCC article;
Retain the copyright notices and links to these terms and conditions so it is clear to other users what can and what cannot be done with the  article;
Ensure that, for any content in the IJCCC article that is identified as belonging to a third party, any re-use complies with the copyright policies of that third party;
Any translations must prominently display the statement: "This is an unofficial translation of an article that appeared in IJCCC. Agora University  has not endorsed this translation."
This is a non commercial license where the use of published articles for commercial purposes is forbiden. 
Commercial purposes include: 
Copying or downloading IJCCC articles, or linking to such postings, for further redistribution, sale or licensing, for a fee;
Copying, downloading or posting by a site or service that incorporates advertising with such content;
The inclusion or incorporation of article content in other works or services (other than normal quotations with an appropriate citation) that is then available for sale or licensing, for a fee;
Use of IJCCC articles or article content (other than normal quotations with appropriate citation) by for-profit organizations for promotional purposes, whether for a fee or otherwise;
Use for the purposes of monetary reward by means of sale, resale, license, loan, transfer or other form of commercial exploitation;


The licensor cannot revoke these freedoms as long as you follow the license terms.
[End of CC-BY-NC  License for Website User]
INTERNATIONAL JOURNAL OF COMPUTERS COMMUNICATIONS & CONTROL (IJCCC), With Emphasis on the Integration of Three Technologies (C & C & C),  ISSN 1841-9836.
IJCCC was founded in 2006,  at Agora University, by  Ioan DZITAC (Editor-in-Chief),  Florin Gheorghe FILIP (Editor-in-Chief), and  Misu-Jan MANOLESCU (Managing Editor).
Ethics: This journal is a member of, and subscribes to the principles of, the Committee on Publication Ethics (COPE).
Ioan  DZITAC (Editor-in-Chief) at COPE European Seminar, Bruxelles, 2015:
IJCCC is covered/indexed/abstracted in Science Citation Index Expanded (since vol.1(S),  2006); JCR2018: IF=1.585..
IJCCC is indexed in Scopus from 2008 (CiteScore2018 = 1.56):
Nomination by Elsevier for Journal Excellence Award Romania 2015 (SNIP2014 = 1.029): Elsevier/ Scopus
IJCCC was nominated by Elsevier for Journal Excellence Award - "Scopus Awards Romania 2015" (SNIP2014 = 1.029).
IJCCC is in Top 3 of 157 Romanian journals indexed by Scopus (in all fields) and No.1 in Computer Science field by Elsevier/ Scopus.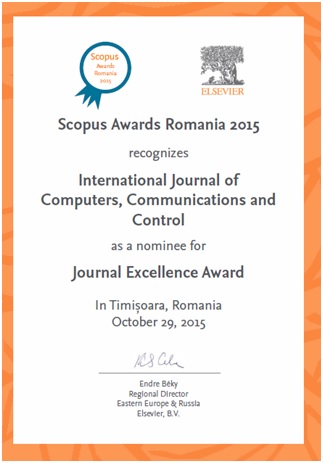 Impact Factor in JCR2018 (Clarivate Analytics/SCI Expanded/ISI Web of Science): IF=1.585 (Q3). Scopus: CiteScore2018=1.56 (Q2);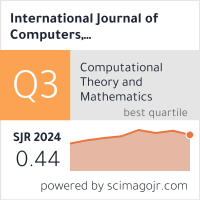 Editors-in-Chief: Ioan DZITAC & Florin Gheorghe FILIP.