E-Health System for Medical Telesurveillance of Chronic Patients
Abstract
The current common goal in medical information technology today is the design and implementation of telemedicine solutions, which provide to patients services that enhance their quality of life. Advances in wireless sensor network technology, the overall miniaturization of their associated hardware low-power integrated circuits and wireless communications have enabled the design of low-cost, miniature, and intelligent physiological sensor modules with applications in the medical industry. These modules are capable of measuring, processing, communicating one or more physiological parameters, and can be integrated into a wireless personal area network. This paper is dedicated to the most complex Romanian telemedical pilot project, TELEMON, which has as goals design and implementation of an electronic-informaticstelecommunications system, that allows the automatic and complex telemonitoring, everywhere and every time, in (almost) real time, of the vital signs of persons with chronic illnesses, of elderly people, of those having high medical risk and of those living in isolated regions. The final objective of this pilot project is to enable personalized medical teleservices delivery, and to act as a basis for a public service for telemedical procedures in Romania and abroad.
Keywords
telemedicine, telemonitoring, biomedical devices, wireless personal area network
References
Costin H, Rotariu C. (2004) Processing and Analysis of Digital Images. Applications in Biomedical Imagistics, Tehnica-Info Publ. House, Kishinev, Rep. Moldova, 441 pp., ISBN 9975-63-196-7
European Commission, IST Directorate General (2006) Resource book of eHealth projects, Sixth Research and Development Framework Programme
Giansanti D, et al, (2003) Is It Feasible to Reconstruct Body Segment 3-D Position and Orientation Using Accelerometric Data? IEEE Trans. On BME 50(4)
Shorey R. (2006) Mobile, Wireless and Sensor Network: Technology, Applications and Future Directions, Ed. Wiley
Wattenhofer R., (2005), Algorithms for ad hoc and sensor networks, Comp.Comm., 28, p.1498-1504
http://dx.doi.org/10.1016/j.comcom.2004.12.037
Costin H, et al., (2006) A multimedia Telemonitoring Network for Healthcare. Enformatika, Transactions on Engineering, Computing and Technology, Vol. 17, Cairo, pp. 113-118
Costin H, Morancea Octavia, et al. (2008) Integrated system for real time monitoring of patients and elderly people. Ukrainian Journal of Telemedicine and Medical Telematics, Vol. 6, No. 1, pp. 71-75
Rotariu Cr., Costin H., Arotaritei D. and Constantinescu G. (2009) A Low Power Wireless Personal Area Network for Telemedicine, Proceedings of the 4th European Conference of the International Federation for Medical and Biological Engineering, Vol. 22, pp. 982-985
http://dx.doi.org/10.1007/978-3-540-89208-3_234
Jovanov E., Raskovic D., Hormigo R., (2001) Thermistor-Based Breathing Sensor for Circadian Rhythm Evaluation, Biomedical Sciences Instrumentation, Vol. 37, pp. 493-497
http://www.smiths-medical.com/Userfiles/oem/OEM.31392B1.pdf
http://www.lifesourceonline.com/and_med.nsf/html/UA-767PC
FT232 datasheet at http://www.ftdichip.com/FT232
J. Pan and W.J. Tompkins, (1985), A real-time QRS detection algorithm, IEEE Trans. Biomed. Eng., vol. BME-32, pp. 230-236
http://dx.doi.org/10.1109/TBME.1985.325532
P.S. Hamilton and W.J. Tompkins, Quantitative investigation of QRS detection rules using the MIT/BIH arrhythmia database, IEEE Trans. Biomed Eng., vol. BME-33, pp. 1157-1165
http://dx.doi.org/10.1109/TBME.1986.325695
Tompkins WJ (ed.). (1993) Biomedical Digital Signal Processing: C-Language Examples and Laboratory Experiments for the IBM PC., Englewood Cliffs, NJ: PTR Prentice Hall
P.S. Hamilton, (2002), Open Source ECG Analysis Software, E. P. Limited, Somerville, Mass, USA.
MSP430 datasheet at http://www.ti.com/MSP430
CC2500 datasheet at http://www.ti.com/CC2500
DOI:
https://doi.org/10.15837/ijccc.2010.5.2253
Copyright (c) 2017 Cristian Rotariu, Hariton Costin, Ioana Alexa, Gladiola Andruseac, Vasile Manta, Bogdan Mustata

This work is licensed under a
Creative Commons Attribution-NonCommercial 4.0 International License
.
CC-BY-NC  License for Website User
Articles published in IJCCC user license are protected by copyright.
Users can access, download, copy, translate the IJCCC articles for non-commercial purposes provided that users, but cannot redistribute, display or adapt:
Cite the article using an appropriate bibliographic citation: author(s), article title, journal, volume, issue, page numbers, year of publication, DOI, and the link to the definitive published version on IJCCC website;
Maintain the integrity of the IJCCC article;
Retain the copyright notices and links to these terms and conditions so it is clear to other users what can and what cannot be done with the  article;
Ensure that, for any content in the IJCCC article that is identified as belonging to a third party, any re-use complies with the copyright policies of that third party;
Any translations must prominently display the statement: "This is an unofficial translation of an article that appeared in IJCCC. Agora University  has not endorsed this translation."
This is a non commercial license where the use of published articles for commercial purposes is forbiden. 
Commercial purposes include: 
Copying or downloading IJCCC articles, or linking to such postings, for further redistribution, sale or licensing, for a fee;
Copying, downloading or posting by a site or service that incorporates advertising with such content;
The inclusion or incorporation of article content in other works or services (other than normal quotations with an appropriate citation) that is then available for sale or licensing, for a fee;
Use of IJCCC articles or article content (other than normal quotations with appropriate citation) by for-profit organizations for promotional purposes, whether for a fee or otherwise;
Use for the purposes of monetary reward by means of sale, resale, license, loan, transfer or other form of commercial exploitation;


The licensor cannot revoke these freedoms as long as you follow the license terms.
[End of CC-BY-NC  License for Website User]
INTERNATIONAL JOURNAL OF COMPUTERS COMMUNICATIONS & CONTROL (IJCCC), With Emphasis on the Integration of Three Technologies (C & C & C),  ISSN 1841-9836.
IJCCC was founded in 2006,  at Agora University, by  Ioan DZITAC (Editor-in-Chief),  Florin Gheorghe FILIP (Editor-in-Chief), and  Misu-Jan MANOLESCU (Managing Editor).
Ethics: This journal is a member of, and subscribes to the principles of, the Committee on Publication Ethics (COPE).
Ioan  DZITAC (Editor-in-Chief) at COPE European Seminar, Bruxelles, 2015:
IJCCC is covered/indexed/abstracted in Science Citation Index Expanded (since vol.1(S),  2006); JCR2018: IF=1.585..
IJCCC is indexed in Scopus from 2008 (CiteScore2018 = 1.56):
Nomination by Elsevier for Journal Excellence Award Romania 2015 (SNIP2014 = 1.029): Elsevier/ Scopus
IJCCC was nominated by Elsevier for Journal Excellence Award - "Scopus Awards Romania 2015" (SNIP2014 = 1.029).
IJCCC is in Top 3 of 157 Romanian journals indexed by Scopus (in all fields) and No.1 in Computer Science field by Elsevier/ Scopus.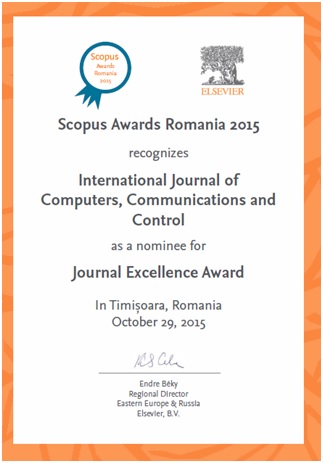 Impact Factor in JCR2018 (Clarivate Analytics/SCI Expanded/ISI Web of Science): IF=1.585 (Q3). Scopus: CiteScore2018=1.56 (Q2);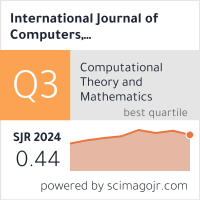 Editors-in-Chief: Ioan DZITAC & Florin Gheorghe FILIP.