A Fuzzy Control Heuristic Applied to Non-linear Dynamic System Using a Fuzzy Knowledge Representation
Abstract
This paper presents the design of a fuzzy control heuristic that can be applied for modeling nonlinear dynamic systems using a fuzzy knowledge representation. Nonlinear dynamic systems have been modeled traditionally on the basis of connections between the subsystems that compose it. Nevertheless, this model design does not consider some of the following problems: existing dynamics between the subsystems; order and priority of the connection between subsystems; degrees of influence or causality between subsystems; particular state of each subsystem and state of the system on the basis of the combination of the diverse states of the subsystems; positive or negative influences between subsystems. In this context, the main objective of this proposal is to manage the whole system state by managing the state combination of the subsystems involved. In the proposed design the diverse states of subsystems at different levels are represented by a knowledge base matrix of fuzzy intervals (KBMFI). This type of structure is a fuzzy hypercube that provides facilities operations like: insert, delete, and switching. It also allows Boolean operations between different KBMFI and inferences. Each subsystem in a specific level and its connectors are characterized by factors with fuzzy attributes represented by membership functions. Existing measures the degree of influence among the different levels are obtained (negatives, positives). In addition, the system state is determined based on the combination of the statements of the subsystems (stable, oscillatory, attractor, chaos). It allows introducing the dynamic effects in the calculation of each output level. The control and search of knowledge patterns are made by means of a fuzzy control heuristic. Finally, an application to the co-ordination of the activities among different levels of the operation of an underground mine is developed and discussed.
Keywords
Fuzzy Systems, Knowledge Representation, Heuristics, Nonlinear Dynamic Systems
References
D. Alahakoon, S. K. Halgamuge, and B. Srinivasan, Dynamic self organizing maps with controlled growth for knowledge discovery, IEEE Trans. Neural Networks, Vol.11:601-614, 2000.
http://dx.doi.org/10.1109/72.846732
F. Cordova, L. Canete, L. Quezada, F. Yanine, An Intelligent Supervising System for the Operation of an Undergound Mine, International Journal of Computers, Communications and Control, Vol. III: 259-269, 2008.
M. Gupta, R.K. Ragade,Yager, Advances in Fuzzy Sets Theory and applications, North Holland, Amsterdam, 1979.
B. Kosko, Fuzzy Ingineering. Prentice Hall, 1997.
G. Martinez, Servente and Pasquini,Sistemas Inteligentes, NL Nueva Libreria, Argentina, 2003.
T. McNeill, Fuzzy Logic a Practical Approach. Academic Press, 1997.
H. Roman, Sobre Entropias Fuzzy, Tesis de doctorado, Universidad de Campinas, Brasil, 1989.
E. Schnaider, A. Kandel, Applications of the Negation Operator in Fuzzy Production Rules, Fuzzy Sets and Systems, Vol. 34: 293-299, Noth Holland, 1990.
W. Silder, J. Buckley, Fuzzy expert system and fuzzy reasoning, John Wiley and Sons Inc., New Jersey, 416, 2005.
U. Tsoukalas, Fuzzy and Neural Approaches in Engineering. Wiley Interscience, 1997.
S. Welstead, Neural Network and Fuzzy Logic Applications in C++. Wiley Interscience, 1994.
L.A. Zadeh, The role of fuzzy logic in the management of uncertainly in Expert Systems, Aproximate Reasoning in Expert Systems, Elservier Science Pub., North Holland, 3-31, 1985.
L.A. Zadeh et al (eds.), From Natural Language to Soft Computing: New Paradigms in Artificial Intelligence, Editing House of Romanian Academy, 2008.
Zadeh, L.A., Outline of a new approach to the analysis of a complex systems and decision processed, IEEE Trans. Syst. Man Cybern., Vol. 3: 28-44, 1973.
http://dx.doi.org/10.1109/TSMC.1973.5408575
L.A. Zadeh, Fuzzy sets and fuzzy information: granulation theory, Beijing Normal University Press, Beijing, 1997.
L.Zhong, W.A. Halang,G. Chen, Integration of Fuzzy Logic and Chaos Theory, Springer- Verlag, Berlin Heidelberg, 2006.
DOI:
https://doi.org/10.15837/ijccc.2010.5.2222
Copyright (c) 2017 Felisa M. Cordova, Guillermo Leyton

This work is licensed under a
Creative Commons Attribution-NonCommercial 4.0 International License
.
IJCCC is an Open Access Journal : CC-BY-NC.
Articles published in IJCCC user license are protected by copyright.
Users can access, download, copy, translate the IJCCC articles for non-commercial purposes provided that users, but cannot redistribute, display or adapt:
Cite the article using an appropriate bibliographic citation: author(s), article title, journal, volume, issue, page numbers, year of publication, DOI, and the link to the definitive published version on IJCCC website;
Maintain the integrity of the IJCCC article;
Retain the copyright notices and links to these terms and conditions so it is clear to other users what can and what cannot be done with the  article;
Ensure that, for any content in the IJCCC article that is identified as belonging to a third party, any re-use complies with the copyright policies of that third party;
Any translations must prominently display the statement: "This is an unofficial translation of an article that appeared in IJCCC. Agora University  has not endorsed this translation."
This is a non commercial license where the use of published articles for commercial purposes is forbiden. 
Commercial purposes include: 
Copying or downloading IJCCC articles, or linking to such postings, for further redistribution, sale or licensing, for a fee;
Copying, downloading or posting by a site or service that incorporates advertising with such content;
The inclusion or incorporation of article content in other works or services (other than normal quotations with an appropriate citation) that is then available for sale or licensing, for a fee;
Use of IJCCC articles or article content (other than normal quotations with appropriate citation) by for-profit organizations for promotional purposes, whether for a fee or otherwise;
Use for the purposes of monetary reward by means of sale, resale, license, loan, transfer or other form of commercial exploitation;


The licensor cannot revoke these freedoms as long as you follow the license terms.
[End of CC-BY-NC  License for Website User]
INTERNATIONAL JOURNAL OF COMPUTERS COMMUNICATIONS & CONTROL (IJCCC), With Emphasis on the Integration of Three Technologies (C & C & C),  ISSN 1841-9836.
IJCCC was founded in 2006,  at Agora University, by  Ioan DZITAC (Editor-in-Chief),  Florin Gheorghe FILIP (Editor-in-Chief), and  Misu-Jan MANOLESCU (Managing Editor).
Ethics: This journal is a member of, and subscribes to the principles of, the Committee on Publication Ethics (COPE).
Ioan  DZITAC (Editor-in-Chief) at COPE European Seminar, Bruxelles, 2015:
IJCCC is covered/indexed/abstracted in Science Citation Index Expanded (since vol.1(S),  2006); JCR2018: IF=1.585..
IJCCC is indexed in Scopus from 2008 (CiteScore2018 = 1.56):
Nomination by Elsevier for Journal Excellence Award Romania 2015 (SNIP2014 = 1.029): Elsevier/ Scopus
IJCCC was nominated by Elsevier for Journal Excellence Award - "Scopus Awards Romania 2015" (SNIP2014 = 1.029).
IJCCC is in Top 3 of 157 Romanian journals indexed by Scopus (in all fields) and No.1 in Computer Science field by Elsevier/ Scopus.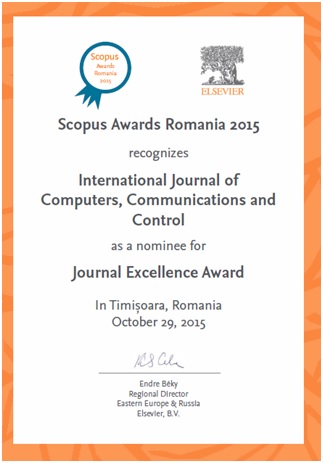 Impact Factor in JCR2018 (Clarivate Analytics/SCI Expanded/ISI Web of Science): IF=1.585 (Q3). Scopus: CiteScore2018=1.56 (Q2);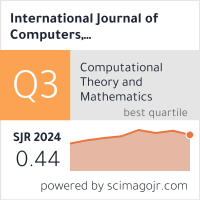 Editors-in-Chief: Ioan DZITAC & Florin Gheorghe FILIP.