Accessing Information Sources using Ontologies
Abstract
In this paper, we present a system that helps users access various types of information sources using ontologies. An ontology consists of a set of concepts and their relationships in a domain of interests. The system analyzes an ontology provided by a user so that the user can search and browse Wikipedia [1], DBpedia [4], PubMed [5], and the Web by utilizing the information in the ontology. In particular, terms defined in the ontology are mapped to Wikipedia pages and the navigation history of a user is saved so that it can serve as a personalized ontology. In addition, users can create and edit ontologies using the proposed system. We show that the proposed system can be used in an educational environment.
Keywords
Wikipedia, ontology, education
References
Wikipedia, 2009. Available from http://en.wikipedia.org/wiki/WikiPedia.
Gene Wikipedia, 2006. Available from http://www.bioinformatics.org/genewiki/wiki.
Auer, S., Bizer, C., Kobilarov, G., Lehmann, J., Cyganiak, R., Ives, Z., 2007. DBpedia: A Nucleus for a Web of Open Data. Proc. 6th Int. Semantic Web Conf. and 2nd Asian Semantic Web Conf. (ISWC+ASWC 2007), Busan, Korea. p.722-735.
http://dx.doi.org/10.1007/978-3-540-76298-0_52
DBpedia, 2009. Available from http://dbpedia.org.
PubMed, 2009. Available from http://www.ncbi.nlm.nih.gov/pubmed.
RDF, 2004. Available from http://www.w3.org/RDF.
OWL, 2004. Available from http://www.w3.org/TR/owl-ref.
Ontology, 2002. Available from http://km.aifb.uni-karlsruhe.de/projects/owl/index.html
Ontoverse, 2005. Available from http://www.ontoverse.org.
Magpie, 2005. Available from http://projects.kmi.open.ac.uk/magpie/main.html.
Pathway, 2007. Available from http://pathway.screenager.be.
Gollum, 2009. Available from http://gollum.easycp.de/en.
Indywiki, 2008. Available from http://indywiki.sourceforge.net.
GoPubMed, 2009. Available from http://www.gopubmed.com.
Tao, G., Embley, D. W., 2007. Seed-Based Generation of Personalized Bio-ontologies for Information Extraction. In Proceedings of the Advances in Conceptual Modeling - Foundations and Applications, p.74-84.
http://dx.doi.org/10.1007/978-3-540-76292-8_9
Swoogle,2007. Available from http://swoogle.umbc.edu.
Sun, D., Park, S., Jung, H., 2009. Knowledge management using Wikipedia. Semantic Web Applications and Tools for Life Sciences, Proc. CEUR, Vol. 435, Edinburgh, United Kingdom.
Sun, D., 2009. Design and Implementation of a Wikipedia Browser using Semantic Web Technologies, master's thesis, Korea University, Korea.
Ahn, J., Jung, H., Kim, H., Sun, D., Park, S., 2008. A system for contextual search. Proc. IEEE Int. Workshop on Semantic Computing and Applications, p.96-98.
http://dx.doi.org/10.1109/iwsca.2008.20
Mainz, I., Weller, K., Paulsen, I., Mainz, D., Kohl, J., von Haeseler, A., 2008. Ontoverse: Collaborative Ontology Engineering for the Life Sciences. Informations-Wissenschaft und Praxis, Vol. 2, p.91-99.
Google, 2009. Available from http://www.google.com.
Groth, K., Lanner¨o, P., 2006. Context browser: ontology based navigation in information spaces. Proc. 1st Int. Conf. on information interaction in Context, IIiX: Vol. 176, p.75-78.
http://dx.doi.org/10.1145/1164820.1164837
Jung, H., Kim, H., Min, K., Park, S., 2009. The Ontology-based Web Navigation Guidance System. The Journal of Korean Association of Computer Education, Vol. 12(5).
Schroeder, M., Burger, A., Kostkova, P., Stevens, R., Habermann, B., Dieng-Kunts, R., 2006. Sealife: A Semantic Grid Browser for the Life Sciences Applied to the Study of Infectious Diseases. Vol. 120, p.167-178.
Bonomi, A., Mosca, A., Palmonari, M., Vizzari, G., 2008. Integrating a Wiki in an Ontology Driven Web Site: Approach, Architecture and Application in the Archaeological Domain. 3rd Semantic Wiki Workshop.
Bhagdev, R., Chapman, S., Ciravegna, F., Lanfranchi, V., Petrelli, D., 2008. Hybrid Search: Effectively Combining Keywords and Semantic Searches. Springer Berlin / Heidelberg, p.554- 568.
De Bra, P., Brusilovsky, P., Houben, G., 1999. Adaptive Hypermedia: From Systems to Framework. ACM Computing Surveys, Vol. 31(4).
http://dx.doi.org/10.1145/345966.345996
Velart, Z., Saloun, P., 2007. Ontology Based Course Navigation. Proc. 18th Conf. on Hypertext and Hypermedia, p.151 - 152.
http://dx.doi.org/10.1145/1286240.1286281
Sendhilkumar, S., Geetha, T. V., 2008. Personalized Ontology for Web Search Personalization. Annual Bangalore Compute Conference. Proc. 1st Bangalore Annual Compute Conf., p.1-7.
http://dx.doi.org/10.1145/1341771.1341790
DOI:
https://doi.org/10.15837/ijccc.2011.2.2183
Copyright (c) 2017 Dongeun Sun, Hyosook Jung, Chunsik Hwang, Heejin Kim, Seongbin Park

This work is licensed under a
Creative Commons Attribution-NonCommercial 4.0 International License
.
CC-BY-NC  License for Website User
Articles published in IJCCC user license are protected by copyright.
Users can access, download, copy, translate the IJCCC articles for non-commercial purposes provided that users, but cannot redistribute, display or adapt:
Cite the article using an appropriate bibliographic citation: author(s), article title, journal, volume, issue, page numbers, year of publication, DOI, and the link to the definitive published version on IJCCC website;
Maintain the integrity of the IJCCC article;
Retain the copyright notices and links to these terms and conditions so it is clear to other users what can and what cannot be done with the  article;
Ensure that, for any content in the IJCCC article that is identified as belonging to a third party, any re-use complies with the copyright policies of that third party;
Any translations must prominently display the statement: "This is an unofficial translation of an article that appeared in IJCCC. Agora University  has not endorsed this translation."
This is a non commercial license where the use of published articles for commercial purposes is forbiden. 
Commercial purposes include: 
Copying or downloading IJCCC articles, or linking to such postings, for further redistribution, sale or licensing, for a fee;
Copying, downloading or posting by a site or service that incorporates advertising with such content;
The inclusion or incorporation of article content in other works or services (other than normal quotations with an appropriate citation) that is then available for sale or licensing, for a fee;
Use of IJCCC articles or article content (other than normal quotations with appropriate citation) by for-profit organizations for promotional purposes, whether for a fee or otherwise;
Use for the purposes of monetary reward by means of sale, resale, license, loan, transfer or other form of commercial exploitation;


The licensor cannot revoke these freedoms as long as you follow the license terms.
[End of CC-BY-NC  License for Website User]
INTERNATIONAL JOURNAL OF COMPUTERS COMMUNICATIONS & CONTROL (IJCCC), With Emphasis on the Integration of Three Technologies (C & C & C),  ISSN 1841-9836.
IJCCC was founded in 2006,  at Agora University, by  Ioan DZITAC (Editor-in-Chief),  Florin Gheorghe FILIP (Editor-in-Chief), and  Misu-Jan MANOLESCU (Managing Editor).
Ethics: This journal is a member of, and subscribes to the principles of, the Committee on Publication Ethics (COPE).
Ioan  DZITAC (Editor-in-Chief) at COPE European Seminar, Bruxelles, 2015:
IJCCC is covered/indexed/abstracted in Science Citation Index Expanded (since vol.1(S),  2006); JCR2018: IF=1.585..
IJCCC is indexed in Scopus from 2008 (CiteScore2018 = 1.56):
Nomination by Elsevier for Journal Excellence Award Romania 2015 (SNIP2014 = 1.029): Elsevier/ Scopus
IJCCC was nominated by Elsevier for Journal Excellence Award - "Scopus Awards Romania 2015" (SNIP2014 = 1.029).
IJCCC is in Top 3 of 157 Romanian journals indexed by Scopus (in all fields) and No.1 in Computer Science field by Elsevier/ Scopus.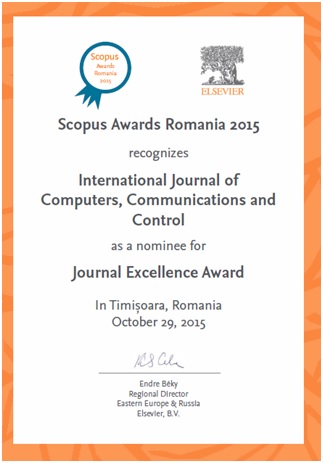 Impact Factor in JCR2018 (Clarivate Analytics/SCI Expanded/ISI Web of Science): IF=1.585 (Q3). Scopus: CiteScore2018=1.56 (Q2);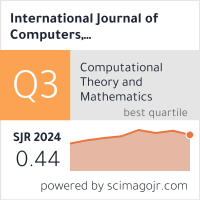 Editors-in-Chief: Ioan DZITAC & Florin Gheorghe FILIP.