Impact of Poor Requirement Engineering in Software Outsourcing: A Study on Software Developers' Experience
Abstract
The software Requirement Engineering (RE) is one of the most important and fundamental activities in the software life cycle. With the introduction of different software process paradigms, the Requirement Engineering appeared in different facets, yet remaining its significance without a doubt. The software development outsourcing is considered as a win-win situation for both developed and developing countries. High numbers of low paid, yet talented workforce in developing countries could be employed for software outsourcing projects with the demanding power of the outsourcer to decide the projects, their scope and priorities with the intention of profit maximization. This study was conducted to analyze the impact of poor Requirement Engineering in outsourced software projects from the developers' context (sample size n = 57). It was identified that the present outsourcing scenario has created to have frequent requirement changes, shrunk design and stretched development phases, and frequent deliverables, which have to be accommodated by the software developer with extra effort and commitment beyond the project norms. The results reveal important issues and open policy level discussions while questioning our insights on the outsourcing benefits as a whole.
Keywords
Requirement Engineering, Software Outsourcing, Project Management, Software Developer Productivity
References
R. E. Ahmed, Software Maintenance Outsourcing: Issues and Strategies. Computers and Electrical Engineering, Vol. 32(6), pp. 449-453, 2006.
http://dx.doi.org/10.1016/j.compeleceng.2006.01.023
G.I.U.S. Perera, M.S.D. Fernando, Enhanced Agile Software Development - Hybrid Paradigm with LEAN Practice, in Proc. of IEEE 2nd ICIIS conference , Peradeniya, pp.239-244, 2007
http://dx.doi.org/10.1109/iciinfs.2007.4579181
A. Fuggetta, Software process: a roadmap, in Proc. of the conference on The future of Software Engineering, ICSE, Limerick, p.25-34, 2000
W.S. Humphrey, Managing the Software Process, SEI, Pearson Education, India, pp.03, 2006
K.E. Wiegers, Software Requirements, 2nd Ed. Redmond, Wash, Microsoft Press, 2003
G.I.U.S. Perera, M.S.D. Fernando, Bridging the gap - Business and information systems: A roadmap, in Proc. of 4th ICBM conference, pp. 334-343, 2007
B. Nuseibeh, S. Easterbrook, "Requirement Engineering: A Roadmap", Proc. of the conference on The future of Software Engineering, 22nd ICSE, Limerick, p. 35-46, 2000
http://dx.doi.org/10.1145/336512.336523
P. Zave, Classification of Research Efforts in Requirements Engineering. ACM Computing Surveys, Vol. 29(4), pp. 315-321, 1997
http://dx.doi.org/10.1145/267580.267581
K. Beck, et. al., Manifesto for agile software development, 2001, available at http://agilemanifesto.org/, [accessed on 07th December 2008]
T.M. Rajkumar, R.V.S. Mani, Offshore Software Development. The View from Indian Suppliers, Information Systems Management, pp. 63-73, 2001
http://dx.doi.org/10.1201/1078/43195.18.2.20010301/31279.10
E. Carmel, Taxonomy of New Software Exporting Nations, Electronic Journal of Information Systems in Developing Countries, Vol. 13(2), p. 1-6, 2003
A. Yalaho, Plugging Into Offshore Outsourcing Of Software Development: A Multiple Case Study, Issues in Information Systems, Vol. 8(2), pp. 499-515, 2007
N. Levina, J.W. Ross, From the Vendor's Perspective: Exploring the Value Proposition in Information Technology Outsourcing, MIS Quarterly, Vol. 27(3), pp. 331-365, 2003
C. T. Coward, Looking Beyond India: Factors that Shape the Global Outsourcing Decisions of Small and Medium Sized Companies in America, Electronic Journal of Information Systems in Developing Countries, Vol. 13(11), pp. 1-12, 2003
E. Carmel, R. Agarwal, Tactical Approaches for Alleviating Distance in Global Software Development, IEEE Software, Vol. 18(2), pp. 22-29, 2001
http://dx.doi.org/10.1109/52.914734
K. Molřkken, M. Jřrgensen, A Review of Surveys on Software Effort Estimation. In Proc. of the International Symposium on Empirical Software Engineering, pp. 223-231, 2003
http://dx.doi.org/10.1109/isese.2003.1237981
I. Perera, Impact of using agile practice for student software projects in computer science education, International Journal of Education and Development using Information and Communication Technology, Vol. 5(3), Online [http://ijedict.dec.uwi.edu/viewarticle.php?id=755], 2009
G.I.U.S. Perera, Fernando M.S.D., Rapid Decision Making for Post Architectural Changes in Agile Development - A Guide to Reduce Uncertainty, International Journal of Information Technology and Knowledge Management, Vol. 2(2), In Press, 2009
G.I.U.S. Perera, "Key Success Factors for e-Learning Acceptability: A Case Based Analysis on Blended Learning End-User Experience", In Proc. of IEEE International Advance Computing Conference, IACC'09, pp. 2379-2384, 2009
I. Perera, Reshaping the Computation with Clouds: an Analysis on Opportunities and Issues of Cloud Computing, Journal of Advances in Computational Sciences and Technology, 2(3), pp.305-324, 2009
DOI:
https://doi.org/10.15837/ijccc.2011.2.2182
Copyright (c) 2017 Indika Perera

This work is licensed under a
Creative Commons Attribution-NonCommercial 4.0 International License
.
CC-BY-NC  License for Website User
Articles published in IJCCC user license are protected by copyright.
Users can access, download, copy, translate the IJCCC articles for non-commercial purposes provided that users, but cannot redistribute, display or adapt:
Cite the article using an appropriate bibliographic citation: author(s), article title, journal, volume, issue, page numbers, year of publication, DOI, and the link to the definitive published version on IJCCC website;
Maintain the integrity of the IJCCC article;
Retain the copyright notices and links to these terms and conditions so it is clear to other users what can and what cannot be done with the  article;
Ensure that, for any content in the IJCCC article that is identified as belonging to a third party, any re-use complies with the copyright policies of that third party;
Any translations must prominently display the statement: "This is an unofficial translation of an article that appeared in IJCCC. Agora University  has not endorsed this translation."
This is a non commercial license where the use of published articles for commercial purposes is forbiden. 
Commercial purposes include: 
Copying or downloading IJCCC articles, or linking to such postings, for further redistribution, sale or licensing, for a fee;
Copying, downloading or posting by a site or service that incorporates advertising with such content;
The inclusion or incorporation of article content in other works or services (other than normal quotations with an appropriate citation) that is then available for sale or licensing, for a fee;
Use of IJCCC articles or article content (other than normal quotations with appropriate citation) by for-profit organizations for promotional purposes, whether for a fee or otherwise;
Use for the purposes of monetary reward by means of sale, resale, license, loan, transfer or other form of commercial exploitation;


The licensor cannot revoke these freedoms as long as you follow the license terms.
[End of CC-BY-NC  License for Website User]
INTERNATIONAL JOURNAL OF COMPUTERS COMMUNICATIONS & CONTROL (IJCCC), With Emphasis on the Integration of Three Technologies (C & C & C),  ISSN 1841-9836.
IJCCC was founded in 2006,  at Agora University, by  Ioan DZITAC (Editor-in-Chief),  Florin Gheorghe FILIP (Editor-in-Chief), and  Misu-Jan MANOLESCU (Managing Editor).
Ethics: This journal is a member of, and subscribes to the principles of, the Committee on Publication Ethics (COPE).
Ioan  DZITAC (Editor-in-Chief) at COPE European Seminar, Bruxelles, 2015:
IJCCC is covered/indexed/abstracted in Science Citation Index Expanded (since vol.1(S),  2006); JCR2018: IF=1.585..
IJCCC is indexed in Scopus from 2008 (CiteScore2018 = 1.56):
Nomination by Elsevier for Journal Excellence Award Romania 2015 (SNIP2014 = 1.029): Elsevier/ Scopus
IJCCC was nominated by Elsevier for Journal Excellence Award - "Scopus Awards Romania 2015" (SNIP2014 = 1.029).
IJCCC is in Top 3 of 157 Romanian journals indexed by Scopus (in all fields) and No.1 in Computer Science field by Elsevier/ Scopus.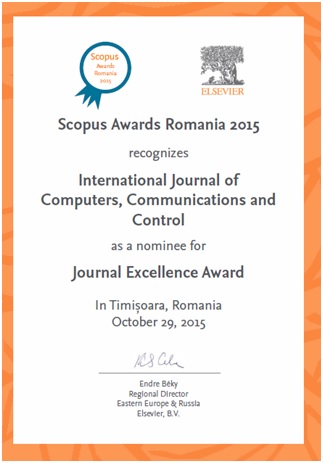 Impact Factor in JCR2018 (Clarivate Analytics/SCI Expanded/ISI Web of Science): IF=1.585 (Q3). Scopus: CiteScore2018=1.56 (Q2);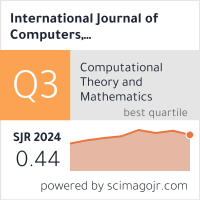 Editors-in-Chief: Ioan DZITAC & Florin Gheorghe FILIP.