An Authenticated Key Agreement Protocol Using Isogenies Between Elliptic Curves
Abstract
All the current public-key cryptosystems will become insecure when size of a quantum register is sufficient. An authenticated key agreement protocol, which is against the attack of quantum computer, is proposed. The proposed protocol can provide the security properties known session key security, forward security, resistance to key-compromise impersonation attack and to unknown key-share attack, key control. We also prove its security in a widely accepted model.
Keywords
public-key cryptosystem; quantum computer; isogeny; elliptic curve; key agreement protocol
References
W. Diffie and M. Hellman, New directions in cryptography, IEEE Trans. Info. TH, vol. 22, pp.644-654, 1976.
http://dx.doi.org/10.1109/TIT.1976.1055638
Boneh D., Lipton R. Quantum cryptanalysis of hidden linear functions. Proceedings of the 15th Annual International Cryptology Conference on Advances in Cryptology (LNCS 963), 1995:424-437.
http://dx.doi.org/10.1007/3-540-44750-4_34
Rostovtesv A. and Stolbunov A., Public-key cryptosystem based on isogenies. Cryptology ePrint Archive, Report 2006/145, 2006. http://eprint.iacr.org/.
Couveignes J. M., Dewaghe L., Morain F. Isogeny cycles and the schoof-elkies-atkin algorithm. Ecole polytechnique, France, 1996.
Elkies N., Elliptic and modular curves over finite fields and related computational issues, Proceedings of a Conference in Honor of A.O.L. Atkin, AMS International Press, 1998, pp.21- 76.
Muller V., Ein Algorithmus zur Bestimmung der Punktanzahl elliptisher Kurven uber endlichen Korpern der Charakteristik groser drei, 1995. http://www.informatik.tudarmstadt. de/ti/forschung/ecc.
F.Morain, E.Schost, Fast Algorithms for Computing Isogenies between Elliptic Curves. http://www.lix.polytechnique.fr/ morain/jcomp.pdf, 2006.
S. Galbraith. Constructing isogenies between elliptic curves over finite fields, Journal of Computational Mathematics, vol. 2, pp.118-138, 1999.
http://dx.doi.org/10.1112/s1461157000000097
S. Blake-Wilson, D. Johnson and A. Menezes, Key Agreement Protocols and Their Security Analysis, Proceedings of Sixth IMA International Conference on Cryptography and Coding, Cirencester, UK, 1997, pp. 30-45.
http://dx.doi.org/10.1007/bfb0024447
H. Pan, J.-F. Li, Q.-S. Zheng, A Provable-Security Mutual Authenticated Key Agreement Protocol for Mobile Communication, The 4th International Conference on Wireless Communications, Networking and Mobile Computing, 2008, pp.1-4.
DOI:
https://doi.org/10.15837/ijccc.2011.2.2174
Copyright (c) 2017 Debiao He, Jianhua Chen, Jin Hu

This work is licensed under a
Creative Commons Attribution-NonCommercial 4.0 International License
.
IJCCC is an Open Access Journal : CC-BY-NC.
Articles published in IJCCC user license are protected by copyright.
Users can access, download, copy, translate the IJCCC articles for non-commercial purposes provided that users, but cannot redistribute, display or adapt:
Cite the article using an appropriate bibliographic citation: author(s), article title, journal, volume, issue, page numbers, year of publication, DOI, and the link to the definitive published version on IJCCC website;
Maintain the integrity of the IJCCC article;
Retain the copyright notices and links to these terms and conditions so it is clear to other users what can and what cannot be done with the  article;
Ensure that, for any content in the IJCCC article that is identified as belonging to a third party, any re-use complies with the copyright policies of that third party;
Any translations must prominently display the statement: "This is an unofficial translation of an article that appeared in IJCCC. Agora University  has not endorsed this translation."
This is a non commercial license where the use of published articles for commercial purposes is forbiden. 
Commercial purposes include: 
Copying or downloading IJCCC articles, or linking to such postings, for further redistribution, sale or licensing, for a fee;
Copying, downloading or posting by a site or service that incorporates advertising with such content;
The inclusion or incorporation of article content in other works or services (other than normal quotations with an appropriate citation) that is then available for sale or licensing, for a fee;
Use of IJCCC articles or article content (other than normal quotations with appropriate citation) by for-profit organizations for promotional purposes, whether for a fee or otherwise;
Use for the purposes of monetary reward by means of sale, resale, license, loan, transfer or other form of commercial exploitation;


The licensor cannot revoke these freedoms as long as you follow the license terms.
[End of CC-BY-NC  License for Website User]
INTERNATIONAL JOURNAL OF COMPUTERS COMMUNICATIONS & CONTROL (IJCCC), With Emphasis on the Integration of Three Technologies (C & C & C),  ISSN 1841-9836.
IJCCC was founded in 2006,  at Agora University, by  Ioan DZITAC (Editor-in-Chief),  Florin Gheorghe FILIP (Editor-in-Chief), and  Misu-Jan MANOLESCU (Managing Editor).
Ethics: This journal is a member of, and subscribes to the principles of, the Committee on Publication Ethics (COPE).
Ioan  DZITAC (Editor-in-Chief) at COPE European Seminar, Bruxelles, 2015:
IJCCC is covered/indexed/abstracted in Science Citation Index Expanded (since vol.1(S),  2006); JCR2018: IF=1.585..
IJCCC is indexed in Scopus from 2008 (CiteScore2018 = 1.56):
Nomination by Elsevier for Journal Excellence Award Romania 2015 (SNIP2014 = 1.029): Elsevier/ Scopus
IJCCC was nominated by Elsevier for Journal Excellence Award - "Scopus Awards Romania 2015" (SNIP2014 = 1.029).
IJCCC is in Top 3 of 157 Romanian journals indexed by Scopus (in all fields) and No.1 in Computer Science field by Elsevier/ Scopus.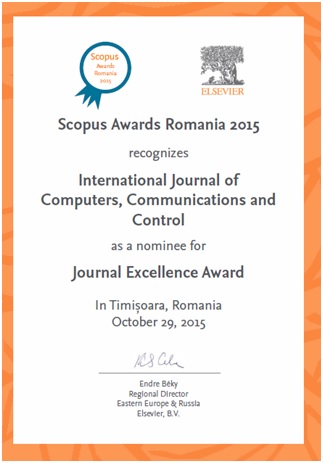 Impact Factor in JCR2018 (Clarivate Analytics/SCI Expanded/ISI Web of Science): IF=1.585 (Q3). Scopus: CiteScore2018=1.56 (Q2);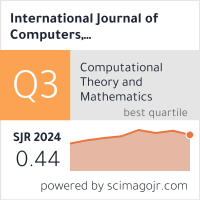 Editors-in-Chief: Ioan DZITAC & Florin Gheorghe FILIP.