An Improved Computational Model for Adaptive Communication Channel Estimation
Abstract
Channel estimation is an important and necessary function performed by modern wireless receivers. The goal of channel estimation is to measure the effects of the channel on known or partially known transmission. The usual practice in acquiring knowledge about a channel is to model the channel and then acquire the parameters involved in the model. This paper proposes a variable partial update model for adaptive communication channel estimation with a view to improving signal error at the receiver station. The proposed model is composed of finite impulse response transversal adaptive filter and least mean square adaptation algorithm. The performance of the proposed model was compared with the full update model. The evaluation results indicated that the proposed model performed better than the full update model in terms of computational complexity, memory load, and convergence rate.
Keywords
Adaptation algorithm, Computational complexity, Memory load, convergence rate, Partial update
References
C. S. Douglas, and W. Pan, Exact Expectation Analysis of the LMS Adaptive Filter, IEEE Transaction on Signal Processing, 43(12),2863-2871, 1995.
http://dx.doi.org/10.1109/78.476430
M. Godavarti and A. O. Hero, Analysis of the Sequential Partial Update LMS Algorithm, Proceedings of IEEE International Conference on Acoustics, Speech, and Signal Processing,pp. 3857-3860, 2001.
http://dx.doi.org/10.1109/icassp.2001.940685
S. Mullins and C. Heneghan, Alternative Least Mean Square Adaptive Filter Architectures for Implementation on Field Programmable Gate Arrays, Department of Electronic and Electrical Engineering, University College Dublin available at http://195.134.67.70/eurasip/proceedings/eusipco/2002/articles/paper389.pdf, 2002.
S. Singh, R.K. Bansal, and S. Bansal, Improved Channel Estimation with Auto-Regressive Prewhitening Techniques for Color Inputs, International Conference on Next generation Communication System: ICONGENCOM-06, pp. 9-14, 2006.
Y. Li and W. Xinan, A Modified VS LMS Algorithm, IEEE Transaction on Signal Processing, Vol. 2, No. 5, 615-618, 2005.
S. Diggavi, B. Chong, and A. Paulraj, An Interference Suppression Scheme with Joint Channel Data Estimation, IEEE Journal on Communication, Vol. 17, No.11,465-469, 1998.
J. Sanubari, Fast Convergence LMS Adaptive Filters Employing FuzzyPartial Updates, IEEE Transaction on Signal Processing, Vol. 4, pp. 1334-1337, 2003.
S. Jo, J. Choi and Y. Lee, Modified Leaky LMS Algorithm for Channel Estimation in DSCDMA System, IEEE Communications Letters, Vol. 6, No 5, 202-204 2002.
http://dx.doi.org/10.1109/4234.1001664
M. Gadhiok, Channel Estimation for Fast Fading Environment, IEEE Transaction on Signal Processing, Vol. 19, pp. 14-22, 2004.
K. Egiazarian, P. Kuosmanen, and R. C. Bilcu, Variable Step Size LMS Adaptive Filters for CDMA Multiuser Detection, Vol.17 pp. 259-264, 2004.
R. Bilcu, P. Kuosmanen and C. Rusu, A Novel Complementary Variable Step LMS Algorithm, IEEE Transaction on Signal Processing, Vol. 23 pp. 13-19, 2000.
V. Debrunner and D. Zhou, Hybrid Filtered Error LMS Algorithm: Another Alternative to Filtered-x LMS, IEEE Transactions on Circuit and System, Vol. 53, No. 3,pp.653-661, 2006.
http://dx.doi.org/10.1109/TCSI.2005.859574
DOI:
https://doi.org/10.15837/ijccc.2011.2.2167
Copyright (c) 2017 S.A. Akinboro, O.M Olaniyan, G.A. Aderounmu, E.A. Olajubu, A.O. Ajayi, I.K. Ogundoyin

This work is licensed under a
Creative Commons Attribution-NonCommercial 4.0 International License
.
CC-BY-NC  License for Website User
Articles published in IJCCC user license are protected by copyright.
Users can access, download, copy, translate the IJCCC articles for non-commercial purposes provided that users, but cannot redistribute, display or adapt:
Cite the article using an appropriate bibliographic citation: author(s), article title, journal, volume, issue, page numbers, year of publication, DOI, and the link to the definitive published version on IJCCC website;
Maintain the integrity of the IJCCC article;
Retain the copyright notices and links to these terms and conditions so it is clear to other users what can and what cannot be done with the  article;
Ensure that, for any content in the IJCCC article that is identified as belonging to a third party, any re-use complies with the copyright policies of that third party;
Any translations must prominently display the statement: "This is an unofficial translation of an article that appeared in IJCCC. Agora University  has not endorsed this translation."
This is a non commercial license where the use of published articles for commercial purposes is forbiden. 
Commercial purposes include: 
Copying or downloading IJCCC articles, or linking to such postings, for further redistribution, sale or licensing, for a fee;
Copying, downloading or posting by a site or service that incorporates advertising with such content;
The inclusion or incorporation of article content in other works or services (other than normal quotations with an appropriate citation) that is then available for sale or licensing, for a fee;
Use of IJCCC articles or article content (other than normal quotations with appropriate citation) by for-profit organizations for promotional purposes, whether for a fee or otherwise;
Use for the purposes of monetary reward by means of sale, resale, license, loan, transfer or other form of commercial exploitation;


The licensor cannot revoke these freedoms as long as you follow the license terms.
[End of CC-BY-NC  License for Website User]
INTERNATIONAL JOURNAL OF COMPUTERS COMMUNICATIONS & CONTROL (IJCCC), With Emphasis on the Integration of Three Technologies (C & C & C),  ISSN 1841-9836.
IJCCC was founded in 2006,  at Agora University, by  Ioan DZITAC (Editor-in-Chief),  Florin Gheorghe FILIP (Editor-in-Chief), and  Misu-Jan MANOLESCU (Managing Editor).
Ethics: This journal is a member of, and subscribes to the principles of, the Committee on Publication Ethics (COPE).
Ioan  DZITAC (Editor-in-Chief) at COPE European Seminar, Bruxelles, 2015:
IJCCC is covered/indexed/abstracted in Science Citation Index Expanded (since vol.1(S),  2006); JCR2018: IF=1.585..
IJCCC is indexed in Scopus from 2008 (CiteScore2018 = 1.56):
Nomination by Elsevier for Journal Excellence Award Romania 2015 (SNIP2014 = 1.029): Elsevier/ Scopus
IJCCC was nominated by Elsevier for Journal Excellence Award - "Scopus Awards Romania 2015" (SNIP2014 = 1.029).
IJCCC is in Top 3 of 157 Romanian journals indexed by Scopus (in all fields) and No.1 in Computer Science field by Elsevier/ Scopus.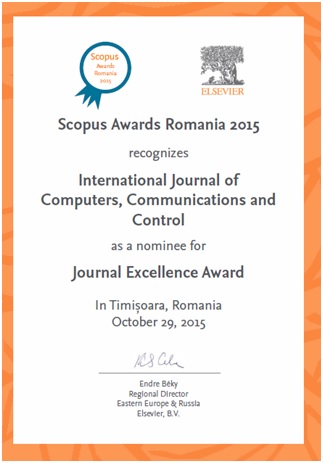 Impact Factor in JCR2018 (Clarivate Analytics/SCI Expanded/ISI Web of Science): IF=1.585 (Q3). Scopus: CiteScore2018=1.56 (Q2);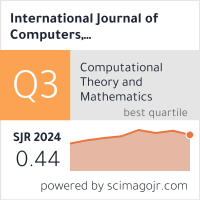 Editors-in-Chief: Ioan DZITAC & Florin Gheorghe FILIP.