System Selection and Performance Evaluation for Manufacturing Company's ERP Adoption
Abstract
Enterprise Resource Planning (ERP) system is an important investment for manufacturing companies that can affect their competitive advantages and operational performance. However, the implementation of ERP can be a complicated process, where many strategic decisions have to be made. We focus on two critical decisions in ERP implementation: (1) ERP system selection, and (2) ERP operational performance evaluation. For the former, we use Analytic Hierarchy Process (AHP) to design the key performance indicator (KPI) system. For the later, we combine AHP and Fuzzy Integrated Evaluation (FIE) methods to effectively evaluate the implementation of ERP. We use a typical industrial example and data analysis to illustrate our framework.
Keywords
ERP system selection, ERP performance evaluation, analytic hierarchy process, fuzzy integrated evaluation, manufacturing companies
References
Borne P., Popescu D., Filip F. G., Stefanoiu D., Dubuisson B.(2013); Optimization in Engineering Sciences: Exact Methods, John Wiley & Sons, Inc., Hoboken, NJ, USA, 2013.
Elisabeth J. U., Ronald R. H., Umble M. M. (2003); Enterprise resource planning: Implementation procedures and critical success factors, European Journal of Operation Research, 146, 241-257, 2003. https://doi.org/10.1016/S0377-2217(02)00547-7
Filip, F. G. (2011); Designing and building modern information systems; A series of decisions to be made, Computer Science Journal of Moldova, 19(2), 119-129, 2011.
Filip F. G. (2014); A decision-making perspective for designing and building information systems, International Journal of Computers Communications & Control, 7(2), 264-272, 2014. https://doi.org/10.15837/ijccc.2012.2.1408
Lai V.S., Wong B.K., Cheung W. (2002); Group decision making in a multiple criteria environment: A case using the AHP in software selection. European Journal of Operational Research, 137(1), 134-144, 2002. https://doi.org/10.1016/s0377-2217(01)00084-4
Moriso M., Tsoukias A. (1997); JusWare: A methology for evaluation and selection of software roducts, IEE Proc-Softw. Eng., 144(2), 162-174, 1997.
Nicolaou A. I. (2014); Firm performance effects in relation to the implementation and use of enterprise resource planning systems. J Information System, 18, 79-105, 2014. https://doi.org/10.2308/jis.2004.18.2.79
O'Leary D. (2000); Enterprise resource planning system: system, life cycle, electronic commerce and risk. New York: Cambridge University Press, 2000. https://doi.org/10.1017/CBO9780511805936
Panorama Consulting (2014); The 2014 Manufacturing ERP Report. http://panoramaconsulting. com/resource-center/erp-industry-reports/
Panorama Consulting (2014); A Panorama Consulting Solution 204 ERP Research Report. http://Panorama-Consulting.com/resource-center/2014-erp-report/.
Poston R., Grabski S. (2001); Financial impacts of enterprise resource planning implementation. Int J Account Inf Syst, 2(4), 271-94, 2001. https://doi.org/10.1016/s1467-0895(01)00024-0
Saaty T. L. (1979); Application of analytical hierarchies, Mathematics and Computers in Simulation, 21(1), 1-20, 1979. https://doi.org/10.1016/0378-4754(79)90101-0
Shang, S., Seddon, P. (2002); Assessing and managing the benefits of enterprise system: the business manager's perspective. Information System Journal, 20(12), 271-299, 2002. https://doi.org/10.1046/j.1365-2575.2002.00132.x
Siriginidi S.R. (2000);
Enterprise resource planning in re-engineering business. Business Process Management Journal, 6(5), 376-391, 2000. https://doi.org/10.1108/14637150010352390
Teltumbde A. (2000); A framework of evaluating ERP projects. International Journal of Prodcution Research, 27(8), 12-16, 2000. https://doi.org/10.1080/00207540050205262
Wang Y., Niu B., Guo P. (2013); On the advantage of quantity leadership when outsourcing production to a competitive contract manufacturer. Production and Operations Management, 22 (1), 104-119, 2013. https://doi.org/10.1111/j.1937-5956.2012.01336.x
http://www.technologyevaluation.com/products-and-services/our-proven-approach/
Zadeh L.A. (1999); Fuzzy logic and the calculi of fuzzy rules, fuzzy graphs, and fuzzy probabilities. Computers & Mathematics with Applications, 37(11-12), 35, 1999. https://doi.org/10.1016/s0898-1221(99)00140-6
DOI:
https://doi.org/10.15837/ijccc.2017.3.2062
Copyright (c) 2017 Baozhuang Niu, Kanglin Chen, Huizhong Huang, Yuan Li, Lei Chen

This work is licensed under a
Creative Commons Attribution-NonCommercial 4.0 International License
.
CC-BY-NC  License for Website User
Articles published in IJCCC user license are protected by copyright.
Users can access, download, copy, translate the IJCCC articles for non-commercial purposes provided that users, but cannot redistribute, display or adapt:
Cite the article using an appropriate bibliographic citation: author(s), article title, journal, volume, issue, page numbers, year of publication, DOI, and the link to the definitive published version on IJCCC website;
Maintain the integrity of the IJCCC article;
Retain the copyright notices and links to these terms and conditions so it is clear to other users what can and what cannot be done with the  article;
Ensure that, for any content in the IJCCC article that is identified as belonging to a third party, any re-use complies with the copyright policies of that third party;
Any translations must prominently display the statement: "This is an unofficial translation of an article that appeared in IJCCC. Agora University  has not endorsed this translation."
This is a non commercial license where the use of published articles for commercial purposes is forbiden. 
Commercial purposes include: 
Copying or downloading IJCCC articles, or linking to such postings, for further redistribution, sale or licensing, for a fee;
Copying, downloading or posting by a site or service that incorporates advertising with such content;
The inclusion or incorporation of article content in other works or services (other than normal quotations with an appropriate citation) that is then available for sale or licensing, for a fee;
Use of IJCCC articles or article content (other than normal quotations with appropriate citation) by for-profit organizations for promotional purposes, whether for a fee or otherwise;
Use for the purposes of monetary reward by means of sale, resale, license, loan, transfer or other form of commercial exploitation;


The licensor cannot revoke these freedoms as long as you follow the license terms.
[End of CC-BY-NC  License for Website User]
INTERNATIONAL JOURNAL OF COMPUTERS COMMUNICATIONS & CONTROL (IJCCC), With Emphasis on the Integration of Three Technologies (C & C & C),  ISSN 1841-9836.
IJCCC was founded in 2006,  at Agora University, by  Ioan DZITAC (Editor-in-Chief),  Florin Gheorghe FILIP (Editor-in-Chief), and  Misu-Jan MANOLESCU (Managing Editor).
Ethics: This journal is a member of, and subscribes to the principles of, the Committee on Publication Ethics (COPE).
Ioan  DZITAC (Editor-in-Chief) at COPE European Seminar, Bruxelles, 2015:
IJCCC is covered/indexed/abstracted in Science Citation Index Expanded (since vol.1(S),  2006); JCR2018: IF=1.585..
IJCCC is indexed in Scopus from 2008 (CiteScore2018 = 1.56):
Nomination by Elsevier for Journal Excellence Award Romania 2015 (SNIP2014 = 1.029): Elsevier/ Scopus
IJCCC was nominated by Elsevier for Journal Excellence Award - "Scopus Awards Romania 2015" (SNIP2014 = 1.029).
IJCCC is in Top 3 of 157 Romanian journals indexed by Scopus (in all fields) and No.1 in Computer Science field by Elsevier/ Scopus.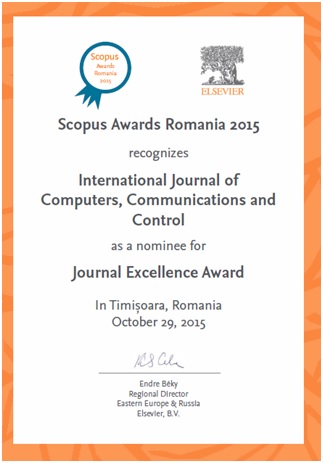 Impact Factor in JCR2018 (Clarivate Analytics/SCI Expanded/ISI Web of Science): IF=1.585 (Q3). Scopus: CiteScore2018=1.56 (Q2);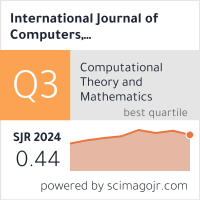 Editors-in-Chief: Ioan DZITAC & Florin Gheorghe FILIP.