Modeling Mobile Cellular Networks Based on Social Characteristics
Abstract
Social characteristics have become an important aspect of cellular systems, particularly in next generation networks where cells are miniaturised and social effects can have considerable impacts on network operations. Traffic load demonstrates strong spatial and temporal fluctuations caused by users social activities. In this article, we introduce a new modelling method which integrates the social aspects of individual cells in modelling cellular networks. In the new method, entropy based social characteristics and time sequences of traffic fluctuations are defined as key measures, and jointly evaluated. Spectral clustering techniques can be extended and applied to categorise cells based on these key parameters. Based on the social characteristics respectively, we implement multi-dimensional clustering technologies, and categorize the base stations. Experimental studies are carried out to validate our proposed model, and the effectiveness of the model is confirmed through the consistency between measurements and model. In practice, our modelling method can be used for network planning and parameter dimensioning to facilitate cellular network design, deployments and operations.
Keywords
social characteristics, mobile networks, spectral clustering, energy efficiency, traffic model
References
Index, Cisco Visual Networking (2014), Global mobile data traffic forecast update, White Paper, February, 2013-2018.
P. Zerfos, X. Meng, S. HY Wong, V. Samanta, S. Lu (2006), A study of the short message service of a nationwide cellular network, Proc. of the 6th ACM SIGCOMM conference on Internet measurement, 263-268.
http://dx.doi.org/10.1145/1177080.1177114
D. Willkomm, S. Machiraju, J. Bolot, A. Wolisz (2008), Primary users in cellular networks: A large-scale measurement study, New frontiers in dynamic spectrum access networks, 2008. DySPAN 2008. 3rd IEEE symposium on, 1-11.
A. Klemm, C. Lindemann, M. Lohmann (2001), Traffic modeling and characterization for UMTS networks, Global Telecommunications Conference, 2001. GLOBECOM'01. IEEE, 3: 1741-1746.
Y. Zhang, A. Årvidsson (2012), Understanding the characteristics of cellular data traffic, ACM SIGCOMM Computer Communication Review, 42(4): 461-466.
http://dx.doi.org/10.1145/2377677.2377764
U. Paul, A. P. Subramanian, M. M. Buddhikot, S. R. Das (2011), Understanding traffic dynamics in cellular data networks, INFOCOM, 2011 Proceedings IEEE, 882-890.
D. Lee, S. Zhou, X. Zhong, Z. Niu, X. Zhou, H. Zhang (2014), Spatial modeling of the traffic density in cellular networks, Wireless Communications, IEEE, 21(1): 80-88. 80-88.
M. C. González, C. A. Hidalgo, A. Barabási (2008), Understanding individual human mobility patterns, Nature, 453(7196): 779-782.
http://dx.doi.org/10.1038/nature06958
C. Song, Z. Qu, N. Blumm, A. Barabási (2010), Limits of predictability in human mobility, Science, 327(5968): 1018-1021.
http://dx.doi.org/10.1126/science.1177170
X. Zhang, Y. Zhang, R. Yu, W. Wang, M. Guizani (2014), Enhancing spectral-energy efficiency forLTE-advanced heterogeneous networks: a users social pattern perspective, Wireless Communications, IEEE, 21(2): 10-17.
http://dx.doi.org/10.1109/MWC.2014.6812286
Y. Huang, X. Zhang, J. Zhang, J. Tang, Z. Su, W. Wang (2014), Energy Efficient Design in Heterogeneous Cellular Networks Based on Large-Scale User Behavior Constraints, IEEE Transactions on Wireless Communications, 13(9): 4746-4757.
http://dx.doi.org/10.1109/TWC.2014.2330334
D. Hu, B. Huang, L. Tu, S. Chen (2015), Understanding Social Characteristic from Spatial Proximity in Mobile Social Network, International Journal of Computers Communications & Control, 10(4): 539-550.
http://dx.doi.org/10.15837/ijccc.2015.4.1991
Z. Qiao, P. Zhang, Y. Cao, C. Zhou, L. Guo, B. Fang (2014), Combining Heterogenous Social and Geographical Information for Event Recommendation, The Twenty-eighth AAAI Conference.
I. Trestian, S. Ranjan, A. Kuzmanovic, A. Nucci (2009), Measuring serendipity: connecting people, locations and interests in a mobile 3G network, Proceedings of the 9th ACM SIGCOMM conference on Internet measurement conference, 2009: 267–279.
http://dx.doi.org/10.1145/1644893.1644926
U. Von Luxburg (2007), A tutorial on spectral clustering, Statistics and computing, 17(4): 395-416.
http://dx.doi.org/10.1007/s11222-007-9033-z
J. Shi, J. Malik (2000), Normalized cuts and image segmentation, IEEE Transactions on Pattern Analysis and Machine Intelligence, 22(8): 888-905.
http://dx.doi.org/10.1109/34.868688
A. Y. Ng, M. I. Jordan, Y. Weiss (2002), On spectral clustering: Analysis and an algorithm, Advances in neural information processing systems, 2: 849-856.
J. A. Hartigan, M. A. Wong (1979), Algorithm AS 136: A k-means clustering algorithm, Applied statistics, 100-108.
http://dx.doi.org/10.2307/2346830
M. Greenacre (2010), Chapter 6 Measures of distance and correlation between variables, Correspondence analysis in practice.
L. Suarez, L. Nuaymi, J. Bonnin (2012), An overview and classification of research approaches in green wireless networks, EURASIP Journal on Wireless Communications and Networking, 142, DOI: 10.1186/1687-1499-2012-142.
http://dx.doi.org/10.1186/1687-1499-2012-142
X. Feng, et al. (2015), Feedback analysis of interaction between urban densities and travel mode split, International Journal of Simulation Modelling, 14(2): 349-358.
http://dx.doi.org/10.2507/IJSIMM14(2)CO9
X. Deng, et al. (2013), A social similarity-aware multicast routing protocol in delay tolerant networks, International Journal of Simulation and Process Modelling, 8(4):248-256.
http://dx.doi.org/10.1504/IJSPM.2013.059428
M. A. Piera, R. Buil, M. M. Mota (2014), Specification of CPN models into MAS platform for the modelling of social policy issues: FUPOL project, International Journal of Simulation and Process Modelling, 9(3):195-203.
http://dx.doi.org/10.1504/IJSPM.2014.064389
DOI:
https://doi.org/10.15837/ijccc.2016.4.2054
Copyright (c) 2017 Ji Ma, Wei Ni, Jie Yin, Ren Ping Liu, Yuyu Yuan, Binxing Fang

This work is licensed under a
Creative Commons Attribution-NonCommercial 4.0 International License
.
IJCCC is an Open Access Journal : CC-BY-NC.
Articles published in IJCCC user license are protected by copyright.
Users can access, download, copy, translate the IJCCC articles for non-commercial purposes provided that users, but cannot redistribute, display or adapt:
Cite the article using an appropriate bibliographic citation: author(s), article title, journal, volume, issue, page numbers, year of publication, DOI, and the link to the definitive published version on IJCCC website;
Maintain the integrity of the IJCCC article;
Retain the copyright notices and links to these terms and conditions so it is clear to other users what can and what cannot be done with the  article;
Ensure that, for any content in the IJCCC article that is identified as belonging to a third party, any re-use complies with the copyright policies of that third party;
Any translations must prominently display the statement: "This is an unofficial translation of an article that appeared in IJCCC. Agora University  has not endorsed this translation."
This is a non commercial license where the use of published articles for commercial purposes is forbiden. 
Commercial purposes include: 
Copying or downloading IJCCC articles, or linking to such postings, for further redistribution, sale or licensing, for a fee;
Copying, downloading or posting by a site or service that incorporates advertising with such content;
The inclusion or incorporation of article content in other works or services (other than normal quotations with an appropriate citation) that is then available for sale or licensing, for a fee;
Use of IJCCC articles or article content (other than normal quotations with appropriate citation) by for-profit organizations for promotional purposes, whether for a fee or otherwise;
Use for the purposes of monetary reward by means of sale, resale, license, loan, transfer or other form of commercial exploitation;


The licensor cannot revoke these freedoms as long as you follow the license terms.
[End of CC-BY-NC  License for Website User]
INTERNATIONAL JOURNAL OF COMPUTERS COMMUNICATIONS & CONTROL (IJCCC), With Emphasis on the Integration of Three Technologies (C & C & C),  ISSN 1841-9836.
IJCCC was founded in 2006,  at Agora University, by  Ioan DZITAC (Editor-in-Chief),  Florin Gheorghe FILIP (Editor-in-Chief), and  Misu-Jan MANOLESCU (Managing Editor).
Ethics: This journal is a member of, and subscribes to the principles of, the Committee on Publication Ethics (COPE).
Ioan  DZITAC (Editor-in-Chief) at COPE European Seminar, Bruxelles, 2015:
IJCCC is covered/indexed/abstracted in Science Citation Index Expanded (since vol.1(S),  2006); JCR2018: IF=1.585..
IJCCC is indexed in Scopus from 2008 (CiteScore2018 = 1.56):
Nomination by Elsevier for Journal Excellence Award Romania 2015 (SNIP2014 = 1.029): Elsevier/ Scopus
IJCCC was nominated by Elsevier for Journal Excellence Award - "Scopus Awards Romania 2015" (SNIP2014 = 1.029).
IJCCC is in Top 3 of 157 Romanian journals indexed by Scopus (in all fields) and No.1 in Computer Science field by Elsevier/ Scopus.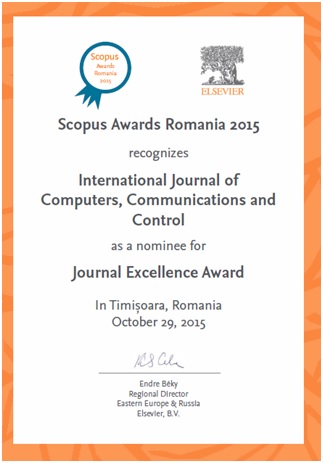 Impact Factor in JCR2018 (Clarivate Analytics/SCI Expanded/ISI Web of Science): IF=1.585 (Q3). Scopus: CiteScore2018=1.56 (Q2);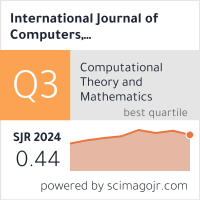 Editors-in-Chief: Ioan DZITAC & Florin Gheorghe FILIP.