A Modified Membrane-Inspired Algorithm Based on Particle Swarm Optimization for Mobile Robot Path Planning
Abstract
To solve the multi-objective mobile robot path planning in a dangerous environment with dynamic obstacles, this paper proposes a modified membraneinspired algorithm based on particle swarm optimization (mMPSO), which combines membrane systems with particle swarm optimization. In mMPSO, a dynamic double one-level membrane structure is introduced to arrange the particles with various dimensions and perform the communications between particles in different membranes; a point repair algorithm is presented to change an infeasible path into a feasible path; a smoothness algorithm is proposed to remove the redundant information of a feasible path; inspired by the idea of tightening the fishing line, a moving direction adjustment for each node of a path is introduced to enhance the algorithm performance. Extensive experiments conducted in different environments with three kinds of grid models and five kinds of obstacles show the effectiveness and practicality of mMPSO.
Keywords
Membrane computing, evolutionary membrane computing, particle swarm optimization, variable dimensions, mobile robot path planning, membrane systems
References
G. Păun, G. Rozenberg, A. Salomaa (eds.) (2010); The Oxford handbook of membrane computing, Oxford University Press.
G. Păun (2007); Tracing some open problems in membrane computing, Rom J Inform Sci Tech, ISSN 1453-8245, 10(4): 303–314.
G. Zhang, J. Cheng, M. Gheorghe, Q. Meng (2013); A hybrid approach based on differential evolution and tissue membrane systems for solving constrained manufacturing parameter optimization problems, Appl Soft Comput, ISSN 1568-4946, 13(3):1528-1542.
T.Y. Nishida (2004); An application of P system: a new algorithm for NP-complete optimization problems. Proc 8th WMCSCI, 109–112.
G.X. Zhang, M. Gheorghe, L.Q. Pan,; M.J. Pérez-Jiménez (2014); Evolutionary membrane computing: a comprehensive survey and new results, Inform Sci, ISSN: 0020-0255, 279: 528- 551.
L. Huang, X. He, N. Wang, Y. Xie (2007); P systems based multi-objective optimization algorithm, Prog Nat Sci, ISSN 1002-0071, 17(4): 458-465.
G.X. Zhang, M. Gheorghe, Y. Li (2012); A membrane algorithm with quantum-inspired subalgorithms and its application to image processing, Nat Comput, ISSN 1567-7818, 11(3): 701-717.
G.X. Zhang, J.X. Cheng, M. Gheorghe (2014); Dynamic behavior analysis of membraneinspired evolutionary algorithms, International Journal of Computers Communications & Control, ISSN 1841-9836, 9(2): 227-242.
J. Kennedy, R. Eberhart (1995); Particle swarm optimization, Proc ICNN, 4: 1942-1948.
G.X. Zhang, F. Zhou, X.L. Huang, J.X. Cheng, M. Gheorghe, F. Ipate, R. Lefticaru (2012); A novel membrane algorithm based on particle swarm optimization for solving broadcasting problems, J Univers Comput Sci, ISSN 0948-6968 18(13): 1821-1841.
J. Xiao, Y. Huang, Z. Cheng, J. He, Y. Niu (2014); A hybrid membrane evolutionary algorithm for solving constrained optimization problems, Optik, ISSN 0030-4026, 125(2): 897-902.
T. Lozano-Pérez,M.A. Wesley (1979); An algorithm for planning collision-free paths among polyhedral obstacles, Commun ACM, ISSN 0001-0782, (22)10: 560–570.
H. Gao, J. Cao (2012); Membrane quantum particle swarm optimisation for cognitive radio spectrum allocation, Int J Comput Appl Tech, ISSN 0952-8091, 43(4): 359-365.
Y.K. Hwang, N. Ahuja (1992); Gross motion planning-A survey, ACM Comp Surv, 24: 219-291.
A. Tuncer, M. Yildirim (2012); Dynamic path planning of mobile robots with improved genetic algorithm, Comput Electr Eng, ISSN 0045-7906, 38: 1564-1572.
M.A. Garcia, O. Montiel (2009); Path planning for autonomous mobile robot navigation with ant colony optimization and fuzzy cost function evaluation, Appl Soft Comput, ISSN 1568-4946, 9(3): 1102-1110.
Z. Qidan, Y.J. Yang, Z.Y. Xing (2006); Robot path planning sased on artificial potential field approach with simulated annealing, Proc ISDA, 622-627.
Y. Zhang, D.W. Gong (2013); Robot path planning in uncertain environment using multiobjective particle swarm optimization, Neurocomputing, ISSN 0925-2312, 103: 172-185.
E. Masehian, D. Sedighizadeh (2007); Classic and heuristic approaches in robot motion planning-a chronological review, Proc. WASET, 101-106.
W.F. Xu, C. Li, B. Liang (2008); The cartesian path planning of free-floating space robot using particle swarm optimization, Int J Adv Rob Syst, ISSN 1729-8806, 5: 301-310.
D.W. Gong, J.H. Zhang (2011); Multi-objective particle swarm optimization for robot path planning in environment with danger sources, J Comput, 6(8): 1554-1561.
DOI:
https://doi.org/10.15837/ijccc.2015.5.2030
Copyright (c) 2017 Xueyuan Wang, Gexiang Zhang, Junbo Zhao, Haina Rong, Florentin Ipate, Raluca Lefticaru

This work is licensed under a
Creative Commons Attribution-NonCommercial 4.0 International License
.
CC-BY-NC  License for Website User
Articles published in IJCCC user license are protected by copyright.
Users can access, download, copy, translate the IJCCC articles for non-commercial purposes provided that users, but cannot redistribute, display or adapt:
Cite the article using an appropriate bibliographic citation: author(s), article title, journal, volume, issue, page numbers, year of publication, DOI, and the link to the definitive published version on IJCCC website;
Maintain the integrity of the IJCCC article;
Retain the copyright notices and links to these terms and conditions so it is clear to other users what can and what cannot be done with the  article;
Ensure that, for any content in the IJCCC article that is identified as belonging to a third party, any re-use complies with the copyright policies of that third party;
Any translations must prominently display the statement: "This is an unofficial translation of an article that appeared in IJCCC. Agora University  has not endorsed this translation."
This is a non commercial license where the use of published articles for commercial purposes is forbiden. 
Commercial purposes include: 
Copying or downloading IJCCC articles, or linking to such postings, for further redistribution, sale or licensing, for a fee;
Copying, downloading or posting by a site or service that incorporates advertising with such content;
The inclusion or incorporation of article content in other works or services (other than normal quotations with an appropriate citation) that is then available for sale or licensing, for a fee;
Use of IJCCC articles or article content (other than normal quotations with appropriate citation) by for-profit organizations for promotional purposes, whether for a fee or otherwise;
Use for the purposes of monetary reward by means of sale, resale, license, loan, transfer or other form of commercial exploitation;


The licensor cannot revoke these freedoms as long as you follow the license terms.
[End of CC-BY-NC  License for Website User]
INTERNATIONAL JOURNAL OF COMPUTERS COMMUNICATIONS & CONTROL (IJCCC), With Emphasis on the Integration of Three Technologies (C & C & C),  ISSN 1841-9836.
IJCCC was founded in 2006,  at Agora University, by  Ioan DZITAC (Editor-in-Chief),  Florin Gheorghe FILIP (Editor-in-Chief), and  Misu-Jan MANOLESCU (Managing Editor).
Ethics: This journal is a member of, and subscribes to the principles of, the Committee on Publication Ethics (COPE).
Ioan  DZITAC (Editor-in-Chief) at COPE European Seminar, Bruxelles, 2015:
IJCCC is covered/indexed/abstracted in Science Citation Index Expanded (since vol.1(S),  2006); JCR2018: IF=1.585..
IJCCC is indexed in Scopus from 2008 (CiteScore2018 = 1.56):
Nomination by Elsevier for Journal Excellence Award Romania 2015 (SNIP2014 = 1.029): Elsevier/ Scopus
IJCCC was nominated by Elsevier for Journal Excellence Award - "Scopus Awards Romania 2015" (SNIP2014 = 1.029).
IJCCC is in Top 3 of 157 Romanian journals indexed by Scopus (in all fields) and No.1 in Computer Science field by Elsevier/ Scopus.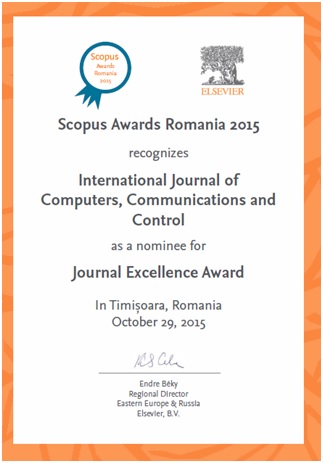 Impact Factor in JCR2018 (Clarivate Analytics/SCI Expanded/ISI Web of Science): IF=1.585 (Q3). Scopus: CiteScore2018=1.56 (Q2);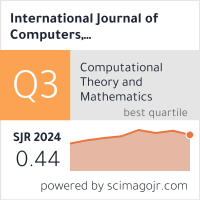 Editors-in-Chief: Ioan DZITAC & Florin Gheorghe FILIP.