Advisory, Negotiation and Intelligent Decision Support System for Leadership Analysis
Abstract
The development of the Leader Model for quantitative and qualitative analyses began with the goal of integrating managerial, organizational, technical, technological, economic, legal/regulatory, innovative, social, cultural, ethical, psychological, religious, ethnic and other aspects involved in the process of a leaders life cycle. The need to determine the most efficient life cycle of a leader led to the development of the Advisory, Negotiation and Intelligent DEcision support System for Leadership Analysis (ANDES). The objective of the authors of this work for integrating text analytics, advisory, negotiation and decision support systems is to improve the quality and efficiency of intelligent decision-making regarding a leaders life cycle. This ANDES consists of an intelligent database, database management system, model-base, model-base management system and user interface.
Keywords
Leader, Model, Intelligent Systems, Integration
References
M. Uhl-Bien, R. Marion (2009); Complexity leadership in bureaucratic forms of organizing: A meso model, The Leadership Quarterly, 20(4): 631–650.
http://dx.doi.org/10.1016/j.leaqua.2009.04.007
C.M. Youssef, F. Luthans (2012); Positive global leadership, Journal of World Business, 47(4): 539–547.
http://dx.doi.org/10.1016/j.jwb.2012.01.007
J. Cho, I. Park, J.W. Michel (2011); How does leadership affect information systems success? The role of transformational leadership, Information & Management, 48(7): 270–277.
http://dx.doi.org/10.1016/j.im.2011.07.003
N.K. Dimitrios, D.P. Sakas, D.S. Vlachos (2013); The Role of Information Systems in Creating Strategic Leadership Model, Procedia – Social and Behavioral Sciences, 73: 285–293.
http://dx.doi.org/10.1016/j.sbspro.2013.02.054
M. Rao, R. Dong, V. Mahalec (1994); Intelligent system for safe process startup, Engineering Applications of Artificial Intelligence, 7(4): 349–360.
http://dx.doi.org/10.1016/0952-1976(94)90001-9
M. Seah, M.H. Hsieh, P.-D.Weng (2010); A case analysis of Savecom: The role of indigenous leadership in implementing a business intelligence system, International Journal of Information Management, 30(4): 368–373.
http://dx.doi.org/10.1016/j.ijinfomgt.2010.04.002
Y.W. Chun, K. Tak (2009); Songgye, a traditional knowledge system for sustainable forest management in Choson Dynasty of Korea, Forest Ecology and Management, 257(10): 2022– 2026.
http://dx.doi.org/10.1016/j.foreco.2008.11.038
B. Mckenna, D. Rooney, K.B. Boal (2009); Wisdom principles as a meta-theoretical basis for evaluating leadership, The Leadership Quarterly, 20(2): 177–190.
http://dx.doi.org/10.1016/j.leaqua.2009.01.013
F. Lehner (1992); Expert systems for organizational and managerial tasks, Information & Management, 23(1): 31–41.
http://dx.doi.org/10.1016/0378-7206(92)90052-H
M. A. de Oliveira, O. Possamai, D. Valentina, L. V. O., C.A. Flesch (2012); Applying Bayesian networks to performance forecast of innovation projects: A case study of transformational leadership influence in organizations oriented by projects, Expert Systems with Applications, 39(5): 5061–5070.
http://dx.doi.org/10.1016/j.eswa.2011.11.033
F. G. Filip (2008); Decision support and control for large-scale complex systems, Annual Reviews in Control, 32(1): 61–70.
http://dx.doi.org/10.1016/j.arcontrol.2008.03.002
F.G. Filip, A. Dan Donciulescu, G. Neagu (1998); Decision support for blend monitoring in process industries, Computers in Industry, 36(1–2): 13–19.
F. G. Filip, A.M. Suduc & M. Bizoi (2014); DSS in numbers, Technological and Economic Development of Economy, 20(1): 154–164.
http://dx.doi.org/10.3846/20294913.2014.890139
F.G. Filip, K. Leiviska (2009); Large-Scale Complex Systems, Springer Handbook of Automation, 619–638.
L.-H. Lim, K.S. Raman, K.-K. Wei (1994); Interacting effects of GDSS and leadership, Decision Support Systems, 12(3): 199–211.
http://dx.doi.org/10.1016/0167-9236(94)90004-3
J. Rees, G.J. Koehler (2000); Leadership and group search in group decision support systems, Decision Support Systems, 30(1): 73–82.
http://dx.doi.org/10.1016/S0167-9236(00)00090-7
A. Dan Donciulescu, F. G. Filip (1985); DISPECER-H – A decision supporting system in water resources dispatching, Annual Review in Automatic Programming, 12(2): 263–266.
A. Kaklauskas (2015); Biometric and Intelligent Decision Making Support, Series: Intelligent Systems Reference Library, Vol. 81, XII. Springer-Verlag, Berlin.
A. Kaklauskas (1999); Multiple Criteria Decision Support of Building Life Cycle, Research Report presented for Habilitation. Technika, Vilnius.
L. Kanapeckiene, A. Kaklauskas, E.K. Zavadskas, M. Seniut (2010); Integrated knowledge management model and system for construction projects. Engineering applications of artificial intelligence, 23(7): 1200–1215.
http://dx.doi.org/10.1016/j.engappai.2010.01.030
N. Lepkova, A. Kaklauskas, E.K. Zavadskas (2008); Modelling of facilities management alternatives, International journal of environment and pollution, 35(2–4): 185–204.
http://iti.vgtu.lt/imitacijosmain/simpletable.aspx?sistemid=518
DOI:
https://doi.org/10.15837/ijccc.2015.5.2028
Copyright (c) 2017 Renaldas Gudauskas, Loreta Budryte, Arturas Kaklauskas, Justas Cerkauskas, Agne Kuzminske, Saule Jokubauskiene, Vilija Targamadze

This work is licensed under a
Creative Commons Attribution-NonCommercial 4.0 International License
.
CC-BY-NC  License for Website User
Articles published in IJCCC user license are protected by copyright.
Users can access, download, copy, translate the IJCCC articles for non-commercial purposes provided that users, but cannot redistribute, display or adapt:
Cite the article using an appropriate bibliographic citation: author(s), article title, journal, volume, issue, page numbers, year of publication, DOI, and the link to the definitive published version on IJCCC website;
Maintain the integrity of the IJCCC article;
Retain the copyright notices and links to these terms and conditions so it is clear to other users what can and what cannot be done with the  article;
Ensure that, for any content in the IJCCC article that is identified as belonging to a third party, any re-use complies with the copyright policies of that third party;
Any translations must prominently display the statement: "This is an unofficial translation of an article that appeared in IJCCC. Agora University  has not endorsed this translation."
This is a non commercial license where the use of published articles for commercial purposes is forbiden. 
Commercial purposes include: 
Copying or downloading IJCCC articles, or linking to such postings, for further redistribution, sale or licensing, for a fee;
Copying, downloading or posting by a site or service that incorporates advertising with such content;
The inclusion or incorporation of article content in other works or services (other than normal quotations with an appropriate citation) that is then available for sale or licensing, for a fee;
Use of IJCCC articles or article content (other than normal quotations with appropriate citation) by for-profit organizations for promotional purposes, whether for a fee or otherwise;
Use for the purposes of monetary reward by means of sale, resale, license, loan, transfer or other form of commercial exploitation;


The licensor cannot revoke these freedoms as long as you follow the license terms.
[End of CC-BY-NC  License for Website User]
INTERNATIONAL JOURNAL OF COMPUTERS COMMUNICATIONS & CONTROL (IJCCC), With Emphasis on the Integration of Three Technologies (C & C & C),  ISSN 1841-9836.
IJCCC was founded in 2006,  at Agora University, by  Ioan DZITAC (Editor-in-Chief),  Florin Gheorghe FILIP (Editor-in-Chief), and  Misu-Jan MANOLESCU (Managing Editor).
Ethics: This journal is a member of, and subscribes to the principles of, the Committee on Publication Ethics (COPE).
Ioan  DZITAC (Editor-in-Chief) at COPE European Seminar, Bruxelles, 2015:
IJCCC is covered/indexed/abstracted in Science Citation Index Expanded (since vol.1(S),  2006); JCR2018: IF=1.585..
IJCCC is indexed in Scopus from 2008 (CiteScore2018 = 1.56):
Nomination by Elsevier for Journal Excellence Award Romania 2015 (SNIP2014 = 1.029): Elsevier/ Scopus
IJCCC was nominated by Elsevier for Journal Excellence Award - "Scopus Awards Romania 2015" (SNIP2014 = 1.029).
IJCCC is in Top 3 of 157 Romanian journals indexed by Scopus (in all fields) and No.1 in Computer Science field by Elsevier/ Scopus.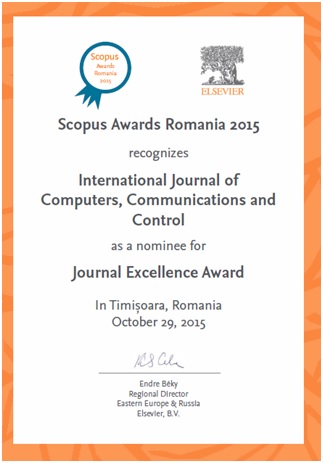 Impact Factor in JCR2018 (Clarivate Analytics/SCI Expanded/ISI Web of Science): IF=1.585 (Q3). Scopus: CiteScore2018=1.56 (Q2);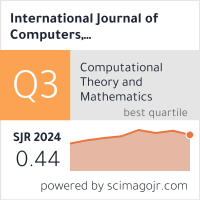 Editors-in-Chief: Ioan DZITAC & Florin Gheorghe FILIP.