Determining the State of the Sensor Nodes Based on Fuzzy Theory in WSNs
Abstract
The low-cost, limited-energy, and large-scale sensor nodes organize wireless sensor networks (WSNs). Sleep scheduling algorithms are introduced in these networks to reduce the energy consumption of the nodes in order to enhance the network
lifetime. In this paper, a novel fuzzy method called Fuzzy Active Sleep (FAS) is proposed to activate the appropriate nodes of WSNs. It uses the selection probability of nodes based on their remaining energy and number of previous active state. The
proposed method focuses on a balanced sleep scheduling in order to belong the network lifetime. Simulation results show that the proposed method is more efficient and effective than the compared methods in terms of average network remaining energy, number of nodes still alive, number of active state, and network lifetime.
Keywords
wireless sensor networks (WSNs), fuzzy theory, sleep scheduling, energy consumption, network lifetime.
References
Stankovic, J.A. (2008); Wireless sensor networks, Computer, ISSN 0018-9162, 41(10): 92-95.
Zhang, P. et al (2013); Clustering algorithms for maximizing the lifetime of wireless sensor networks with energy-harvesting sensors, Comput Netw, ISSN 1389-1286, 57(14): 2689-2704.
Cerami, M.; Straccia, U. (2013); On the (un)decidability of fuzzy description logics under Lukasiewicz t-norm, Inform Sciences, ISSN 0020-0255, 227: 1-21.
Chiasserini, C.F.; Garetto, M. (2004); Modeling the performance of wireless sensor networks, Proc. IEEE Infocom ser, ISSN 0743-166X, 220-231.
Xiao, Y. et al (2007); Modeling detection metrics in randomized scheduling algorithm in wireless sensor networks, Proc. IEEE WCNC, ISSN 1525-3511, 3741-3745.
Liu, J. et al (2010); Analysis of random sleep scheme for wireless sensor networks, International Journal of Sensor Networks, ISSN 1748-1279, 7(1): 71-84.
Xiao, Y. et al (2010); Coverage and detection of a randomized scheduling algorithm in wireless sensor networks, IEEE T Comput, ISSN 0018-9340, 59(4): 507-521.
Keh, H.C. et al (2011); Power saving mechanism with optimal sleep control in wireless sensor networks, Tamkang J. Sci. Eng, ISSN 1560-6686, 14(3): 235-243.
Li, W.W. (2011); Several characteristics of active/sleep model in wireless sensor networks, Proc. IEEE NTMS'4, ISSN 2157-4952, 1-5.
Zhang, Y.; Li, W. (2012); Modeling and energy consumption evaluation of a stochastic wireless sensor network, Eurasip J Wirel Comm, ISSN 1687-1499, 2012(1): 1-11.
Zhao, J.; Bose, B.K. (2002); Evaluation of membership functions for fuzzy logic controlled induction motor drive, Proc. IEEE IECON'2, 1: 229-234.
Alcalá, R. et al (1999); Approximate Mamdani-type Fuzzy Rule-Based Systems: Features and Taxonomy of Learning Methods, Citeseer, Technical Report DECSAI-990117, pp.1-23.
Runkler, T.A. (1997); Selection of appropriate defuzzification methods using application specific properties, IEEE T Fuzzy Syst, ISSN 1063-6706, 5(1): 72-79.
Heinzelman, W.B. et al (2002); An application-specific protocol architecture for wireless microsensor networks, IEEE T Wirel Commun, ISSN 1536-1276, 1(4): 660-670.
DOI:
https://doi.org/10.15837/ijccc.2014.4.200
Copyright (c) 2017 Mohammad Samadi Gharajeh

This work is licensed under a
Creative Commons Attribution-NonCommercial 4.0 International License
.
IJCCC is an Open Access Journal : CC-BY-NC.
Articles published in IJCCC user license are protected by copyright.
Users can access, download, copy, translate the IJCCC articles for non-commercial purposes provided that users, but cannot redistribute, display or adapt:
Cite the article using an appropriate bibliographic citation: author(s), article title, journal, volume, issue, page numbers, year of publication, DOI, and the link to the definitive published version on IJCCC website;
Maintain the integrity of the IJCCC article;
Retain the copyright notices and links to these terms and conditions so it is clear to other users what can and what cannot be done with the  article;
Ensure that, for any content in the IJCCC article that is identified as belonging to a third party, any re-use complies with the copyright policies of that third party;
Any translations must prominently display the statement: "This is an unofficial translation of an article that appeared in IJCCC. Agora University  has not endorsed this translation."
This is a non commercial license where the use of published articles for commercial purposes is forbiden. 
Commercial purposes include: 
Copying or downloading IJCCC articles, or linking to such postings, for further redistribution, sale or licensing, for a fee;
Copying, downloading or posting by a site or service that incorporates advertising with such content;
The inclusion or incorporation of article content in other works or services (other than normal quotations with an appropriate citation) that is then available for sale or licensing, for a fee;
Use of IJCCC articles or article content (other than normal quotations with appropriate citation) by for-profit organizations for promotional purposes, whether for a fee or otherwise;
Use for the purposes of monetary reward by means of sale, resale, license, loan, transfer or other form of commercial exploitation;


The licensor cannot revoke these freedoms as long as you follow the license terms.
[End of CC-BY-NC  License for Website User]
INTERNATIONAL JOURNAL OF COMPUTERS COMMUNICATIONS & CONTROL (IJCCC), With Emphasis on the Integration of Three Technologies (C & C & C),  ISSN 1841-9836.
IJCCC was founded in 2006,  at Agora University, by  Ioan DZITAC (Editor-in-Chief),  Florin Gheorghe FILIP (Editor-in-Chief), and  Misu-Jan MANOLESCU (Managing Editor).
Ethics: This journal is a member of, and subscribes to the principles of, the Committee on Publication Ethics (COPE).
Ioan  DZITAC (Editor-in-Chief) at COPE European Seminar, Bruxelles, 2015:
IJCCC is covered/indexed/abstracted in Science Citation Index Expanded (since vol.1(S),  2006); JCR2018: IF=1.585..
IJCCC is indexed in Scopus from 2008 (CiteScore2018 = 1.56):
Nomination by Elsevier for Journal Excellence Award Romania 2015 (SNIP2014 = 1.029): Elsevier/ Scopus
IJCCC was nominated by Elsevier for Journal Excellence Award - "Scopus Awards Romania 2015" (SNIP2014 = 1.029).
IJCCC is in Top 3 of 157 Romanian journals indexed by Scopus (in all fields) and No.1 in Computer Science field by Elsevier/ Scopus.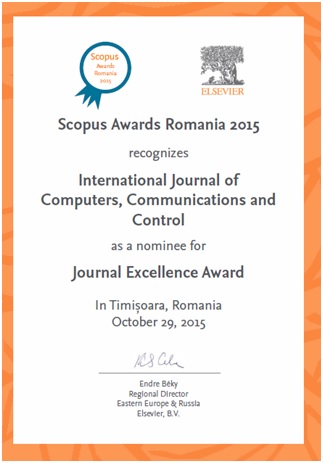 Impact Factor in JCR2018 (Clarivate Analytics/SCI Expanded/ISI Web of Science): IF=1.585 (Q3). Scopus: CiteScore2018=1.56 (Q2);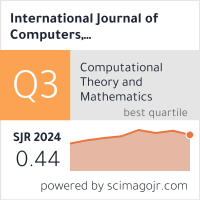 Editors-in-Chief: Ioan DZITAC & Florin Gheorghe FILIP.