A Reference Dataset for Network Traffic Activity Based Intrusion Detection System
Abstract
The network traffic dataset is a crucial part of anomaly based intrusion detection systems (IDSs). These IDSs train themselves to learn normal and anomalous activities. Properly labeled dataset is used for the training purpose. For the activities based IDSs, proper network traffic activity labeled dataset is the first requirement, however non-availability of such datasets is bottlenecked in the field of IDS research. In this experiment, a synthetic dataset "Panjab University - Intrusion Dataset (PU-IDS)" is created. The purpose of this study is to provide the researchers a reference dataset for the performance evaluation of network traffic activity based IDSs. University of New Brunswick Network Security Laboratory - Knowledge Disscovery in Databases (NSL-KDD) is a benchmark dataset for anomaly detection but it does not contain activity based labeling. So basic characteristics of this dataset are taken for the generation of the new synthetic dataset with various activities based labels. The dataset is first categorized as per protocol and service. Thereafter, as per minimum & maximum values of attributes, activity profiles are synthetically generated. This paper also discusses various statistical characteristics of PU-IDS. The total number of 198533 instances along with 273 of activity profiles are created. This dataset also contain different 98 protocol_service profiles.
Keywords
Intrusion Detection System, Network Traffic Dataset, Network Traffic Profiling, Behavioral Profiling, Traffic Activity profiling
References
http://kdd.ics.uci.edu/databases/kddcup99/kddcup99.html
http://nsl.cs.unb.ca/NSL-KDD
http://snap.stanford.edu/data
http://www.caida.org/data/overview
http://www.cs.unm.edu/immsec/data
http://www.iscx.ca/datasets
Singh, R., Kumar H., Singla R.K (2012); Traffic Analysis of Campus Network for Classification of Broadcast Data. 47th Annual National Convention of Computer Society of India. Int. Conf. on Intelligent Infrastructure, MacGraw Hill Professional: 163-166.
http://ita.ee.lbl.gov/html/traces.html
Marchette, D. (1999); A Statistical Method for Profiling Network Traffic, Workshop on Intrusion Detection and Network Monitoring : 119-128.
Sengar, H.; Wang, X.; Wang, H.; Wijesekera, D.; Jajodia, S. (2009); Online detection of network traffic anomalies using behavioral distance, 17th Int. Workshop on Quality of Service: 1-9.
Jiang, X.; Zhu X. vEye (2009); Behavioral footprinting for self-propagating worm detection and profiling, Knowledge and information systems; 18(2): 231-262
http://dx.doi.org/10.1007/s10115-008-0137-3
Oh, H.S.; Lee, W.S. (2003); An anomaly intrusion detection method by clustering normal user behavior, Computers & Security, 22(7): 596-612.
http://dx.doi.org/10.1016/S0167-4048(03)00710-7
Asai, H.; Fukuda, K. ; Esaki, H. (2011); Traffic causality graphs: profiling network applications through temporal and spatial causality of flows, Proc. of the 23rd Int. Teletraffic Congress : 95-102.
Zoquete, A.; Correia, P.; Shamalizadeh, H. (2011); Packet tagging system for enhanced traffic profiling. IEEE 5th Int. Conf. on Internet Multimedia Systems Architecture and Application (IMSAA) : 1-6.
http://dx.doi.org/10.1109/IMSAA.2011.6156362
Iliofotou, M.; Gallagher, B.; Eliassi-Rad, T.; Xie, G.; Faloutsos, M.(2010); Profiling-byassociation: a resilient traffic profiling solution for the internet backbone. Proc. of the 6th Int. Conference Co-NEXT'10 : DOI: 10.1145/1921168.1921171.
http://dx.doi.org/10.1145/1921168.1921171
Xu, K.; Zhang, Z.L.; Bhattacharyya S.(2008); Internet traffic behavior profiling for network security monitoring. IEEE/ACM Trans. on Networking, 16(6): 1241-1252.
http://dx.doi.org/10.1109/TNET.2007.911438
Herrmann, D.; Banse, C.; Federrath, H.(2013); Behavior-based tracking: Exploiting characteristic patterns in DNS traffic. Computers & Security, 39 (Part A): 17-33.
http://dx.doi.org/10.1016/j.cose.2013.03.012
http://www.mathworks.in/products/matlab
DOI:
https://doi.org/10.15837/ijccc.2015.3.1924
Copyright (c) 2017 Raman Singh, Harish Kumar, R.K. Singla

This work is licensed under a
Creative Commons Attribution-NonCommercial 4.0 International License
.
CC-BY-NC  License for Website User
Articles published in IJCCC user license are protected by copyright.
Users can access, download, copy, translate the IJCCC articles for non-commercial purposes provided that users, but cannot redistribute, display or adapt:
Cite the article using an appropriate bibliographic citation: author(s), article title, journal, volume, issue, page numbers, year of publication, DOI, and the link to the definitive published version on IJCCC website;
Maintain the integrity of the IJCCC article;
Retain the copyright notices and links to these terms and conditions so it is clear to other users what can and what cannot be done with the  article;
Ensure that, for any content in the IJCCC article that is identified as belonging to a third party, any re-use complies with the copyright policies of that third party;
Any translations must prominently display the statement: "This is an unofficial translation of an article that appeared in IJCCC. Agora University  has not endorsed this translation."
This is a non commercial license where the use of published articles for commercial purposes is forbiden. 
Commercial purposes include: 
Copying or downloading IJCCC articles, or linking to such postings, for further redistribution, sale or licensing, for a fee;
Copying, downloading or posting by a site or service that incorporates advertising with such content;
The inclusion or incorporation of article content in other works or services (other than normal quotations with an appropriate citation) that is then available for sale or licensing, for a fee;
Use of IJCCC articles or article content (other than normal quotations with appropriate citation) by for-profit organizations for promotional purposes, whether for a fee or otherwise;
Use for the purposes of monetary reward by means of sale, resale, license, loan, transfer or other form of commercial exploitation;


The licensor cannot revoke these freedoms as long as you follow the license terms.
[End of CC-BY-NC  License for Website User]
INTERNATIONAL JOURNAL OF COMPUTERS COMMUNICATIONS & CONTROL (IJCCC), With Emphasis on the Integration of Three Technologies (C & C & C),  ISSN 1841-9836.
IJCCC was founded in 2006,  at Agora University, by  Ioan DZITAC (Editor-in-Chief),  Florin Gheorghe FILIP (Editor-in-Chief), and  Misu-Jan MANOLESCU (Managing Editor).
Ethics: This journal is a member of, and subscribes to the principles of, the Committee on Publication Ethics (COPE).
Ioan  DZITAC (Editor-in-Chief) at COPE European Seminar, Bruxelles, 2015:
IJCCC is covered/indexed/abstracted in Science Citation Index Expanded (since vol.1(S),  2006); JCR2018: IF=1.585..
IJCCC is indexed in Scopus from 2008 (CiteScore2018 = 1.56):
Nomination by Elsevier for Journal Excellence Award Romania 2015 (SNIP2014 = 1.029): Elsevier/ Scopus
IJCCC was nominated by Elsevier for Journal Excellence Award - "Scopus Awards Romania 2015" (SNIP2014 = 1.029).
IJCCC is in Top 3 of 157 Romanian journals indexed by Scopus (in all fields) and No.1 in Computer Science field by Elsevier/ Scopus.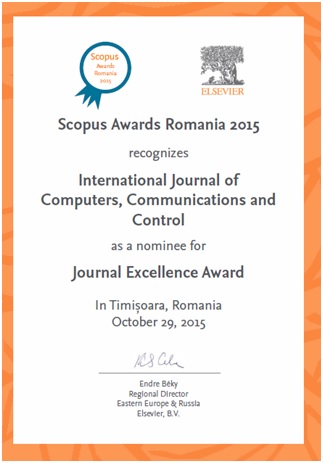 Impact Factor in JCR2018 (Clarivate Analytics/SCI Expanded/ISI Web of Science): IF=1.585 (Q3). Scopus: CiteScore2018=1.56 (Q2);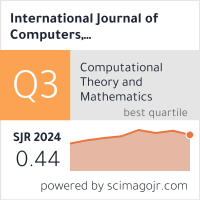 Editors-in-Chief: Ioan DZITAC & Florin Gheorghe FILIP.